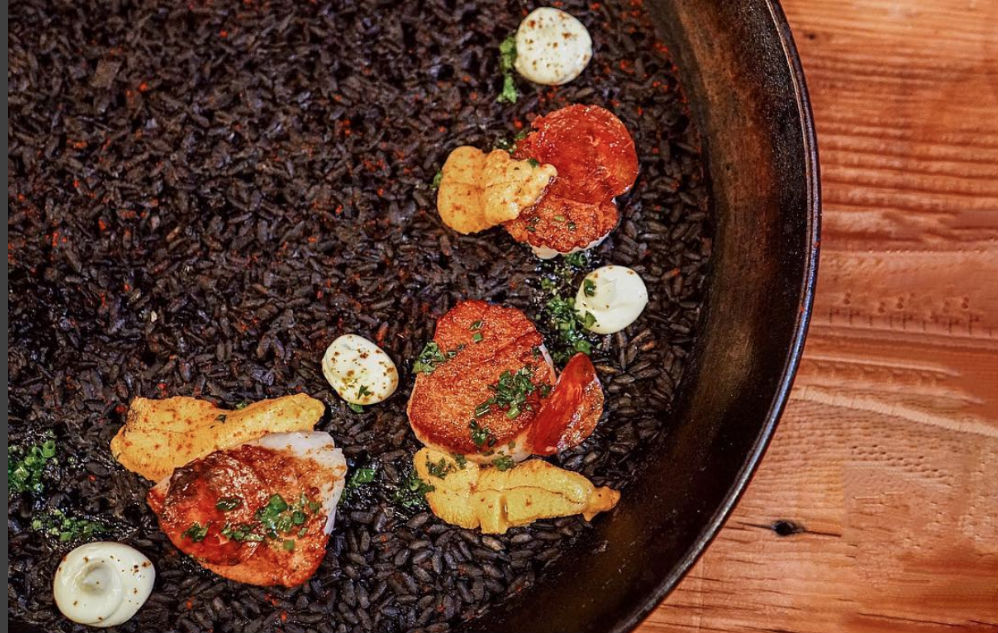 You don't have to be old to remember when Highland Park was an unloved community squandering its strategic location along the Arroyo Seco between Pasadena and downtown L.A. Now gentrification is in full force, with home values pushing $800,000 amid a flurry of buzzworthy restaurants. Among those is Otoño, an inviting Spanish tapas bar and dining room from chef/owner Teresa Montaño.
By Roger Grody
Designer Ana Henton carved a sleek contemporary restaurant out of a landmark building while preserving some of the character of the 1928 structure, originally an S.H. Kress & Co. five-and-dime. Walls are lined with century-old brick or splashed with saffron-colored paint and accented with decorative tin-stamped tiles.
A colorful graffiti mural from PichiAvo, a pair of prominent street artists based in Valencia, Spain, suits the lively bar area where vintage-style leather stools complement a counter topped in distinctive gray marble.
In the industrial-chic dining room, where exposed structural trusses reinforce a sense of authenticity, rough-hewn benches are aligned with candlelit wooden tables.
Montaño, formerly of Old Pasadena's now-defunct Ración offers familiar Spanish tapas, including pan con tomate, nothing more than grated tomato on grilled bread with garlic, olive oil and sea salt yet bursting with vibrant Mediterranean flavor.
Both croquetas de jamón (ham croquettes) and wild mushroom sweet corn croquetas reveal oozy béchamel sauce-based fillings, the essence of proper execution, but the presence of ham or mushrooms is arguably too subtle.
Otoño also serves premium handcut jamón ibérico, the famed melt-in-your-mouth ham produced from a special breed of acorn-fed pigs.
Griddled blue prawns are prepared with green garlic and Andalusian brandy, while charred leek-like spring onions are topped with shaved Garrotxa goat cheese and a thick romesco sauce.
Under the heading Raciones (another term for bar snacks) is a delightful chilled almond-garlic soup scented with eucalyptus and spiked with a splash of foraged mountain vinegar, whose charcoal-grilled grapes are much more than just a garnish.
Another ración is braised octopus with stewed summer beans and chorizo, while grilled black cod arrives in a Japanese tonkotsu-inspired broth made from jamón ibérico. Smoked chicken thighs are served with shishito peppers and a green peppercorn mayonesa that transforms the unpretentious meat into something memorable.
With her passion for Valencia, it is no surprise that Montaño turns out outstanding paellas, including one with shellfish, a vegetarian version and paella negra with scallops. The latter—a trio of ham-topped sea scallops and some dollops of lemon aioli punctuating the black, squid ink-stained rice—is visually dramatic.
As in the best paellas—not the mountains of fluffy rice often passed off as the quintessential Spanish dish—Montaño ensures that the rice on the bottom of the pan becomes crispy, providing added dimension.
The wine list at Otoño is predominantly Spanish, but gracious wine director Katie Putterlik incorporates interesting finds from the nation's lesser-known regions, including the resort destination of Mallorca
and the Canary islands, closer to Morocco than to mainland Spain.
The approachable list, which features many bottles under $50, also includes food-friendly wines from Provence, Greece, Portugal and Sardinia, as well as some California labels.
Among desserts are a citrus and cinnamon-scented crema catalana, and beets and berries in sweet almond cream. A riff on cheesecake, so savory it might be considered a cheese course, features Caña de Cabra goat cheese spread on sourdough crust, plated with sweeter elements like dates, figs and mangos, along with a drizzle of pistachio honey.
Spanish cuisine is among the most exciting in the world, whether strictly traditional or reimagined by avant-garde chefs.
The last exceptional Spanish restaurant in Los Angeles, Melrose Avenue's Smoke. Oil. Salt., did not last long, but perhaps Otoño will have the same bright future as the community of Highland Park.
Otoño 5715 N. Figueroa St. Highland Park, 323.474.6624. otonorestaurant.com
Photo courtesy @otonola/Instagram.