If you live in LA, there's no way around it. A sizable fraction of your day will be sacrificed to the infamous Los Angeles traffic jam. What you choose to do with that time is up to you. You could waste it sitting in traffic, or you could find other ways to enjoy yourself, get some extra work done, or meet new and interesting people.
Experience the Last Bookstore
Waste your time doodling your thumbs in a Los Angeles Traffic Jam or spend the last few hours of every day trolling the Last Bookstore? The choice is yours. Yes, even as Amazon outsources Santa Claus into bankruptcy, this place still manages to exist. It's a sanctuary of literature that features one of the best dollar sections on the planet. Bring a roll of ones and feast on paperbacks to your heart's content. If traffic is still too hectic, consider treating yourself to dinner in a Chinese restaurant. LA has some of the best in the country.
WiFi Caffeine, Australian Style
Naptime coincides with rush hour time, sadly. To get your charge on as well as your WiFi, hit up Deus Ex Machina on Lincoln and Venice. This place has got to be one of the weirdest WiFi spots in Los Angeles. You can get your afternoon Joe as well as a full selection of grooming supplies, upscale clothing, and spare motorcycle parts. And they carry Vittoria, one of Australia's leading coffee brands. Get online Australian style, and catch up on your email or Netflix, your choice.
Our Tips to Beat LA Traffic
Want to avoid LA traffic? Just spend the rest of your life at the beach. But seriously, if you do have to drive, avoid the Hollywood Freeway going Southbound approaching Vermont Ave. That's the worse bottleneck in LA. Whoever designed that nightmare should be tried for treason. And always choose the Pacific Coast Highway over the 405. There's less congestion, and when you do get stuck, the sprawl of the ocean definitely beats the sprawl of concrete when it comes to scenery. If you're heading downtown from Santa Monica, the Eastbound 10 is complete chaos in the evening. Try Venice Blvd. instead.
Anxiety in a Los Angeles Traffic Jam
Sometimes people can experience a jolt of adrenaline and anxiety when stuck in confined spaces, such as a Los Angeles traffic jam, even when you know the traffic patterns, an LA traffic sigalert can happen anytime, and it can be scary for some folks.
"I came to visit the area from rural Ohio" said a man who wished to remain unnamed, "and the minute my taxi left the airport my heart just started pounding and I realized I was having a full blown panic attack! We hit the highway at like 90 miles an hour and then came to a complete dead stop into a good old fashioned Los Angeles traffic jam, for hours!"
It is not all to uncommon for visitors to be shocked by the hustle and bustle of LA Traffic, so be prepared when you come visit for a bit of a jolt when it comes to traffic patterns.
Avoiding the L.A. Heat During Rush Hour Traffic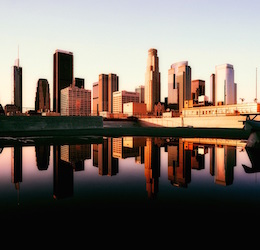 What is so unique about the culture and history of Los Angeles is that there is so much of it. From tons of migration from all over the world (which have made up notable communities all across L.A.) to the film and music industry. There is so much to see and experience in this city and unfortunately you must successfully drive through L.A. accomplish your goals. Angelenos know that time is precious when they choose to drive rather than to take public transit. So, what could we do as visitors to experience the L.A. scene if you get stuck during rush hour? My favorite "pit-stop" during a hot summer day is attending a film screening. You see, because Hollywood was the hip place to go to watch newly released films, there are so many historic theatres in L.A. that are still standing today.
Why not ditch the L.A. traffic, park your car and get to a movie screening with plenty of AC to go around. Our favorite historical theatres include, The Vista in Silverlake, The New Beverly Cinema on the westside, Downtown Independent in DTLA, and The Chinese theatre off Hollywood Blvd. That's right, you can watch a movie where world famous celebrities flock to for their movie premieres. Just make sure to check the Chinese Theatre schedule ahead of time, just in case! Now that's what we call a successful ditch to rush hour traffic in L.A.
Movies Inspired by LA Traffic Culture
Media industries in Los Angeles collide 24:7. Although blockbuster movies become famous all around the world, it always hits home for the LA locals. When visiting or touring LA, you'll start noticing that a large percent of movies are filmed in Los Angeles. Our favorite films are the ones that depict a real Los Angeles Traffic Jam. And there are plenty! Here are some favorite car culture films produced in LA: The Fast & The Furious, Rush Hour, Speed, Lincoln Lawyer and La La Land. Keep an eye out for those intense Hollywood scenes on the screen, it may have also been the reason why traffic was so bad due to street closures for filming! That's so LA.