MARK YOUR CALENDAR FOR UPCOMING EVENTS IN LOS ANGELES
Summertime Rolls: Gearing Up For Fun in the Sun
The summer solstice (June 21st) brings the longest days of summer. Time to break out your sun-block and throw your favorite sneakers, bathing suit and beach towel in the back of your 1994 Toyota Corolla. When summertime comes to LA, the amount of things to do outside is at an all time high, along with everyone's spirits. Beach volleyball, impromptu barbeques, and string bikinis are some of the few perks of being in sunny, southern California. Take advantage of all the outdoor upcoming events in Los Angeles while you can, including outdoor concerts and movie screenings.
Upcoming Events in Los Angeles Worth Noting
Some of my favorite summer month pastimes include catching a movie at The Hollywood Forever Cemetery, checking out one of the free concerts held every Thursday night on the Santa Monica Pier, and making it to Abbott Kinney for the annual street fair. I also love hitting Olvera Street for their outdoor market and amazing Mexican food (just off of Sunset Blvd and not far from Union Station). If you're coming from outside of LA by train, Olvera Street can make the perfect day trip. With so many awesome activities going on in LA, it's hard to find enough free time to do it all.
Where LA's Weekend Roundup Captures the City's Hottest Happenings
For updated happenings in LA, check out Where LA's Weekend Roundup, a continuously updated listing of the hottest happenings in the area. Knowing what's happening every weekend in LA is some of the most valuable tourist info you can get. There's always something new going on, so there's no excuse for being stuck on your couch or in your hotel room. The beauty of LA is its happening scenes. You'll find concerts, beer festivals, museum openings, and plenty of places to eat. We'll tell you the cost, what to expect, and usually provide a link to the event's website so you can get the low down. Some events are even free. Get a taste for the neighborhoods and communities of Los Angeles with listing that keeps it local even in a city as big as LA.
Upcoming Events in Los Angeles
The options for Upcoming Events in Los Angeles are endless in The City of Angels, from craft beer and food festivals, to magical theatre performances and more. Upcoming events in LA this year includes the official opening day for the L.A. Dodgers, the Cherry Blossom festival in La Cañada Flintridge, and the 2018 LA Beer Fest. Sure, the nights in LA could get a bit colder than usual in the winter and early spring but that's no excuse for fun in the sun (or at night).
For starters, we can't wait for Cinespia to announce their summer line up. What's Cinespia you ask? It's an organization which hosts on-site screenings of classic films around LA historical locations including the opportunity to have a picnic and a movie at the Hollywood Forever Cemetery. Totally eerie but totally fun!
If you love independent theater, check out Shakespeare in the Park at LA's Old Zoo location in Griffith Park. The 10th annual LA Beer Fest returns this April as it will feature dozens of LA craft beer vendors, international and domestic beers, along with a dozen or so iconic LA food trucks, all happening in DTLA.
A Vibrant LA Music Scene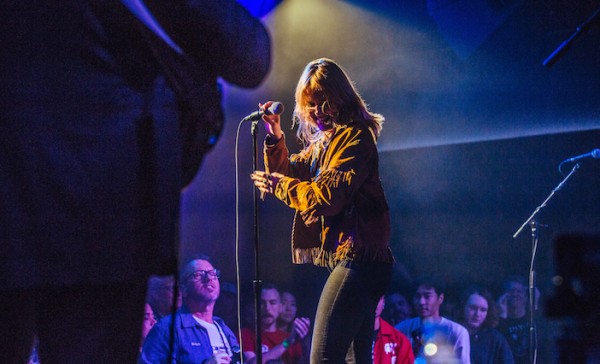 Jennifer Clavin of Bleached at Lodge Room in Highland Park. Photo by Alice Baxley.
One thing we love about Los Angeles is the music industry scene. Notorious with housing some of the world's biggest record labels and studios, hundreds of artists are sure to make a pitstop in LA each year. The LA music scene is not one to be missed or to disappoint. For those on a budget, every Monday you can attend a variety of free music shows all around the city from KCRW's "It's a School Night" at the Bardot in Hollywood and to Silverlake's Satellite venue, just to name a few. The Hollywood Bowl still lives up to its name for housing some of the best performances in LA each Summer and allowing guests to bring their own picnic basket and wine prior to showtime.
Let's not forget that, in terms of fun upcoming events in Los Angeles, Coachella is only a 2 hour drive from La La Land but if you wanna skip the desert traffic, you're in luck! Most of the Coachella performers schedule their own independent music shows in LA before or after the double weekend event. DTLA has also gone through it's own facelift over the years and has incorporated tons of new events from wine tasting on rooftops to lunchtime concerts in Grand Park.
If you prefer to spend more time on the beach, the music scene is very much alive in Santa Monica as well. The Twilight Concert Series begins in the Summer and it's 100% free. Take a walk or rent a bike and make your way to Venice Beach where you can enjoy performances by street artists including music, dance competitions and live art. The Venice Beach Graffiti walls are picture perfect for that colorful social media post you'd want to share with friends back home, but watch out for the skateboarders getting gritty at the Venice Beach Skatepark nearby. Finish any beach event in LA with a beautiful sunset on the sand or at a beachside restaurant.