Creative Activities in L.A.

Can You Travel Back in Time in L.A.?
The answer is yes! Step into the 4th dimension or 5th? This storefront in Echo Park allows both locals and out-of-town visitors to explore the wonders of time travel… if you let your imagination run free. "Whenever you are, we're already then," is the slogan The Echo Park Time Travel Mart boasts. If you're looking for creative activities in L.A., you've hit the right spot. The store has been in business for quite a few years now and they sell intricate yet simple things such as dinosaur eggs, time travel sickness pills, emergency mummy kits and all sorts of relics from the past, present, and the future.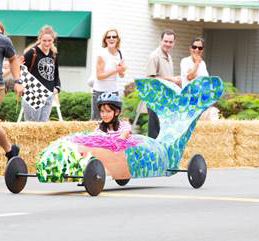 What's more interesting to discover from this local gem in L.A. is that all the proceeds from the Time Travel Mart in Echo Park go to 826 L.A., a nonprofit organization which provide free tutoring for the local community and fund free school field trips. The theme of the store plays a key role to inspire the students and help them feed out of their own creativity. Actually, that's how I first stumbled upon volunteering for tutoring at 826 L.A., by walking into this interesting storefront and realizing that you could purchase handmade books from the students who participated in the field trips or in the after school program. They usually keep the creative self-published books in a freezer, so they won't expire, of course! So crack a dinosaur egg for breakfast, support a local cause and get creative in L.A.! P.S. The location to the Time Travel Mart is in the heart of Echo Park, so don't forget to try out some of the other local shops on the same block…ahem, like Masa of Echo Park (a deep dish pizza joint) and an abundance of L.A. style coffee shops and clothing shops to explore!
Venice Canals: One of the Coolest Things to Do in Los Angeles
Looking for creative activities in L.A.? Pay a visit to the Venice Canals, a place that will have you swearing, "This isn't California anymore, Toto." Created in 1905, these canals were made so Europeans could have a piece of Venice in the desert. It's a great place to stroll and check out the scenic canals and bridges, not to mention beautiful homes you'll never be able to afford. The canals are connected with majestic bridges that might as well have been imported from Europe.
Parking is a bit tricky, since all the nearby street parking requires permits. You can take the bus or park at a nearby restaurant and walk several blocks to the canals.
Beautiful Scenery for a Stroll
This really is a scenic place that's great for getting away from it all. Plan on spending a couple of hours and maybe even pack a lunch. It's also a great place for checking out butterflies, which are attracted to the water and the neighborhood fauna.
Many of the streets are pedestrian only, so it's the perfect place to walk and relax. Residents are friendly and welcoming of tourists. They seem to enjoy that their neighborhood is so beautiful that it's a popular tourist destination. Definitely worth a visit and doesn't cost a dime, the canals are one of the coolest things to do in Los Angeles.