Choosing Things to Do in Los Angeles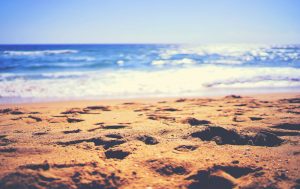 I am a product of Generation X, and like the Dave Matthew's song that bemoans the modern state of having too many choices, I scan the pavement and palm tree laden horizon of LA and ponder the endless list of things to do in Los Angeles. There's the California coast, filled with nostalgia and good for the soul, beach boy vibrations. Then there's the endless bar scene from Santa Monica to the swills of Silverlake, where khaki wearing corporate types or wanna-be screenwriting hipsters abound. Lest I forget the hippest daytime spots in LA, which currently includes strolling Abbott Kinney in Venice Beach to window shop and sip on large lattes, or climbing the stairs just north of San Vicente with others equally determined to attain and tighten an array of toned physiques. There's plenty of offbeat, crazy digs to catch in LA. Nothing's too weird in this city!
Recently, I've been drawn to less crowds and more views, like the one from the top of the Getty (that's free on Saturdays) or better yet, the Griffith Park Observatory (which may be the only spot to appropriately appreciate that Los Angeles is really four cities in one). Of all the amazing things to do in Los Angeles, sometimes getting outside for the best view is the wisest way to spend your day, especially if you find yourself at home again, unable to make a game time decision.
Los Angeles: An Exciting Melting Pot
Did you know that Olvera Street is the oldest street in Los Angeles? Plaza Olvera, as it's written in Spanish, is a hot spot for authentic Mexican goods, food, drinks and live performances. The cobblestone streets are reminiscent to its time when LA was a smaller city known for older industries that have since then dissipated. The dominant industry in modern day LA is that of film and music. Given the fact that LA is one of the most culturally diverse cities in the world, you can never run out of things do in Los Angeles. Live performances in LA can be costly but there are plenty of free events around the city all year long. Concerts are a hot commodity in the city of angels, so plan ahead of time and purchase tickets to see your favorite artist… your paths may magically cross in tinsel town! Our go-to concert venues in LA are the Hollywood Bowl, the Hollywood Palladium, Bardot, the Echo and Echoplex. If you'd rather do things in LA during the day, we recommend taking the Expo Line from Fig and 7th Street in downtown LA to the end of the line: the Santa Monica Pier. What we love about the Expo Line in LA is the elevated design, so you can see the city, take photos or sit back, relax and enjoy the ride.