Casual Dining San Diego Style: Fun, Sun and Casual Dining:  San Diego Deals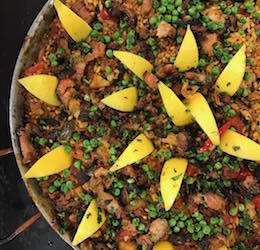 If you're looking for casual dining San Diego style, there are lots of options that let you sample an array of cuisine without breaking your budget. Check out Gaijin Noodle and Sake House at 627 4th Avenue, offering affordable starters and entrees in the style of Japanese gastro pubs. Happy hour drinks include $3 glasses of Sapporo beer on tap, and for dessert, try sake infused snow cones to cool down from the summer heat. If you prefer a view of the ocean, check out South Beach Bar and Grille just a few miles west of downtown, and catch a glimpse of the surfers at sunset while choosing from an American fare menu including fresh seafood, grilled tacos and delicious burgers and sandwiches. Eat on a dime and not break your budget as you spend your day touring and doing awesome things in San Diego.
Want a place to grab some grub "Casual Dining San Diego Style" that won't penalize you for wearing flip-flops and a t-shirt, there are plenty of options that are close to this surfing town's heart. Try Old Town Mexican Café at 2489 San Diego Avenue, and plunk down at the bar, a booth, or their family style wooden tables and sample their signature margaritas or their spicy tequila ribs. Another great low key restaurant in San Diego favorite is Wine Steals at 1243 University Avenue, where wine tasting is as fun as the laid back atmosphere. Try it on a Monday, and enjoy their $2 pizza slices all night.
Crazee Casual Dining San Diego: San Diego Burgers
Craving some alligator, camel or ostrich meat? Living up to its name, Crazee Burger is a haven for delicious fare which has all the foodies in San Diego coming back for more! There is no other place like Crazee Burgers' casual dining as they serve exotic meats everyday. Yes, they also serve normal beef patties and veggie burgers… but let's get down to the real deal. The menu starts off with a classic Signature San Diego Burger, followed by some interesting combination of ingredients that make up the Muddy Pig, Cajun and the Chubby Charlie burgers, to name a few. The exotic fare side of the menu also features Wild Boar, Duck, Buffalo, Elk and Venison patties. According to the locals, this is definitely a top San Diego place to eat at. The atmosphere is very SD casual dining, kids are totally welcomed and there's even patio seating where you can enjoy a juicy burger with the typical sunny San Diego weather. The menu also offers hot dogs, house made chilli, various types of fried potatoes and beer. Located in North Park, near San Diego Zoo, this location is absolutely the perfect place to discover a whole lot more of what the San Diego nightlife has to offer. Near Crazee Burgers, you'll discover lot's of local craft beer taprooms, shops, food and bars. The choices for casual dining in San Diego are endless!
San Diego Dining: Little Italy, Downtown and The California Burrito
First things first, let's clear up a common misconception in So Cal about Mexican style food. Yes, Los Angeles and San Diego both have some of the most delicious and amazing tacos, burritos, seafood, salsas and guacamole toppings outside of Mexico. It's almost like it's own cuisine (like Tex-Mex) existing in Southern California. But there is one clear difference between LA and SD. Local restaurants in San Diego offer a rare yet delicious offer: fries in your burrito. Also known as The California Burrito, this delicious burrito consists of carne asada (or choice of meat), cheese, sour cream and french fries or potatoes rolled into a flour tortilla. Plus don't forget the onions and cilantro, if your tastes buds allow you to indulge.
These local Mexican eateries also offer carne asada fries, which is pretty much the combination of nacho toppings but on french fries. Yes, we know… we're starting to work up an appetite too! Okay moving forward, the point is that Mexican style eateries for casual dining San Diego are almost always a hit, rarely a miss.
When adventuring through certain neighborhoods in San Diego for the best local eats, our favorites include Little Italy and the Gaslamp Quarter in downtown. Starting off at the Gaslamp – your morning and afternoon options include Barleymash, the Werewolf, and Garage Kitchen + Bar for SD breakfast, brunch and drinks. A casual night out in SD with friends is perfect at Havana 1920 serving up specialty cocktails, small plates of food and live music. If you're in the mood for a hip fusion take on Mexican food and drinks, drop into the Volcano Rabbit.
North of downtown in Little Italy, Barbusa tops our list for amazing Italian fare at a reasonable price in a more semi-casual yet modern environment that's suitable for date nights. If you're looking for a kid friendly environment serving local pizza in Little Italy, our go-to spot is Landini's Pizza.