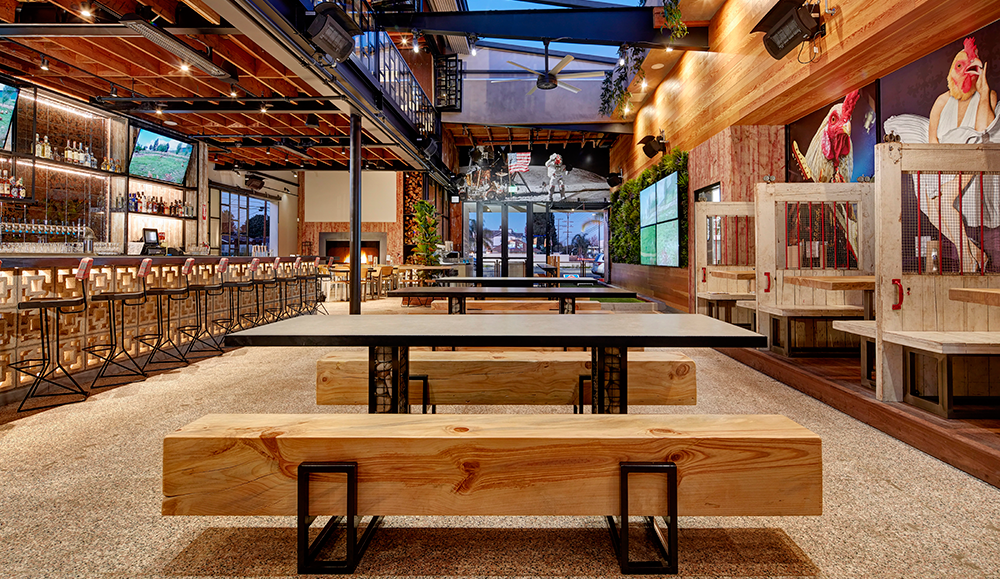 There are certain foods we love year-round but just seem better in summer. Burgers after the beach. Fried chicken on a picnic. Hot dogs with baseball. Barbecue in the backyard. Each has its benchmark destinations with devoted followings. But each has also inspired new spots that significantly alter the county's dining landscape. Some put surprising spins on beloved staples. Others are simply so good!
By Benjamin Epstein, adapted from WHERE Orange County magazine.
BURGERS
Chef Andrés Dangond, a native of Colombia whose resume includes stints at Michelin-starred restaurants, presents cut-above creative burgers using all-natural, free-range meats at The Cut in Irvine. Versions, in fact, include the Colombian with smoked mozzarella, cilantro chimichurri and, yes, roasted bananas. But the star is the Grand Cut, whose toppings include braised pork, bacon jam and havarti-and-Comté cheese fondue. Start with creamy prosciutto-and-Spanish-chorizo croquettes; end with the corn cookie ice cream sandwich.
Fun burgers, fantastic beers, fabulous location … you're living The American Dream. Though there's a roof over the bar and some tables, it's pretty much a patio looking out across Pacific Coast Highway to the beach. The meat's the thing, whether the chuck-brisket blend on the prosciutto-burrata burger or the wagyu patty on the truffle burger. As a side or a gussied-up main, the mac 'n' cheese is superb. Find truly distinctive beers such as Track 27's Uber Everywhere hazy IPA. The restaurant is at Pacific City's Lot 579 food hall in Huntington Beach.
Burgers run the gamut from those at SoCal fast-food icon In-N-Out to the wagyu wonder with lamb-belly confit and smoked-goat-cheddar fondue at Watertable in Huntington Beach. Our pantheon includes Umami, the SoCal icon that brought gourmet burgers to the hipster masses, and Arc, whose mile-high burger is storied for the sheer quality of its 1-pound rib-eye/short rib/lardons/duck-fat patty, Société Roquefort cheese, heirloom tomatoes, pickled red fresno chilies, cornmeal-dusted potato roll … and lots else.
FRIED CHICKEN
Bravo Top Chef All-Stars winner Richard Blais brings his playful chicken-centric dishes and decor—e.g., chicken heads superimposed onto iconic photos of Marilyn Monroe and Muhammad Ali—to The Crack Shack, a striking two-level space in Costa Mesa with a cornhole court and hand-washing trough. Oh, and free-range, bone-in Jidori fried chicken, the crunch of whose slightly spicy crust is unforgettable. Also memorable: the Firebird sandwich, tropical Border Slaw, pickle-brined chicken "oysters" and matzo-ball pozole. Six house-made sauces on tap include Cracksup and Sriracha Thousand Island.
Recipes for the crispy-fried herb-seasoned cornmeal-coated chicken and soulful sides (that cornbread! those collard greens!) at Georgia's, tucked away at Anaheim Packing House, come straight from the heart and soul of Gretchen Shoemaker—they're the ones she learned from her grandmother and raised her daughters on. Each plate comes with three pieces of dark meat and two sides such as red beans and rice and black-eyed peas; chicken-and-waffle is also a specialty.
Cognoscenti head to 370 Common in Laguna Beach for a bucket of fried chicken with spicy honey dipping sauce, superb sides, coconut cake and barrel-aged cocktails—the last Sunday of the month only. Owner/chef Ryan Adams rectifies that with Buttermilk, opening in Orange. Mrs. Knott's Chicken Dinner Restaurant at Knott's Berry Farm in Buena Park has used the same recipe since the dish was first served at the Knott family's boysenberry stand in 1934. Start with boysenberry-infused cocktails; finish with boysenberry pie.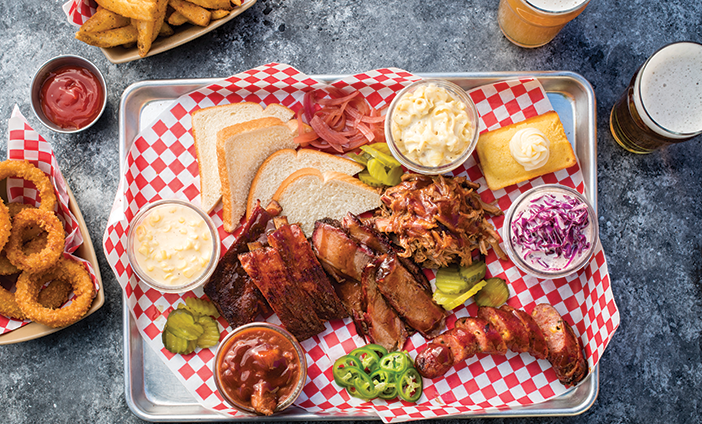 BARBECUE
Meat Up, in Placentia in North County, offers traditional hickory-smoked barbecue fare including spare ribs, pulled pork, tri-tip and, on weekends, what may be the county's best brisket—it generally sells out by 2 p.m. It also owes much of its popularity to the decidedly untraditional creations of owner Luis Flores, among them a Greek-inspired tri-tip sandwich called the Zeus, the Super Trooper-themed Farva Burger and the notorious Mac Attack Fries, a meal on its own. The beer list is thought-provoking, too.
Kansas City native Derrick Foster presents Kansas City barbecue at new Ember BBQ, inside Native Son Alehouse in Santa Ana. Spice-rubbed meats, cooked low and slow over a hickory pit, include Angus brisket, St. Louis ribs and pulled pork. Sides are showstoppers: his Rancho Gordo barbecue beans are peppered with brisket burnt ends; the Cheesy Corn is made with Mornay sauce and fresh-off-the-cobb corn. Hogchos are a nacho-like, pulled-pork/pork jerky/pickled-onion/smoked-cheese-sauce bar snack that replaces chips with chicharrones.
Tulsa Rib Co., in Orange for 37 years, is notable for the variety of its rib dinners: smoked, spicy, Caribbean or Cajun baby-back ribs, beef ribs, boneless beef ribs and boneless pork ribs; sides include fried mac 'n' cheese. Lucille's Smokehouse Bar-B-Que has five county locations and an expansive menu featuring St. Louis spare ribs, Texas-style brisket, Alabama chicken and other Southern specialties. Brisket, tri-tip, Carolina pulled pork and lots more are slow-cooked over hickory wood and served amid rustic, cowboy ambiance at Bad to the Bone in San Juan Capistrano; takeout feasts serve eight to 30.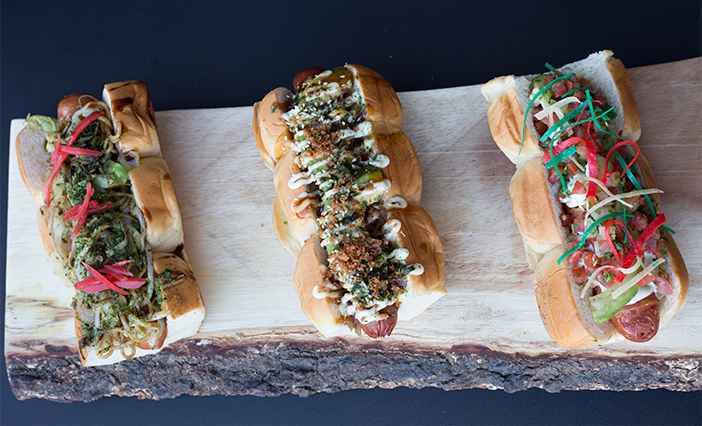 HOT DOGS
The Burnt Truck served sliders; Dogzilla offered Asian-fusion hot dogs. The owners—both Irvine natives who gave up finance jobs for culinary careers—combined their talents at BurntZilla. There are five styles on the dog side, all visually dazzling and served on King's Hawaiian rolls. The namesake Dogzilla is a beef frank with avocado, grilled onions, teriyaki, Japanese mayo, furikake and bacon; the new Aloha features a pineapple Portuguese link, teriyaki sauce and roasted pineapple salsa. Until recently only available as slider-sized "zillas," they now come full-sized, too.
Wursthaus, at the east end of Santa Ana's East End, offers handmade sausages and 20 pedigreed German and Belgian draft beers. You can get classics such as a spicy Polish, more elevated Sicilian provolone, or vegan smoked apple-and-sage, but the exotics—wild boar and rattlesnake-and-rabbit with jalapeño—bring us back. Choose pretzel roll, sourdough or grinder, add toppings such as IPA-caramelized onions. Belgian fries come with choice of nine dipping sauces; Drunken Fries add choice of 21 sausages.
Portillo's, founded 55 years ago in Illinois, has grown from one "Dog House" to 50, including one in Buena Park. It's known for Chicago-style hot dogs that "drag the dog through the garden," piling more than half a dozen toppings including kosher pickle and sport peppers onto a steamed poppy-seed bun.
[et_bloom_inline optin_id=optin_12]