Discovering Things to Do in Los Angeles Chinatown

Great Things to Do in Los Angeles Chinatown
Visiting Los Angeles Chinatown? Rather than just having some lunch, why not make a day of it? There's plenty of fun to get into. Once a month, the city offers walking tours of historic Chinatown where you can discover not only history but many hidden gems you won't find through everyday window browsing. Visit herbal shops, antique stores, even a historic temple. It's a great way to learn about the city's history up close and discover the thriving cultural traditions that continue to shape it today. Or take a wander down Chung King Road, a pedestrian road that's also a traditional Chinese market where you'll find some of the best art gallery spaces in L.A. Saturday nights feature art openings that thrive on community spirit. Discover why L.A.'s Chinatown is a favorite tourist destination.
Experience a Traditional Chinese Market at Chinatown's Far East Plaza
Another great way to experience the excitement of a traditional Chinese market in Chinatown is to pay a visit to Far East Plaza, a shopping market you might not even notice from the outside. Inside, you'll find a Chinese-American mall that's a cultural experience in itself. You owe it to yourself to check out the Eastside location of Chego, the rice bowl outpost of world renowned chef Roy Choi. Also worth a visit is the Wing Hop Fung, a two-story supermarket well known by the locals for its eclectic selection of herbal teas.
Thien Hau Temple's Stunning Architecture Worth the Visit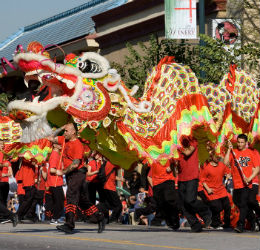 Another Chinatown tourist spot is the Thien Hau Temple, a gable roof Taoist temple with meticulously crafted columns that bring to mind the ancient times of China where emperors and samurais ruled the countryside. The Chinese New Year features dance performers and firecracker displays that are fun for the whole family. Any time the rest of the year, the temple is worth a visit simply for the stunning architecture. You'd never know the Temple was used as a Christian church as recently as 2005. Remember to bring your camera because this place is very picturesque when the light is just right.
The Popular Hidden Gem: Los Angeles Chinatown
If you get to experience Chinatown in the summer, then you're in for a treat! Aside from having a restaurant that's more famous for having the 1990s film Rush Hour, with Jackie Chan and Chris Tucker, shot on location, the summer also bring special events. KCRW Summer Nights takes over the central plaza in Chinatown L.A. once a month; offering live music, a beer garden and Instagrammable shots of L.A. It's also a free event to the public! You can also stop by on a weeknight and enjoy some classic dim sum in Chinatown L.A. and then stroll by General Lee's bar for a fresh cocktail or beer.