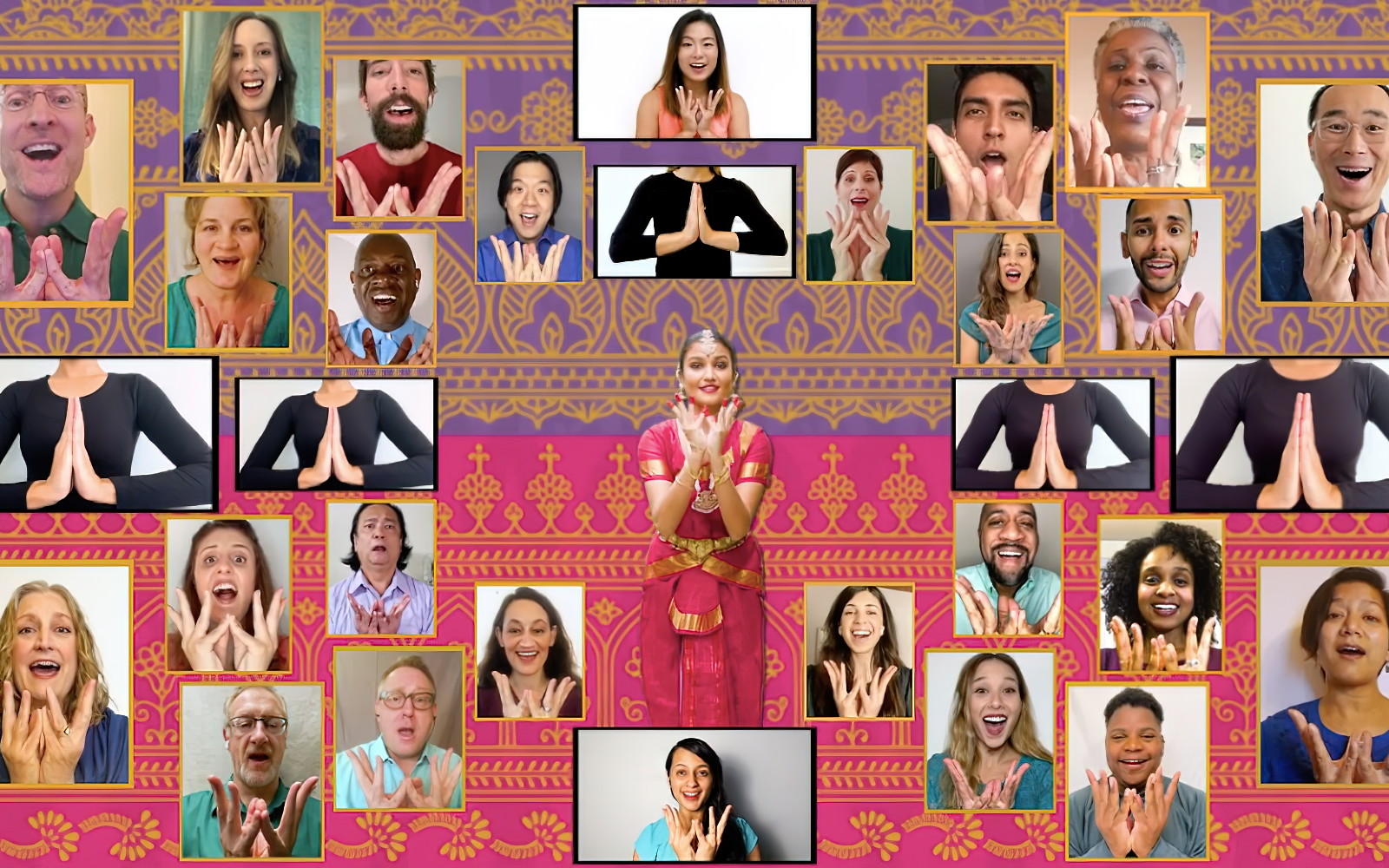 Southern California arts groups re-cast themselves as video producers whose short digital works draw large audiences.
Seventh in a nine-part series, "The Arts of Innovation," powered by Performances Magazine.
By Libby Slate.
In March 2020, Rachael Worby, artistic director-conductor of Pasadena musical ensemble Muse/Ique, was discussing with colleagues what they could do to stay connected with their audience during the newly declared pandemic, when inspiration hit. She called Muse/Ique bass player-singer Michael Valerio and asked if she could come over with an iPhone-bearing colleague to film him playing and singing the Beatles' song "Come Together." He agreed. Worby also recorded an introduction addressing the pandemic and posted the video online.
Thus was born Muse/Ique's In a Minute! (… or Two), a series of digital videos that at press time numbered more than a hundred, with more released each week. Running from one to five minutes, the videos present instrumentalists, singers, dancers and other artists in programs encompassing every genre of music imaginable.
Muse/Ique is just one performing-arts company whose leaders have found themselves media producers since the pandemic hit. With equipment readily available and affordable, and the companies' need to foster creative expression and audience engagement, digital videos have become a regular part of the repertory. They've drawn new audiences as well as new donations.
"The pandemic provided us with an interesting challenge, to create a format of offerings reflective of our core purpose, to create empathic connections and expand imaginations through live performances," Worby says.
Performances are now captured via imaginative camera angles and approaches: a dance troupe taps and claps to a spoken-word piece to celebrate Black History Month; a pianist plays while his cat listens attentively on his lap.
The Los Angeles Master Chorale has also turned to digital videos, beginning with Alice Parker's Hark, I Hear the Harps Eternal, presented in the standard virtual choir singers-in-boxes (aka "The Brady Bunch") look.
No more. TaReKiTa, with music by Chorale artist-in-residence Reena Esmail, features a dancer in brightly colored Indian saris making choreographed hand gestures against a backdrop of bold jewel tones. "Once you move away from the concert hall, you start thinking about music in a very different way," says Master Chorale director of production Susie McDermid. "We've been on a journey of how to be creative visually as well as in an auditory sense. What is this piece about? How do we reflect that visually?"
For TaReKiTa, a dynamic presentation of choral sounds rather than lyrics, Esmail worked with the chorale's associate artistic director, Jenny Wong, and editor Gabriel Zuniga on the rich color choices.
Released in November, TaReKiTa was first in a video triptych, Shine Bright, that also includes Meredith Monk's Earth Seen From Above, from her opera Atlas, and Derrick Spiva Jr.'s Ready, Bright, a chorale commission that premieres May 17.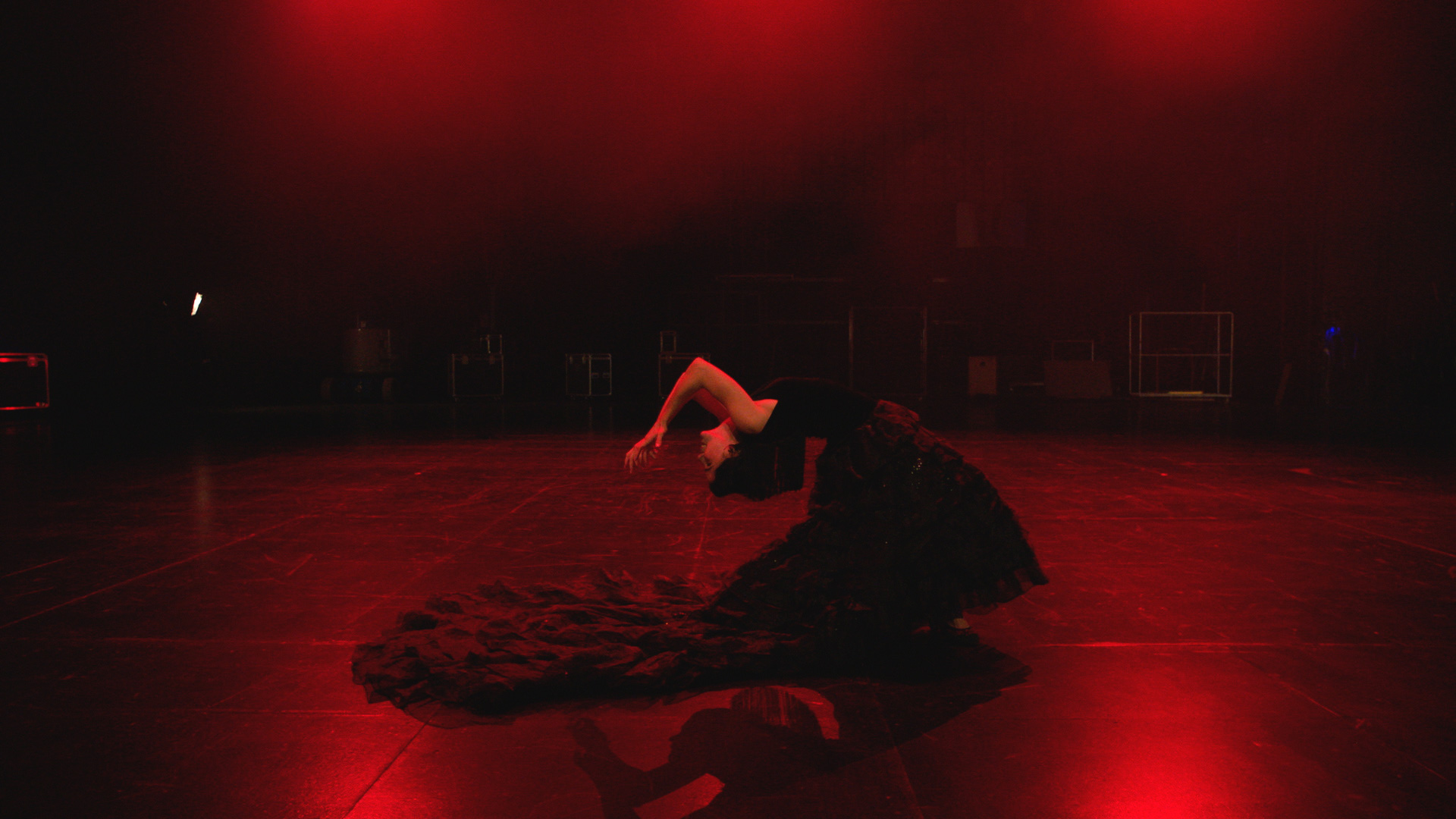 Los Angeles Opera's Digital Shorts also goes beyond onstage limits.
"There's an incredible wellspring of creativity we wanted to tap into," says L.A. Opera president and CEO Christopher Koelsch. "Every year there are more artists that we'd like to work with than either timing or budget will allow." They include Du Yun, David Lang, Matthew Aucoin, Missy Mazzoli and Ellen Reid.
"Every one of those artists was extremely enthusiastic about the idea of seizing the moment and responding in a creative way to it." The same held true for the non-operatic visual artists, whom Koelsch cold-called.
The first Digital Short, The Five Moons of Lorca, by composer Gabriela Lena Frank, was crafted by Emmy Award-winning director Matthew Diamond; it featured Cuban dancer Irene Rodríguez on stage at the Dorothy Chandler Pavilion, the first time the company had been there since the March 2020 shutdown.
Other videos include Reid's Lumee's Dream, from her Pulitzer Prize-winning opera p r i s m, in which kaleidoscope images reflect a mother's musings about her daughter, and Tyshawn Sorey's Death, set to a poem by Paul Laurence Dunbar.
The most recent release, Brown Sounds, was initiated by mezzo-soprano Raehann Bryce-Davis, who is scheduled to appear in Il Trovatore next season. Her video is based on a poem by Henry Dumas about the Black experience, beginning with the Garden of Eden.
L.A. Opera and its fellow organizations will continue to take artistic chances digitally even after live performances resume.
"We've had over 850,000 views of the material that we've put forward on this platform," Koelsch says. "Wow. We're reaching an audience that would take six years to reach on our main stage and Off Grand [performances away from the Pavilion]. I find that really inspiring."
Photos from top courtesy Los Angeles Master Chorale and L.A. Opera