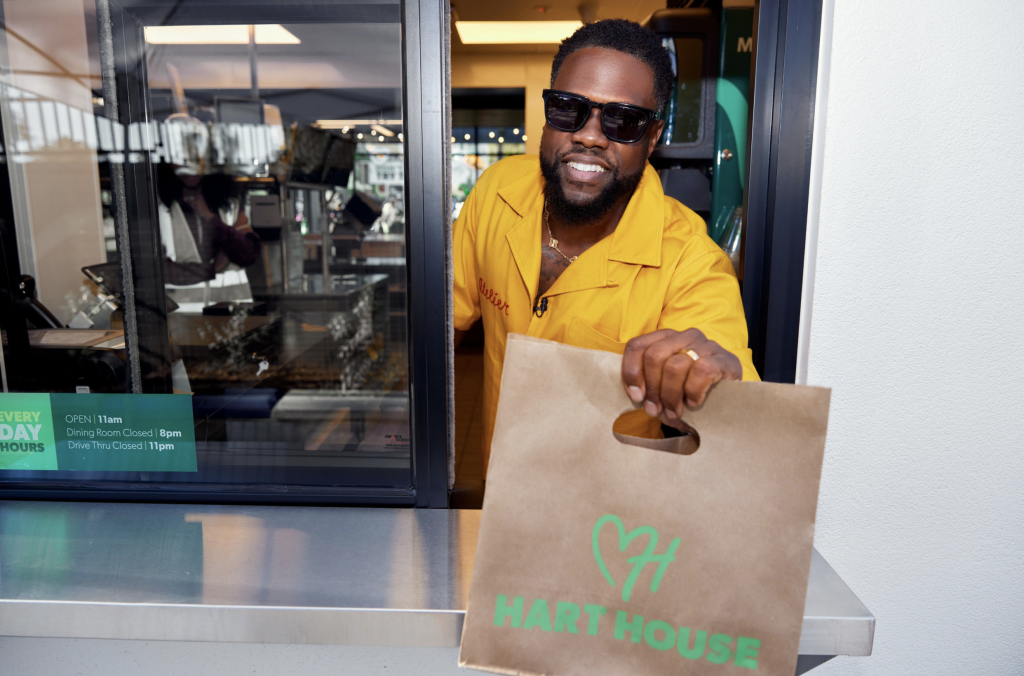 Plant-Base Chicken Sandwiches, Burgers, and Shakes
Adding to the excitement is the recently opened Hart House location in Hollywood, which has quickly become a new hot spot for food lovers. Transforming a former McDonald's lot on the bustling Sunset Blvd, this new addition to the Hart House family boasts an impressive 2,130 square feet of space. With 24 cozy interior seats and 16 inviting outdoor seats, it offers a welcoming environment for diners to indulge in their favorite dishes. Notably, the Hollywood location also introduces the brand's first-ever drive-thru, allowing customers to savor their favorite Hart House meals on the go.
To commemorate the grand opening of the Hollywood location, Hart House expressed their gratitude to the Hollywood Chamber of Commerce. In a show of support for the community, they also honored their partnership with the Assistance League of Los Angeles. As a testament to their commitment, Hart House pledged to donate 10% of the opening day proceeds to this remarkable organization. The ribbon cutting ceremony, attended by esteemed figures such as Hart House CEO Andy Hooper, Assistance League CEO Melanie Merians, and Hollywood Chamber of Commerce CEO Steve Nissen, showcased the unity between Hart House and the local community.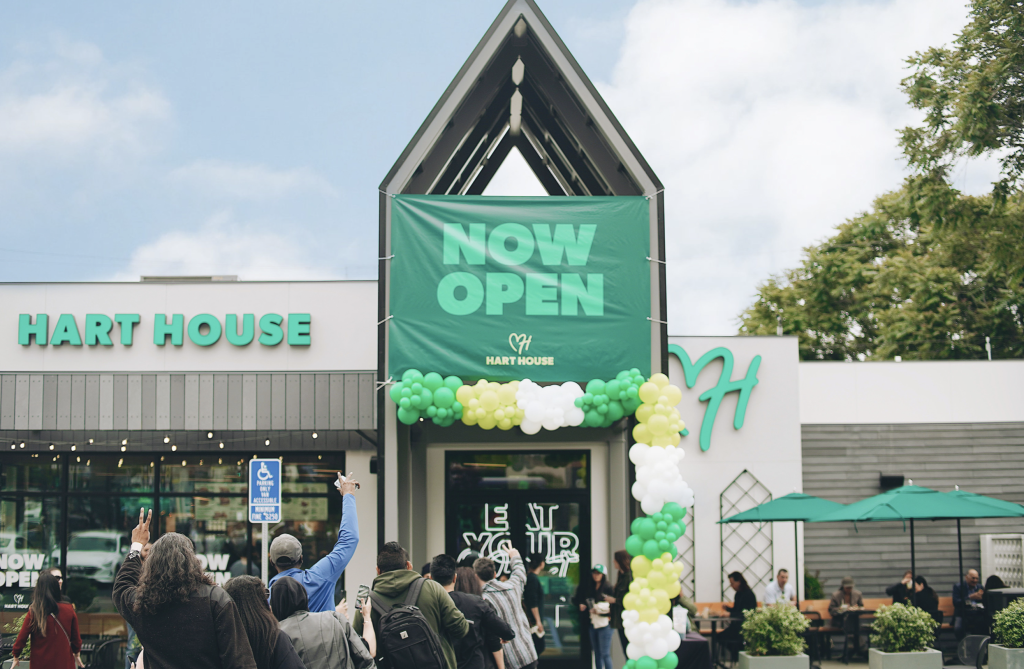 With a menu that presents an array of plant-based delights, this restaurant carries a variety of meatless options. From their plant-based burg'rs and chick'n sandwiches to their refreshing salads, crispy nuggets, golden fries, savory tots, and luscious milkshakes, Hart House is a sanctuary for those seeking real, plant-based ingredients.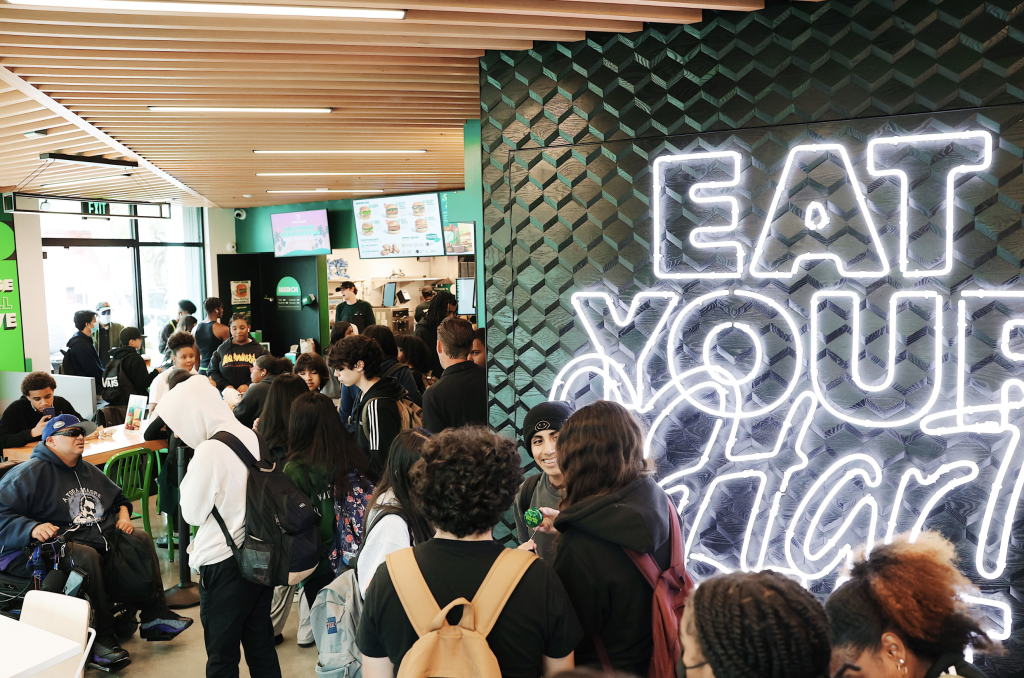 At Hart House, they take pride in their commitment to using only the finest plant-based ingredients, ensuring that every dish is a testament to both flavor and ethical sourcing. Each item on their menu is crafted with utmost care, utilizing 100% plant-based ingredients that are free from antibiotics, hormones, artificial colors, preservatives, and high-fructose corn syrup. It's a culinary experience that not only delights the palate but also aligns with a conscious and sustainable lifestyle.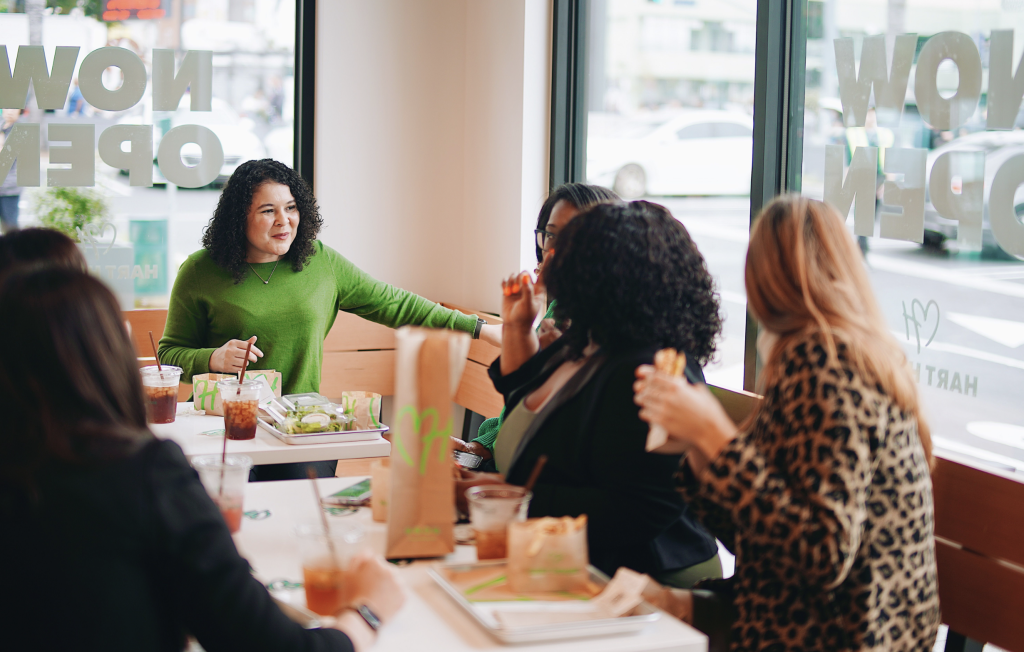 Prepare to be surprised as you try their plant-based burgers, capturing the essence of a traditional burger while offering a wholesome, plant-based alternative. With each bite, you'll discover an assortment of flavors, textures, and seasonings that will have you questioning whether it's truly meat-free.
For those seeking a crispy and satisfying option, their chicken sandwiches is a must try. Nicely seasoned and carefully prepared, these plant-based creations mimic the taste and texture of chicken, providing a guilt-free indulgence that will leave you astounded. They also have a variety of salad selections as well to choose from to pair with your sandwiches if you are not craving anything that resembles meat.

To quench your thirst on those warm summer days, Hart House introduces their refreshing Hart House lemonade. Crafted with precision and care, this beverage strikes a perfect balance between sweetness and tartness. It is a wonderful drink to enjoy on its own or alongside their other delectable selections.
They also have a new seasonal "Summer Lovin" menu, available for a limited time across all three locations. From the irresistible Smokey BBQ Burg'r to the refreshing Hart House lemonade and the fiery Nashville nuggets, each bite will transport you to a summer paradise. But that's not all—prepare yourself for a culinary revelation with the Nashville nuggets. Crispy on the outside and tender on the inside, these delectable bite-sized pieces of heaven are a true testament to the art of frying. Coated in a secret blend of spices that packs a fiery punch, each nugget is a burst of flavor that will leave you craving more. Whether you dip them in a tangy sauce or savor their spicy glory on their own, these Nashville nuggets are a must-try for any food enthusiast.
Hart House offers a wide range of options to satisfy every craving, from chicken sandwiches to impossible burgers and creamy plant-based milkshakes. Every bite at Hart House nourishes both the taste buds and the soul. So, the next time you find yourself strolling along Sunset Boulevard and craving a healthier yet equally delicious option, make your way to Hart House and discover how their plant-based offerings are revolutionizing the way we eat.
Address: 6800 Sunset Blvd., Los Angeles
Hours: Dining Room Open: 11-8pm Daily
Drive Thru Open: 11-11pm Daily
Photo credits: All images are courtesy of Hart House