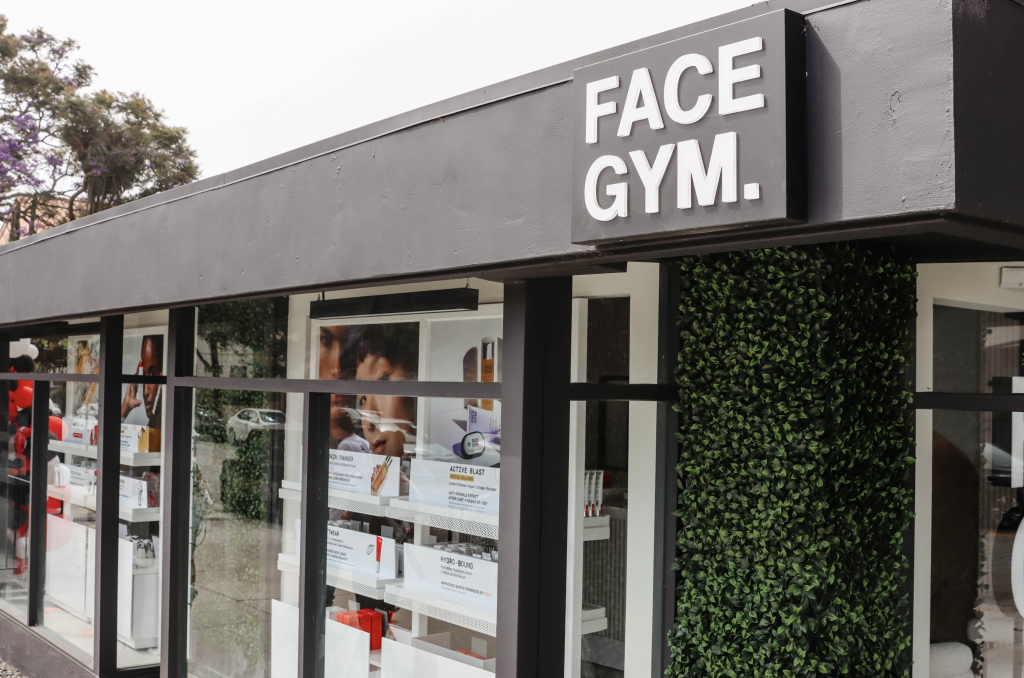 Brace yourself, Los Angeles, as the buzzworthy U.K.-based beauty brand, FaceGym, is sprinting onto the fitness scene, promising to deliver radiant skin and transformative self-confidence to all. With an impressive debut in Australia already under its belt, FaceGym is geared up to inaugurate its second studio location on the renowned Montana Ave in Santa Monica, boosting its U.S. presence in a big way.
As a gym-goer would say, "no pain, no gain". The same goes for FaceGym's clients. The process of getting that sculpted, glowing skin is part of the fun. Whether it's the famous Cryo Contour or the brand new Signature Skin Reset, FaceGym ensures a tailored skincare routine that meets the client's individual goals. With the opening of the second studio in Los Angeles in May 2023, just in time for the summer sculpting season, FaceGym's irresistible facial workouts promise radiant skin that oozes confidence right off those freshly sculpted cheekbones.
When you step into the modern space designed with state-of-the-art elements and an interactive playbar, you'll see how the brand has blended its signature style with an LA twist. The studio is more than just a space—it's an immersive experience that redefines facial fitness. The aim isn't just to pamper your skin, but also to introduce you to the magic of award-winning skincare and advanced technology tools that you can try, test, and take home to maintain your newfound glow.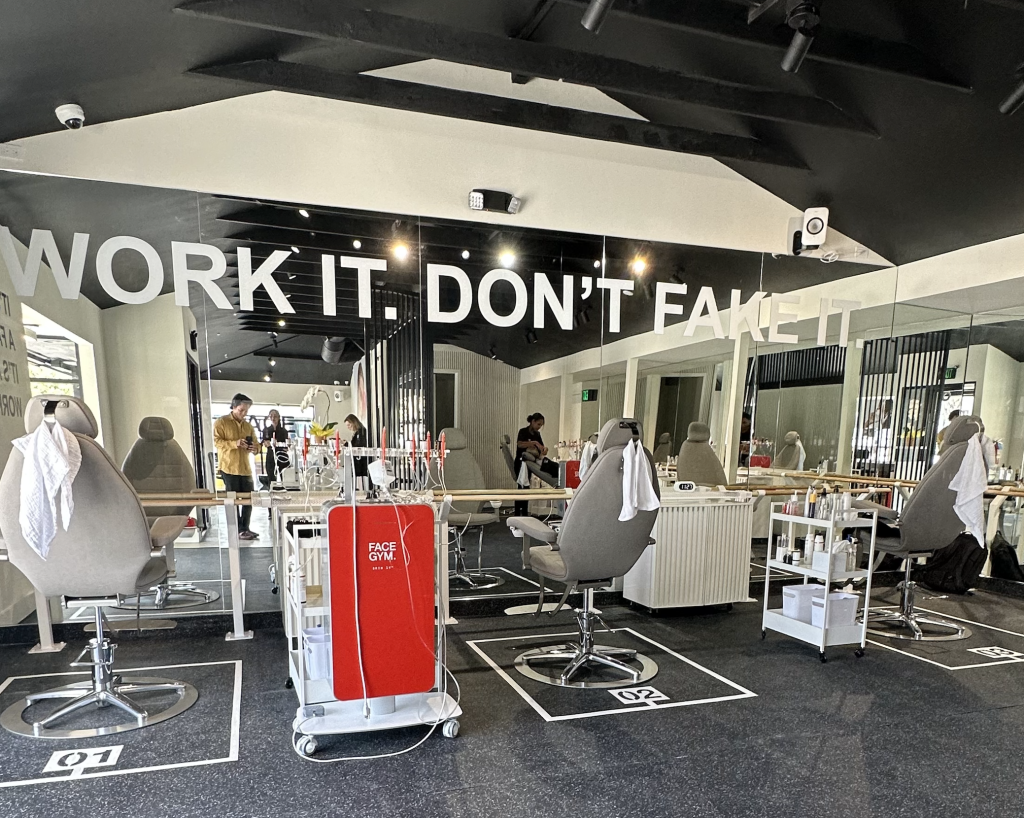 Why do clients keep coming back, you may ask? FaceGym's workouts blend their signature muscle manipulation techniques with the latest technology, such as EMS and Cryo Oxygen. The popular Cryo Contour, a celebrity favorite before any red carpet event, combines an intense hydration session with a high-pressure shot of CO2 and hyaluronic acid. This treatment not only hydrates and plumps the skin but also helps stimulate collagen production, improve skin texture, and reduce wrinkles and fine lines. Imagine leaving the studio feeling as if your skin has gulped down ten glasses of water and wears a visibly smooth, plump, and rejuvenated appearance.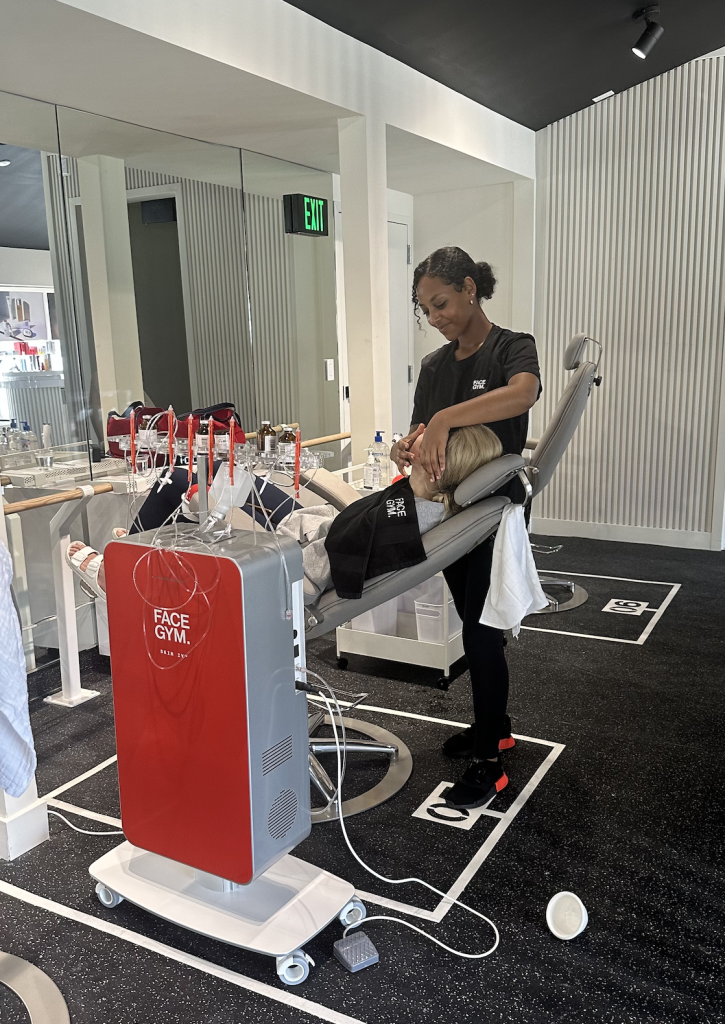 On top of their regular facial workouts, FaceGym's workout boosters, like the Faceshot, provide an added dose of renewal, brightness, and smoothness. They even provide personalized skincare recommendations for between workouts, from exfoliating essence-toners to vegan collagen boosters. Each appointment is a 55-minute experience, with an extra 10 minutes dedicated to a pre and post-workout consultation with your trainer.
The fact that FaceGym has expanded to 16 studios in just eight years since its launch is a testament to the brand's global demand and the astounding trajectory of the business. Whether you're seeking to transform your facial fitness or simply enhance your natural beauty, FaceGym has the tools, the techniques, and the passion to ensure that everyone, everywhere can experience the ultimate skin confidence.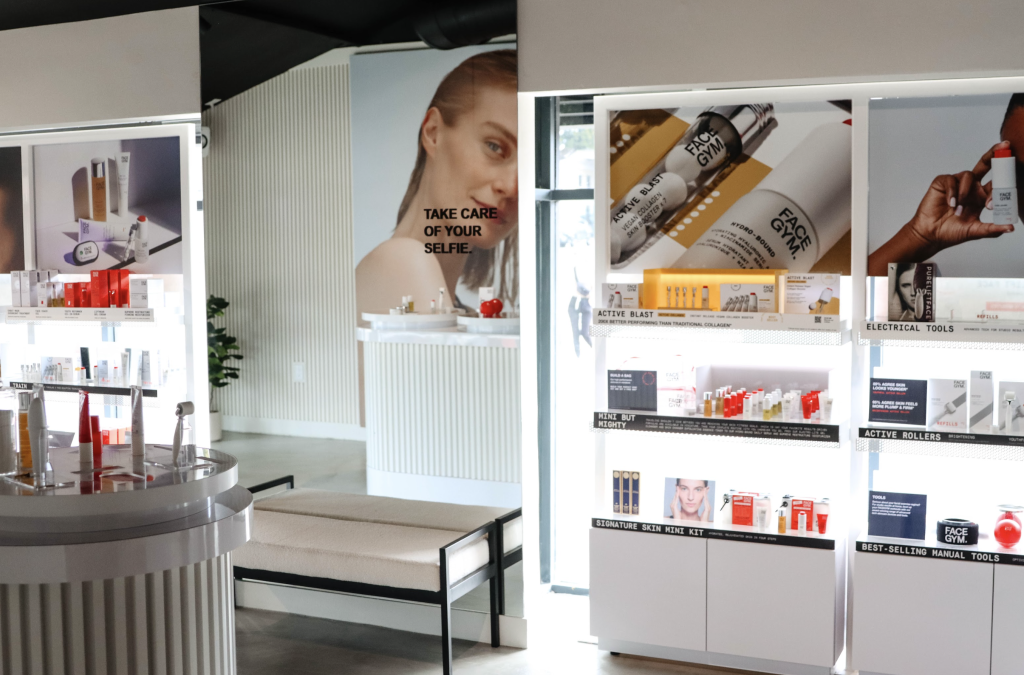 For more information on FaceGym Santa Monica or to book an appointment, visit FaceGym.com or email cstumpo@facegym.com. Your skin fitness journey awaits!
MORE INFORMATION AT FACEGYM
DATE: Saturday, August 5
LOCATION: 1034 Montana Ave., Santa Monica


Photo credits: Photos courtesy of FaceGym Santa Monica