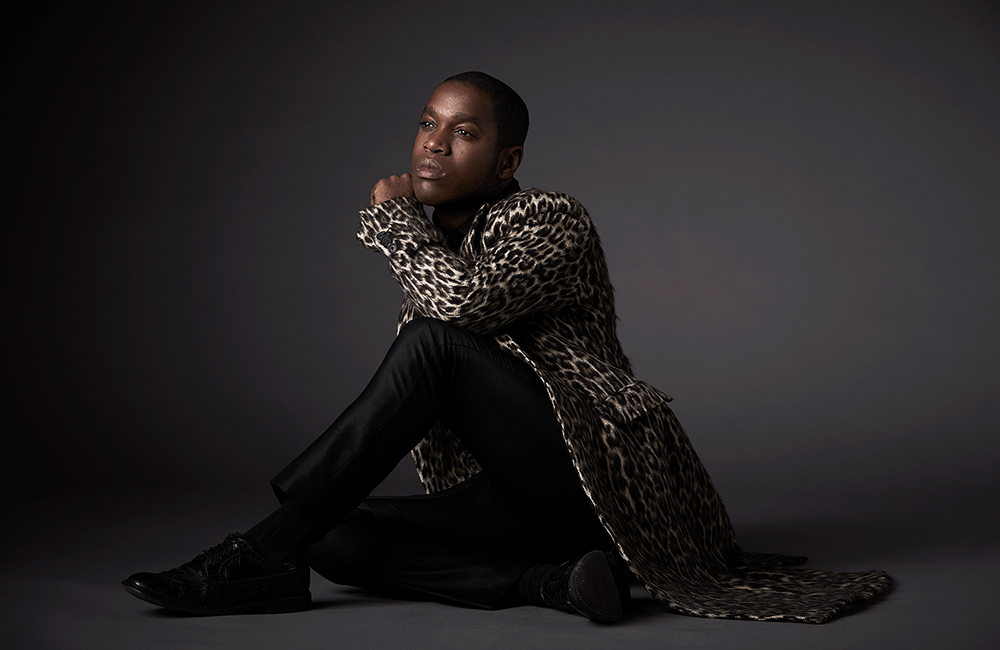 The Program: Mark your calendar for these August virtual, streaming and in-person SoCal performances that inspires innovative programs.
Note: Though hours and formats are updated regularly, they can change without notice; best to confirm at venue websites.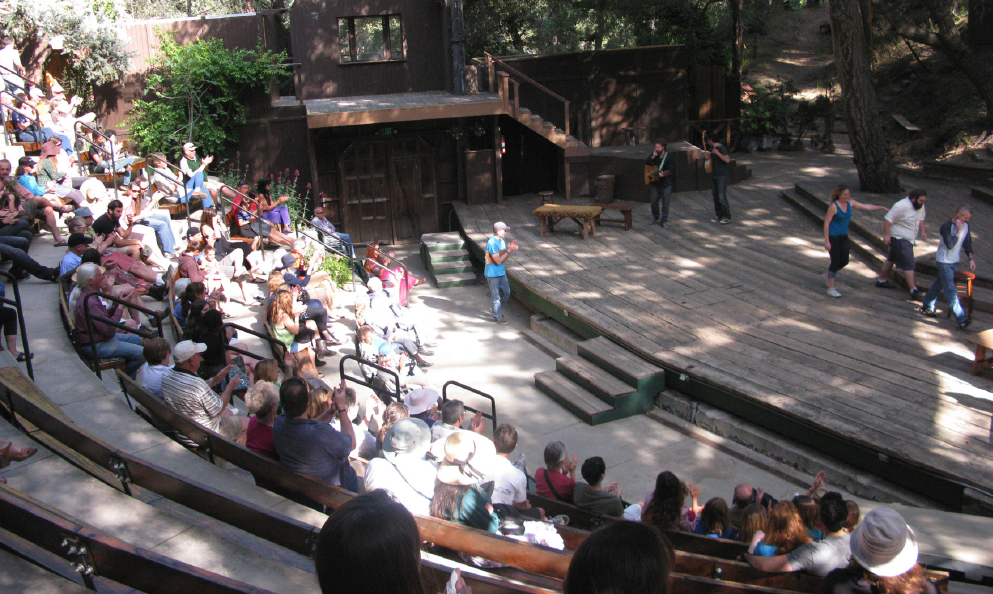 Will Geer's Theatricum Botanicum
A Midsummer Night's Dream
Through Nov. 7. The natural surrounding of the Theatricum transforms into an enchanted forest for the comic misadventures of William Shakespeare's A Midsummer Night's Dream this summer thanks to sponsorship by the S. Mark Taper Foundation. See website for showtime and ticket prices. 1419 N. Topanga Canyon Blvd., Topanga. theatricum.com | Tickets
Will Geer's Theatricum Botanicum
Julius Caesar
Through Oct. 30. Will Geer's Theatricum Botanicum 2021 Repertory Season, sponsored by the S. Mark Taper Foundation, brings back Caesar's tyrannical rule. His assassination divides the people, the senators, even his friends, into warring factions. The republic descends into bloody civil chaos in the Bard's chilling—and eerily timely—thriller about power, political change and the elusive nature of truth. See website for showtimes and ticket prices. 1419 N. Topanga Canyon Blvd., Topanga, 310.455.3723. theatricum.com
The Fountain Theatre
An Octoroon
Through Sept. 13. The Los Angeles premiere of An Octoroon, a radical, incendiary and subversively funny Obie award-winning play by MacArthur Foundation "Genius Grant" recipient Branden Jacobs-Jenkins, inaugurates the new outdoor stage at The Fountain Theatre. A spectacular collision of the antebellum South and 21st-century cultural politics, An Octoroon is a gasp-inducing deconstruction of a moustache-twirling melodrama by 19th century playwright Dion Boucicault that twists a funhouse world of larger-than-life stereotypes into blistering social commentary. See website for schedule. $25-$45. 5060 Fountain Ave., L.A., 323.663.1525. fountaintheatre.com
The Wallis
Ty Taylor: A Summer Evening of Classic and Nouveau Standards
Aug. 28. Acclaimed recording artist Ty Taylor, described by Rolling Stone as "a modern-day James Brown" for his in-the-pocket sound, caps Summer @ The Wallis with a sophisticated and swinging evening of classic and nouveau standards on the pop-up outdoor stage. 8 p.m. $50. 9390 N. Santa Monica Blvd., Beverly Hills, 310.746.4000. thewallis.org
The Wallis
Mariachi Arcoiris de Los Angeles
Aug. 26-27. Grab your tickets to watch the world's first LGBTQ+ mariachi band perform the infectious sounds and rhythms from south of the border in back-to-back performances on The Wallis' pop-up outdoor stage. The unique and dynamic ensemble, which showcases the musical and folklore traditions of Mexico's rich culture, is led by director Carlos Samaniego, and includes among its ranks Natalia Melendez, the first transgender woman in the history of mariachi. 8 p.m. $30. 9390 N. Santa Monica Blvd., Beverly Hills, 310.746.4000. thewallis.org
The Wallis
Quattrosound
Aug. 25. The innovative acoustic ensemble Quattrosound shakes up Summer @ The Wallis with its engaging blend of jazz, rock and classical music on our pop-up outdoor stage. Its four musicians are equally astute at playing a Bach Suite, rocking out to Led Zeppelin or interpreting a piece by Chick Corea. Quattrosound features Leah Zeger (violin and vocals), Giovanna Moraga Clayton (cello and vocals), Kay-Ta Matsuno (guitar and vocals) and Jorge Villanueva (percussion and vocals). 8 p.m. $40. 9390 N. Santa Monica Blvd., Beverly Hills, 310.746.4000. thewallis.org
Odyssey Theatre
It's Alive, It's Alive!
Aug. 21, 28 | Sept. 11, 18. L.A.-based legendary performance artist John Fleck will create a musical theatrical rollercoaster that hilariously and pointedly skewers our fears and assumptions about everything from COVID-19 to our identity as earth dwellers at this precarious moment. 8 p.m. $20. 2055 S. Sepulveda Blvd., L.A., 310.477.2055. odysseytheatre.com
The Wallis
Versa-Style Dance Company: Box of Hope
Aug. 19-21. Versa-Style Dance Company makes its Wallis debut with a three-night live engagement of its latest hip-hop dance-theater production, Box of Hope, on the outdoor pop-up stage. Box of Hope fuses the vintage sounds of R&B and Motown using hip-hop dance to explore the root of the inequalities and hardships in today's volatile social climate, specifically within underserved African American and Latino communities. 8 p.m. $35. 9390 N. Santa Monica Blvd., Beverly Hills, 310.746.4000. thewallis.org
North Coast Repertory Theatre
Dr. Glas
Through Aug. 15. As the finale to its streaming season, North Coast Rep presents this world-premiere psychological thriller. Daniel Gerroll—known for his roles in the TV series The Blacklist and the film Chariots of Fire—stars as the menacing and memorable Dr. Glas, who becomes consumed by a life-and-death moral dilemma. Based on a Swedish masterpiece and written by Jeffrey Hatcher (who penned Holmes and Watson), the gripping one-man production promises chills and a few laughs. David Ellenstein directs. Tickets are $35 for single viewing; $54 for group viewing. northcoastrep.org
The Wallis
Heidi Duckler Dance's The Chandelier
Aug. 12-15. Live dance returns to The Wallis with the world premiere of Heidi Duckler Dance's The Chandelier, a site-specific work choreographed and directed by company founder/artistic director Heidi Duckler that runs for four nights on the pop-up outdoor stage. Taking the audience on an epic journey, The Chandelier, created for The Wallis, is based on a novel of the same title by Brazilian author Clarice Lispector. 8 p.m. $50. 9390 N. Santa Monica Blvd., Beverly Hills, 310.746.4000. thewallis.org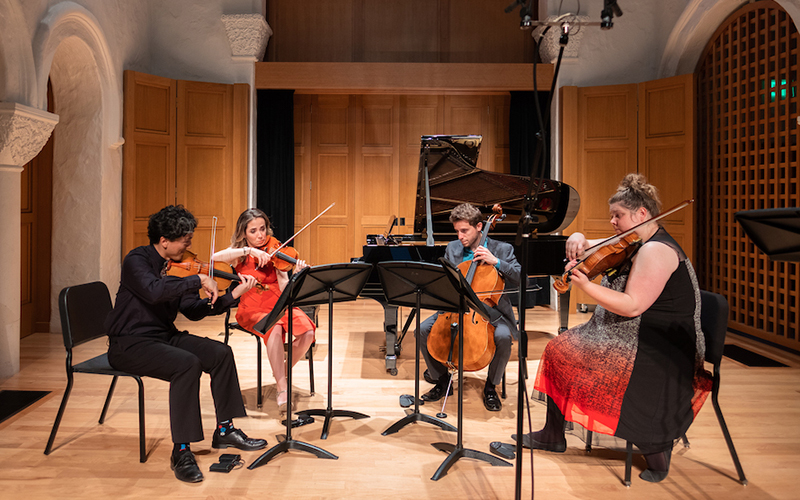 The Wallis
Salastina
Aug. 7. The Wallis presents L.A.-based chamber music ensemble Salastina—nationally recognized for its accessibility and "elegant virtuosity" (Huffington Post)—performing a compelling selection of music from repertoire spanning three centuries on the pop-up outdoor stage. 8 p.m. $40. 9390 N. Santa Monica Blvd., Beverly Hills, 310.746.4000. thewallis.org
The Old Globe
Hair
Aug. 10-Oct. 3. Directed by Old Globe Resident Artist James Vásquez (The Old Globe's American Mariachi and Tiny Beautiful Things), this legendary rock musical bursts onto the outdoor stage with its Grammy Award-winning score, featuring iconic hits such as "Let the Sunshine In," "Good Morning Starshine," and the exuberant title song. Make love, not war!—and celebrate "harmony and understanding" with Broadway's first great rock musical. 8 p.m. Starting $37. 1363 Old Globe Way, San Diego, 619.234.5623. theoldglobe.org
Chance Theater
Edges
Through Aug. 8. Chance Theater presents the Orange County premiere of Edges. Before they wrote Dear Evan Hansen, La La Land, The Greatest Showman, Dogfight, and many other modern musical classics, Benj Pasek and Justin Paul wrote a thrilling song cycle about four burgeoning adults asking classic coming-of-age questions about love, commitment, identity, and meaning. $39-$49. 5522 E. La Palma Ave., Anaheim. chancetheater.com
American Friends of the Israel Philharmonic
Young Soloists
Aug. 8. Join co-hosts Orli Shaham and Avi Avital for the Israel Philharmonic's Young Soloists, a showcase featuring a diverse group of talented young musicians of the Philharmonic's renowned music education programs—Keynote and Sulamot. 2-3 p.m. Free. afipo.org
Odyssey Theatre
Music at the Odyssey
Aug. 7, 14. Live music curated by bass player and actor John Snow, is back at the Odyssey Theatre. Two Saturdays in August will feature a wide range of musical guest artists from jazz to folk to R&B to pop all accompanied by the house band. 8 p.m. $25. 2055 S. Sepulveda Blvd., L.A., 310.477.2055. odysseytheatre.com
Geffen Playhouse
19th Annual Backstage at the Geffen
Aug. 7. Watch Le Conte Avenue transform into an intimate, outdoor fine-dining and theater experience for 216 guests with the Geffen Playhouse as the beautifully lit backdrop. Expect a delicious three-course dinner by chef Abigail Chilton of Alligator Pear Catering, followed by a performance of music, dance and intimate theater stories by secret celebrity guests. Join for in-person or online as the evening honors Amanda Gorman, the youngest inaugural poet in U.S. history, alongside the Honorable Nicole Avant, former U.S. Ambassador and husband Ted Sarandos, Co-CEO of Netflix. 6 p.m. Tickets and packages are donation-based. 10886 Le Conte Ave., L.A., 310.208.5454. geffenplayhouse.org
Sing for Hope
Sing for Hope Pianos Come to Beverly Hills
Aug. 5-Sept. 6. Nonprofit Sing for Hope partners with City of Beverly Hills and Wallis Annenberg Center for the Performing Arts to bring 16 artist-designed Sing for Hope Pianos to parks and public spaces throughout Beverly Hills for the public to enjoy. Each Sing for Hope Piano features original artwork designed by L.A.-based visual artists and will appear at iconic locations throughout the area, including Beverly Hills City Hall, Beverly Gardens Park, the Wallis Annenberg Center for the Performing Arts, Will Rogers Memorial Park, La Cienega Park and Roxbury Park. Additional locations to be announced. See website for more info. singforhope.org
Hudson Theatres
The Wake of Dick Johnson
Aug. 5-25. The West Coast Premiere of the off Broadway production, The Wake of Dick Johnson, performed live and in person by writer and director Luke Walker, will be part of the 2021 Hollywood Fringe Festival. In this pitch black one-man comedy, Dick Johnson (played by Luke Walker) lies in an open casket, surrounded by flickering candles, dead flowers and a red neon cross nailed above him. In this small, claustrophobic and intimate room, the audience are the attendees of his wake, when he returns from the other side for one last bottle of his beloved hooch, to enlighten us about grim realities we all face in the afterlife, and have a conversation with his pedophilic Uncle Willy. Intended for mature audiences only. 6539 Santa Monica Blvd., Hollywood. hollywoodfringe.org
Hollywood Bowl
Reggae Night XIX
Aug. 1. Grab your tickets to watch eight-time Grammy winner Ziggy Marley headline Hollywood Bowl's annual Reggae Night along with Wailing Souls. Ziggy brings the sounds of Jamaica to the world while honoring the legacy of his father, the legendary Bob Marley. Wailing Souls have been central to Jamaican music since the days of rock steady, and their constant evolution has brought them through roots reggae and dancehall all the way up to the present. Gates open at 5:30 p.m., concert begins at 7 p.m. 2301 N. Highland Ave., L.A., 323.850.2000. hollywoodbowl.com
The Road Theatre Company
The 12th Annual Summer Playwrights Festival
Through Aug. 1. The largest playwrights festival in the U.S. continues online this fall. The Road Theatre Company will stream 26 plays in 12 days, featuring plays by Oscar, Tony, and Pulitzer Prize winner John Patrick Shanley (Moonstruck), Kermit Frazier (Ghostwriter) and more. Streaming. Suggested donation $15. roadtheatre.org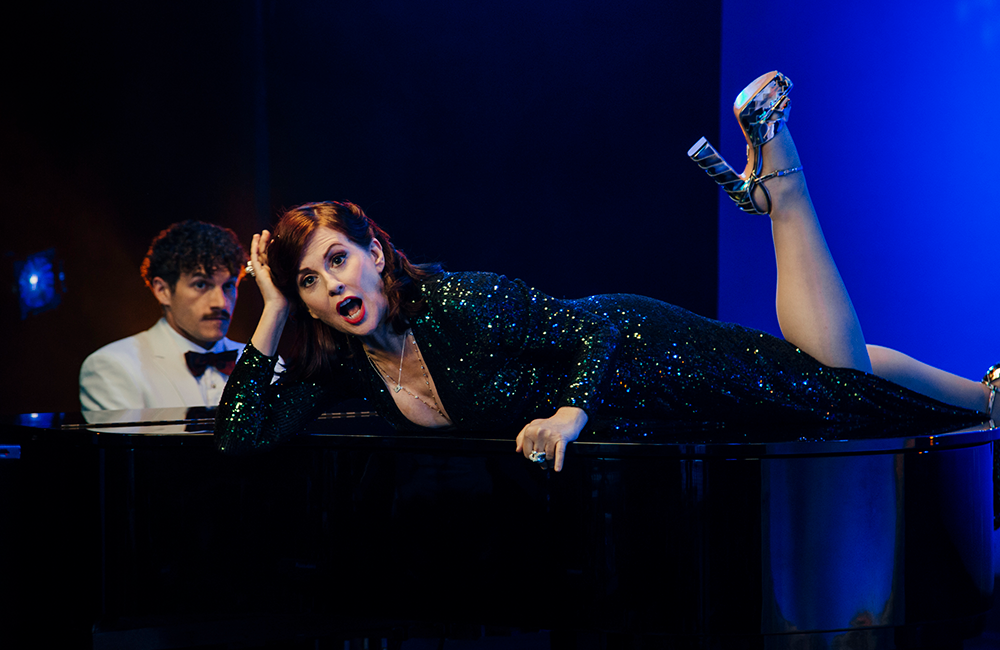 Ongoing
CAP UCLA
Ellen Reid Soundwalk
Ongoing. Soundwalk is an "ear-oriented art event" with an emphasis on listening to the environment of Griffith Park conceived by Pulitzer Prize-winning composer Ellen Reid has worked on opera, film scores, orchestral works and sound installations. This GPS-enabled work of art, uses music to illuminate the surrounding environment with the help of an app. ellenreidsoundwalk.com | cap.ucla.edu


La Jolla Playhouse
Pick Me Last
Ongoing. La Jolla Playhouse presents a new play to stream for young audiences—a humorous and touching story about standing up for your friends and learning to let them stand up for themselves. This schoolyard story by Idris Goodwin delights with its music and poetry. Streaming. Free. lajollaplayhouse.com
Moving Arts Theatre Company
Isolation Inn
Ongoing. Six L.A.-based writers created a 9-episode Zoom series that incorporates the medium as if it is one of the characters in the story. The result of their collaboration is a smart and wickedly funny story about nine essential workers who decided to isolate together during the lockdown of 2020. Stay for the live Zoom chat with cast and crew after the show. Streaming live on Sundays. 2 p.m. Pay what you can. RSVP | movingarts.org
Pasadena Playhouse
In Development: Iceboy!
Ongoing. Megan Mullally ("Will & Grace"), Nick Offerman ("Parks and Recreation"), Adam Devine (Pitch Perfect) and Laura Bell Bundy (Legally Blonde: The Musical) star in this new comedic musical about a 10,000-year-old once-frozen Neanderthal that comes to life once thawed and becomes an acting sensation. Free. pasadenaplayhouse.org
Pasadena Playhouse
Still.
Ongoing. Javon Johnson, one of the nation's most prominent spoken-word artists, shares his personal experience at a pivotal time in our history. Still. blends powerful imagery, witty prose and beautiful lyricism in a timely, unforgettable theatrical event. Free. pasadenaplayhouse.org
Los Angeles Chamber Orchestra
LACO Close Quarters
Ongoing. LACO Close Quarters features 16 digital programs produced exclusively for streaming with visual design by director James Darrah. Darrah—noted for visually and emotionally work at the intersection of theater, music and film—is establishing a first-of-its-kind LACO digital studio, a creative hub that will create works in a variety of mediums. Each LACO concert will be filmed at The Colburn School's Olive Rehearsal Hall socially distanced with no audience and produced for streaming. Free. Watch | YouTube | Facebook
Photo credits: Eden Espinosa by Jim Coxx. Will Geer's Theatricum Botanicum by Ian Flanders. Pat Kinevane in Silent by Ste Murray. "In Development- Iceboy!" by Jeff Lorch. All other photos are courtesy of the venues.