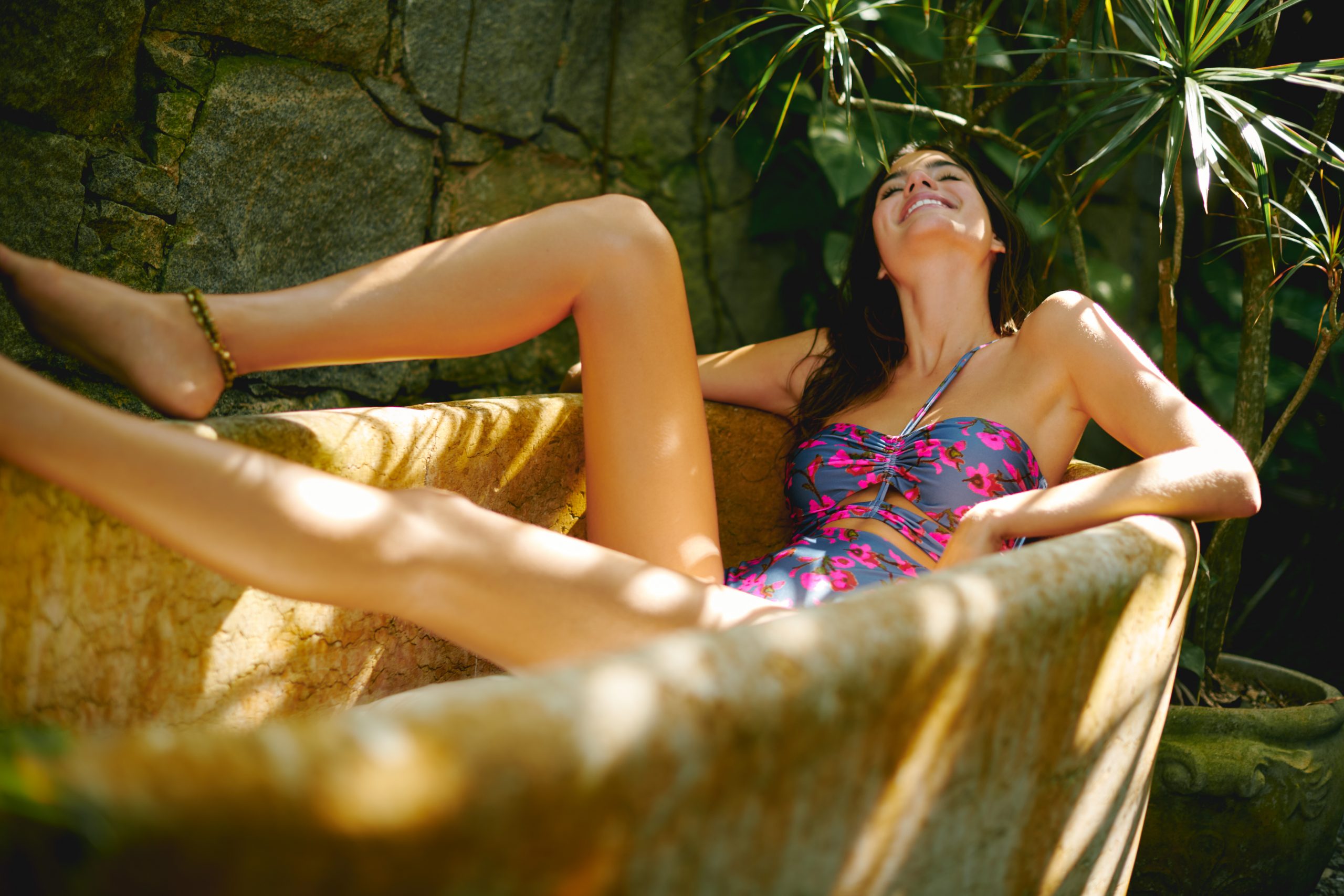 Ready to jump right into summer? Make a splash with our list of beachwear boutiques to shop from, fruity recipes to follow and outdoor games to enjoy this summer.
BEACHWEAR BOUTIQUES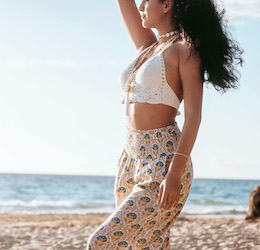 CoCo Rose
Brought together by a mother and daughter duo from their travels abroad to Bali, CoCo Rose offers designer feminine beach and resort wear. Browse online to view new handcrafted jewelry, flowy dresses and colorful accessories. Plus, CoCo Rose is offering free shipping on all orders! cocorose.com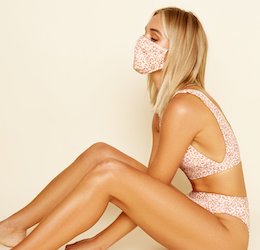 Diane's Beachwear
Discover fresh, modern swimwear and beachwear in a variety of patterns, shapes and designs at Diane's Beachwear. While offering a variety of matching two-piece swimsuits and creative one-piece suits that are available in sizes for women who need more coverage and support, Diane's also sells coverups, pajamas, rompers and jumpsuits, among other apparel. Now Diane's offers matching face masks with select swimsuits to help you stay safe and fashionable! dianesbeachwear.com
Sauvage Swimwear
Established in San Diego, Sauvage produces men's and women's designer swimwear with bio-based, biodegradable, recycled, regenerated and organic fabrics—all manufactured in the United States. The men's selection features European-style swim trunks and modern board shorts, along with the new bold Miami Brights collection. For women, shop from the resort-style luxe or new summer collections; there's also coverups and accessories available. sauvagewear.com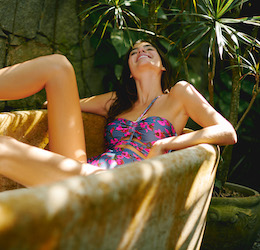 ViX Paula Hermanny
As one of the first luxury swimwear companies to arrive to the U.S., ViX Paula Hermanny fuses the bold sexiness of Brasilian beach culture with the coastal allure of California and provides an exceptional fit—which is a distinguishing factor of the company. Other attributes of ViX include their use of vibrant colors, creative details, prints and solids in their swim, resortwear and accessories to celebrates women's bodies. F.Y.I: All orders come with free two-day U.S. shipping! vixpaulahermanny.com
FRUITY RECIPES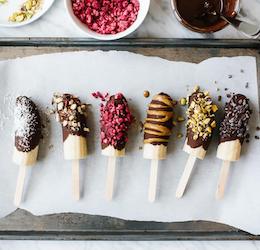 Chocolate Covered Bananas
Get rid of those store-bought artificial popsicles and treat your kiddos to this healthier alternative. For ingredients, you'll need bananas, dark chocolate and toppings of your choice (i.e. chopped peanuts, dried raspberries and shredded coconut). Make sure to leave your bananas in the freezer for at least two hours. See full recipe by Lisa Bryan of Downshiftology here!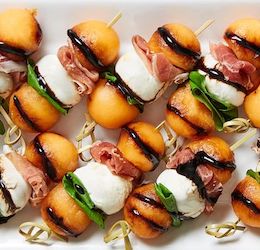 Melon Prosciutto Skewers
Sweet and salty has never tasted so good. For this refreshing and satisfying appetizer, you'll need cantaloupe fresh basil leaves, mozzarella balls, slices of prosciutto and balsamic glaze, for drizzling. Cut the cantaloupe in half and use a melon baller—or similar appliance—to create melon balls. Assemble skewers layering cantaloupe, basil, mozzarella, prosciutto and a second piece of cantaloupe until you have 12 skewers. For the final touch, drizzle skewers with balsamic glaze, serve immediately and enjoy!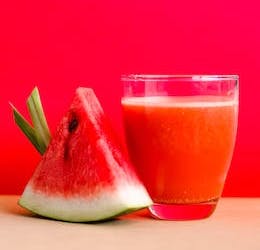 Vodka Watermelon Slushies
A childhood favorite with an adult twist! For this refreshing drink from Cravings by Chrissy Teigen, you'll need 1/4 cup freshly squeezed lime or lemon juice, 1/4 cup sugar, 4 cups of frozen watermelon cubes, 1 cup chilled vodka and lemon/lime wheels, plus mint sprigs for garnish. Blend all ingredients, garnish and enjoy! Full recipe
OUTDOOR GAMES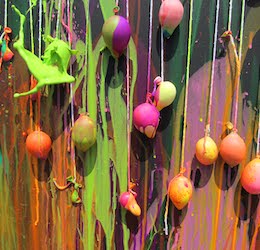 Balloon Dart Painting
Recreate the fun mother-daughter balloon dart painting scene from the 2001 teen comedy film The Princess Diaries at home! You'll need a large canvas, water balloons, darts, paint and push pins—plus a tarp to keep your grass or floor paint-free. Pro tip: Use a condiment bottle to help fill your balloons with paint! Once filled with paint, prop up the canvas and start pinning the water balloons to the canvas with the push pins. Once the balloons are attached, start throwing the darts and watch your painting take shape. Remove balloon remnants and push pins, let the painting dry completely and, voila, you have a colorful masterpiece!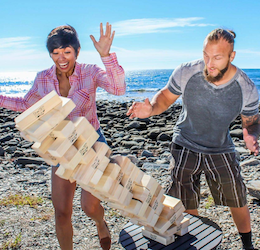 Giant Lawn Games
Take your Connect Four, Jenga, Dominos and Ring Toss game to the next level with these huge versions of the games you know and love. These super-sized games bring a whole new challenge providing endless fun whether you're quarantining with your family, hosting a big group or throwing a summer party. Shop online at Amazon, Target or Wayfair to get your own giant game.
BARTENDER SPOTLIGHT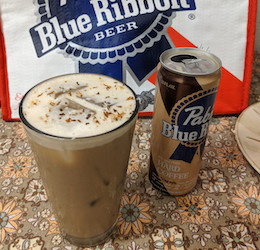 POWERED BY PABST BLUE RIBBON
Pabst Cubano Coco
Mixed up by Los Angeles-based bartender and musician Mike Schlereth (aka Moonbeam Mike @moonbeam_mike), this recipe is the ideal summer-time drink for coffee lovers! For ingredients, you'll need 1/2 can Pabst Hard Coffee, 1.5-ounce rum and 3-ounce fresh coconut water. To make the drink, add all ingredients into a mixing glass with ice, shake it and then strain the contents into a pint over fresh ice. Garnish with oven roasted fresh coconut shavings. Want to help the service industry? Tip a local bartender. Watch it
Photos: ViX Paula Hermanny courtesy ViX Paula Hermanny. CoCo Rose courtesy CoCo Rose. Diane's Beachwear courtesy Diane's Beachwear. Sauvage Swimwear, Alessadra Fiorini for Sauvage Swimwear. Watermelon Slushie, Bruna Scamgnon via Pexels. Chocolate Covered Bananas, Lisa Bryan. Melon Proscittto, Erik Bernstein via Pinterest. Balloon dart painting, Julie Handschy. Giant Jenga, Ping Pong Bros. Pabst Cubano Coco, Mike Schlereth.