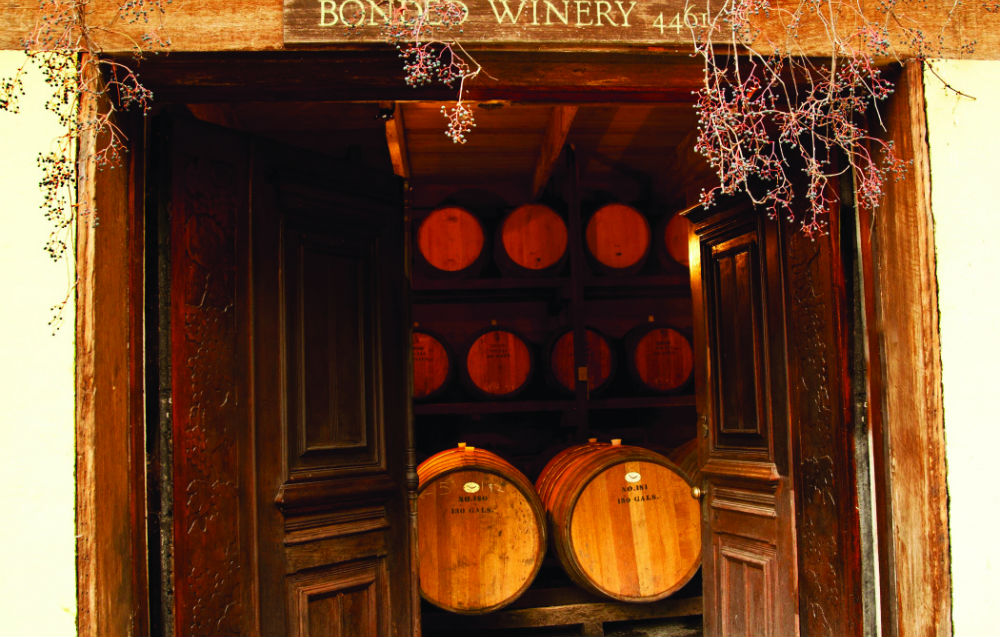 Historic Napa Valley winery has new owners.
By Robert Whitley.
Never mind that few people today have even heard of Stony Hill Vineyard—the tiny winery atop Spring Mountain is a slice of Napa Valley history. News that Stony Hill was recently sold may not have made national headlines, but it was the equivalent of a small earthquake in California's most famous wine region.
Founded in the 1940s by Fred and Eleanor McCrea, Stony Hill specialized in chardonnay, riesling and gewurztraminer; cabernet sauvignon was added to the mix less than 10 years ago. It has employed the same winemaker, Mike Chelini, for more than 40 years.
The wines were Old World by design. The chardonnay was prized for its ability to age. Chelini and the McCrea family resisted all the fads and trends over the years and never fell in love with the flavor of oak.
The wines have always been lower in alcohol than wines from most neighboring wineries. Production topped out at around 5,000 cases per year. At one time, there was a long wait to get on the list just for the opportunity to purchase Stony Hill wines.
It was rare to find Stony Hill on a restaurant wine list, rarer still in a retail wine shop.
In recent years, the winery was overseen by Peter, Willinda and Sarah McCrea. They announced the sale to Ted, Laddie and Chris Hall of Long Meadow Ranch, another closely held family winery owned by longtime friends and neighbors who specialize in sustainable and organic vineyard practices.
The sale to Long Meadow Ranch provides an infusion of capital that will enable the winery to do much-needed replanting of its hillside vineyards and address an increasing need for marketing and distribution support.
Chelini will continue as winemaker through the 2018 harvest and then move into a new role as winemaker emeritus. Where Stony Hill goes from here is anyone's guess, but Long Meadow Ranch CEO Ted Hall has encouraging words.
"We have admired Stony Hill for more than 30 years and look forward to continuing the traditions established by the McCrea family, including their commitment to producing terroir-driven, age-worthy wines with low alcohol, beautiful acidity and minerality," he said in a statement.
Those who know Stony Hill will find Hall's reassurance music to their ears. For those who haven't yet had the pleasure of an aged Stony Hill chardonnay, be grateful the Hall family has stepped in to perpetuate one of the Napa Valley's greatest treasures.
Tasting Notes
Wines are rated on a 100-point scale; scores are simply a measure of the reviewer's enthusiasm.
Gehricke 2016 Chardonnay (Russian River Valley, $32)
It was the Sebastiani family, operating out of a facility just a stone's throw from the Sonoma town square, that put Sonoma County chardonnay on the map at a time when hardly anyone in the United States was drinking chardonnay that hadn't been made in Burgundy. That's important, because this wine is from August Sebastiani, and it's only fitting that it should remind you of the old days, when chardonnay exhibited delicious notes of lemon creme, apple and pear that you could actually taste because the flavors weren't masked by the intemperate use of oak. The oak treatment here is restrained, adding rather than subtracting, and certainly not masking the gorgeous fruit. Rating: 95.
Flora Springs 2017 Sauvignon Blanc (Napa Valley, $27)
Few California sauvignon blancs match the Flora Springs expression for fruit complexity, balance and overall pleasure. This vintage has it all, with notes of fig and melon, a touch of citrus and minerality, and impressive texture and length on the palate. Flora Springs achieves its high level of success with the grape by utilizing all of the tools in the winemaker's toolbox. Through the fermentation and aging process, this wine has seen the inside of stainless-steel tanks, concrete egg tanks, stainless-steel drums, oak puncheons and French oak barrels, with lees stirring to develop creaminess. The results of all that TLC are in the glass. Rating: 94