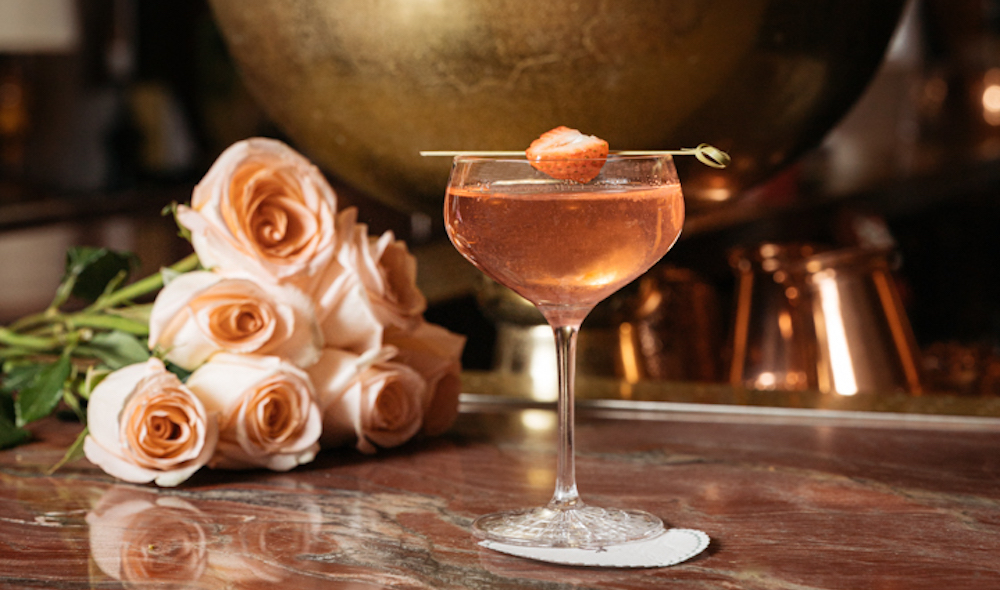 Don't make mom cook this Mother's Day! Instead, pamper her at home and treat her to something special with ready-made meals, wine and gifts.
DINING
Akasha
Take care of mom this Sunday with Akasha's weekend long special for brunch and dinner. Start with quiche Lorraine, spinach and leek quiche and brisket hash and other accompaniments for brunch, and end the day with Faroe Island salmon and grilled artichokes for dinner. Each menu option includes the option to add a floral bouquet for $35. 9543 Culver Blvd., Culver City, 310.845.1700. akasharestaurant.com
A.O.C Wine Bar
Treat the mom in your life to a Mother's Day brunch for four by Suzanne Goin and Caroline Styne of Lucques Catering. Enjoy Dungeness crab frittata; Spanish fried chicken and cornmeal waffle; salad and market fruit; fried potatoes; and upside-down cake. A special dinner and other meals also now available via Tock and for pickup and delivery. 8700 W. 3rd St., Los Angeles, 310.859.9859. aocwinebar.com
BOA Steakhouse
Give you mom the special treatment with both brunch and dinner by BOA. Brunch for four includes fruit salad, lox and croissants, smoked brisket hash, quiche, Yukon Gold potatoes and carrot cake. Dinner options include Caesar salad or lobster bisque, two sides and either a 32-ounce center cut filet or whole chicken. Don't forget the cocktails! Preorder by May 8. 101 Santa Monica Blvd., Santa Monica, 310.899.4455; 9200 Sunset Blvd., West Hollywood, 310.278.2050. boasteak.com
Bourbon Steak Los Angeles
Celebrate your mom in style with Bourbon Steak's modern steakhouse sensibilities. Choose a main for your main mom in your life: from Prime porterhouse to double cut bone-in rib-eye or whole Mary's chicken or salmon. Bourbon Steak has all the fixings, dessert offerings as well as special menu options for the kids. 237 S. Brand Blvd., Glendale, 818.839.4130. michaelmina.net/restaurants/bourbon-steak/los-angeles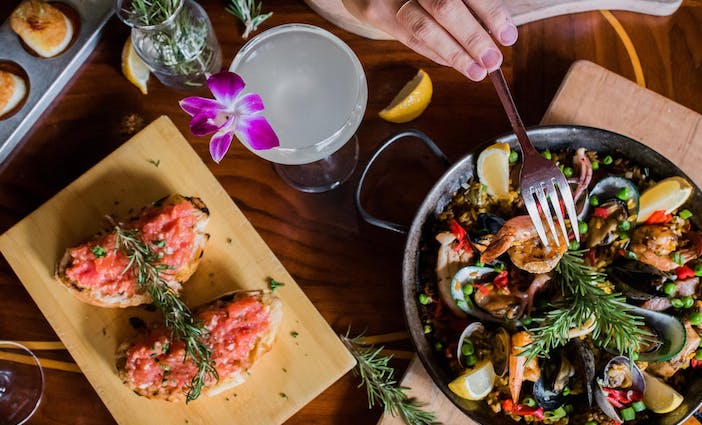 Cafe Sevilla
Treat your Mom or mother of your kids to a culinary trip to Spain right from the comfort of home, available for curbside pick-up. Enjoy a variety of tapas and paellas accompanied by a carafe of sparkling cava sangria or a bottle of premium Spanish wine. Orders over $55 receive a free $20 gift card for use when Cafe Sevilla reopens. Sevilla is also offering several culinary gifts for mom, including a Sevilla branded apron, bamboo cutting board or polished steel paella pan. Order by 4 p.m. on May 9 for pick up on May 10, from 10 a.m. to 1 p.m. 140 Pine Ave., Long Beach, 562.495.1111. cafesevilla.com
Conservatory
The brunch and dinner menu will be offered all day in honor of mom. Lemon ricotta pancakes, chilaquiles, king salmon and some good ol' comforting burger and fries are among the tasty options. The Conservatory also has great pairings including wine, beer, mimosas, Bloody Mary's and a new Spring Sangria Carafe! And if that were not enough they even have a special Mother's Day Gift basket that you can add onto your takeout meal for just $30. The basket includes bathbombs, face mask, gel eye pack, strawberry infused Vodka, half bottle of cava, hand sanitizer, flowers and a special treat from the chef. 8289 Santa Monica Blvd., West Hollywood, 323.654.0020. conservatoryweho.com
Delilah
Treat your mom to a day out of the kitchen with a special menu for four that includes assorted breakfast pastries, organic egg frittata, farmers market greens, fingerling potatoes, roasted spring chicken and a lemon pound cake with macerated berries Chantilly cream. Upgrade your Mother's Day order to the MOD Mother's Day package that includes a bottle of MOD and flowers. $139. Preorders must be placed by May 6. Available for curbside pick up and delivery. 7969 Santa Monica Blvd., West Hollywood, 323.745.0600. delilahla.com
Emilia
Beverly Grove's newest Italian eatery presents two three-course pre-fixe meals for $23.95 per person with mom in mind. Choose between Caesar salad with Parmigiano 'croutons' and classic dressing followed by homemade Rigatoni alla Bolognese and finished with a creme caramel; or a tricolore salad with Meyer lemon dressing, homemade Ravioli di Ricotta e Spinaci topped with a creamy tomato sauce and finished with Studel di Mele—a crispy puff pastry roll filled with apple and cinnamon. 8500 Burton Way, Los Angeles, 424.999.4755. emiliala.com
Georgia's Restaurant
Spoil mom to a soulful Sunday brunch with Georgia's signature cornmeal-crusted buttermilk fried chicken and waffles; shrimp and grits; Mardi Gras omelet; grilled French toast; steak and eggs; and cinnamon-apple waffles. Brunch-time beverages may be added to all takeout orders including mimosas and bloody marys, sangria, hurricanes, wine and beer. Curbside pick-up available. Long Beach Exchange, 4101 McGowen St., Suite 155, Long Beach, 562.420.5637. georgias-restaurant.com
Ise-Shima at the Miyako Hybrid Hotel
South Bay's go-to sushi spot, located in the Miyako Hybrid Hotel, is offering takeout platters from their Tokyo-style sushi bar on Mother's Day. Choose from the nigiri sushi platter or the "Hachi-Mori" chef special assortment platter (both include a salad and dessert). Order in advance (no same day orders) and pick-up on the big day! Call to order. 21381 S. Western Ave., Torrance, 310.320.6700. ise-shima.us
Jean-Georges Beverly Hills
Give your mom a taste of Jean-Georges Beverly Hills this Mother's Day with a homemade brunch. Order the pamper and brunch package which comes complete with the 4 C's (Champagne, coffee and chocolate covered strawberries) as well as spa selections to pamper mom. The "Take and Make Together Brunch" serves four and comes with all the fixings for you to put your own heart into making. Call to preorder by May 7. Orders are available for pick-up at the entrance of the hotel on May 8 and 9. 9850 Wilshire Blvd., Beverly Hills, 310.860.6717. waldorfastoriabeverlyhills.com
Katana West Hollywood
Katana has put together a Mother's Day that is a true dining experience. Order your DIY hand roll kit which is complete with a platter of ingredients such as albacore with soy chili, salmon with soy truffle, snow crab, soy paper, nori, sushi rice and vegetables. There are many family pack options available. 8439 W. Sunset Blvd., West Hollywood, 323.650.8585. katanarobata.com
The Larder Baking Co.
The Larder Baking Co. has partnered with Dine11 to feed the frontline emergency workers in LA county area hospitals. Order your mom fresh baked goods like an assorted box of cookies, breads, or the "Almost Summer" BBQ box which comes with a salted caramel brownie, ciabatta loaf, muffins and broiche burger buns. There are many options available for pickup or delivery through Tock. 8900 National Blvd., Los Angeles, 310.839.3224. larderbakingco.com
Madre
Give your mom the gift of comfort food with an authentic Oaxacan meal complete with all of the fixings. Highlights include beef barbacoa, enchilada as well as handmade tortillas and more. Complete your Mother's Day meal with an appetizer or Madre cocktail kit. 10426 National Blvd., Los Angeles, 310.559.4732; 1261 Cabrillo Ave., #100, Torrance, 310.974.8005. madrerestaurants.com
Mr. Holmes Bakehouse
Founder Aaron Caddel has made it easy for you to bake like a pro with a bread starter kit, available for local and national shipping for $25. This kit comes with step-by-step instructions to make your own bread, with the simple addition of water and flour. Mr. Holmes Bakehouse also has a selection of cookies, scone, cake and pasta with garlic focaccia kits, also for only $25. 111 S. Ave. 59, Los Angeles, 323.739.0473. mrholmesbakehouse.com
Poppy + Rose
Serve a Mother's Day brunch in bed inspired by country cooking complete with floral arrangement. Surprise mom with a short stack of waffles, chicken wings, yogurt and a mimosa kit. The special can be ordered to be enjoyed by two to four people. Order ahead or call for delivery through UberEats and Postmates. 765 Wall St., downtown, 213.995.7799. poppyandrosela.com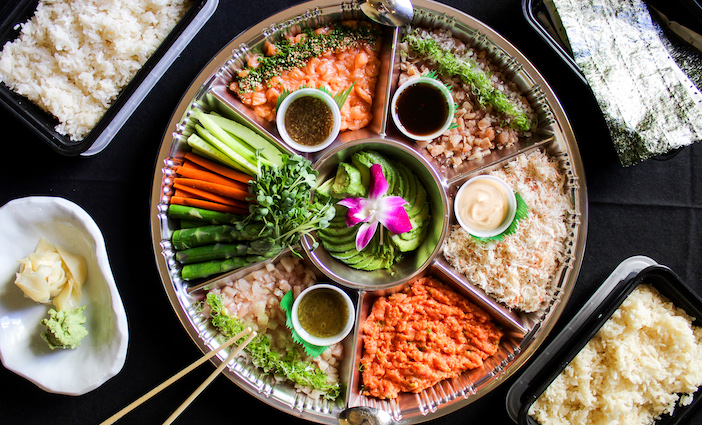 Sushi Roku
Order a Sushi Roku DIY hand roll kit which is complete with a platter of ingredients such as albacore with soy chili, salmon with soy truffle, snow crab, soy paper, nori, sushi rice and vegetables. There are many family pack options available. Call or click the link in our bio to preorder by 9 p.m. on May 9. White glove curbside pickup is available on May 10 from 11:30 a.m. to 2 p.m. and 4:30 p.m. to 6 p.m. 33 Miller Alley, Pasadena, 626.683.3000; 1401 Ocean Ave., Santa Monica, 310.458.4771. sushiroku.com
Tavern Restaurant
Tavern, which brings together full service dining, marketplace and a bar with craft cocktails and artisanal wines under one roof. The award winning chefs that brought us Lucques and A.O.C. are behind this concept which has a Mother's Day brunch feast with your choice of dungeness crab frittata or Spanish fried chicken and waffles. A special dinner and other meals also now available via Tock and for pickup and delivery. 11648 San Vicente Blvd., Los Angeles, 310.806.6464. tavernla.com

Vinovore
Enjoy a special wine tasting for Mother's Day virtually with Vinovore on May 9 at 4 p.m. along with Martha Stoumen to taste her Post Flirtation White and Post Flirtation Red. Participants can purchase a bottle of either or both on Vinovore's website. Then on Mother's Day, join Sandy and Tatiana from Kalogris Vineyards in Greece. 616 N. Hoover, Los Angeles, 323.522.6713. vino-vore.com
GIFTS
Catalina Island Museum
Celebrate the women in your life with high-quality, artisan gifts from seven unique women-owned brands from the Catalina Island Museum, available for online ordering. From beautiful jewelry to hand-woven scarves, there's something for everyone to enjoy. Brands include Jennifer Caldwell of JC Squared, Keri Palustre of EKP Creations, Robin Cassidy of Silver Canyon Pottery, Laura & Maria of Create Yourself Merch, Sherry Stevens of Mermania, Jessica Phan of Hathorway and Smita Paul of Indigo Handloom. 310.510.2414. catalinamuseum.org
Europa VillageCustomize your package with Europa Village's "Mix and Match for Mother's Day" special which allows you to buy any three wines and receive 10 percent off and $10 flat shipping. For the home cook, consider the "Europa Table Box" which has a curated collection of extra virgin olive oil, specialty vinegar and sleek culinary souvenirs, a perfect addition to any charcuterie spread. 33475 La Serena Way, Temecula, 951.506.1818. europavillage.com
Madre
Madre is selling flights of their prized mezcal collection for Mother's Day. Receive a set of four that includes brands such as La Nega, Mal Bien, Arormata and Cuish for only $35 or purchase single bottles or a specialty cocktail. Palms. 310.599.4732; 1261 Cabrillo Ave. #100, Torrance. 310.974.8005. madrerestaurants.com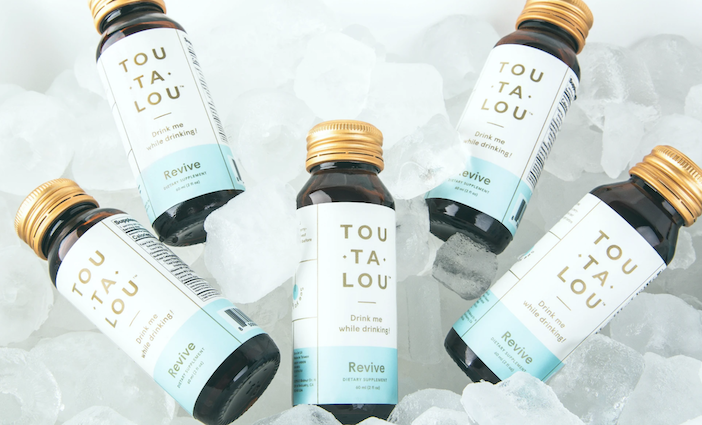 Tou Ta Lou
Tou Ta Lou "Revive" tonic is formulated with dihydromyricetin (DHM), kudzu root, red sage, goji berry and Solomon's seal combining traditional wellness methods with innovative herbal remedies to help you heal within. It is a natural hangover cure that is made "to help you have a better tomorrow" … and what mom can't appreciate that! Online only. toutalou.com
Vinovore
Custom-make your own package for mom or let Vinovore do it for you this Mother's Day. In addition to a bottle of Muvole Sul Poggio Gavi, the package includes a bell mountain mini gem soap. and a choice of deck of playing cards or bath salt packet—they've even thought of the Mother's Day card! Does your mom deserve more? Consider the "Beast Box" or signing her up for the "Wolfpack" wine club. National shipping available. 616 N. Hoover, Los Angeles, 323.522.6713. Beast Box | Wine | vino-vore.cratejoy.com
Photo credits: Delilah by Kathryn Ballay. Cafe Sevilla courtesy Cafe Sevilla. Tou Ta Lou courtesy White Oak Communications.