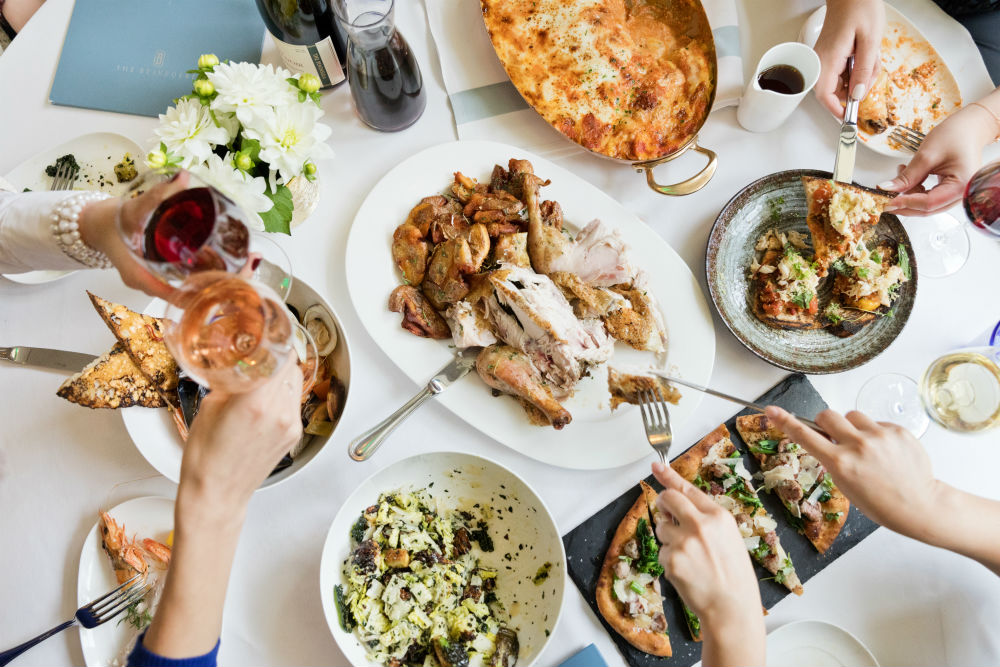 The popular image of Thanksgiving Dinner is one of a family gathered around a big dining room table with a giant turkey piping hot from the oven. But if you're looking for something out of the ordinary, going out to a restaurant is a solid option, whether for turkey, something vegan or something more creative.
You don't need to celebrate Turkey Day either; many eateries offer vegan and non-traditional options. And not just for dinner either. Thanksgiving brunch anyone? Here we present 35+ choices. This list will continue to be updated and expanded up until the holiday. Most require advance reservations so be sure to call ahead to reserve your spot.
By William Yelles.
Updated Nov. 13.
BEVERLY HILLS
The Bazaar by Jose Andres
The family-style, prix fixe dinner includes organic turkey with giblet stuffing cranberry Sauce, and mashed sweet potatoes amongst other traditional turkey accompaniments. Pumpkin pie and pecan ice cream lead the dessert lineup. 3:30-7:30 p.m. $100 adults; $55 children. SLS Hotel Beverly Hills, 465 S. La Cienega Blvd., L.A., 310.246.5555. sbe.com
The Belvedere at The Peninsula Beverly Hills
The AAA five-diamond Belvedere's three-course menu includes main courses with staples like free-range turkey with sage stuffing and roasted filet of beef, served family-style. $142 adults; $65 children. 9882 S. Santa Monica Blvd., Beverly Hills, 310.975.2736. peninsula.com
CIRCA 55 at The Beverly Hilton
CIRCA 55 will be offering a Thanksgiving brunch buffet with bottomless prosecco and mimosas. Traditional favorites include a carving station with roasted turkey and honey glazed ham, sweet potato casserole, mashed potatoes and stuffing, along with a fresh selection of soups, salads, seafood and more. Desserts include pumpkin and apple pies. 11 a.m.-4 p.m. $95 adults; $38 children. 9876 Wilshire Blvd., Beverly Hills, 310.887.6055. beverlyhilton.com
Jean-Georges Beverly Hills
At Jean-Georges Beverly Hills—the signature restaurant inside Waldorf Astoria Beverly Hills—Thanksgiving dinner main course choices include slow-baked salmon, Maine lobster, honey nut squash ravioli, beef tenderloin au poivre and roasted turkey stuffed with foie gras truffle chestnut. For dessert, enjoy a selection of pumpkin, apple cranberry or butterscotch pecan tarts, and more. $135 adults; $65 children. 9850 Wilshire Blvd., Beverly Hills, 310.860.6566. waldorfastoriabeverlyhills.com
Mastro's Steakhouse
Mastro's branches out beyond steaks with its Thanksgiving offerings including a seafood tower and rich sides like lobster mashed potatoes. Seasonal pumpkin butter cake headlines the dessert menu. 1-9 p.m.Mastro's, 246 N. Canon Dr., Beverly Hills, 310.888.8782. mastrosrestaurants.com
The Restaurant at Montage Beverly Hills
The Restaurant at Montage Beverly hills is serving both Thanksgiving brunch and dinner. Brunch buffet options include an omelet station, raw bar and carving station. The prix-fixe dinner features a choice of herb-roasted turkey breast, pastrami-spiced prime rib, porchetta and pork, and roasted salmon accompanied by three family-style sides. Brunch: 11 a.m.-3:30 p.m.; $128 adults; $39 children. Dinner: 5-9 p.m.; $89. 225 N. Canon Dr., Beverly Hills, 310.860.7970. montagehotels.com
Tres by Jose Andres
Celebrate Thanksgiving all day long in the cozy dining room with an indulgent brunch in the morning and a three-course feast in the evening. The cozy dining room. Brunch menu highlights include organic turkey, chilled seafood and caviar and a selection of mini desserts. The dinner menu consists of butternut squash soup, carrot salad, turkey, lamb chops and a gooey pecan bar. Brunch: 11:30 a.m.-3:45 p.m. $85 adults; $45 children. Dinner: 5-9:45 p.m.; $75. SLS Hotel Beverly Hills, 465 S. La Cienega Blvd., L.A., 310.246.5551. slshotels.com
Viviane
Viviane—the poolside restaurant at the Avalon Hotel—will offer a three-course menu that will highlight Thanksgiving classics such as butternut squash soup, garlic mashed potatoes and brioche bread stuffing. For the main course, choose from turkey, roast beef, or stuffed portobello mushroom. Dessert options include a mini pumpkin or apple pie. 11 a.m.-10 p.m. $65. 9400 W. Olympic Blvd., Beverly Hills, 310.407.7791. avalon-hotel.com
BRENTWOOD
Tavern
Suzanne Goin and Caroline Styne's popular Brentwood neighborhood restaurant presents a complete Thanksgiving dinner prepared by Chef de Cuisine Joel Walsh with both meat, vegetarian and vegan options. 1-8 p.m. $95 adults; $45 children 10 and under. 11648 San Vicente Blvd., Brentwood, 310.806.6464. tavernla.com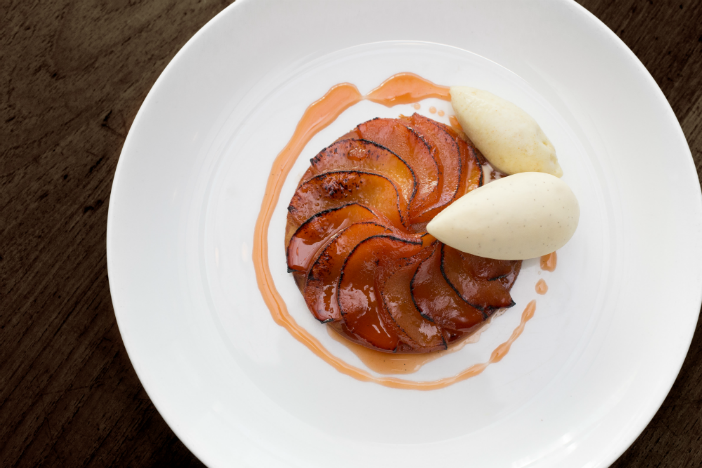 CENTURY CITY
Craft Los Angeles
Craft LA's family style prix-fixe feast starts with seasonally-driven starters such as pork belly with celery root. Entree choices include roasted organic free-range turkey and Angus beef short ribs, along with seafood and pasta. Desserts include pumpkin pecan cheesecake and apple sticky pudding.
1-8 p.m. $145. 10100 Constellation Blvd, Century City, 310.279.4180. craftlosangeles.com
Mari Los Angeles
The chef-driven four-course dinner features seasonal selections such as roasted kabocha squash soup and slow roasted turkey with stuffing and more. Leave room for dessert selections such as the pumpkin tart and chocolate hazelnut flourless cake. 5:30-9 p.m. $55. 2151 Avenue of the Stars, Century City, 310.284.6536. marilosangeles.com 
CULVER CITY
Akasha
Chef Akasha Richmond's flagship restaurant presents a Thanksgiving menu with selections from her favorite recipes, all sourced from her favorite farmers and ranchers. See website for complete menu. 1-8 p.m. $80 adults; $35 children 10 and under. 9543 Culver Blvd., Culver City, 310.845.1700. akasharestaurant.com
AR cucina
Akasha's sister Italian restaurant offers a variety of rustic-styled dishes drawn from Chef Akasha Raymond's travels throughout the many regions of Italy for her Thanksgiving dinner. See website for complete menu. 2-8 p.m. $70 adults; $35 children 10 and under. 9531 Culver Blvd., Culver City, 310.558.8800. arcucina.com
DOWNTOWN L.A.
Café Pinot
Highlights of Café Pinot's three-course and four-course dinners include Jerusalem artichoke soup, sliced turkey breast and pumpkin mousse. 2-8 p.m. $70-$90 adults; $29 children. 700 W. Fifth St., L.A., 213.239.6500. patinagroup.com
Eve American Bistro at The Mayfair Hotel
The menu includes traditional Turkey Day delights with a spin, such as roasted butternut squash soup with duck confit, wild mushrooms and cipollini onions and a rotisserie turkey roulade with brioche bread stuffing, wild mushrooms and natural gravy. $42. 1256 W. Seventh St., L.A., 213.632.1210.
eveamericanbistro.com
Nick & Stef's Steakhouse
In addition to the a la carte dinner menu, the Thanksgiving menu offers a traditional turkey dinner with all the trimmings. Sides include caramelized brussels sprouts, Szechuan long beans, creamed spinach and more. 3-9 p.m. $55. 330 S. Hope St., L.A., 213.680.0330. patinagroup.com
NoMad Los Angeles
The set menu begins with the choice of honeynut squash soup or puntarella salad, followed by roasted turkey breast or whole-roasted chicken with black truffle (with a $20 supplement). Family-style sides include stuffing, potato purée, crispy Brussels sprouts and cranberry sauce. 5:30-9:30 p.m. $59. 649 S. Olive St., L.A., 213.358.0000. thenomadhotel.com
Patina
Guests at the Michelin-starred Patina located at Walt Disney Concert Hall have a choice of three or six courses highlighting festive dishes by Executive Chef Andreas Roller. The whole roasted turkey dinner comes with cranberry, sweet potato, roasted apple stuffing, blue lake beans and gravy. Noon-6:30 p.m. $70-$100. 141 South Grand Ave., L.A., 213.972.3331. patinagroup.com
HOLLYWOOD
Beauty & Essex
Chef Chris Santos' restaurant, a celebrity favorite, offers a spread of fresh takes on Thanksgiving classics like free-range turkey, maple-glazed ham and chicken with apple-herbed stuffing, all available a la carte in addition to the regular menu. 5 p.m.-midnight. 1615 Cahuenga Blvd., Hollywood, 323.676.8880. beautyandessex.com
Public Kitchen & Bar
The acclaimed American brasserie at the Hollywood Roosevelt Hotel offers a prix-fixe menu of starters like chestnut and white bean soup with crisp pancetta, and a classic spread of organic turkey and house-made giblet gravy, Yukon gold garlic mashed potatoes, cornbread stuffing with sage and toasted pecans, roasted honey nut squash, and cranberry relish with tangerine zest and cinnamon. Save room for pumpkin crème brulee or bourbon pecan pie with eggnog ice cream for dessert. 5:30-10:30 p.m. $55. 7000 Hollywood Blvd., Hollywood, 323.769.8888. thehollywoodroosevelt.com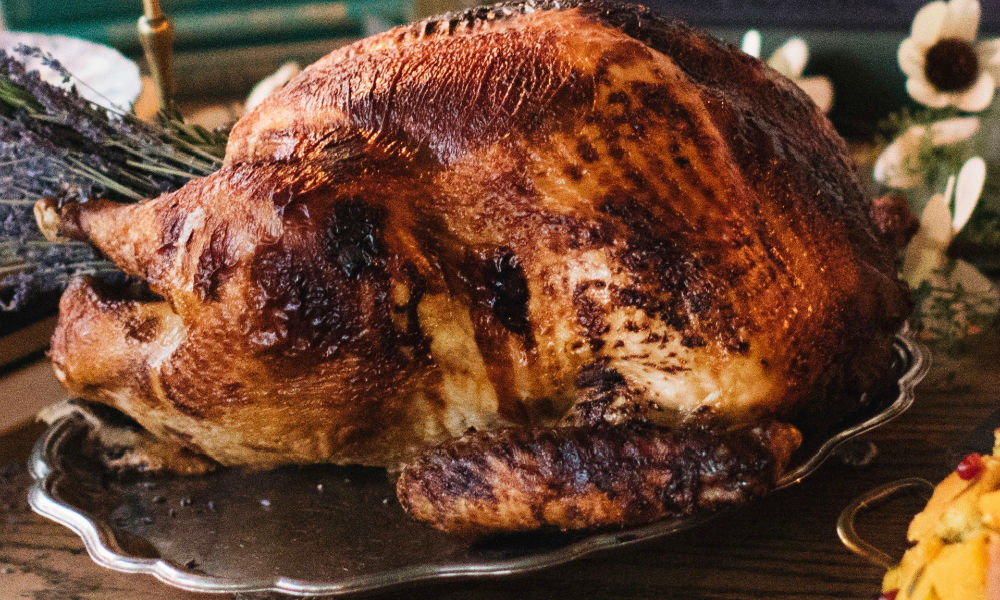 WEST HOLLYWOOD
The Abbey Food & Bar
The Abbey presents an LGBTQ Thanksgiving on its indoor/outdoor patio. The three-course meal features lobster bisque, hickory smoked turkey breast, truffled mash potatoes, haricot vert casserole, brioche stuffing, cranberry sauce, turkey gravy, buttermilk biscuit and pumpkin or apple pie for dessert. Noon-1:30 a.m. $27. 692 N. Robertson Blvd., West Hollywood, 310.289.8410. theabbeyweho.com
Barton G.
The whimsical dining destination serving one-of-a-kind culinary creations will be offering a three-course prix-fixe dinner menu featuring a plethora of reimagined Thanksgiving offerings, like having your turkey presented in a bird case. Highlights include roasted acorn squash salad; herb roasted turkey breast with confit leg served with cranberry-walnut stuffing; and pumpkin and apple beignets. $75. 5-10:45 p.m. 861 N. La Cienega Blvd., L.A., 310.388.1888. bartong.com
Cecconi's
In addition to its all-day selection of Northern Italian fare, Cecconi's is serving a festive Thanksgiving menu featuring Niman Ranch free-range turkey with all the fixings. Guests can expect Italian touches on traditional plates such as porcini corn bread stuffing, squash tortellini and truffle mashed potatoes, as well as a selection of seasonal sweets including apple-pecan crostata, pumpkin pie and classic chocolate brownies. Noon-10 p.m. $95. 8764 Melrose Ave., West Hollywood, 310.432.2000. cecconiswesthollywood.com
MARINA DEL REY, PLAYA DEL REY, WESTCHESTER
Costero California Bar + Bistro
Costero's three-course Thanksgiving dinner includes a choice of baby spinach salad or lobster bisque; turkey roulade or Scottish salmon; and mini pumpkin pie or mini apple pie. 11 a.m.-1 a.m. $40. Sheraton Gateway Los Angeles Hotel, 6101 W. Century Blvd., L.A., 310.642.4820. sheratonlax.com
Playa Provisions
Owner-operators Brooke Williamson—a Top Chef winner—and her husband Nick Roberts will be offering a Thanksgiving dinner special as well as a condensed version of their regular dinner menu at their beachside eatery. Starting with an entrée choice of either turkey or honey mustard crusted ham, guests can add sides including chicory salad, roasted acorn squash, cranberry sauce and more. 3-8 p.m. $38 adults; $20 children. 119 Culver Blvd., Playa Del Rey, 310.683.5019. playaprovisions.com
SANTA MONICA
1 Pico at Shutters on the Beach
At 1 Pico's cozy seaside dining room, choose from one of Chef David Almany's savory appetizers like seared dayboat scallops with polenta and rosemary, and have your choice of braised prime short ribs in red wine, grilled Scottish salmon, or spaghetti alla chitarra with black winter truffles as a main course. Save room for pumpkin mascarpone cheesecake. 6-10 p.m. $110. 1 Pico Blvd., Santa Monica, 310.587.1717. shuttersonthebeach.com
Catch at Hotel Casa del Mar
Chef Gemma Gray's prix-fixe menu includes contemporary twists on classics like slow roasted organic turkey with apple and chestnut stuffing, or roasted cauliflower pie with idiazabal cheese and wild mushrooms, and sweet finishers like pumpkin brioche pudding and pecan pie with vanilla ice cream. 5-10 p.m. $110. 1910 Ocean Way, Santa Monica, 310.581.7714. hotelcasadelmar.com
FIG Restaurant
Chef Jason Prendergast has created a classic Thanksgiving dinner served family-style. Highlights include pumpkin bisque; maple, chipotle and rosemary brined turkey; prime rib with beef jus and horseradish cream; and more. 11 a.m.-7 p.m. $90 adults; $25 children 12 and under. Fairmont Miramar Hotel, 101 Wilshire Blvd., Santa Monica, 310.319.3111. figsantamonica.com
The Penthouse at Hotel Shangri-La
Enjoy unobstructed ocean views while dining indoors or outdoors. This year's menu includes turkey, boneless ribeye, poached salmon and more. Executive Chef Jessica Bedolla will also be serving a sweet ending with pumpkin pie, bread pudding and chocolate cake. Noon-6 p.m. $79 adults; $45 children. 1301 Ocean Ave., Santa Monica, 310.394.2791. shangrila-hotel.com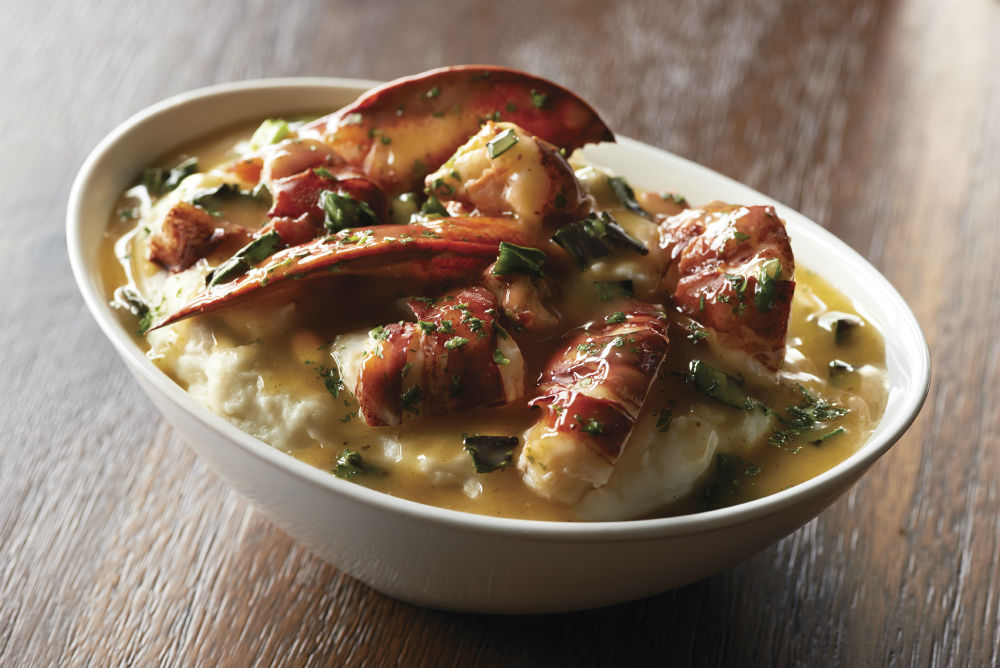 SHERMAN OAKS
Wood & Water
The bistro-style restaurant will be serving its regular menu in addition to Thanksgiving specials including a traditional turkey dinner with stuffing, roasted garlic mashed potatoes, green beans almandine, candied baby carrots, gravy and cranberry sauce. Noon-9 p.m. 13359 Ventura Blvd., Sherman Oaks, 818.855.1661. woodandwaterla.com
GLENDALE, LA CAÑADA
Bourbon Steak
Michael Mina's modern-inspired steakhouse at The Americana offers a three-course menu full of seasonal and holiday classics. Main dishes include short rib Wellington, Mediterranean branzino, Angus steak and the essential roasted turkey with stuffing and cranberry mostarda. Desserts such as s'mores with marshmallow fluff and milk chocolate crèmeux or a pumpkin pie bar with almond and pepita granola and whipped bourbon cream round out the sweet offerings. $85. 237 S. Brand Blvd., Glendale, 818.839.4130. michaelmina.net
Descanso Gardens
The lavish Thanksgiving brunch buffet features traditional holiday favorites by Executive Chef Philip Mack. A highlight at the carvery station is the herb-roasted heritage turkey and smoked turkey gravy. Available sides include roasted pumpkin and kumquat salad, baked mac and cheese, and sausage and apple stuffing. Desserts include pumpkin cheesecake shooters, pumpkin spice beignets and apple pie ravioli. 11 a.m.-3 p.m. $85 adults; $45 children. 1418 Descanso Dr., La Cañada Flintridge, 818.864.6435. patinagroup.com
CALABASAS, CONEJO VALLEY
The Gallery
Join The Gallery for a special Thanksgiving menu including a traditional turkey dinner with stuffing, roasted garlic mashed potatoes, green beans almandine, candied baby carrots, gravy, and cranberry sauce. Noon-9 p.m. $32. 30768 Russell Ranch Rd., Westlake Village, 818.889.1338. thegallerywestlake.com
Saddle Peak Lodge
Enjoy a four-course menu including main course options like free-range turkey and braised Wagyu beef short ribs. Leave room for dessert (pumpkin pie with vanilla whipped cream). Noon-8 p.m. $105 adults; $65 children. 419 Cold Canyon Rd., Calabasas, 818.222.3888. saddlepeaklodge.com
SAN GABRIEL VALLEY
EST. Prime Steakhouse
EST. Prime Steakhouse at the Sheraton Los Angeles San Gabriel Hotel is hosting a four-course, family-style Thanksgiving dinner featuring red kuri squash soup, a unique spin on turducken and carrot cake with cardamom cream cheese frosting. 4-9 p.m. $150 for two people. 303 E. Valley Blvd., San Gabriel, 626.607.2012. estprimesteakhouse.com
LONG BEACH
555 East
The Long Beach restaurant is offering a three-course Thanksgiving Day meal with a high-end twist including roasted butternut squash soup with crème fraiche and dungeness crab bisque; roasted turkey with cornbread stuffin and Andouille sausage, and traditional pumpkin pie with homemade whipped cream. 5:30-10 p.m. $47 adults; $19 children. 555 E. Ocean Blvd., Long Beach, 562.437.0626. 555east.com
Fuego
Executive Chef Victor Juarez's four-course prix fixe Thanksgiving feast begins with butternut squash soup with roasted candied walnuts and truffle cream. Entrees include a choice of roasted turkey, prime rib, rack of lamb or fillet of salmon. 11 a.m.-9 p.m. $65. Hotel Maya, 700 Queensway Dr., Long Beach, 562.481.3910. hotelmayalongbeach.com