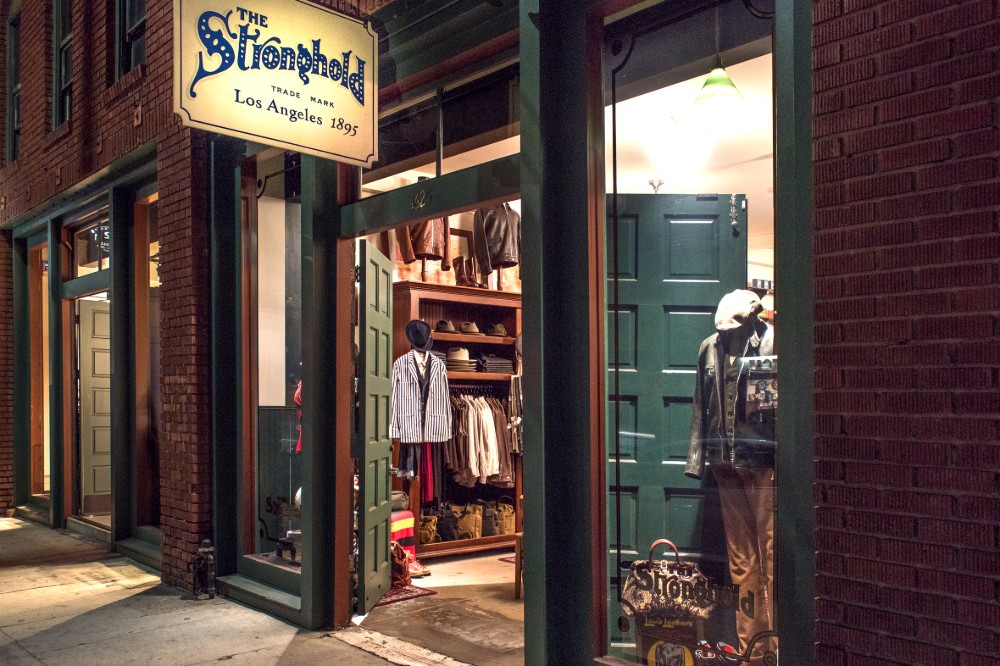 By Joseph LeMoyne
The Stronghold, whose mascot Stronghold Steve once appeared on its labels and buttons, has a rich heritage.
Founded in 1895, and reportedly Los Angeles' oldest fashion label, the brand of work clothes was endorsed in 1916 by Charlie Chaplin, who later wore the company's products in the film Modern Times. Henry Fonda was dressed in Stronghold bib overalls in The Grapes of Wrath.
The original company closed its doors in the 1950s but was reestablished by current owner Michael Paradise in 2004.
"I was looking for an original, authentic denim brand that had existed prior to World War I to relaunch in Los Angeles and ended up finding the very first brand to be manufactured here," Paradise recalls.
The Stronghold's flagship store is on a stretch of Abbot Kinney Boulevard—once called "the coolest block in America" by GQ—close to fashion retailers including Buck Mason and Alexis Bittar as well as seafood restaurant Salt Air.
According to Paradise, the store's interior was inspired by American haberdasheries from the '20s and '30s, and the 1925 building's character is reinforced through exposed brick, vintage furnishings and period lighting.
In addition to its own label, the Stronghold carries more than a dozen venerable brands. Since the newest of those was founded in 1958, it is clear the store is unfazed by the fleeting trends that keep Abbot Kinney Boulevard buzzing.
"We have no desire to fit in," Paradise says. "The Stronghold and the heritage brands it celebrates will more than likely still be standing when the rest have come and gone."
The oldest brand carried is Johnstons of Elgin, a Scottish wool mill founded in 1797. The Stronghold carries its 100 percent cashmere scarves ($175), reflecting a quality that has earned the company a royal warrant as supplier to the Prince of Wales.
"All brands carried at the Stronghold must be at least 50 years old and still manufactured in their country of origin," says Paradise. They must also retain the original quality of the brand.
Paradise is reluctant to identify personal favorites but acknowledges that the store's most popular brands are Stetson (founded in 1865), Alden (1884), Lewis Leathers (1892) and Filson (1897).
Alden, a Massachusetts shoemaker established even before the Stronghold, brings some dressiness to the workshop with its long-wing bluchers ($770) with Horween Leather Co. bodies and Goodyear rubber soles.
Though a pair of those upscale shoes—made expressly for the Stronghold—may suit the boss, other workers will appreciate the classic footwear from Red Wing, available in a variety of styles. Denim remains a mainstay of the Stronghold brand. The Venice store carries jeans ($295- $325), a striped lapel vest ($345) and a Chore coat ($475) in indigo selvage denim with copper-andsteel buttons, all still manufactured in L.A.
And honoring the label's long tradition of creating clothing for people who create things with their hands, the Stronghold continues to produce denim aprons ($85-$145), some dressed up with herringbone patterns or stripes.
Hats at the Stronghold range from a flat cap in a versatile herringbone tweed ($125) from Borsalino—the Italian millinery was founded in 1857—to a feathered Stetson ($225) for a Western look.
Filson, a venerable Seattle manufacturer of leather goods, luggage and outdoor accessories, keeps the Venice store stocked with high-quality duffel bags and backpacks.
There may not be a big market for gloves in Los Angeles, but the Stronghold carries deerskin leather pairs from Geier Gloves, manufactured in Centralia, Washington, since 1927.
"We attract customers from all over the globe who have an appreciation for finely manufactured objects that exhibit timeless style," Paradise says of his clientele.
The Stronghold is a pleasant reminder that even in L.A.— where trends come and go more quickly than the tide—there is still a robust market for goods from companies that perfected their craft decades—or even centuries—ago.
The Stronghold, 1625 Abbot Kinney Blvd., Venice, 310.399.7200. thestronghold.com