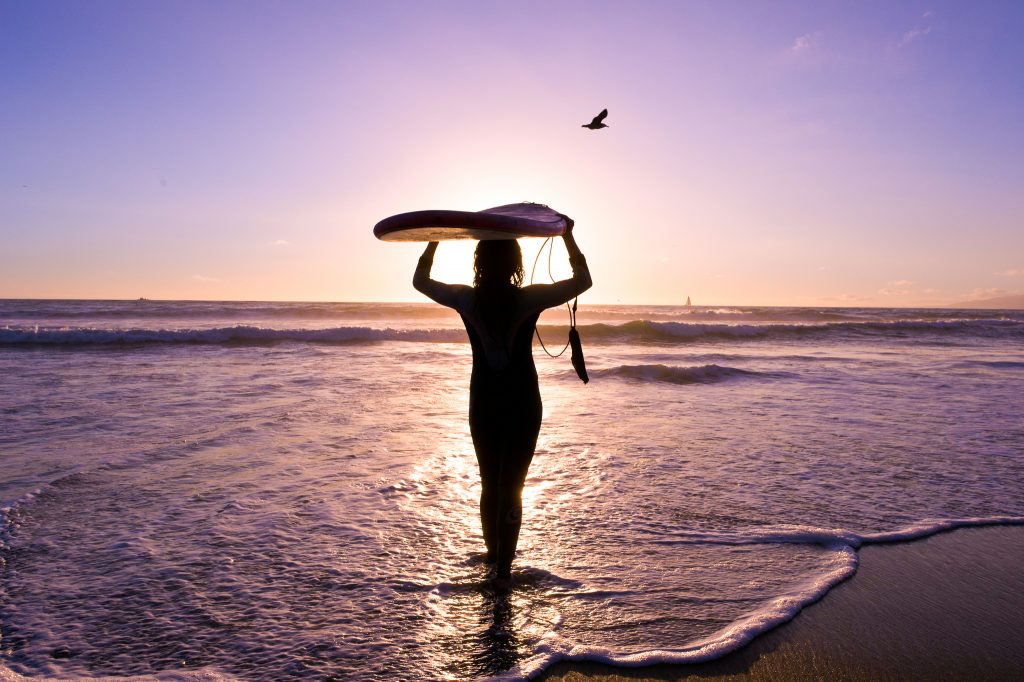 Discover six top things to do in Los Angeles outdoors and where to eat along the way.
Los Angeles glitters under year-round sunshine, yet nothing beats the county in the summer, when surfers skim the Pacific from sunup to sundown, yogis practice outside and hikers weave trails through thickets of wildflowers. What's more, California's seasonal produce informs LA's top-rated food scene, making it the perfect excuse to feast while frolicking in the great outdoors.
Aqua Surf School
Hawaii introduced surfing to California more than a century ago, but LA's beach culture exploded in the '60s, when Gidget and the Beach Boys hit the shores. Today, the professional surfing circuit is a multimillion-dollar industry. Channel your inner Kelly Slater or Anastasia Ashley and reserve a private or group surfing lesson with Aqua Surf School, headquartered in Santa Monica. Or, opt for a summer surf camp, offered to kids ages 5 through 17 (call or check website for details). Wet suits and surfboards are included. Top tip: Schedule a weekday class; it will be less crowded, meaning you'll catch a lot more waves. Prices vary based on the option. »310.902.7737, aquasurf.com
→Takeaway, or stay: The awesome new Greenleaf Gourmet Chopshop in Venice Beach offers veggie-packed, healthy lunch, dinner and brunch options. Build your own organic salad, or choose from one-of-a-kind options, like the brown-rice-farro-quinoa West Coast Bowl. There are tacos, paninis, soups and burgers, plus French toast and protein scrambles for weekend brunch. While the restaurant is set up for to-go orders, its beautiful sun-drenched patio, full bar and locally made sweets—don't skip dessert!—make it pretty hard to leave. »1239 Abbot Kinney Blvd., Venice, 310.399.9400, greenleafchopshop.com

Griffith Observatory West Trail Hike
Griffith Park is crisscrossed by excellent hiking trails, and a favorite find is the Griffith Observatory West Trail. Follow the shaded walkway through the rainforest-like Fern Dell—once the site of a Gabrielino Native American village—toward a picnic area, where you'll veer right and continue up a dirt trail toward Griffith Observatory (free admission, closed Mondays; see p. 82). The climb is steep in parts, but you'll be stopping so frequently to snap photos of the sprawling views that you'll hardly notice the ascent. At the top, you'll also be rewarded with a bird's-eye view of the Hollywood sign. Visit the planetarium, spot the James Dean sculpture and relax in one of the grassy enclaves. To complete the 3-mile hike, head back along the same trail, but keep right at the fork to make a full loop. The trail closes at sunset, so time your descent accordingly. »Fern Dell Drive at Los Feliz Boulevard, Griffith Park, L.A., laparks.org
→Backpack essentials: Proof Bakery, only a 10-minute car ride from Fern Dell Drive, makes delicious baked treats: crispy croissants (the almond ones sell quickly), thick slices of lemon pistachio loaf, savory scones and a selection of quiches. The bakery opens daily at 8 am; sandwiches—salami and Manchego cheese; ham plus pickled radish; roasted carrots and feta; and pickled beets with goat cheese —are available at noon. »3156 Glendale Blvd., L.A., 323.664.8633, proofbakeryla.com
Echo Park Pedal Boats
Do you remember the last time you went pedal boating? If the answer is "no," perhaps it's time to create new memories at the city-run Echo Park Lake, where a concessionaire operates boat rentals and guided rides. Grab a buddy or the whole family and navigate the restored watering hole, where you'll spot red-eared slider turtles, trout, bass and plenty of ibis birds by the famous flowering lotus beds. For a spruced-up experience, call ahead and order a guided gondola ride. Canoes are available, too. Prices: Pedal-boat rentals are $5 per child, $10 per adult for up to an hour (Wednesdays are half-price for locals living in the 90026 zip code). Guided canoe rides: $5 per child, $10 per adult for two laps around the lake. Guided gondola rides: $50 per couple for 30 minutes. Open daily from 9 am to half an hour before sunset. »751 Echo Park Ave., L.A., 213.481.8577, echoparkpedalboats.com

→Off to market: There are plenty of excellent purveyors in downtown's revitalized 99-year-old Grand Central Market, located 15 minutes away by car from Echo Park. You can't go wrong with a Reuben sandwich stuffed with melt-in-your-mouth corned beef from Wexler's Deli or a slice of Blum's Coffee Crunch Cake covered in crunchy coffee honeycomb and whipped cream from Valerie Confections. DTLA Cheese, a cut-to-order shop, can set up the perfect cheese and charcuterie platter. Oh, and G&B Coffee pulls a slick espresso. »317 S. Broadway, downtown, 213.624.2378, grandcentralmarket.com
Hollywood Bike Tour
Tour buses have their place, but those who are more adventurous can get their hearts pumping on a Los Angeles bike tour. Bikes and Hikes L.A. (p. 94) offers a Hollywood Bike Adventure tour: a four-hour ride to/from West Hollywood that stops at the Los Angeles County Museum of Art and its famous Levitated Mass installation; La Brea Tar Pits; the Grove retail, dining and entertainment complex; Hollywood Forever Cemetery; the Hollywood Walk of Fame and other landmarks. You'll pause outside studios:Paramount, CBS, Jim Henson Co. and Nickelodeon, where it's not uncommon to spot a celebrity (anyone a fan of Bella and the Bulldogs?). Guides share historic anecdotes and point out the best vantage points to photograph Griffith Observatory and the Hollywood sign. Don't fear L.A.'s roads—departing at 10 am, this tour avoids rush hour and follows bike-share roads. A perk of exploring the quieter neighborhoods is seeing celebrity homes, such as Nat King Cole's onetime mansion in beautiful Hancock Park. Note: All guides are trained in first aid, CPR and bike safety. Price: $76 per person. »8743 Santa Monica Blvd., West Hollywood, 323.796.8555, bikesandhikesla.com
→Snack stops: Hold off on that big breakfast and take advantage of your first pit stop, the Original Farmers Market. Standout stalls include Bob's Coffee & Doughnuts, which boasts a perpetual line; Loteria Grill's tacos; Pampas Grill churrascaria; falafel at Moishe's Restaurant; and Bennett's Ice Cream—because it's never too early for homemade sweets. Ask your guide if there's time to swing by In-N-Out Burger, which you'll cruise past at the tail end of the trip.
Baldwin Hills Scenic Overlook Hike
Care to climb a staircase that's visible from outer space? You can, at Baldwin Hills Scenic Overlook. Located in Culver City, this California state park has attracted joggers and hikers since 2009, not least for the 282 recycled-concrete steps that cut a jagged line up its mountainous slope. Begin your workout at the intersection of Jefferson Boulevard and Hetzler Road, and follow the path to the stairwell's base. If that seems daunting, don't worry: The hiking trail zigzags all the way to the 511-foot-high viewing platform, where a panorama of L.A. stretches from the Hollywood sign, past movie studios and beyond, to the far reaches of the Pacific Ocean. Gaze over the view from the benches in the mini amphitheater. There's also a visitors center with an exhibit showing how this urban park came to be. »6100 Jefferson Blvd., Culver City, 310.558.5547, parks.ca.gov
→Pack a picnic: Before the stair climb/hike, swing by Picnic L.A., where you can mix 'n' match from a buffet display of farm-fresh entrées, salads and sides. Top picks include delectable poached Scottish salmon with creamy Dijon sauce, Tuscan kale salad with kumquats, and Vietnamese noodle salad topped with peanuts, mint and basil. Grab a cold-pressed juice, soda or kombucha; add a few chocolate-chip cookies for dessert. Picnic L.A. sells picnic supplies—hampers, blankets and hats—but with its floor-to-ceiling Culver City views, you might be tempted to stay put at one of its indoor picnic tables. »9900 Culver Blvd., Culver City, 310.838.3388, picnic.la

Runyon Canyon Yoga
L.A.'s greenest yoga studio, Runyon Canyon Yoga, hosts classes on a bright-green lawn in the heart of Hollywood. Feel the soft grass underfoot and the sunshine on your back as you fold into downward dog. Located at the base of Runyon Canyon's hiking trail, the 60- to 90-minute classes run twice a day—10:30 am and 2 pm—and are led by experienced yoga instructors. On Tuesday and Thursday mornings, Yogi Galactica duo Siri and Kamala (who has been teaching here for 15 years) take turns leading class and playing live music. Vinyasa fans can catch Daniel Overberger of Black Market Yoga on Monday, Wednesday and Friday mornings. Classes are suited to all levels, so bring your yoga mat, breathe in and soak in some vitamin D. Note: While Runyon Canyon hiking trails will be closed for renovations until July 31, yoga classes will continue. Donations are welcome. Check Runyon Canyon Yoga's "About" page on Facebook. »2000 N. Fuller Ave., Hollywood, laparks.org
→Preordered picnic: In the midst of Hollywood's hubbub stands Tender Greens, a popular salad chain that offers a flavorful, healthy menu packed with sustainably raised ingredients. You might opt for a Big Plate that includes a protein—e.g., herb-brushed albacore, salt-and-pepper-chicken or falafel—with Yukon Gold potatoes and greens, or a Big Salad like the Chinese Chicken, a combination of mizuna and tatsoi leaves, golden pea shoots, shaved carrots, crispy wontons, toasted peanuts, cilantro, green onion and sesame dressing. There are soups, plant-based sides (hummus, quinoa, tabbouleh) and cupcakes. Tender Greens even pours wine and local craft beer. Order online for speedy takeaway. »6290 Sunset Blvd., L.A., 323.382.0380, tendergreens.com