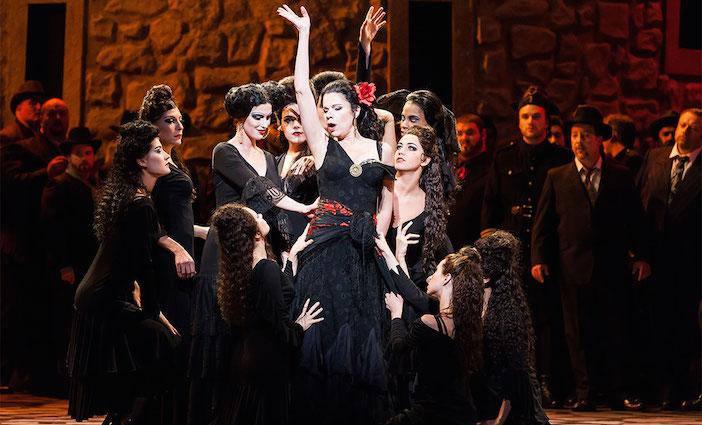 Check out the best performances and plays in Los Angeles this month.
Edited by Christina Wiese.
John Williams: Maestro of Movies
Sept. 1-3. Legendary music composer John Williams (Jaws, Star Wars series, the first three Harry Potter films) returns to the Hollywood Bowl to conduct an evening of cinematic magic under the stars. David Newman kicks off the evening and a selection of film clips will be featured on the big screen. See website for start time and ticket pricing. Hollywood Bowl, 2301 N. Highland Ave., L.A. hollywoodbowl.com
Iphigenia in Aulis at Getty Villa
Sept. 7-30. The annual fall series at picturesque Getty Villa returns with the classical tragedy Iphigenia in Aulis. Explore the galleries before the performance (6-7:45 p.m.) or opt for a three-course prix fixe dinner with wine pairings. Blankets encouraged. 8 p.m. Tickets start at $36. Getty Villa, 17985 Pacific Coast Highway, Malibu, 310.440.7300. getty.edu
Fireworks Finale: The Muppets Take the Bowl
Sept. 8, 9, 10. Join Kermit the Frog, Miss Piggy, Fozzie the Bear and the rest of the gang for a sensational evening under stars. More than just a concert, the musical extravagana marks The Muppets' first-ever full-length live show and will feature special guests and never-before-seen antics along the Hollywood Bowl Orchestra. Spectacular fireworks cap off the evening. F-Sa 8 p.m., Su 7:30 p.m. See website for ticket pricing. 2301 N. Highland Ave., L.A. hollywoodbowl.com
Carmen
Opens Sept. 9. Unrequited love can be a deadly thing, and Georges Bizet's nearly 150-year-old opera Carmen could not capture the unfolding of of such a scenario—among a bullfighter, a gypsy woman and her scorned corporal lover—more intensely or melodiously. The LA Opera opens its 2017-18 season with a production of the opera conducted by James Conlon; Grammy Award winner Ana Maria Martinez mesmerizes with a come-hither gaze in the title role. See website for schedule and tickets.135 N. Grand Ave., downtown. laopera.org
Big Night
Opens Sept. 10. Master satirist Paul Rudnick's new play—having its world premiere at the Douglas—explores family and fame by following the stressful night of an Oscar nominee. See website for schedule and pricing. Kirk Douglas Theatre, 9820 Washington Blvd., Culver City. centertheatregroup.org

The Curious Incident of the Dog in the Night-Time
Through Sept. 10. Simon Stephens' Tony-winning play follows brilliant but socially awkward 15-year-old Christopher, who sets out to find the real culprit when he is suspectd  of killing his neighbor's dog. See website for show times and pricing. 135 N. Grand Ave., downtown, 213.628.2772. centertheatregroup.org
Head of Passes
Opens Sept. 13. This moving new drama from MacArthur "Genius Award"-winning playwright Tarell Alvin McCraney stars Tony winner Phylicia Rashad. See website for schedule and pricing. Mark Taper Forum, 135 N. Grand Ave., downtown, 213.628.2772. centertheatregroup.org
An Intimate Evening with Josh Groban
Sept. 14. Internationally renowned singer, songwriter and actor Josh Groban headlines an evening celebration to kick off The Broad Stage's 10th season. Complimentary pre-show reception available to all ticket holders; VIP tickets include post-show dinner under the stars and a meet-and-greet opportunity. Concert benefits The Broad Stage's Arts Education and Community Program that supports 20,000+ people each year. 7:30 p.m. Tickets start at $500. The Broad Stage, 1310 11th St., Santa Monica. thebroadstage.org
The Red Shoes
Opens Sept. 15. Choreographer Matthew Bourne's ballet adaptation of the beloved fairy tale and Academy Award-winning movie, set to the music of Hollywood composer Bernard Hermann, makes its U.S. premiere. Ahmanson Theatre, 135 N. Grand Ave., downtown, 213.628.2772. centertheatregroup.org
Outdoor Simulcast of  'Carmen'
Sept. 23. The LA Opera, in partnership with Los Angeles County, is bringing their opening show outdoors for one night only. Carmen, starring Ana Maria Martinez and conducted by James Conlon, will be broadcast live in high-definition at the Santa Monica Pier and Exposition Park. 5 p.m. doors, 7 p.m. show. Free, RSVP encouraged. Exposition Park, 700 Exposition Park Dr. L.A.; Santa Monica Pier, 200 Santa Monica Pier. laopera.org
100: The Apollo Theater Celebrates Ella's 100th Birthday
Sept. 24. Grammy-winning artist Patti Austin helms an all-star evening to celebrate Ella Fitzgerald's centennial birthday. The Apollo first introduced Fitzgerald to the world in 1934 where she won Amateur Night at age 17. She went on to earn 13 Grammy Awards, the National Medal of Arts and collaborated with Louis Armstrong and Duke Ellington, among others. 8 p.m. Tickets start at $35. Ford Theatres, 2580 Cahuenga Blvd. East, Hollywood. fordtheatres.org
Hamilton
Continuing. The national tour of the Broadway sensation has finally arrived in Los Angeles, bringing its brilliant raps about founding father Alexander Hamilton (played by Michael Luwoye) to the Pantages stage. Hollywood Pantages Theatre, 6233 Hollywood Blvd., Hollywood, 323.468.1770. hollywoodpantages.com
Carmen photo by Lynn Lane, courtesy of Houston Grand Opera.