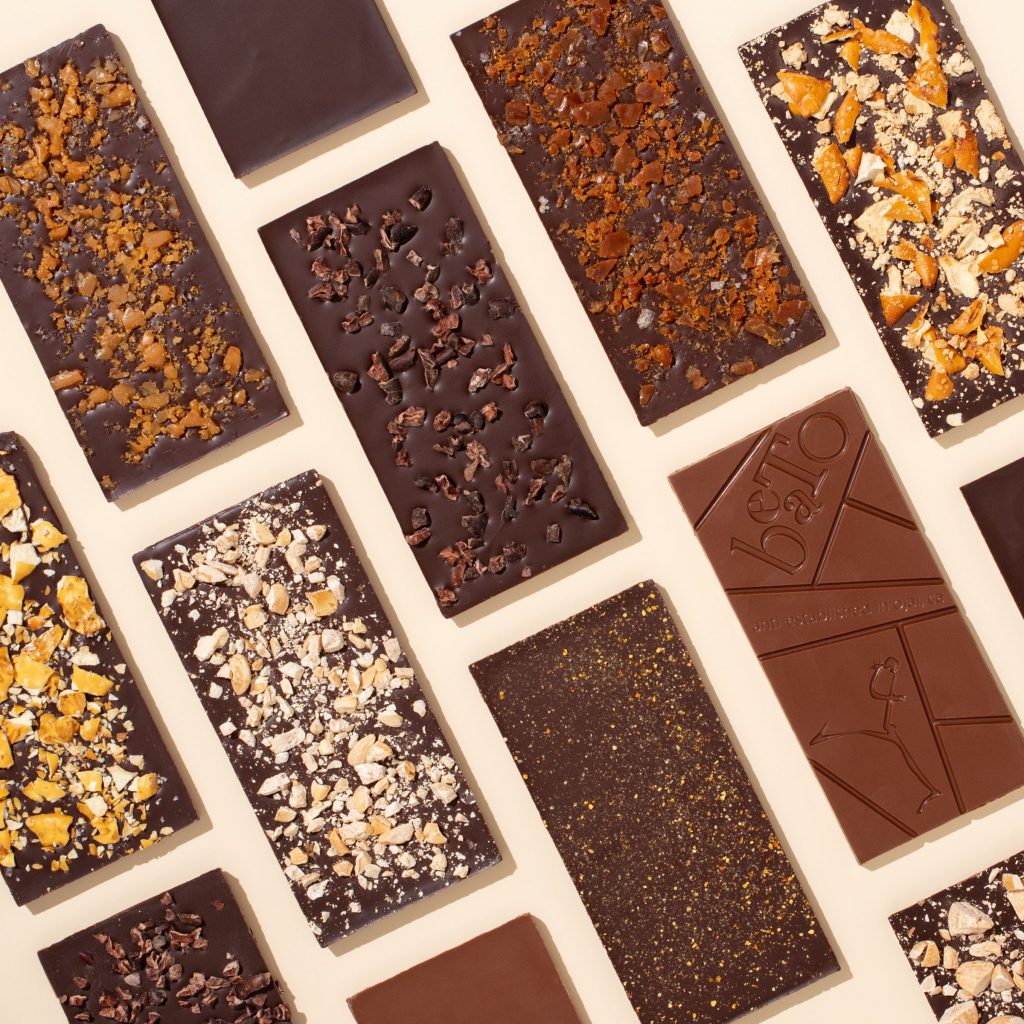 Anti-established and Women-Owned
"I owe it all to chocolate, artbooks and young men." A small chocolate business in Ojai, California, was inspired by these words said by the iconic "Mama of Dada," Beatrice Wood. Owners Lisa Casoni and Heather Stobo were eating chocolates served to them by the owner of a hotel they'd evacuated to during the Thomas Fires a few years ago and found the moment so comforting, that they thought about the idea of starting a chocolate business. Combining the love of Beatrice Wood's art and the comforts of chocolate, Beato Chocolates – named after Wood's nickname "Beato" which was given to her by the child of a close friend – was born.
Beato Chocolates is a women-owned and artist focused business, offering handcrafted and locally sourced ingredients for their Fair Trade Certified chocolate bars. The line of bars and other chocolate treats were inspired by Wood and all of the packaging features her expressive drawings and pithy witticisms that will surprise and delight customers. A portion of the proceeds of each sale also go to the Beatrice Wood Center for the Arts. Casoni and Stobo's vision was to get customers to not only enjoy delicious sweets, but also embody on the three pillars of Beatrice Wood's principles: wellness, creativity, and pleasure.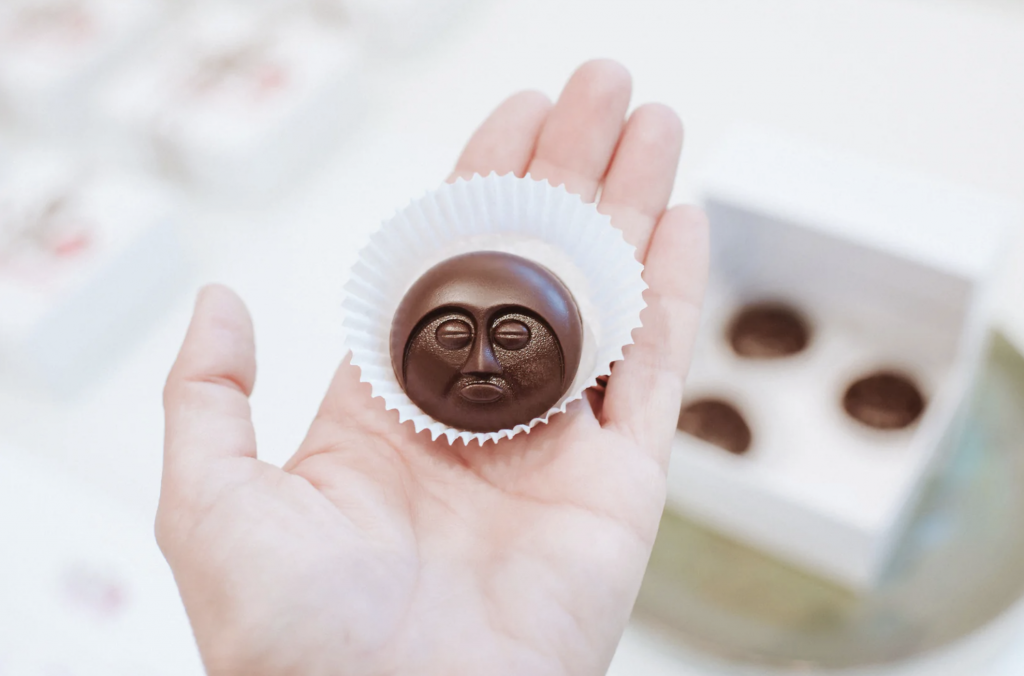 To get more insight about Beato Chocolates, I got the chance to interview the artistic couple and get the inside scoop of their provocative, and delicious chocolates.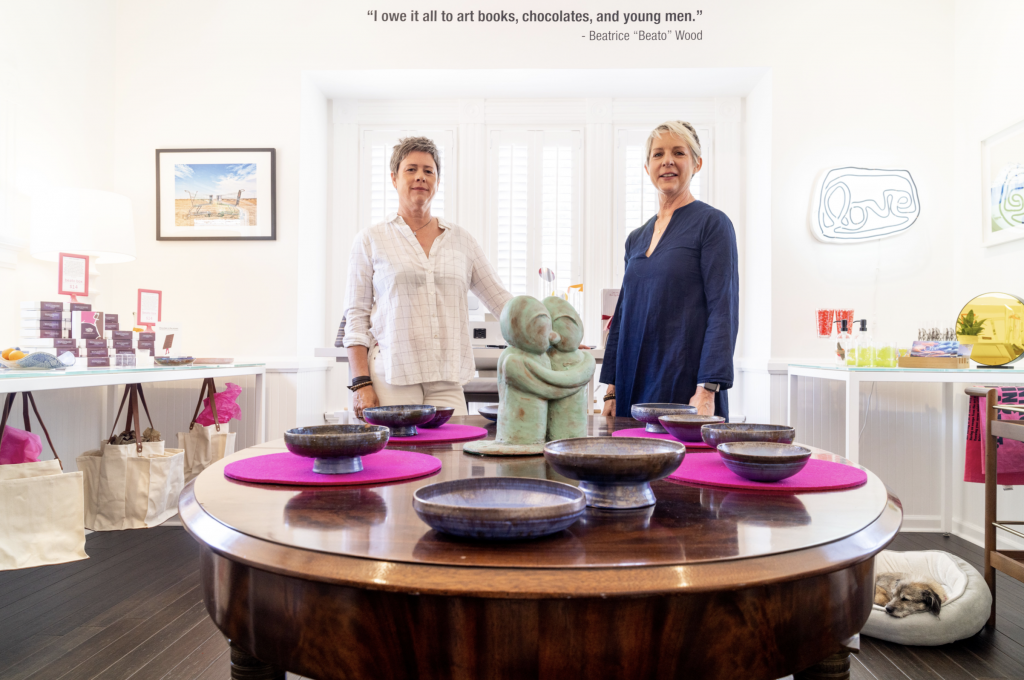 What gave you both the idea of starting a chocolate business?
"We always believed chocolate to be such an artistic product. For some of the items, we used some of Beatrice's molds and also secured permission and licensing rights to feature her artwork on the packaging. We draw so much inspiration from her legacy as a woman who lived until she was 105 years old and creating until the day she died. She was just this magnificent person – an artist, bon vivant and groundbreaking co-founder of the Dada art movement."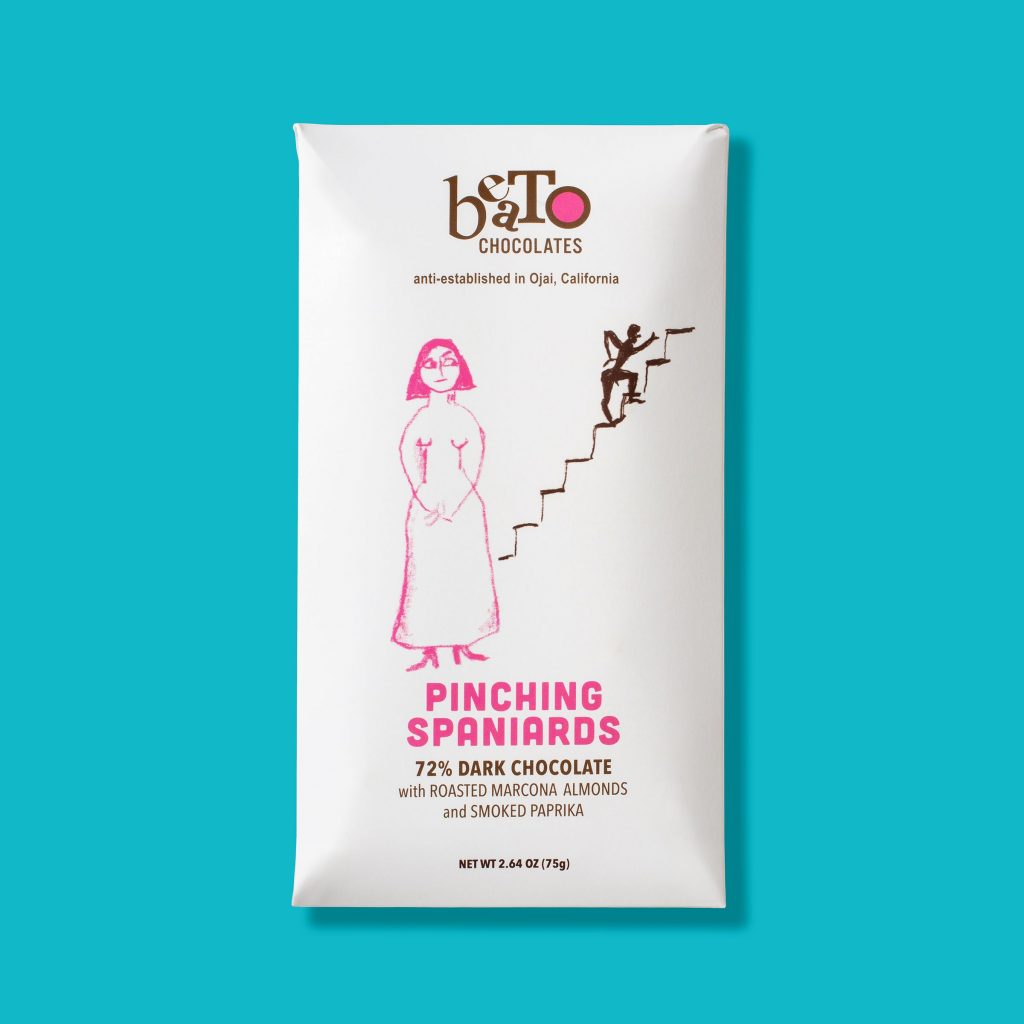 The name of your chocolates, what was the idea behind that?
"We got the names from Wood's artwork and some of her more famous quotes. For example The Pussy Between Us is the title of one of her drawings, and while it might seem like a reference to a tiff with a former lover, we joke it could be a nod to her beloved cats. We are pulling from her whole life, from her drawings to sculptures, because everything about her life was a work of art.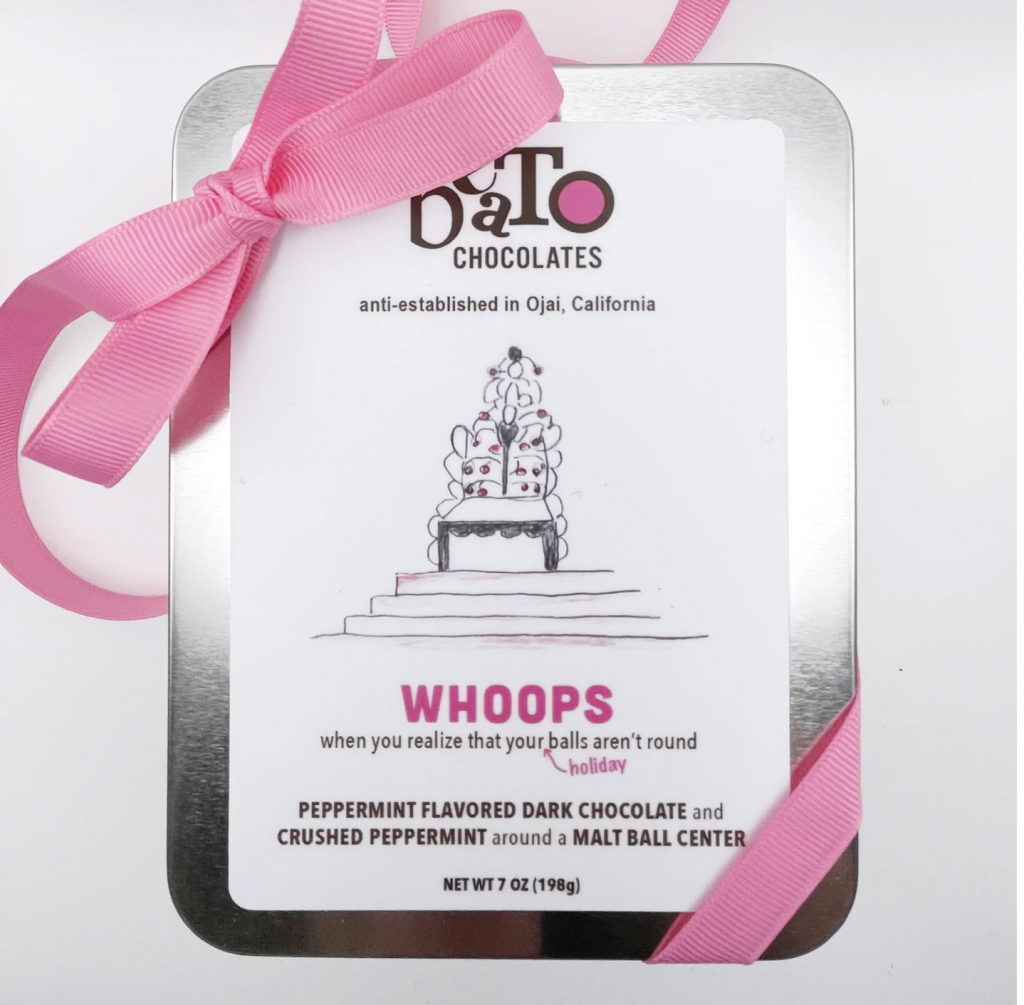 "A new item we just released for the holidays is called Whoops. The chocolate and peppermint-coated malt balls aren't perfectly round, thus the name. We call them our Dadaist interpretation of a Whopper.
"Our chocolatier has met with Beatrice Wood and she understood the idea behind the brand we were making. We are proud to be female-owned and operated and are artistically driven by the legacy of Beatrice Wood who is the soul of our brand."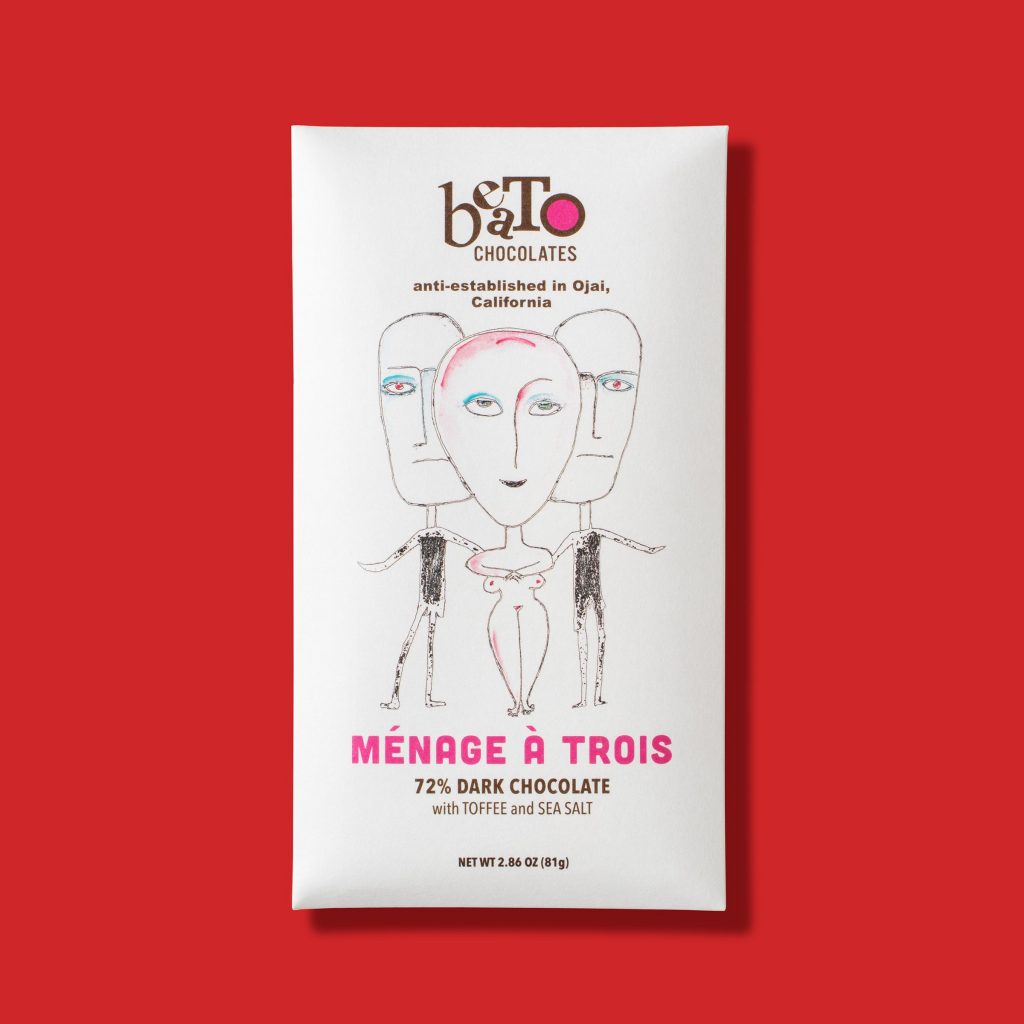 How many kinds of chocolates bars of chocolate do you have now?
"We currently have 12 varieties of bars, two chocolate sculptures and the Whoops. The line exponentially increased during and after COVID."
Beato Chocolates started during COVID. Talk about the challenges and the process.
"Artists are the first ones to tackle challenges to be honest. If you look at it in a bigger scope, artists find a way to be part of the process of dealing with the pandemic because emotionally they feel a lot of what is happening around them. We felt it. We started during the pandemic and donated chocolates to frontline workers in hopes of giving them a boost during those tough times.
"At that time there was such a feeling of despair. We wanted to offer some comfort through our chocolates which are all about making you laugh and inspiring you to keep moving forward. COVID made us pause and think about the ways we could contribute to those who were suffering or working long hours to help people who were ill.
"This generation is, in part, defined by what happened during those times. We're grateful that how we chose to respond to the situation is part of what made our company flourish. We all channeled our inner Beato to overcome the situation."
More Info
All chocolates ship nationwide and are also available for purchase in the Beato Chocolates boutique located inside Porch Gallery in Ojai, California.
Some of their chocolate highlights:
Holiday Whoops ($18 per tin) – malt balls covered in peppermint-flavored dark chocolate and crushed peppermint. "Whoops are our Dadaist take on the childhood favorite candy Whoppers," says Stobo. "Inspired by Beatrice Wood and all the Dadaist who rejected traditional aesthetics in favor of a deeper meaning, our malt balls aren't perfectly round but they are delicious."
Pinching Spaniards Bar ($12) – 72% dark chocolate with Roasted Marcona Almonds and Smoked Paprika. "Pinching Spaniards" is a collection of letters that Beatrice Wood wrote to Steve Hoag. At the age of 65, Wood wrote that wouldn't return until she "pinched every Spaniard." She was home three months later.
I Shock Myself Bar ($12) – 72% dark chocolate with Coffee and Cacao Nibs. Beatrice Wood's autobiography, I Shock Myself, (written at 92) details her travels, art, spirituality, and a life where she "loved seven men that she didn't marry and married two men that she didn't love."
Moon Face Chocolate Sculpture ($14, box of 12) – 72% dark chocolate with fleur de sel. In 1947, Beatrice Wood moved to the Ojai Valley, christened the "Valley of the Moon" by the native Chumash tribes. The original ceramic sculpture mold was created in Wood's Ojai studio, located on a hilltop overlooking what she described as "one of the most beautiful valleys of the world.
Pictures courtesy of Beato Chocolates