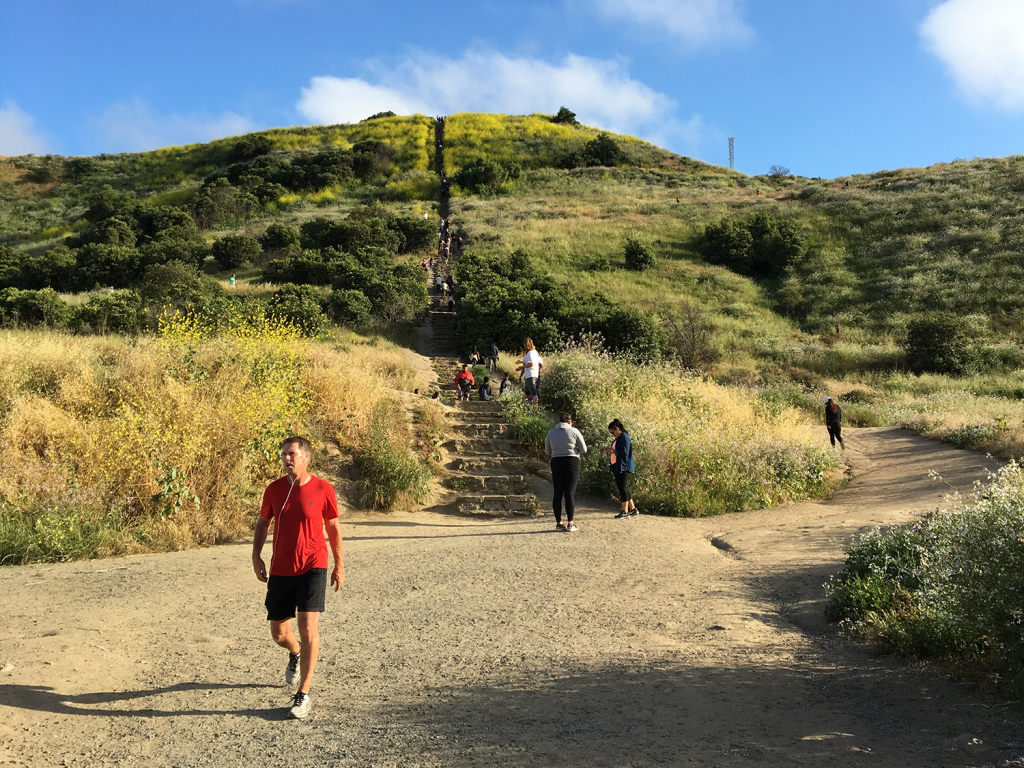 The time is right to take to Los Angeles' great outdoors. Framed by mountains and the sea, the city offers a multitude of walking trails, popular with those who thrive on adventures in nature. Whether you're tackling mountain heights or catching stunning sunsets, a hike through Los Angeles' magnificent parklands fuels the body, mind and soul.
By Marina Kay.
Runyon Canyon Park, Santa Monica Mountains
You've probably heard of it: the famous Runyon Canyon hike, popular with celebrities, L.A. residents and tourists alike. Conveniently located a few minutes' drive from Hollywood Boulevard, the well-trodden trail nestled in the eastern Santa Monica Mountain range starts at North Fuller Avenue. Veer right and hike to Inspiration Point for panoramic city views before continuing up the ridge's steep earthen steps to Cloud's Rest, where you'll see the Los Angeles Basin at a 1,040-foot elevation. From here, it's a leisurely walk down Runyon Canyon Fire Road to complete the 1.65-mile loop. Note: Maintenance work may close parts of the trail—prepare for detours. Since street parking can be a challenge, visit on a quieter weekday morning, or try your luck on Hollywood Boulevard. 2000 N. Fuller Ave., L.A.
»Snack Stop: Visit the breezy new S.O.L café, brought to you by the Aussie crew behind E.P. & L.P. restaurant. On the menu is excellent coffee, a selection of pastries (like "fairy bread" and Vegemite croissants), sandwiches, salads and a burger. 8535 Melrose Ave., West Hollywood, sol-losangeles.com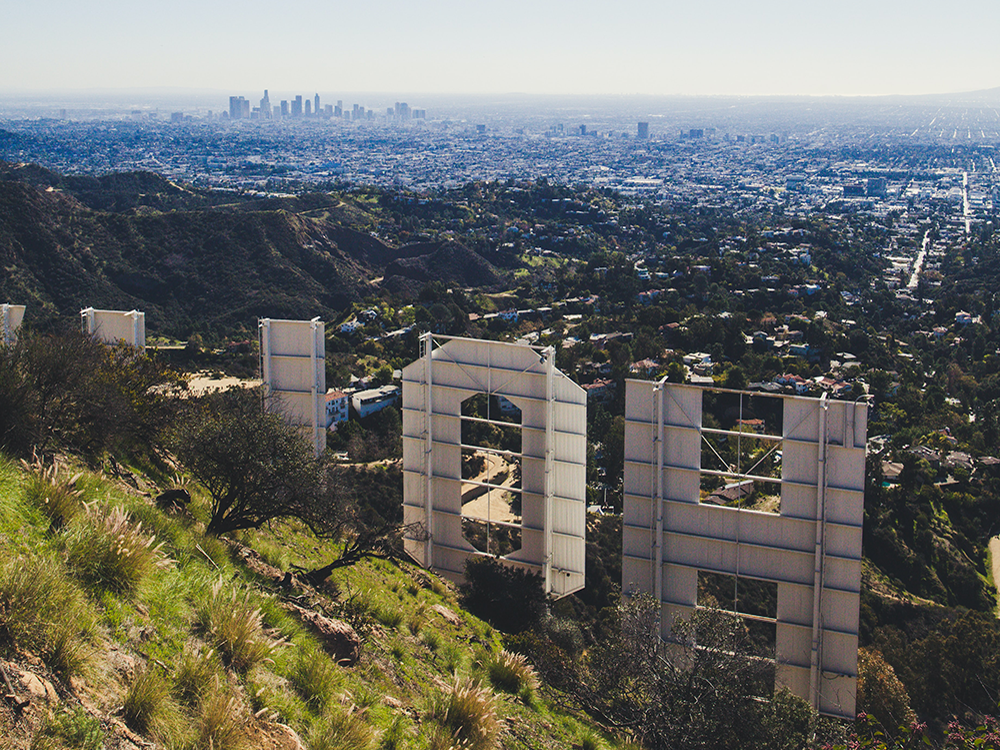 The Hollywood Sign, Griffith Park
Seeing the Hollywood sign up-close is one to tick off the bucket list. With Hollyridge Trail closed off to pedestrians and Cahuenga Peak experiencing closures due to overcrowding, a view of the H-O-L-L-Y-W-O-O-D letters is best accessed from either of two alternate hikes. There's the shorter Innsdale trail that places you front and center with the sign (you'll see Lake Hollywood Reservoir and downtown L.A., too) and the 6.4-mile Brush Canyon Trail that ends at Mount Lee, home to the 45-foot-high letters. This unshaded, undulating hike is not for the fainthearted, so make sure to pack plenty of water and sunscreen. Follow the trail until you reach a junction with Mulholland Highway, where you'll turn left. At the next junction, take a sharp right onto the paved Mount Lee Drive, and steadily climb while overlooking the San Fernando Valley, Forest Lawn Memorial Park, Lake Hollywood Reservoir, the Pacific Ocean and basically the entire city—which you'll see in between the letters of the Hollywood sign. To descend, retrace your steps. Parking is available at both trailheads. Innsdale Drive at Canyon Lake Drive; Brush Canyon Trail, L.A.
»Snack Stop: Groundwork Coffee Co., located opposite the CNN Building, is a sure bet for coffee, as well as quick bites. 1501 N.Cahuenga Blvd., Hollywood, 323.871.0143, groundworkcoffee.com
Culver City Stairs at Baldwin Hills Scenic Overlook
Culver City's 282-step recycled concrete staircase is so grand, you could probably see it from outer space. Those concrete stepping slabs range anywhere from 2 to 20 inches in height. Climbing them affords a great workout that's paired with scenic views from a 511-foot-high platform. Aim for an evening visit to watch the sky change to pink and orange as the sun sets over downtown L.A., West Hollywood, Beverly Hills, Santa Monica and the Pacific Ocean. Either take the stairs back down, or follow the switchback trail as it traces its way to the trailhead's start at the intersection of Jefferson Boulevard and Hetzler Road. Parking is available on Jefferson Boulevard. 6100 Jefferson Blvd., Culver City.
»Snack Stop: The baristas at Blue Bottle Coffee consistently create the creamiest almond lattes and nuanced pour-over coffees with beans sourced from various parts of the world. The patio offers outdoor seating. Platform, 8830 Washington Blvd., Suite 103, Culver City, bluebottlecoffee.com
Temescal Canyon Loop, Topanga State Park
Adventure seekers, this hike is for you! Temescal Canyon Loop starts steep and ends steep, making it one of the more challenging spots to hike in Topanga State Park. From the parking lot off Sunset Boulevard, keep left and start the immediate uphill trek along Temescal Ridge Trail. Ten minutes in, the trail levels under an archway of chaparral before resuming its ascent. The path curves like this for over a mile, where it's just the sound of your footsteps accompanied by the twittering of brown California Towhee birds. Reaching the summit at 1,000 feet feels victorious—drink in the sparkling ocean views while you catch your breath under the sun. Continue along the path and keep right at each junction to hike the half-mile to a small bridge, complete with a waterfall. Watch your step along the pebbly canyon floor—it can be tricky to navigate at times—until you reach the more comfortable paved road that completes the loop at Sunset Boulevard. On-site paid parking is available, otherwise park along Sunset at no cost. 15601 Sunset Blvd., Pacific Palisades.
»Snack Stop: Pop into Caffe Luxxe for its great cappuccinos, espresso-based drinks and a selection of pastries. 15200 Sunset Blvd., Pacific Palisades, caffeluxxe.com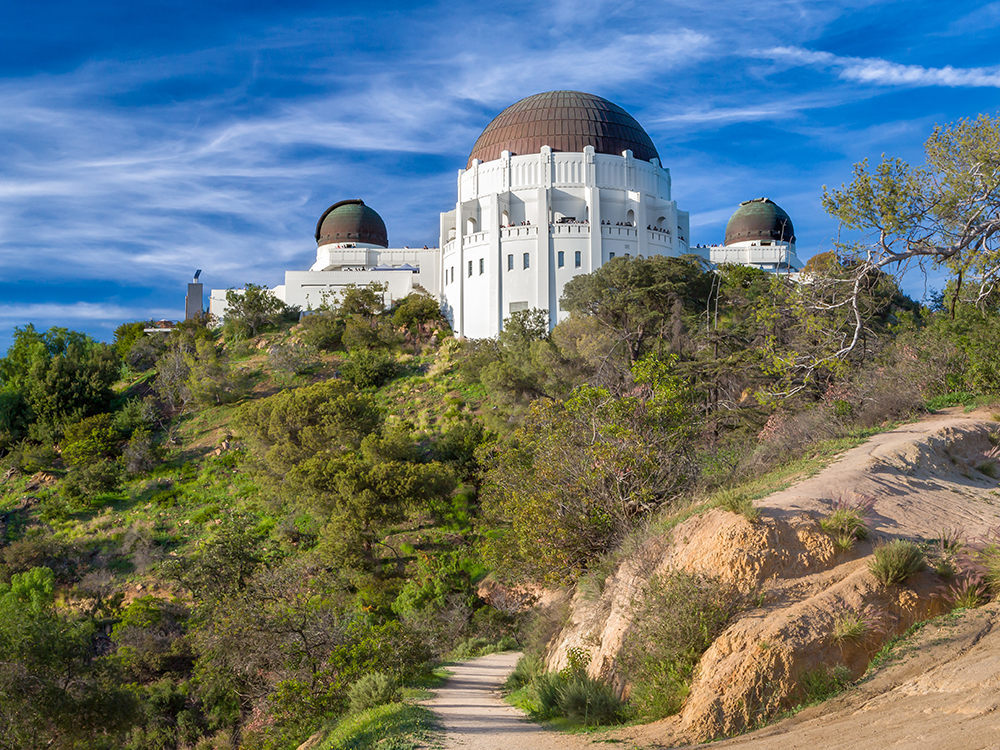 Griffith Observatory West Trail Loop, Griffith Park
Make a day of it and plan this hike around a visit to the Griffith Observatory (check for the latest reopening times). Start by walking through Fern Dell Park, a Zen garden tucked under a canopy of California sycamores and cooled by a lively creek lined with lush green ferns, climbing ivy and tropical plants. This area was designated a Historic-Cultural Monument in 1973 after archaeologists identified it as a Gabrielino Native American village site. Keep right and continue along the trail that leads into Griffith Park, where the Observatory finally comes into view. Photographers will be spoiled with the opportunity to capture the majestic landmark from many different perspectives. The well-populated weaving trail also offers panoramic city views before concluding at the Observatory's grounds, where it's easy to spend a few hours exploring the planetarium and the building's unique architecture—you can see the Hollywood sign from here as well. To complete the 3-mile loop, walk back the same way, and keep right at the first junction if you'd like to take a different route before reaching the Fern Dell nature trail once again. Note: Parking is available on Fern Dell Drive, but trails close at sunset, when parking tickets may be given. Fern Dell Drive at Los Feliz Boulevard, L.A.
»Snack Stop: Proof Bakery is known for its delicious cakes, pistachio croissants and brioche loaves. It's a great small spot for tasty takeout. 3156 Glendale Blvd., L.A., 323.664.8633, proofbakery.com
Angel's Point, Elysian Park
There's a direct way to reach the lookout at Angel's Point, and a more circuitous, adventurous one. The former requires an uphill walk along Angel's Point Road before turning and walking back down (for those feeling leg weary, you can drive this too), and the latter comprises a patchwork of trails and paved roads that meander through Elysian Park and are combined with sprawling views of the Golden State Freeway (you'll appreciate L.A.'s car culture from up high), the park's wilderness, Dodger Stadium and the downtown L.A. skyline. If you're keen to try the tougher option, take the gated fire road trail at the junction of Angel's Point Road and Stadium Way, and follow it along the park's edge. Oddly soothing in nature is the sound of traffic, partly thanks to the I-5, which comes into view to offer a wonderful perspective of inland L.A. and the San Gabriel Mountains. Watch your step, as the trail tends to get rugged and narrow in parts. About a mile in, a wall to your right features a steep stepped path leading up to Angel's Point Road. Scramble up and turn right along the paved way until you see a gated trail to your left. This leads to Elysian Heights Park and its soccer fields, which showcase one-of-a-kind Dodger Stadium and downtown views. Cut through the green to reach the road that leads to Angel's Point, punctuated by a sculpture by Peter Shire. Take in the magnificent panorama before walking down Angel's Point Drive, where it meets with Stadium Way. Parking available on Elysian Park Drive. Angel's Point Road and Stadium Way, L.A.
»Snack Stop: Order the Cruffin Sausage Sandwich at Counterpart, an all-day café/deli that turns classic menu items into plant-based alternatives. Pack a picnic to enjoy in the Elysian Park grounds. 1559 Echo Park Ave., L.A., 213.221.7198, counterpartvegan.com
Photo credits: Hollywood sign by Jonathan Gonzalez via Unsplash. Griffith Park by Ken Wolter/Shuttershock.com