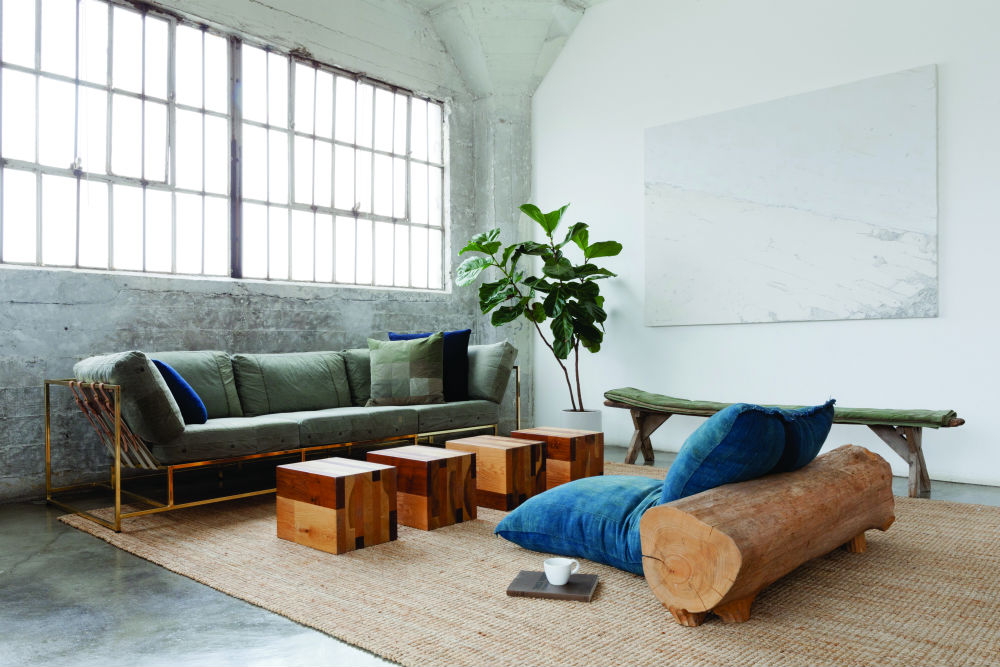 By Roger Grody.
Through economic recession and expansion, Los Angeles has quietly become one of the nation's centers for artisan-crafted home furnishings, and creative designers from around the world have been investing in boutique manufacturing facilities to meet the increased demand. A prime example is Stephen Kenn Studio, where an entrepreneurial designer creates products using vintage materials.
"My design path started with denim companies—I founded two of them—and sewing was the first form of making that I fell in love with," reports Kenn, a Canadian who came to L.A. 14 years ago. "I started with my mom's little sewing machine and broke it, which she has forgiven me for," says the serial entrepreneur, who also produces distinctive leather goods.
"The creative community here has been welcoming, encouraging and a great source of mentorship," Kenn says. "I wouldn't want my design studio based anywhere else." His entire furniture-making process, from design to manufacturing, is conducted in L.A.
"The progression from fashion to furniture has always made sense to me," he says. "If you're design-minded, then you tend to think about design as it relates to everything around you, from clothing to small objects to more practical things like lighting and furniture." Every furniture maker's constant struggle, the one that pits aesthetics against function, hardly fazes Kenn: "I don't believe they have to be on opposite ends of a teeter-totter, and good design is finding a balanced place in the middle. I choose a set of restrictions first, then create within those boundaries."
Designing bags for a company he founded, Kenn used vintage military canvas as a material base, and his Inheritance Collection of sofas is a spinoff of those early efforts with luggage. "Inheritance has always been about making things that could be passed on to someone else," says the designer, noting that the authentic materials age well with use. "I have always loved when personal items show some wear and tear, and the best items are worthy of repairing instead of replacing."
The sofa in olive green military canvas with marbled rust-finished frame ($7,500) was the first piece of furniture Kenn designed, and it remains one of his signatures. The supporting belts are made up of a tan cotton webbing with a red stripe, oxblood brown leather and antique brass buckles. A more elegant version features black Obsidian leather with a polished nickel frame ($9,800).
Kenn's Bowline Collection is the product of a partnership with Colony 2139, a lifestyle company in Japan that asked him to create an approachably priced California-inspired furniture line. The artisan drew inspiration from summers spent sailing off the coast of British Columbia.
"I loved the materials that were so highly functional, and showing the wear and tear of being soaked in salt water, being pushed and pulled on, yet still staying strong," Kenn says. "We used tumblewashed sailcloth and canvas for upholstery, shock cord as a supporting element." Wood is sandblasted to mimic the texture of driftwood; steel is powder-coated like maritime metal.
A sleek midcentury-inspired armchair ($2,800), a collaboration with L.A.-based denim manufacturer Simon Miller, incorporates naturally dyed indigo cotton canvas upholstery and a copper frame. A collaboration with apparel maker Long Journey results in an armchair ($5,500) created from black vintage motorcycle jacket leather. Waxed vintage sweatshirts go into a nickel-framed sofa ($11,000) with supporting belts crafted from natural leather and vintage military parachute line.
"I would say our typical client is one who values original design and appreciates simplicity and modernity, but not at the expense of comfort and quality materials," Kenn says. "He or she also shares a love of travel and a desire to buy less, but buy better."
Stephen Kenn Studio, 1250 Long Beach Ave. Suite 120, downtown, 323.920.4210.
stephenkenn.com
By appointment only.