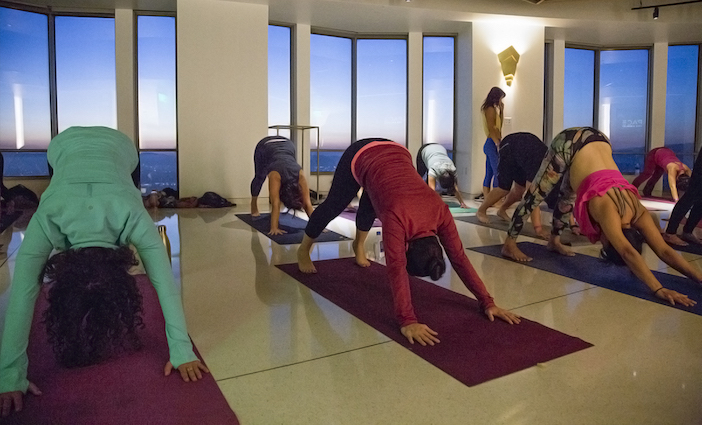 OUE Skyspace LA is partnering with Airbnb to launch an evening yoga series "Sunset Yoga in the Sky". From nearly 1,000 feet above the city in the iconic US Bank Tower, OUE Skyspace LA is the premiere destination for panoramic, 360-degree views of Los Angeles, and now, yoga.
Beginning this October, Skyspace will be teaming up with Evoke Yoga, a local DTLA yoga studio, to host an Airbnb experience bringing an array of evening yoga classes. Classes take place on the first and third Monday of each month through March 2018 and run from 6-7 p.m. in the private event space. Tickets are available to purchase for $35 per class which includes access to all four levels of Skyspace along with one ride on the Skyslide.
Unlike any other venue in LA, Skyspace offers stunning sunset views to make your yoga experience that much more special. In order to provide the perfect zen for each class, guests will be provided headphones to hear the instructor and enjoy soothing sounds from DJ Justin Henderson.
OUE Skyspace LA, 633 West Fifth St., downtown, 213.894.9000. Learn More