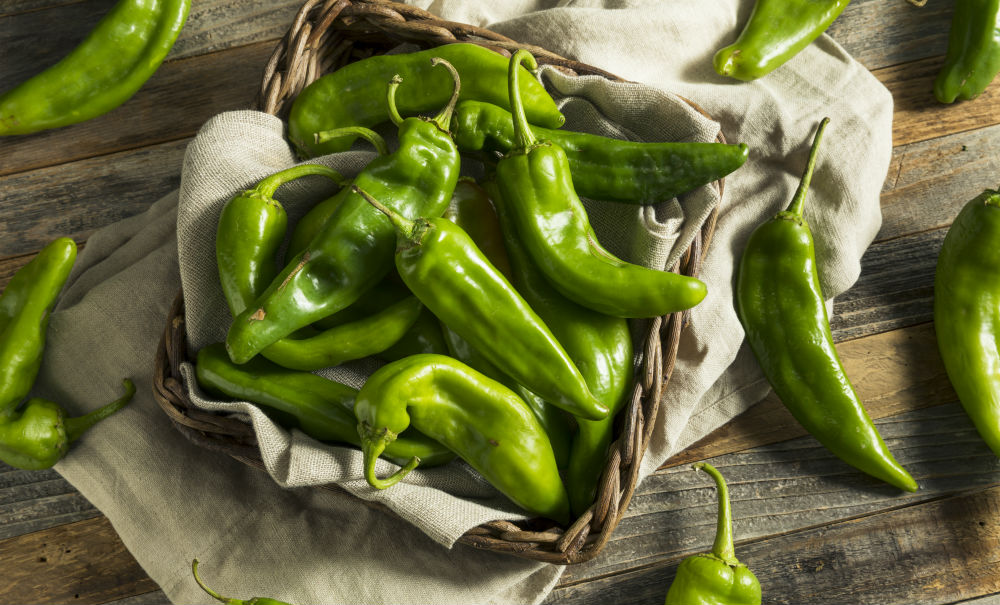 Gelson's summer forecast: very chile—as in Hatch chile.
Hailing from Hatch, New Mexico, these bursting-with-flavor peppers (spicy and a little sweet) are headlining a bunch of delightful dishes. We can't wait for you to try our Hatch chile salad, Hatch chile sausage, Hatch chile burgers, flank steak roll with Hatch chiles and pepper jack cheese, Hatch chile crab cakes and more.
Just pick up what you like and you're all set for a gourmet patio dinner that's quick, easy and delicious. Cooking at home? You can add Hatch chiles to favorite recipes including omelets, baked chicken, pasta, sandwiches, dips, salsa and more.
Want to try before you buy? Come to a Gelson's roasting event and sample Hatch chile specialty items. See what you like, learn about the growing process and talk with our friendly team of experts.
Fridays 3-7 p.m.
Aug. 17. West Hollywood
Aug. 24. Pacific Palisades
Aug. 31. Sherman Oaks
Sept. 7 Santa Monica
Saturdays 11 a.m.-3 p.m.
Aug. 18. Irvine, Newport Beach, North Hollywood, Tarzana
Aug. 25. Encino, Hollywood, La Canada, Rancho Mirage
Sept. 1. Laguna Beach, Long Beach, Rancho Mission Viejo, Silver Lake
Sept. 8. Dana Point, Del Mar, La Costa/Carlsbad, Pacific Beach
Save time by reserving your Hatch Chile case(s) online now.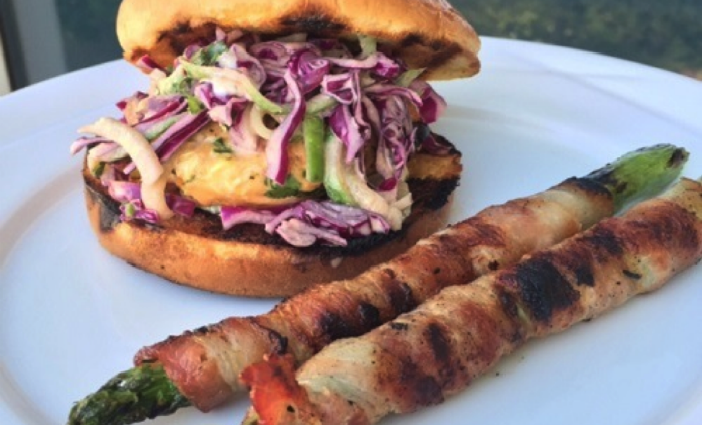 Hatch Chile Salmon Burger with Red Cabbage Cucumber Slaw
Salmon Burger Ingredients:
1 lb. fresh wild caught king salmon fillet
1/2 cup roasted Hatch Chiles, seeded and chopped
1 large egg, beaten
1/2 cup roasted corn
1/2 tsp. salt and pepper
2-3 tbsp. cilantro
2 cloves Melissa's garlic
About 4 Röckenwagner Brioche Buns
Red Cabbage Cucumber Slaw Ingredients:
3 cups Red Cabbage
3 cups sliced cucumbers
Sriracha (to taste)
Mayo (to taste)
Directions:
1. Blend half of the salmon and cut the rest in chunks.
2. In the blended salmon, mix in the ingredients above.
3. Mix chunks of salmon in the blended version and grill.
4. Place on brioche bun and top with red cabbage cucumber slaw.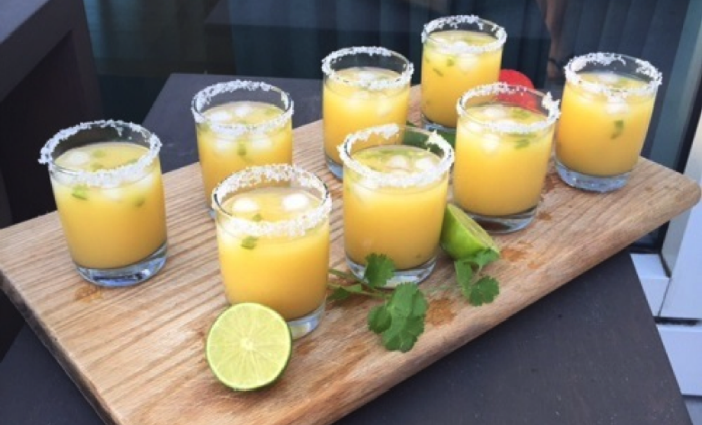 Hatch Chile Margaritas
Ingredients:
5 slices of Hatch Chile, chopped
3 slices of jalapeño, chopped
1½ oz. simple syrup
1 oz. fresh-squeezed lemon juice
1 oz. fresh-squeezed lime juice
2 oz. Gelson's Finest Tequila
3/4 oz. triple sec
Directions:
1. Add Hatch Chile, jalapeño, simple syrup and lime juice to 14 oz glass and muddle.
2. Add tequila and triple sec, and fill glass with ice.
3. Pour mix into shaker and shake vigorously.
4. Rim 12 oz. glass with salt and fill with ice.
5. Strain mixture over ice.
6. Garnish with Hatch chile slices.