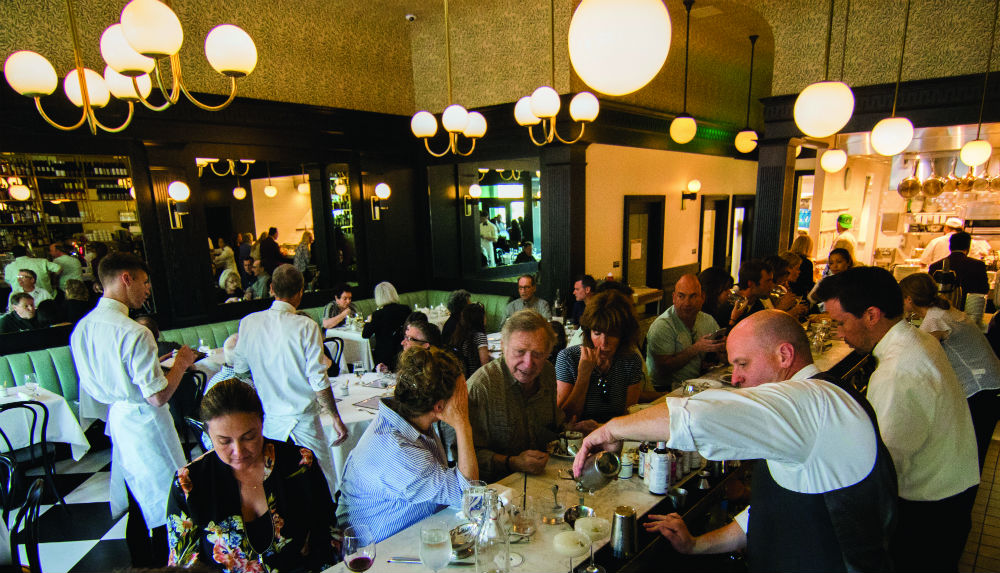 By Roger Grody.
The San Fernando Valley tends to be a place where classic French restaurants survive, even when the cuisine fades from the more trend-conscious Westside. Mistral, Le Sanglier and Le Petit Château are still going strong, and Montrésor debuted in Studio City this year. Just months ago, former haute cuisine chef Ludovic ("Ludo") Lefebvre and partners Jon Shook and Vinny Dotolo reprised their Hollywood bistro Petit Trois at a second location, in Sherman Oaks.
The Valley edition of Petit Trois certainly looks the part of an authentic Parisian bistro: Linen-clad tables and Old World-inspired lighting bring a Left Bank vibe to Sherman Oaks. It's a boisterous family-favored place, but solo diners can settle at a white marble bar or matching counter with views into the kitchen. Petit Trois is open all day, which means croissants or ham-and-Gruyèrestuffed waffles for breakfast, croque monsieur sandwiches for lunch and steak frites for dinner.
For dinner starters, there is a foie gras terrine, as there would be at any respectable bistro. Though Lefebvre has as deft a hand with this ingredient as anybody in L.A., at $35 it seems overpriced for a place where moms have strollers in tow and guests are sipping inexpensive
Bordeaux. A more rustic pâté de campagne—wrapped in bacon, studded with pistachios and plated with grilled brioche and cornichons—satisfies.
A crock of French onion soup gratiné, generously encased in molten Gruyère and Emmental cheeses, is as quintessential a bistro dish as any; ditto garlicky escargots served in their shells.
Another classic is the salade lyonnaise, a big bowl of frisée with lardons in an acidic vinaigrette and crowned with a perfectly poached egg. A refreshing salad of pink beets plated with a dollop of horseradish-infused crème fraîche and a sprinkling of toasted almond slices is well
worth considering.
Among entrées are moules marinières (simply steamed mussels with shallots and white wine, with a splash of crème fraîche accompanied by a side of frites), trout amandine and a nearly perfect omelet filled with Boursin cheese, which is served throughout the day.
Steak frites—in this case a small butter-tender filet mignon bathed in a creamy Cognac-pepper sauce —is extremely pleasing.
Le "Big Mec," a formidable cheeseburger introduced at the Highland Avenue Petit Trois, is a playful but sophisticated riff on an American standard. It features a nicely seared patty topped with artisan American cheese on a brioche bun. A Big Mac for discriminating grownups, the sloppy, sensual burger is slathered in a foie gras-infused bordelaise sauce.
The wine list is tightly edited, accessibly priced and 100% French; diners are likely to rediscover the simple pleasures of a Beaujolais or a Syrah from Languedoc-Roussillon.
Desserts include peach Melba, a retro Escoffier creation; a pair of oversized profiteroles; and a chocolate soufflé. The restaurant also turns out very good canelés, distinctive little rum cakes from Bordeaux that can be washed down with a café au lait.
Petit Trois does not necessarily present a polished dining experience, at least not yet. A request for salt might go unanswered; a soiled tablecloth may be overlooked. Both errors occurred on a recent evening. Salade lyonnaise arrived without a trace of lardons, an essential element of the dish, but the dish was taken off the bill.
That said, Petit Trois is a genuine bistro, not a formal Michelinstarred restaurant, and bistros can be delightfully chaotic. Despite its flaws, the food is delicious, and Petit Trois is fun—an elusive quality in restaurants these days.
Petit Trois, 13705 Ventura Blvd., Sherman Oaks, 818.989.2600.
valley.pettitrois.com