By Andrea Richards.
There are some nights when a low-key staple—say dinner and a movie or a nightcap at the neighborhood bar—is the perfect balm. But other times, the favorite standbys are, well, too staid, and the routine is in a rut. It's time for putting the fun back in a night out. Fortunately, after the sun goes down, L.A. is one big playground with plenty of offerings for offbeat entertainment. Whether it's roller boogie, shuffleboard, karaoke or a moonlit hike, there's an activity that will inspire you to bust out some new moves. Because why should we save the fun and games for the kids? Adults want to play too.
MAGIC
Let's just be honest: Some of us harbor dreams of becoming a magician's assistant—and, at least for a night, we can. The holy grail for great magic in L.A. is Hollywood's Magic Castle, a private club for prestidigitation—but gaining entry can be a feat. For an interactive, immersive experience that's easier to access, check out mentalist and magician Franco Pascali's show, The Magic Show at the Roosevelt, held in an intimate theater at the historic Hollywood hotel—21-yearold phenom Pascali's a frequent performer at the Magic Castle as well. There's also Black Rabbit Rose, a magicthemed bar with live magic shows, as well as sleight-of-hand acts featuring a rotating roster of magicians and illusionists.
NIGHT HIKES
It's one thing to jog Runyon Canyon or take a walk through one of L.A.'s many great parks during the day, but at night you'll see a whole new side of the city's natural wonders—plus incredible skyline views. Since there are delicate ecosystems to protect, we recommend only doing a night hike with an approved group, such as the Sierra Club, which hosts weekday evening hikes on the trails of Griffith Park, or the Santa Monica Mountains Fund, which leads a monthly full moon hike in various parks.
For less rigor and more literature, try Clockshop's Reading by Moonrise series, which features local writers, a campfire and even s'mores. The readings are held in the California State Parks-owned parcel called the Bowtie Project, located near the L.A. River in Frogtown. Another place to enjoy some nocturnal nature is at WanderPLAY, held at Descanso Gardens, where adults can play under the stars with meditation, dance and movement exercises.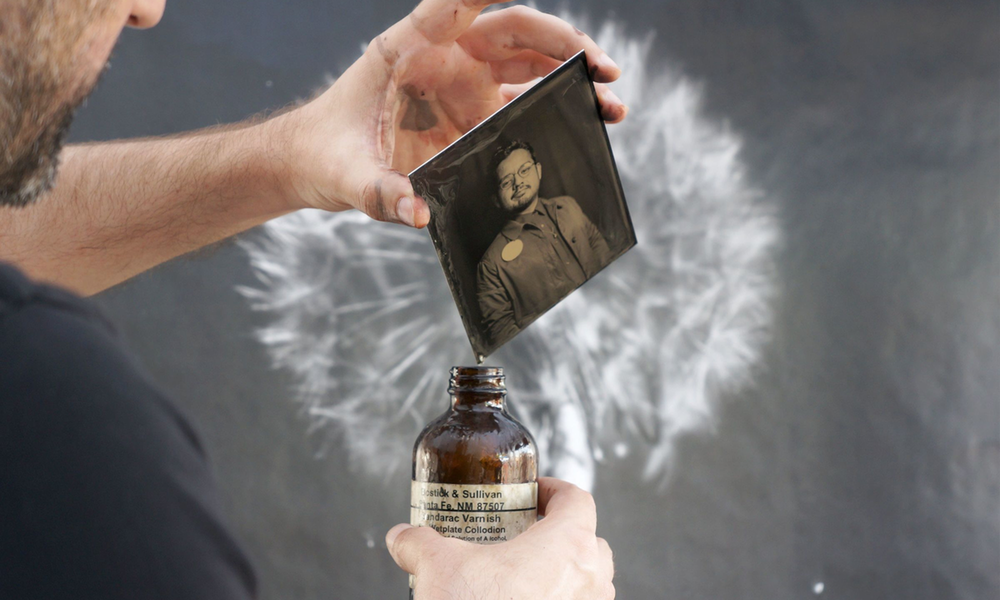 ARTS & CRAFTS
Nighttime might be the right time to let your inner Picasso shine, and a painting class at The Art Room LA will supply the canvas, along with snacks, drinks and a mini painting lesson. Located in Atwater Village, the shop offers nightly classes for individuals and special themed parties. Or head to the Craft Contemporary, a museum that hosts a craft night on the first Thursday of every month. If sipping a cocktail might assist your creativity, Silver Lake's longtime neighborhood bar Akbar has a craft night at 9 p.m. on Wednesdays. If ceramics and clay are calling and there are two or more of you, book a pottery-making party at Echo Park's radical ceramics studio, Pot.
DANCING
It's a sad fact of modern existence that none of us do enough dancing, so throw on some cowboy boots and right this wrong at Studio City's Oil Can Harry's. This legendary nightclub offers line-dancing lessons on Tuesdays and Fridays, salsa dancing on Thursdays, and disco nights over the weekend. There's 1990s throwback decor at The Friend in Silver Lake, but most of the late-night action is under the disco ball on the dance floor. For Westsiders, there's sister bar The Little Friend in Venice. And loads of local bars have tiny but happening dance floors, like Fairfax's The Dime, as well as Silver Lake's Akbar (go for craft night, stay to dance).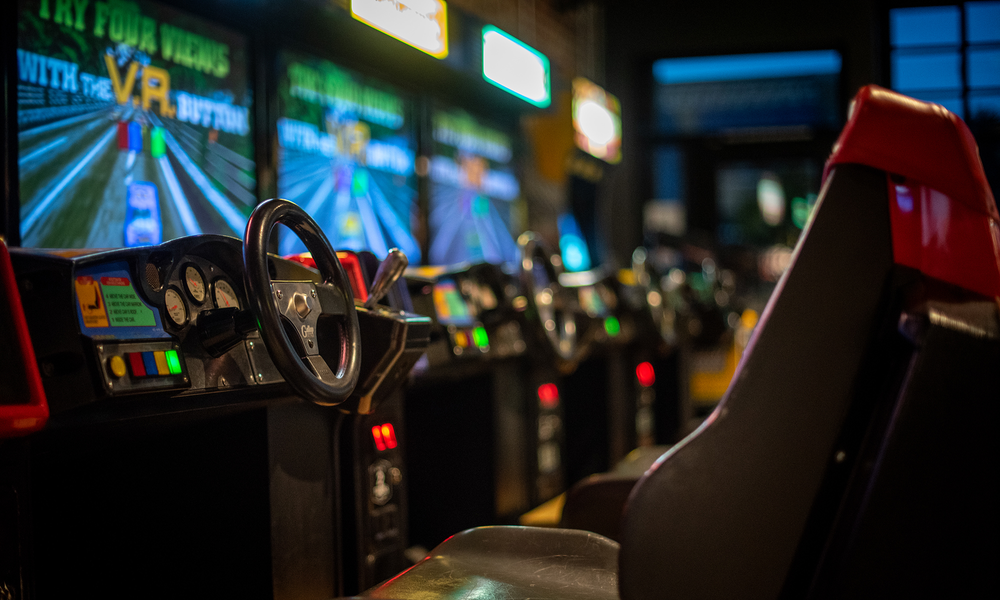 GAME NIGHT
Nowadays there's a great bar for every retro pastime, be it outdoor shuffleboard at Highland Park's Block Party or Skee-Ball at downtown's Arts District Brewing Co. It's a bonus when fun activities also happen to take place inside beautifully restored historic buildings, like bowling at Highland Park Bowl or chess at Imperial Western Beer Company, located inside historic Union Station.
As for vintage video games, there's no lack of great barcades in L.A.—almost every neighborhood has a place to get a Pac-Man fix, a beer and a bite to eat. There's pinball at Walt's Bar in Eagle Rock; Starry Kitchen eats plus arcade games at Echo Park's Button Mash; and hipsters galore at downtown's EightyTwo. The new kids at the arcade are Highland Park's recently opened Barcade, a huge spot with over 70 games, and Free Play, chef Timothy Hollingsworth's take on the rec-room den that occupies the second story of the Fields L.A.
LAUGH OUT LOUD
Sometimes the best exercise is a big belly laugh, and the most reliable place to find those is the classic cabaret Largo at the Coronet, which boasts a variety of musical and comedic performers, from Jon Brion to Nicole Byer. Comedy venue Dynasty Typewriter, inside the historic Hayworth Theatre, offers a no less eclectic set of performers, including Marc Maron, Ilana Glazer and Margaret Cho. Pair laughs with libations at downtown's Ace Hotel, home of Stand Upstairs, a free stand-up show held on the first Thursday of each month, and Amuse Bouche, a pop-up event hosted by comedian Karl Hess and held at the Virgil Village wine bar Melody.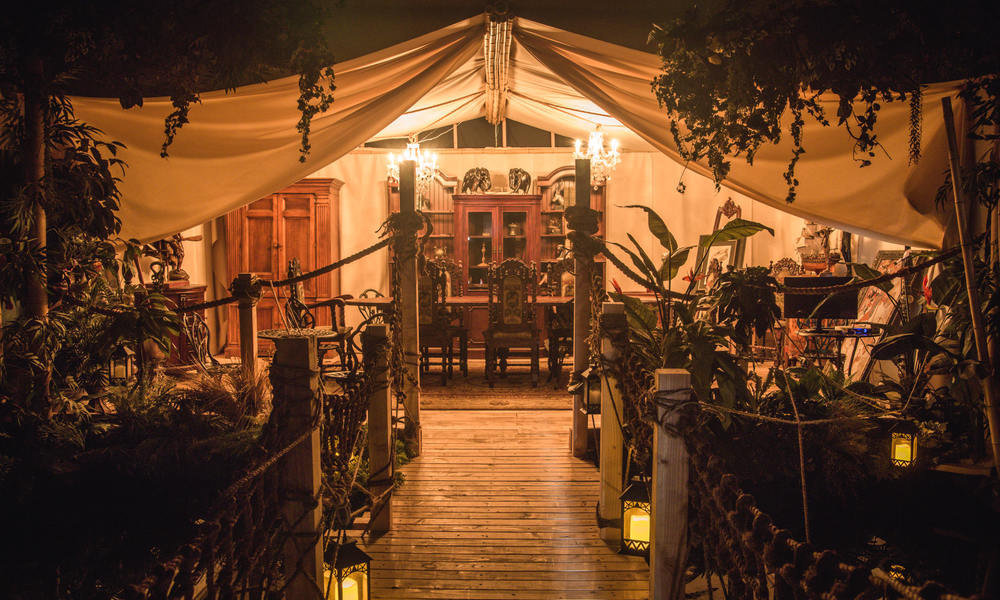 MIND EXPANSION
You've exercised your feet on the dance floor and your funny bone at stand-up comedy shows, so now it's time to exercise your mind. Luckily, you're in a city that's full of late-night classes, tours and museums with extended hours. First, learn a little something about what you like to drink with a wine workshop at the Beverly Hills Cheese Store, or take one of many distillery tours available downtown. The utterly unique Lost Spirits Distillery lets you into the lab where R&D happens for its exceptional whiskey and rum, whereas a 45-minute tour at The Spirit Guild includes a tasting of its Astral Pacific Gin. On Saturdays, Greenbar Distillery teaches its visitors about fermentation, infusion and distilling—and offers a sample of its organic spirits.
Distill a different kind of wisdom on a walking tour hosted by the nonprofit Los Angeles Conservancy, which allows a look into the city's storied past. Its "A Woman's Place" tour explores the linked histories of women in Chinatown and Union Station and includes a ride on the Metro Gold Line. Another tour, "Above the Skyline," takes place atop the OUE Skyspace LA observation deck and discusses the evolution of downtown. The tour ends with a trip down the Skyslide, the glass-enclosed slide that's almost a thousand feet above the city.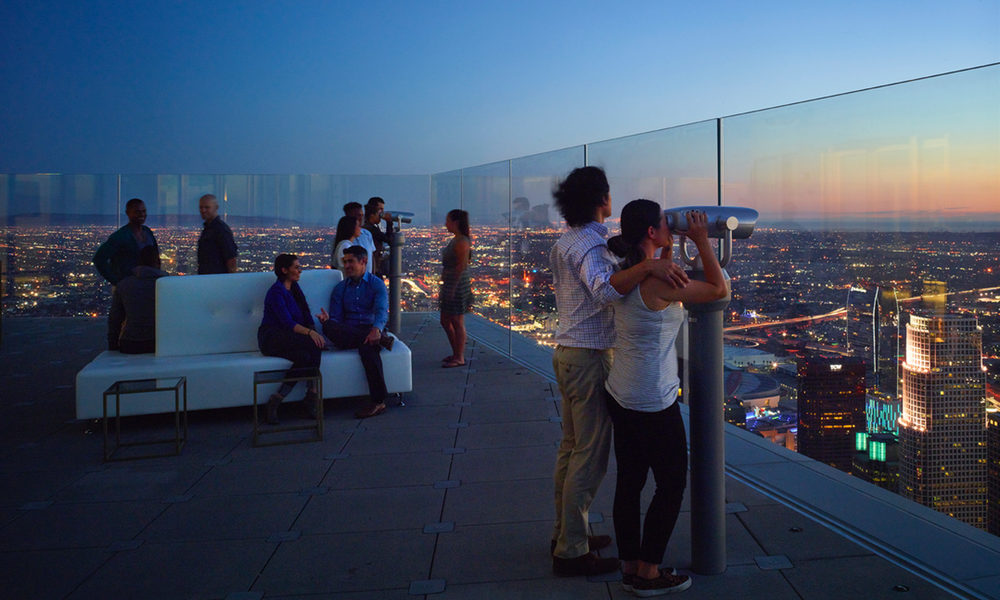 SLIP & SLIDE
If you don't take a trip down the Skyslide on the Conservancy tour, then how about trying it out after a few drinks at Skyspace Nights? OUE Skyspace L.A.'s late-night program takes place every Friday and Saturday and includes a drink at the new Garden Bar. After fortification, maybe that 45-foot slide down the side of the iconic U.S. Bank Tower building won't feel so scary. If you'd rather do your sliding on wheels, checkout one of the city's historic roller-skating rinks, including the recently reopened World on Wheels in Mid-City and Glendale's Moonlight Rollerway.
SUPPER CLUB CROONING
Karaoke is always a good idea, and L.A. has many great options, including private rooms and classic karaoke lounges, but two staples as far as bars go are the always-crowded Cafe Brass Monkey and Break Room 86, both in Koreatown. Those craving inspiration before hitting the stage can learn from legends at Los Feliz's Dresden Room, where the dynamic duo of Marty and Elayne have been in residency for nearly 40 years. Belting out the best in covers and jazz standards, these crooners embody the best of classic L.A. nightlife.
Photo credits: Black Rabbit Rose by Jakob Layman. Craft Night courtesy Craft Contemporary, Los Angeles. Barcade credit Wonho Frank Lee. Lost Spirits by Laurel Dailey. Skyspace courtesy OUE Skyspace LA.