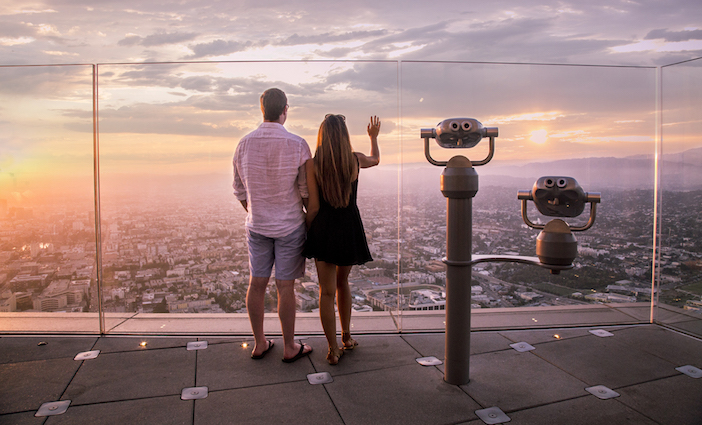 Although Valentine's Day is over, that doesn't mean the perfect date night is out of reach.
Head over to OUE Skyspace LA where you and your partner in crime can experience the thrill of the all-glass Skyslide, placed on the exterior of US Bank Tower's 70th floor!
If thrills are not your cup of tea, enjoy your date night by exploring the all new digital interactive displays where you can learn all about the creative capital of the world, Los Angeles. With custom content exclusively built for Skyspace, you will hear never-before-heard interviews and commentary from artists, athletes and many more familiar Los Angeles faces. As you go through the interactive exhibits, you'll have many visits from host George Lopez, who will take you along the journey to teach you a thing or two about Los Angeles and the many creative projects that call this city home.
To end your date, you'll end up right at the 70th floor where you can experience panoramic, 360-degree views of Southern California. If the interactive exhibits wasn't enough to test your knowledge about Los Angeles, take advantage of the complimentary City Highlights tour where a Skyspace expert will take you on a guided tour around the attraction to point out many facts about what you're seeing at nearly 1,000 ft. above LA. With many aspects of the attractions, you sure will want to come back and experience the perfect date at Skyspace again and again.
OUE Skyspace LA, 633 West Fifth St. #840, downtown, 213.894.9000.