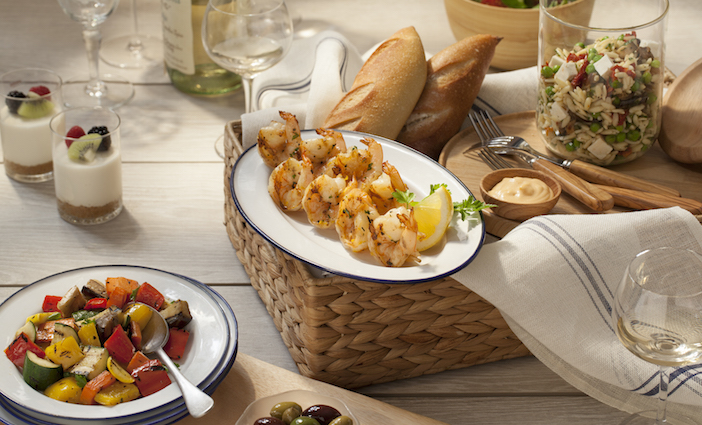 Summer is here and that means it's time to plan your night out at the Hollywood Bowl! How do you make the perfect picnic for your night of music under the stars? Gelson's Gourmet Picnic Meals is the answer. Delicious, gourmet, classic dishes prepared to perfection, alongside new recipes created and crafted by some of the best chefs in Southern California. Gelson's offers it all, plus the peace of mind with knowing that your order will be ready for pick-up on time.
Gelson's specializes in just about everything that can find its way onto a dining room table or the furthest reaches of any party or picnic. From chicken picatta to seared ahi tuna, from spicy grilled sriracha shrimp skewers to super lump crab bakes with remoulade sauce, your Hollywood Bowl picnic will have people asking, "Where did you get that?"
No outing at the Hollywood Bowl is complete without a glass of vino, so while you're there, don't forget to pick up wine from their carefully curated selection from all over the world.
Want to prepare something yourself to bring for the big event? Gelson's easy salsa recipe is sure to be a fan favorite.
Ingredients
14.5 oz. can Mexican style stewed tomatoes
8 oz. can no-salt added tomato sauce
7 oz. can diced Ortega green chilies
1 Tbsps. diced Ortega jalapeno peppers
3 green onions, chopped, including green part
Fresh cilantro, stemmed and chopped
Sea salt and fresh ground pepper to taste
Water
Instructions
1. Chop stewed tomatoes, reserving juices.
2. Combine all ingredients in a bowl. Add water to desired consistency.
3. Add salt and pepper to taste.
Swing by your local Gelson's, or order online, to pick an assortment of picnic-perfect meals and the perfect food and drink accessories to go with it. Plus, while supplies last, buy two Gelson's Gourmet Picnic Meals and receive two free tickets to one of the most iconic venues in LA: the Hollywood Bowl!
[et_bloom_inline optin_id=optin_11]