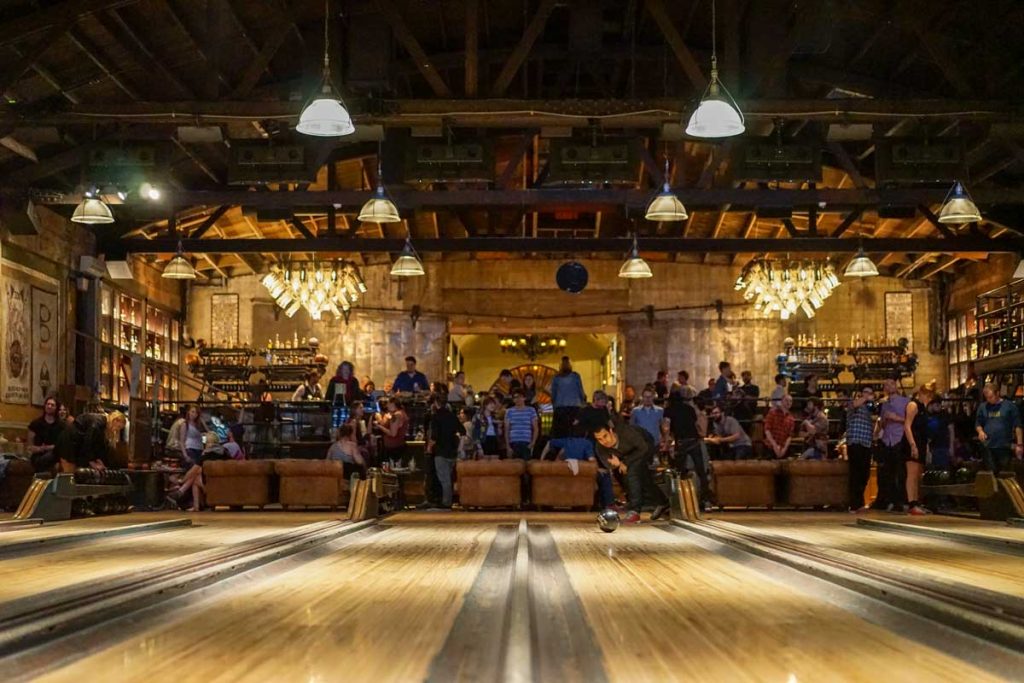 Los Angeles nightlife may be known for its trendy clubs, bars and restaurants, but its scene isn't only about the hottest spots in town.
By Rebecca Pardess, adapted from After Sunset in the November 2016 issue of WHERE Los Angeles Magazine
Los Angeles is vibrant with fresh and unique nighttime activities—the key is just knowing where to find them. Whether your idea of fun is a midnight massage, an evening painting class or a psychedelic after-hours dance party, why not try something new after the sun sets on the city?
Dance Party at The Music Center
On a normal evening at the Dorothy Chandler Pavilion, the audience shuffles out of the theater once the curtain falls, and it's lights out for the night—standard for any world-class cultural venue featuring operas and ballets. But the Music Center is rethinking one of the city's most celebrated spaces by offering a Los Angeles nightlife event unlike any other. On Friday, Nov. 11, experience Sleepless: The Music Center After Hours, where past and future collide to ignite the imagination well after most restaurants and theaters have closed. Between the hours of 11:30 p.m. and 3 a.m., the space is transformed into a world of "ethereal awakenings" with DJ performances, real snowfall, multi-media performances, chill lounges, dancing and eye-opening video installations. You'll see the normally demure Dorothy Chandler Pavilion in a whole new light. Tickets are $20 online and $30 at the door. Cocktails and snacks are available for purchase. 135 N. Grand Ave., downtown, 213.972.0711. musiccenter.org
Pins and Pizza at Highland Park Bowl
Earlier this year, LA's oldest operating bowling alley was reborn as one of the city's most beautiful venues. Open daily until 2 a.m. (21+ after 8 p.m.), Highland Park Bowl offers an unmatched bowling experience, with revitalized lanes from the 1920s. Recline on leather couches while you wait your turn, and order a Neapolitan pizza off the Italian menu. Or sidle up to one of the two gorgeously designed bars, lit by chandeliers made of repurposed pinsetters, and try an expertly crafted cocktail. Located in one of L.A.'s most rapidly changing neighborhoods, Highland Park Bowl is off the beaten tourist path but absolutely worth a visit—it's a shining example of L.A.'s growing embrace of vintage architecture. Depending on the day, lane prices vary between $50 and $80 per hour (a flat fee for a capacity of six bowlers). Happy hour is from 5-8 p.m. M-F, including $10 for a mini pizza and a beer. 5621 N. Figueroa St., L.A., 323.257.2695. highlandparkbowl.com
Vintage Arcade Games and Garlic Noodles at Button Mash
Walk into a blast from the past at Button Mash, Echo Park's '80s- and '90s-inspired arcade and restaurant. From 9 p.m.-midnight M-Th and 9 p.m.-2 a.m. F-Sa, patrons ages 21 and up can brush up on their Millipede, X-Men or Michael Jackson's Moonwalker skills. But this isn't your average barcade; the excellent pan-Asian cuisine—a collaboration with LA foodie favorite Starry Kitchen—sets it apart (especially the garlic noodles: fresh ramen bathed in clarified brown butter, oyster sauce and chicken fat). Depending on whom you ask, you might hear "come for the food, stay for the games," or vice versa. But whether you're an avid gamer or a lover of unique, highly stylized ambiance, Button Mash provides an awesome experience that will make you yearn for the last century, before everyone had the internet. 1391 W. Sunset Blvd., L.A., 213.250.9903. buttonmashla.com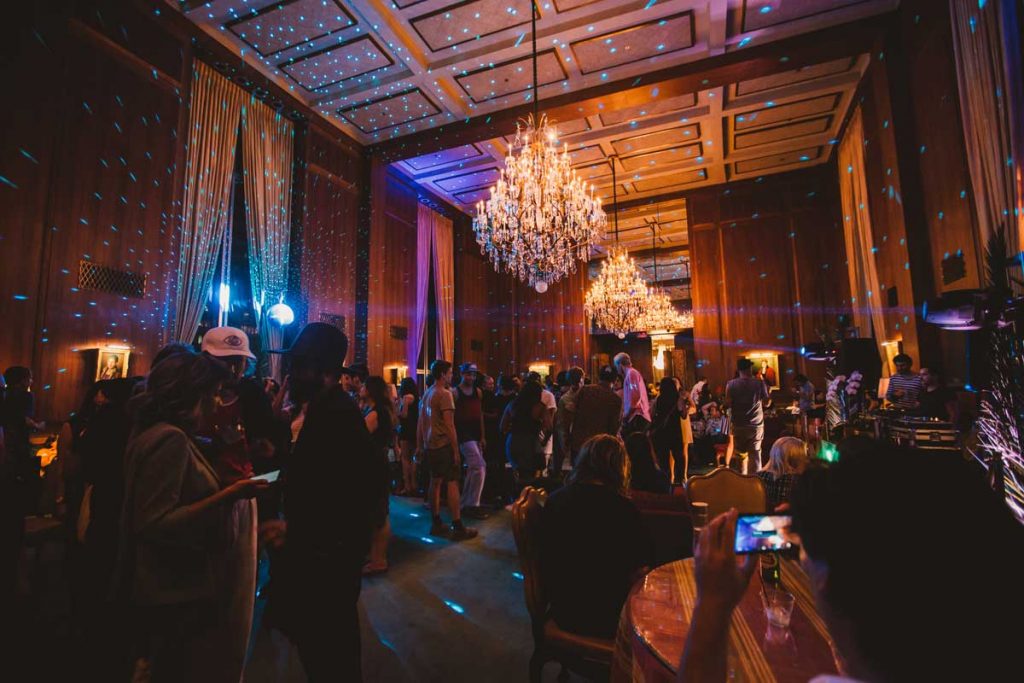 Big Laughs at Upright Citizens Brigade Theatre
The Upright Citizens Brigade Theatre is at the center of LA's comedy world, offering a rich schedule of stand-up, improv and storytelling shows every night of the week. For between $5 and $10 (purchase your tickets online), you and your group will be in stitches while watching the comedians on UCB Franklin's tiny stage (there's also a UCB theater and training center on Sunset Boulevard). Founded by comedy legends Amy Poehler, Matt Walsh, Ian Roberts and Matt Besser, the UCB draws talent from across the country. On a lucky night, greats like Louis C.K. or Aziz Ansari might take the stage unannounced, causing the intimate, 92-seat theater to erupt in astonishment. The earliest shows begin at 6:30 p.m. and the latest at midnight. Get in line at least half an hour before showtime to snag a seat, and note that parking is tough. Valet costs $7; however, taxis, Lyft and Uber are great alternatives. 5919 Franklin Ave., L.A., 323.908.8702. franklin.ucbtheatre.com
Late-Night Bites at Grand Central Market
Downtown's Grand Central Market opened in 1917 but has just recently become one of Greater L.A.'s best-known destinations for food and culture. As a result of its tremendous growth in the past year, it's extended its hours to 10 p.m. nightly to cater to the hungry and curious night crowd. With more than 30 vendors offering a variety of cuisines, your night at Grand Central Market can consist of Thai green curry, Spanish paella, Salvadoran pupusas and American barbecue—if you've saved enough room, that is. Aside from the remarkable food offerings, the folks at Grand Central Market are constantly cooking up new ways to pull the community under its gigantic roof, with events like Trivia Tuesdays, Drag Queen Bingo and Sunday Night Jazz. Check the website for updates. But if winging it is more your style, visit any night and allow yourself to be enveloped by the Grand Central Market experience. 317 S. Broadway, downtown, 213.624.2378. grandcentralmarket.com
Skee Ball at Arts District Brewing Co.
Warm up those shoulders for a night of serious skee ball at Arts District Brewing Co. With 10 vintage skee ball machines, plus dartboards and pingpong tables, it's game on well into the night at one of LA's coolest craft brewpubs. If you're thirsty, suds up with a house-brewed selection of IPAs, ambers, porters and saisons, as well as a curated list of guest beers. And if hitting all those 100s at skee ball works up an appetite, reimagined bar bites from chef Neal Fraser's Fritzi are ripe for the snacking and available through a takeout window. In one of downtown's most vibrant, developing districts, the brewpub can easily be your night's final destination after checking out the galleries and shops around Joel Bloom Square at Traction Avenue and East 3rd Street or modern art at the Geffen Contemporary at MOCA in nearby Little Tokyo. House beers are $5 M-Th, and closing time is midnight Su-Th, 2 a.m. F-Sa. 828 Traction Ave., downtown, 213.519.5887. artsdistrictbrewing.com
Art After Dark at Paint & Sip Studio L.A.
Tap your inner artist and wine connoisseur during a creative nighttime experience at Paint & Sip Studio L.A. Bring $25 and a bottle of your favorite wine, enjoy a guided painting class from 7:30-10 p.m. and take home a fully completed work of art. Classes are generally available every night of the week, but booking ahead of time is recommended, as they sell out fast. Go with a group for a fun experience with friends, or head there solo to meet new ones. The studio is in Mid-City, not far from the Grove, Original Farmers Market and Los Angeles County Museum of Art—perfect for topping off a day exploring one of LA's most exciting neighborhoods. No artistic experience is necessary, and who knows—you might discover a hidden talent. Classes are for ages 21 and up. 351 S. La Brea Ave., Suite 3, L.A., 323.386.4700. paintandsipstudiola.com
24/7 Relaxation at Century Day & Night Spa
Wide awake at 3 a.m.? No need to toss and turn. Koreatown's Century Day & Night Spa is open 24 hours a day, seven days a week to ease your mind. Unwind with a milk scrub or sugar massage, sweat it out in a sauna or soak in a pool or a hot tub. Treat yourself to a facial, chill out in the ice room or take a snooze in the community nap area. For the active relaxer, there's a fully equipped gym and driving range as well. The spa is for ages 18 and up and split into female- and male-only areas. An important detail to note: Clothing is entirely optional in these areas. Many choose to go au naturel, but don't feel pressured to do the same. There is a coed, clothing-required area too. Entrance to the main spa is $25 (six hours max; services cost extra), and parking is free behind the main building. 4120 W. Olympic Blvd., L.A., 323.954.1020. centurydayandnightspa.com