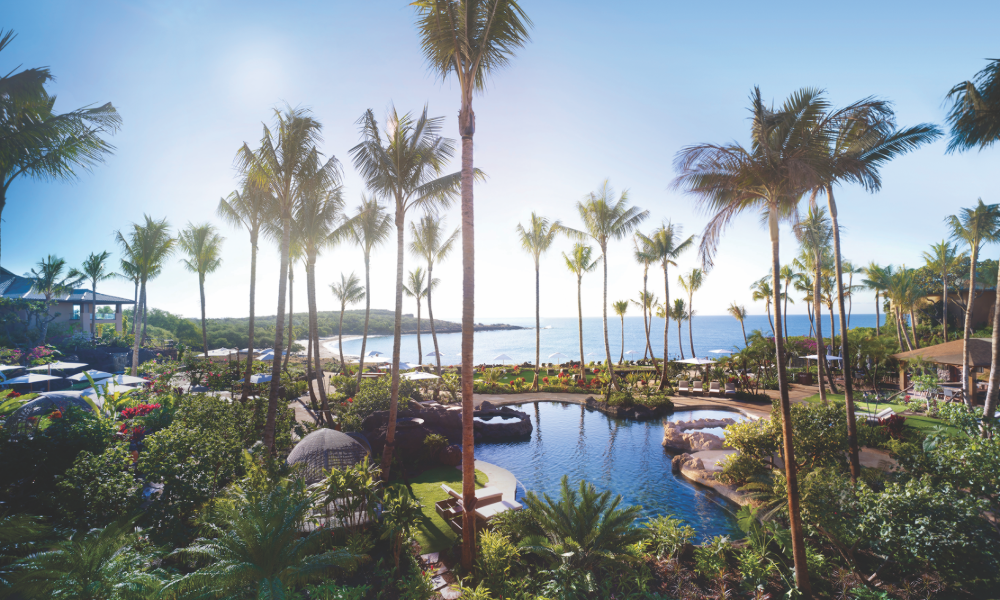 It's been nearly a century since James Dole purchased the Hawaiian island of Lanai for a little over $1 million and turned it into the world's largest pineapple plantation. It's been about a quarter-century since the plantation closed and Hawaii's smallest inhabited island, 9 miles west of Maui, shifted its development to that of visitor destination.
And it's been a mere seven years since Oracle founder/chairman Larry Ellison bought virtually all of the island for $300 million (the state owns 2 percent) and three since his Four Seasons Resort Lanai reopened after a dramatic remodel that ran upward of half a billion.
The redo, as might be imagined, was stunning.
Wherever the eye alights is now a cultural experience, a seamless, sophisticated, moving interplay of old and contemporary Hawaii. Art and artifacts are everywhere.
Highlights include a 19th-century Polynesian canoe in the airy lower lobby made using Koa wood from Hawaii; turn-of-the-20th-century nassa-shell currency rings; splendid midcentury jewelry such as a handcarved-ivory pikake-blossom lei; warrior clubs made from ifilele wood; and a quartet of contemporary bas reliefs by Dora De Larios.
Even the walkways to guest rooms feature commissioned sculptures amid the lush, intimate enclaves, streams and pools.
Most rooms overlook the gorgeous beach at Hulopoe Bay and the Pacific beyond. The spacious, exquisitely appointed accommodations within the teak and stone entryways are also culturally contextual: teak walls with zebra-wood edging, mahogany floors with handwoven area rugs, art and furnishings with historical and contemporary influences.
Up-to-the-minute touches include a 75-inch platinum-bezel LED television panel; a fully customizable hotel bed; and toilets with a dazzling array of options.
A new program, Love Lanai, introduces numerous cultural experiences, many of them complimentary. Among them: the sunrise Puu Pehe cultural hike along the bay to a summit view of the offshore landmark Sweetheart Rock; a tour of the resort's collection of Pacific art and objects; and an elaborate evening presentation featuring the conch and mele (chants). Classes include coconut weaving and ukulele.
Among noncultural activities: golf at the oceanfront Challenge at Manele course, designed by Jack Nicklaus; Bill and Melinda Gates married at its 12th-hole tee box.
Hulopoe Bay is a protected marine preserve; snorkeling is among the best in Hawaii, and equipment is provided. Spinner dolphins often play close to the shore. Catamaran snorkel and sunset sails can be arranged.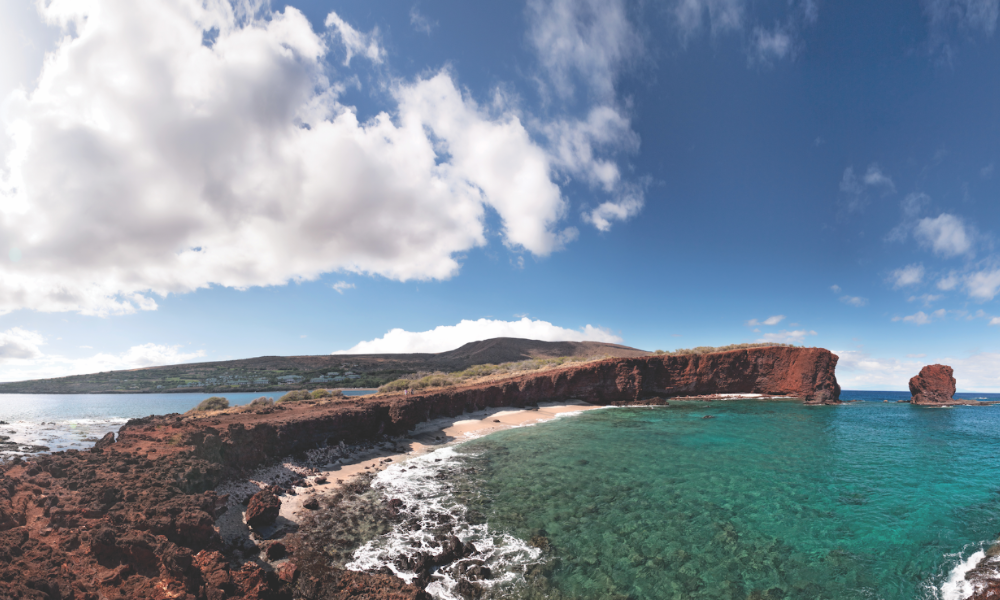 The new lagoon-style pool has a waterfall and two spas; the falls and grottos at the adults-only Retreat echo Lanai's iconic cliffs. Attendants offer treats such as frozen grapes. No two experiences are alike at Hawanawana Spa.
Difficult as it may be to leave the property, the island does have other attractions, many accessible only by four-by-four Jeeps, which can be rented at the resort. Garden of the Gods, like a red-dirt moonscape, looks across the channel to Molokai. Shipwreck Beach is an 8-mile stretch with a World War II concrete barge run aground just offshore. No 4WD is required to visit the open-air Lanai Cat Sanctuary, home to nearly 600 rescue cats available for adoption.
The resort's sister property in the mountains, the Lodge at Koele, is being renovated with a spa and wellness concept. Meanwhile, you can enjoy Sunday services on its grounds at the wooden Ka Lokahi church, dedicated in 1930. The 5-mile Koloiki Ridge hike begins behind the lodge. Horseback riding and a well-appointed archery and shooting range are nearby.
There are no traffic lights or shopping centers in nearby Lanai City, but there are free shuttles. Most structures date to the 1920s, including the first of the island's three hotels, the 10-room Hotel Lanai; the Lanai Culture and Heritage Center chronicles a millennium. Ellison built the city an Olympic-size public pool and updated the 1920s movie theater to state-of-the-art. A dozen shops and galleries dot the town center.
The best restaurants on the island are at the resort. Roughly two-thirds of all ingredients come from 100 local farmers and fishers.
Perhaps so that SoCal celebs can have all the comforts of their Malibu homes, options include a cliffside Nobu—which recently added a sushi bar and 15-course teppanyaki experience—and new pool-level Malibu Farm for organic lunch fare such as a chopped salad or soy-marinated-steak sandwich.
Named for Lanai's 140 square miles—and that a medium steak is ideally grilled at 140 degrees— open-air, ocean-view One Forty showcases prime and wagyu beef from Snake River Farms as well as local Hawaiian catch. An elaborate Waipoli butter-lettuce salad and Lanai venison are highlights.
Enjoy venison pizza or local catch cioppino while watching the game or playing pool in the Sports Bar & Grill. The best place for a sunset cocktail is the Lobby Lounge—which Ellison completely redid four times until the ocean views were framed to his satisfaction.
Photos courtesy Four Seasons.