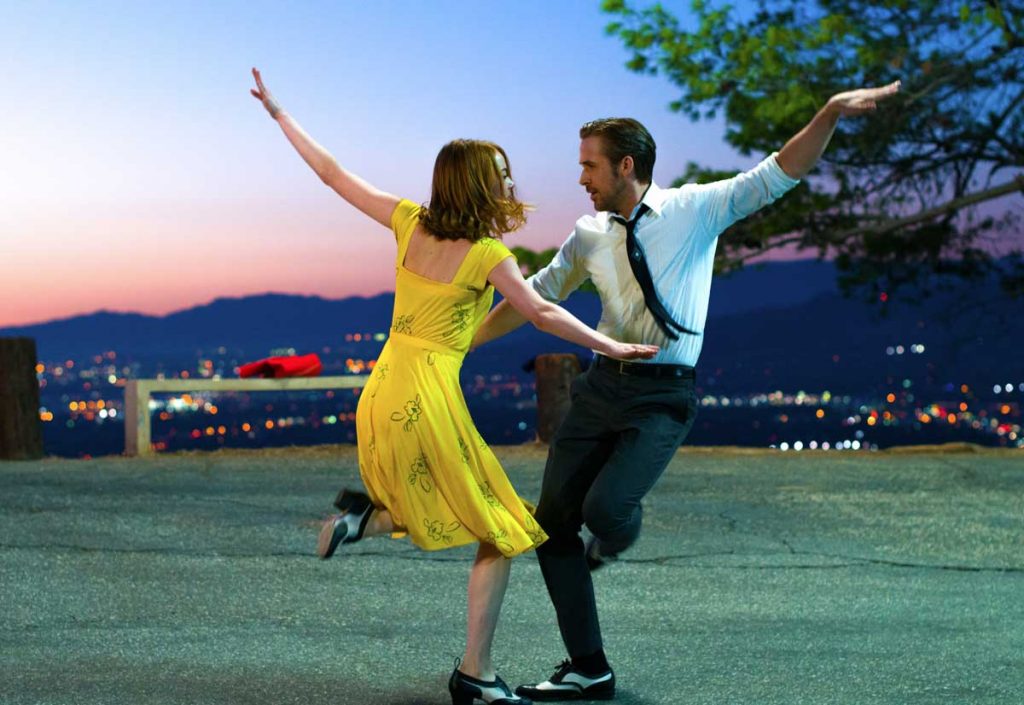 Follow in Mia's and Sebastian's dance steps by visiting these 16 sweet La La Land filming locations across Los Angeles.
1. 110-105 Interchange
We don't recommend dancing on your car, but you, too, can sit in traffic on this E-Z Pass ramp connecting two of LA's busiest freeways.
2. Angels Flight
351 S. Hill St., downtown, angelsflight.org
Sebastian and Mia share a peck on this funicular in the Bunker Hill neighborhood, but the landmark 1901 railway is closed to the public, so you'll have to settle for a peek.
3. The Blind Donkey
149 Linden Ave., Long Beach, 562.247.1511, theblinddonkey.com
Toast dreams fulfilled at this whiskey room, which made a cameo as Seb's jazz club in the film's bittersweet ending.
4. Colorado Street Bridge
532 W. Colorado Blvd., Pasadena
The lovers walked arm in arm along this beautiful 1913 concrete bridge, which soars 150 feet above the Arroyo Seco.
5. Grand Central Market
317 S. Broadway, downtown, 213.624.2378, grandcentralmarket.com
One of LA's must-visit dining destinations is this historic market, where Sebastian and Mia grab a bite at Sarita's Pupuseria.
6. Griffith Observatory
2800 E. Observatory Road, Griffith Park, L.A., 213.473.0800, griffithobservatory.org
The iconic attraction in Griffith Park, whose planetarium was re-created for Seb and Mia's waltz through the cosmos, offers star parties, live shows and stellar views.
7. Griffith Park
4730 Crystal Springs Drive, L.A., laparks.org/griffithpark
The "A Lovely Night" dance pictured on our cover was filmed on an overlook just off the park's Mt. Hollywood Drive.
8. Hermosa Pier
1 Pier Ave., Hermosa Beach, hermosabch.org
Seb sings "City of Stars" and dances with a passerby on this pier in the picturesque beach city.
9. Jar
8225 Beverly Blvd., L.A., 323.655.6566, thejar.com
The restaurant where Mia jilted her stuffy boyfriend is one of the city's most acclaimed chophouses.
10. Lighthouse Café
30 Pier Ave., Hermosa Beach, 310.376.9833, thelighthousecafe.net
Prior to his pier perambulation (see #8), Seb introduces Mia to jazz at this nearby historic café, which has been a jazz club/bar since 1949 and now offers other styles of live music, as well.
11. Retro Dairy Mart
4420 W. Magnolia Blvd., Burbank, 818.859.7065, retrodairymart.com
Make like Seb and sip coffee on the patio of this 1962 drive-through dairy and convenience store.
12. Rialto Theatre
1023 Fair Oaks Ave., South Pasadena
Mia and Seb watch Rebel Without a Cause at this 1925 theater, currently closed and awaiting restoration.
13. The Smoke House
4420 W. Lakeside Drive, Burbank, 818.845.3731, smokehouse1946.com
This venerable industry hangout near Warner Bros. Studio was the setting for Seb's holiday-playlist revolt.
14. Warner Bros. Studio Lot
3400 W. Riverside Drive, Burbank, 818.972.8687, warnerbros.com
You needn't sneak into Warner Bros. Studio, where Mia worked in a coffee shop, to see its historic backlots and soundstages—just sign up for a guided studio tour.
15. Watts Towers
1727 E. 107th St., Watts, L.A., 213.847.4646, wattstowers.org
During a date montage, Seb and Mia visit the 17 major hand-built sculptures that comprise Simon Rodia's landmark Watts Towers.
16. "You are the Star" mural
Wilcox Avenue and Hollywood Boulevard, Hollywood
Celebrities including James Dean and Superman watch a movie in this 1983 mural that, in La La Land, graces the exterior of the restaurant from which Seb was fired (see #13).