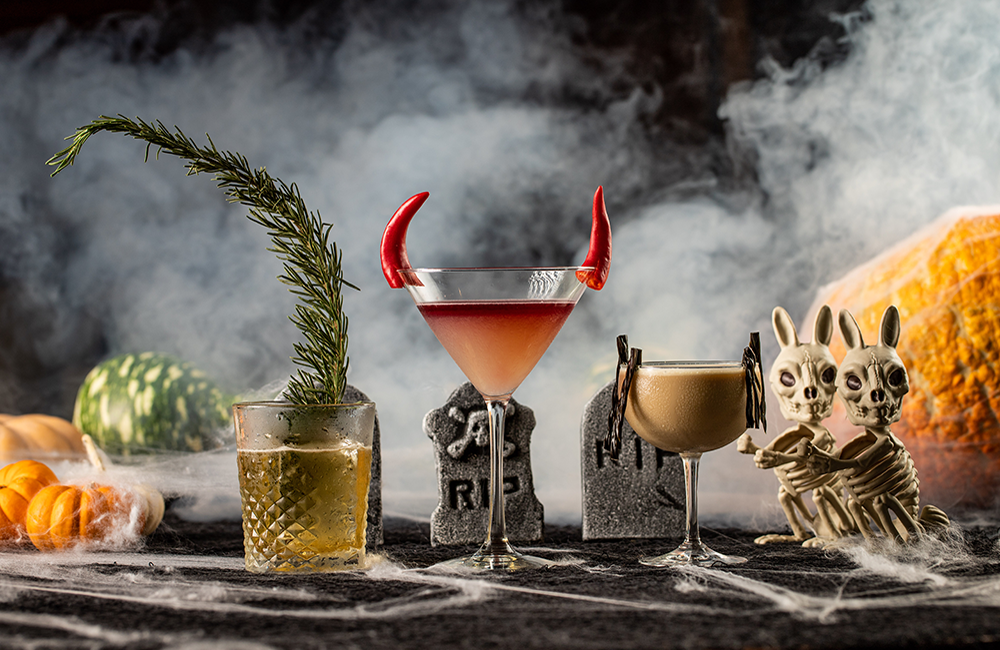 From creepy cocktails to haunted happenings, here's a list of virtual and in-person events in Los Angeles this Halloween.
Bianca Halloween High Tea
Oct. 29. Bring the family to dine in costume at Bianca's outdoor Halloween high tea experience. The spooktacular menu features mini pizzas, tea sandwiches and a wide variety of fresh-baked sweets served along with your choice of beverages. In addition to the high tea, each child also receives a DIY cookie decorating kit, a great way to end the meal or a fun activity to take home ($8 per kit). Call to reserve over the phone or to pre-order the Halloween high tea to-go. 3-5 p.m. $30 adults, $18 children. biancalosangeles.com
The Murder House Weekend Live Stream
Oct. 29-Nov. 1. Calling all American Horror Story fans! Now's your chance to be spooked this Halloween weekend on the first-ever livestream event from the notorious historical Los Angeles monument, The Murder House. The livestream event will reveal the monument's ominous past via 15 cameras set up throughout the 10,000-square foot home streaming live throughout the entire weekend. Beyond the livestream, viewers can watch daily programming with guest speakers joining the family and hosts remotely to discuss everything from exorcisms to near-death experiences, to how to protect oneself from demonic entities. $25. themurderhouse.com
Devilish Drinks at Conservatory West Hollywood
Oct. 30-Nov. 1. Get in the Halloween spirit with these devilish drinks at the all-outdoor Conservatory West Hollywood—costumes encouraged! New libations include the White Widow made with Tito's handmade vodka, Godiva white chocolate liqueur, espresso and cream (garnish: spider with Twizzler legs); Rosemary's Baby created with Four Roses bourbon, maple syrup, orange bitters, absinthe and a flaming rosemary sprig; and Devil's Margarita mixed with Orendain blanco tequila, lemon, agave and hell fire bitters with a float of Klinker Brick 1800 Cabernet/Old Vine Zinfandel. There's also candy corn and bloody brain Jell-O shots on Halloween—while supplies last! Available for dinner and weekend brunch; reservations encouraged. All protocols on capacity and safety are followed. 8289 Santa Monica Blvd., West Hollywood, 323.654.0020. conservatoryweho.com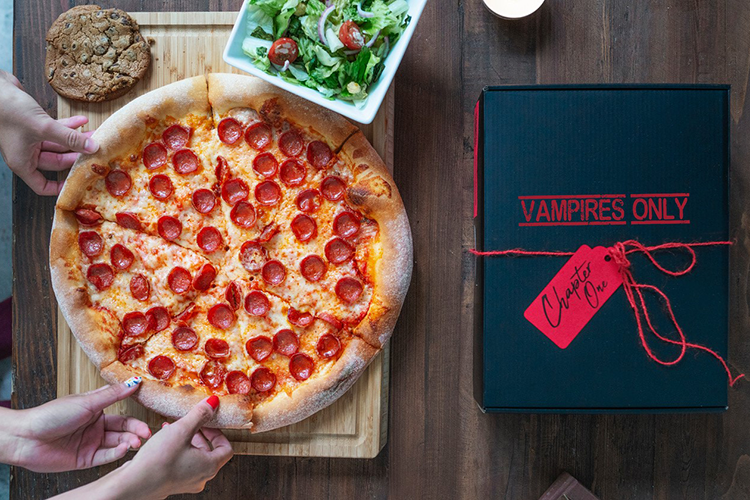 Vampire.Pizza
Oct. 30-31. Sink your teeth into Vampire.Pizza, an immersive dining and entertainment experience delivered right to your door. Each game kit comes with pizza, salad and dessert from one of L.A.'s best pizzerias and an invitation to enter Vampire Belle's secret world of story and game. While you eat, discover your inner vamp and unlock the story together by solving puzzles, completing challenges and more. Delivery and pick-up: F 5-9 p.m., Sa 11 a.m.-9 p.m. $32.99 per person (party of two); $27.99 per person (party of two). Ghost Pizza Kitchen, 7751 1/2 Melrose Ave., L.A., 323.653.9993. vampire.pizza
Drive-Through Pumpkin Patch and Trick-or-Treating
Through Oct. 31. Halloween might look a little different this year, but the Culver City shopping center Platform is still going all out—safely! Platform is offering a pumpkin patch drive-through where guests can place an order pumpkins on its website—as well as candy!—and pick them up from your car in the ghoulish drive-through. All orders must be submitted by 7:15 p.m. for same day pick-up. Open daily 8 a.m.-8 p.m. 3920 Landmark Ave., Culver City, 424.302.1950. platformdrivethrough.com
Fall Treats at Playa Provisions
Through Oct. 31. In need of a post-pumpkin patch snack or treats for a Halloween gathering at home? Pastry chef Kristin Feuer of Playa Provisions is here to help with her new fall offerings! Sweet offerings include apple fritters (available for brunch on Saturday and Sundays only), ghost cupcakes, Boston "scream" pie, trick-or-treat ice cream and the pumpkin dream bar (available through the end of November), plus custom desserts. 119 Culver Blvd., Playa del Rey, 310.683.5019. playaprovisions.com
Haunted Little Tokyo
Through Oct. 31. Go Little Tokyo presents the 4th annual Haunted Little Tokyo featuring spooktacular nights for ghouls and goblins of all ages to enjoy in Little Tokyo and virtually at home. This week-long series features in-person and virtual frightful fun offerings from select neighborhood businesses including a socially-distanced scavenger hunt on Halloween night, virtual ghost tours, and a Halloween walking take-out event complete with appetizers and spooky spirits. Some virtual and in-person are free and proceeds from paid experiences benefit Little Tokyo small and historical businesses and restaurants. See website for details and the full schedule. golittletokyo.com
"Blood in Heaven" at The Raymond 1886
Oct. 31. Spend the night of the living dead this Halloween at the historically haunted The Raymond 1886, and let head barman Jesus Gomez resurrect his "Blood in Heaven" cocktail for any of his thirsty adult trick-or-treaters. This mixture is made with Del Maguey Vida Mezcal, house-made honey and passion fruit syrups; fresh hand-squeezed lime juice and pineapple juice; and Peychaud's Bitters. Guests (and goblins) can order this as a single cocktail ($14) when outdoor patio dining at The Raymond 1886 or sip and slurp two cocktails ($28 in an 8-ounce Mason Jar) when ordering takeout or delivery. Brunch: 9 a.m.-2:30 p.m., happy hour: 4-6 p.m., dinner: 5-9:30 p.m. 1250 S. Fair Oaks Ave., Pasadena, 626.441.3136. theraymond.com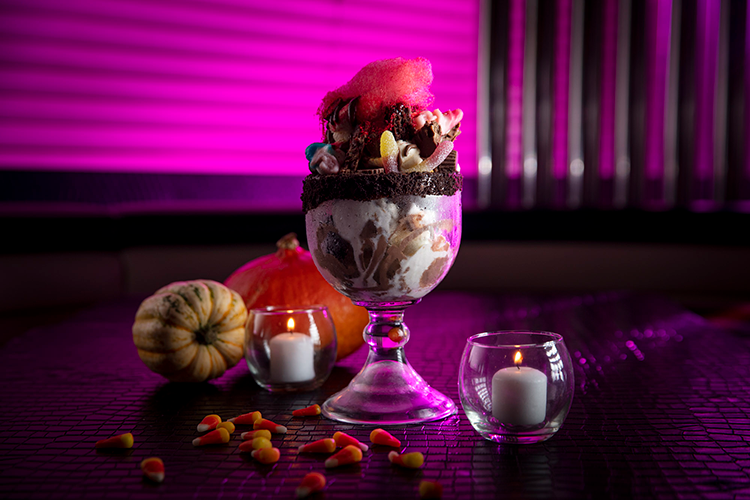 Halloween Sundae at STK
Oct. 31. For those with a sweet tooth (or fang), STK is celebrating Halloween with its over-the-top ice cream sundae "Junk Chalice." Within this chalice, indulge in various candies, brownies, popcorn, chocolate, caramel ice cream and vanilla ice cream—all topped with whipped cream and cotton candy to be enjoyed on STK's outdoor dining patio. 11 a.m.-10 p.m. W Los Angeles – West Beverly Hills, 930 Hilgard Ave., L.A., 310.659.3535. stksteakhouse.com
L.P. Rooftop's Halloween Spectacular
Oct. 31. Watch as E.P. & L.P. transforms its 5,500-square-foot rooftop level into a spooky, Halloween-themed restaurant for the weekend! Filipino-American chef Sabel Braganza and culinary director Monty Koludrovic presents affordable, individual small plates and elevated bar bites ($8-$15) to accompany the rooftop restaurant's festive cocktail specials, including a Bloody Spritz with blood orange juice, prosecco, Aperol, and bitters. Walk-in availability for parties up to six people from noon to 2 a.m. 603 N. La Cienega Blvd., West Hollywood, 310.855.9955. eplosangeles.com
"Parent & Child: Halloween Treats" Online Class
Oct. 31. Grab your little one and spend Halloween day in your own kitchen with The Gourmandise School's virtual "Parent & Child: Halloween Treats" class. Renowned Gourmandise chef May Hennemann will guide through this sweet class as parents help their little chefs create delicious devil's food dirt cupcakes and homemade pumpkin spice oreos. Registration available for children ages 6-11 accompanied by adults. Upon registration, each participant receives a Zoom ID along with a list of ingredients needed to create these treats. Limited spots left; visit website to sign up. 1-3 p.m. $45. cookingschoolsofamerica.com
"Smoke On The Water" at Mi Piace
Oct. 31. Have a hautingly happy Halloween at Mi Piace while sipping on the "Smoke on the Water"—a ghoul-like bubbling brew created by cocktail consultant Josh Suchan. For those who are unafraid to give this cocktail a try, it is made of Wheatley vodka, Aperol, St. Germain, along with a devilish rolling aromatic fog and ghostly caldron bubble. Brunch: 11 a.m.-3 p.m., lunch: 11 a.m.-4 p.m., dinner: 4-11 p.m. 25 E. Colorado Blvd., Pasadena, 626.795.3131. mipiace.com
Strange Science: Tales from the Vault
Oct. 31. Discover the eerier side of The Huntington Library, Art Museum, and Botanical Gardens in a virtual event where curators and botanists share rarely seen objects and otherworldly stories from deep inside the collections. Enter a mysterious world of ghoulish characters, bizarre plants, and devilish elixirs and treats you can purchase or make at home. Elixir offerings include Mummy Eyes Martini, Frankentea Scream or Dracula Blood Smash. huntington.org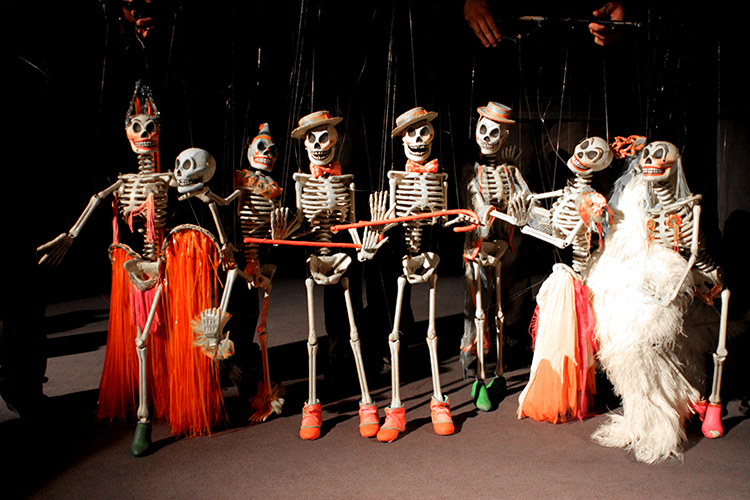 Bob Baker's Hallowe'en SpOoKtAcUlAr
Through Nov. 18. Pasadena Playhouse presents the continuation of family entertainment on PlayhouseLive with the Bob Baker Marionette Theater's production of Bob Baker's Hallowe'en SpOoKtAcUlAr. Filmed in front of a live audience, this Halloween offering is an eye-popping and unforgettable musical variety puppet spectacular not to be missed. Viewers can rent the production through PlayhouseLive for $14.99 and is available through November 18. Closed captioning available in both English and Spanish. playhouselive.org
"The Haunted Theatre" Online Escape Game
Now Available. Looking for a fun, socially distant game to play with friends? Escape Room L.A. presents an all-new virtual escape room experience: "The Haunted Theatre" where each player uses their own device and headphones. Adapted from Escape Room L.A.'s long-running in-person game "The Theatre," this experience sends participants on a quest throughout the backstage of a creepy old haunted theatre in a mission to free the theatre's ghost before the next performance begins. Available online seven days a week. $23.50 per person; minimum purchase of four tickets. Multiple games can be run simultaneously to accommodate larger groups. See website for more info and booking details. escaperoomla.com
Photo credits: Conservatory West Hollywood by Max Milla. All other images are courtesy of the venues.