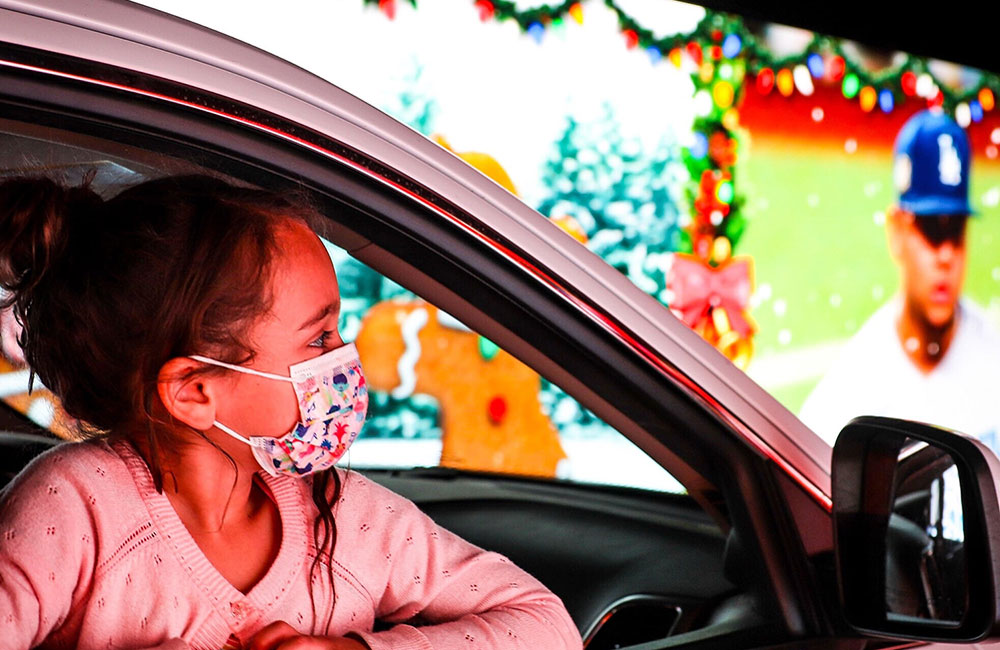 Make it a December to remember with these new and old ways to celebrate the holidays in Los Angeles.
We'll be honest, the holidays this year aren't going to be like previous years. For those who are disheartened or need a bit of cheer, we hope this roundup helps shine a few rays of light and maybe even help form new meaningful memories to share with close loved ones.
Down below features festivities—both annual and new—ranging from drive-in experiences to outdoor light and art installations, as well as festive meal packages and kits from L.A. restaurants.
Note: Call or check websites for pandemic-related updates and to confirm hours of operation before visiting venues as they can change without notice.
FESTIVITIES
Dec. 20, 26. The iconic Hollywood Roosevelt Hotel hosts a Christmas movie series right in their valet lot turned theatre! Stella Artois has fully stocked their Airstream concession stand with the essential movie night munchies including popular dishes from the famous 25° Burger Bar. Popcorn is complimentary with purchase. Advance tickets are required to watch A Christmas Story on Dec. 20 or It's a Wonderful Life on Dec. 26. General and VIP admission available. Starting $45 per car. 7000 Hollywood Blvd., Los Angeles. Tickets
Through Dec. 24. Calling all Dodgers fans! Celebrate with the 2020 World Champions at their home with a drive-thru holiday experience complete with light show, LED video displays, fake snow and interactive displays. Special displays honor the world champions and the history of the Los Angeles Dodgers. Starting $55. 1000 Vin Scully Ave., L.A. mlb.com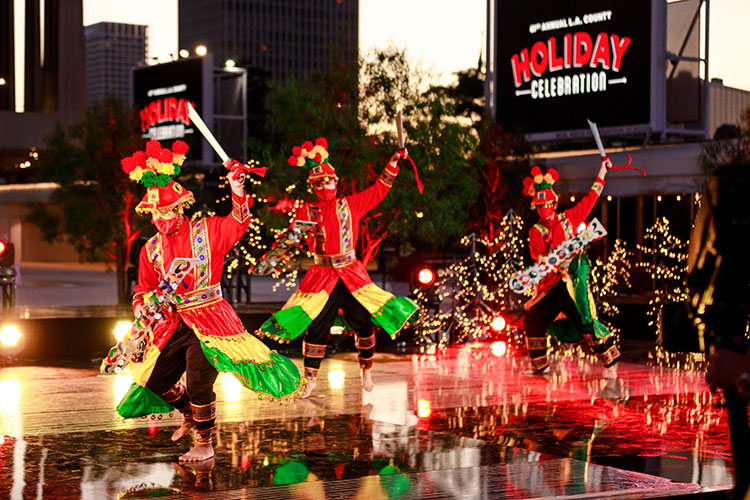 Dec. 24. A Christmas Eve tradition since 1959, L.A. County Holiday Celebration is uniquely L.A. with a little bit of everything from Folklorico dance to a Gospel choir to Hawaiian culture to Jazz to Chinese New Year! It's a spectacular showcase of the diverse cultures and talents from 22 different music ensembles, choirs and dance companies based in L.A. Fans can tune in or log on starting at 3 p.m. and watch on PBS SoCal or stream on PBS.com, KCET.com and holidaycelebration.org or the PBS app. There's also an encore presentation on KCET on Christmas Day at noon. 3-6 p.m.
Through Dec. 25. Celebrate the Festival of Lights at LIT, a fully contactless drive-through Hanukkah experience. Set to a curated soundtrack, LIT showcases a blend of synchronized lighting displays and projection installations, plus the world premiere of the animated short film, The Broken Candle. This short features the voice talents of Vanessa Marshall, Tiffany Haddish, Mark Feuerstein, Eugenio Derbez, Tom Kenny, Dave Boat and Keili Lefkovitz. M-F 6-9:20 p.m., Sa-Su 5-9:20 p.m. $75. Stephen Wise Temple, 15500 Stephen S. Wise Drive, L.A., 310.476.8211.
Through Dec. 30. Holiday fun looking as remote as a snowfall in L.A.? A snow-kissed SoCal holiday adventure for the entire family will soon emerge from the candy-filled set of Hauntoween L.A. This first-ever WonderLAnd immersive drive-thru experience, replete with synchronized dancing lights and good cheer, will be open daily throughout the holiday season, Nov. 30 to Dec. 23 and Dec. 26-30, from 5 to 11 p.m. $70 per vehicle; Advance purchase is highly recommended. 6100 Topanga Canyon Blvd., Woodland Hills, 805.719.1906.
Through Jan. 3. Take a one-of-a-kind immersive journey through spectacular lights as you help the elves build more Christmas Spirit to get Santa's sleigh running again. Enjoy dazzling lights through a story telling experience from the safety of your own car. Leave your letter to Santa and receive a special gift before you leave. This is an experience the entire family is sure to enjoy. Starting $24.95. Fairplex, 1101 W. McKinley Ave., Pomona.
Through Jan. 3. Light up your evenings at this new and festive holiday installation that brings the great runways of Paris, Milan and New York to the length of the iconic, palm tree-lined Rodeo Drive. This sparkling addition to the street features 10 beautifully-adorned mannequins spanning the three-block stretch of Rodeo Drive from Santa Monica to Wilshire Boulevard. Lights on daily from 5-11 p.m.
Through Jan. 3. Winterlit returns to Downtown Santa Monica this year to brighten up the holiday season as Third Street Promenade transforms into an immersive one-stop holiday experience. See tens of thousands of lights illuminate the Promenade's festive outdoor retail and dining, storefronts shine as reimagined art installations, and a new interactive holiday-themed augmented reality mobile app. Take a self-guided art tour throughout the Promenade, and in other areas of Downtown Santa Monica, at your leisure and from a safe distance.
Through Jan. 10. South Coast Botanic Garden is GLOWing brightly for the holiday season. California Outdoor Lighting designed a garden of lights to transform the botanic garden into an oceanic experience with thousands of lights. The walk-thru experience is a stunning art installation set to a soundtrack that features something for everyone—from Baja surf music, to Train to Vivaldi. Starting $24.95 per person. 26300 Crenshaw Blvd., Palos Verdes Peninsula, 424.452.0920.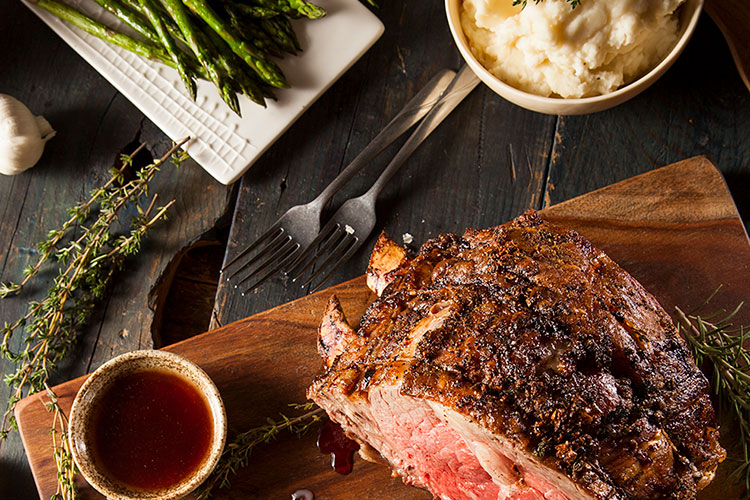 FEASTS
Through Dec. 31. Bring the magic to your table this holiday season with Baltaire's thoughtfully-crafted holiday carryout dinners featuring an herb-crusted prime rib roast, traditional sides, wine and more. Baltaire's team will have your order packed and ready for pick-up on the day and time of your choice, including instructions and all the equipment. Wine director Matthew Arnall offers curated wine packages featuring his picks for holiday pairings. Prime rib dinner: $295 for four, $495 for 6-8 people. 11647 San Vicente Blvd., L.A., 424.273.1660.
Preorder by Dec. 18. Start your holiday at home with a beautiful board of curated salumi and formaggi. Follow that with Eataly's classic lasagna alla bolognese featuring housemade lasagna sheets, rich ragu, bechamel and Parmigiano Reggiono from Italy. For the main event, porcini-rubbed prime rib with all the fixings: truffle mashed potatoes, roasted squash with toasted farro and more. As if that were not enough, Eataly completes this holiday meal with a bottle of wine, their signature tiramisu and an artisanal panettone cake. Starting $275. 10250 Santa Monica Blvd., L.A., 213.310.8000.
Preorder by Dec. 19. Chef Suzanne Tracht offers a holiday menu that features some of her signature dishes with seasonal appetizers and cocktail kits to celebrate Christmas Eve at home. The a la carte holiday menu includes classics like prime steak, pot roast or char sui pork. Family-style dinners, like braised lamb shank (serves 1-2), bone-in pork loin (serves 5-6) or 4 1/2 pound roast rib eye filet (serves 4-5) are also available. 8225 Beverly Blvd., L.A., 323.655.6566.
Preorder by Dec. 21. Let us cook Christmas dinner for you! Menu highlights include red wine braised short ribs; baked shells & cheese w/black truffle conserva; caramelized Brussels sprouts w/aged balsamic & hazelnuts; little gems salad with roasted beets, pumpkin seeds & ricotta salata; and chocolate layer cake with salted caramel & candied pecans. All orders must be in by December 21 for pickup or delivery on December 24 between 3-6 p.m. Also available at our sister restaurant Norah. $95 per person. The Rooftop at Platform, 8820 Washington Blvd., Suite 301, Culver City, 310.643.5853.
Preorder by Dec. 20. Sit back, relax and enjoy family time when you pre-order your Christmas package from Slab. This package feeds a family of four featuring smoked prime rib, mac 'n' cheese, mashed potatoes with gravy, corn bread with honey butter and roasted Brussels sprouts. Pick up is on Christmas Eve from 11 a.m.-2 p.m. $260. 8136 W. 3rd St., L.A., 310.855.7184.
Feast upon a Christmas classic of roasted "Linz" prime rib, with confit fingerling potatoes, green beans and port wine shallots with black truffle Madera sauce ($69). Make it more decadent and add shaved truffle ($15) for an elevated dining experience. For a more traditional taste, opt for the roasted free range turkey breast special ($50), add a whole apple pie to finish it off ($49) and don't forget the little ones ($39). Pre-orders and same day take-out and delivery available. Christmas specials also available from Dec. 24 to 27. 930 Hilgard Ave., L.A., 310.659.3535.
Photo credits: Dodgers Holiday Festival credit Los Angeles Dodgers. Kayamanan Ng Lahi Philippine Folk Arts courtesy The Music Center. STK courtesy STK Steakhouse.