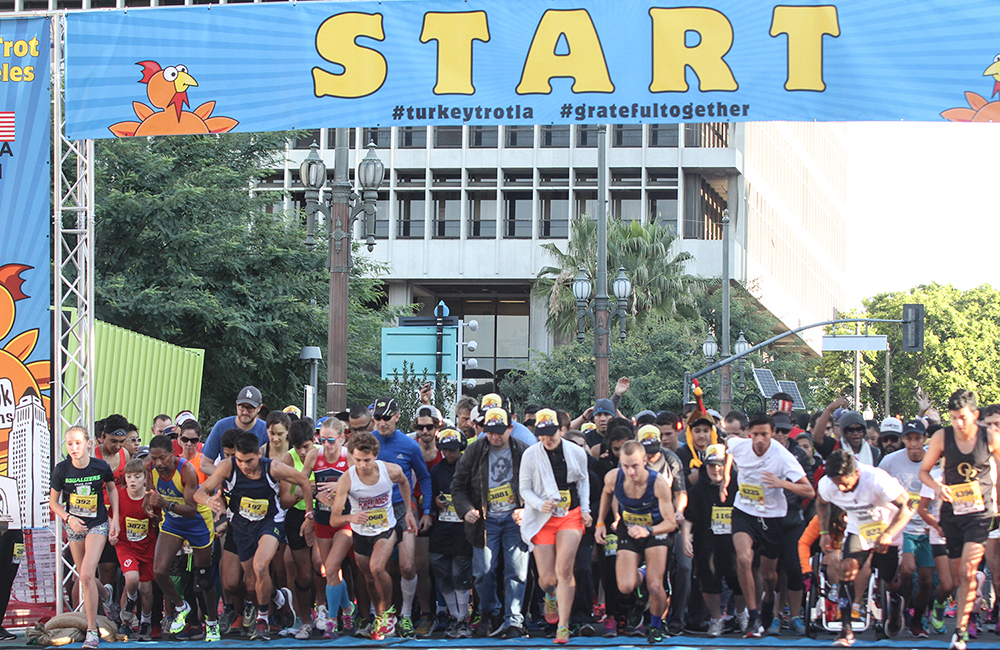 In search of ways to celebrate Thanksgiving in Los Angeles this year? Here's a roundup of some family-fun festivities, as well as dine-in and takeout feasts.
Note: Before visiting venues, please call or check websites for possible menu/schedule updates and to confirm guest safety protocols.
FESTIVITIES
Nov. 25. Before indulging in a bountiful feast on Thanksgiving night, start the holiday off right with a gratitude-centered beach flow class at 9 a.m. or the class and a sound healing ceremony at 10:30 a.m. The first class will be led by instructor Adrienne Hite, and the following the class with the ceremony will be led by instructors Vanessa Zende and Walter Cueva. To reserve tickets, see website's "classes" page to find Gratitude Beach Flow or go to the "events" page for the Gratitude Beach Flow Soundbath. 9 a.m. and 10:30 a.m. $25 beach flow, $35 beach flow and soundbath ceremony. 2600 Ocean Front Walk, Lifeguard Tower 26, Santa Monica, 424.262.5362.
Nov. 25. Lace up your running shoes for the ninth annual Turkey Trot! Run with friends and family on-site in a 5K and 10K run/walk courses or take part in the trot from home where you can complete your run anytime and receive your race goods in the mail. Families can bring little ones (ages 12 and under) for the Widdle Wobble. Participants can also enjoy memorable photo opportunities with the 20-foot tall turkey in front of the City Hall finish line. Proceeds benefit charity the Midnight Mission. See website for full race schedule and to register. $28 Widdle Wobble, $48 for 5K, $52 for 10K, $72 for 5K/10K package, $45 for virtual run. 200 N. Spring St., downtown, 310.821.7898.
Nov. 26-Dec. 31. The LA Dodgers are making the holiday season merry and bright with the return of their holiday festival. Taking place in person this year, this festival will be held in the newly-renovated Centerfield Plaza, the warning track, and both bullpens where guests can look forward to nightly entertainment, an ice skating rink, scenic and light displays, holiday-themed food and beverage, and an opportunity to take photos with Santa. Note: Proof of vaccination or negative COVID-19 test required. Weekdays: 5-10 p.m.; Weekends: 3-10 p.m. Tickets start at $16; free admission for children ages 3 and under. Dodger Stadium, 1000 Vin Scully Ave., L.A.
FEASTS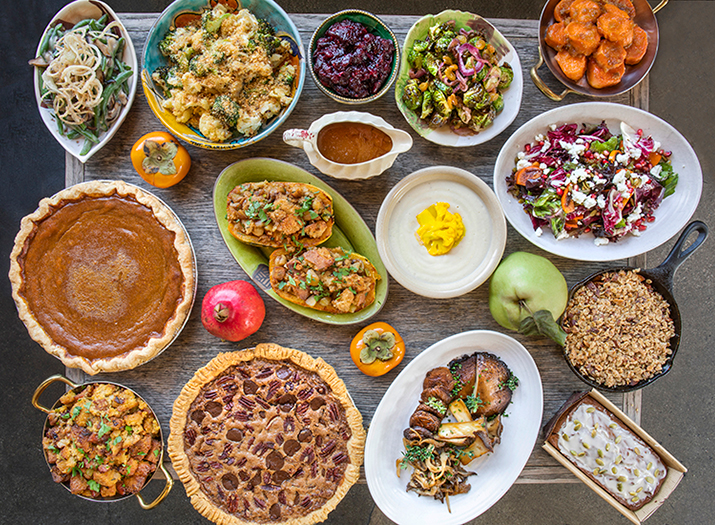 Order by Nov. 18. Enjoy chef Akasha Richmond's complete take-home holiday feast for stress-free home entertaining. The expansive takeout dinner allows customers to build a complete feast for four guests or more from Akasha's a la carte menu; or add to one's home-cooked meal with easy-to-heat and assemble dishes, including the ready-to-roast brined turkey. Orders must be placed by 6 p.m. on Nov. 18 with pick-up on Nov. 24 from 2-9 p.m. and on Thanksgiving day from 10 a.m.-2:30 p.m. Deliveries can be arranged for a supplemental fee. 9543 Culver Blvd., Culver City, 310.845.1700.
Nov. 25. L'Ermitage Beverly Hills' classic French bistro with a California twist is offering a delectable family-style Thanksgiving dinner. Feast on delicious Thanksgiving fare including turkey roulade with apple-pecan-mousseline filling and Sauternes jus; pomme puree with crème fraiche and white truffle; and caramelized apple tart with fall spice crème Chantilly. Noon-10 p.m. $85 adults, $45 for children under 12. 9291 Burton Way, Beverly Hills, 310.278.3344.
Order by Nov. 19 | Dine-in Nov. 25. Take the stress out of celebrating Thanksgiving at home and join THEBlvd Restaurant and Lounge for a three-course holiday dinner, expertly prepared by chef Amir Nematipour; or take home traditional dinner fixings—all fully cooked and ready to serve upon pick-up—from the Beverly Wilshire's to-go menu. The dine-in menu includes offerings such as roasted honeynut squash soup, pumpkin truffle tortellini, braised beef short ribs, turkey roulade and more. For the take-home dinner, this meal features butternut squash soup, all-natural roasted turkey, zested cranberry sauce, garlic mashed potatoes, Evergreen haricot vert, charred Brussels sprouts and more. Reservations available from 11:30 a.m.-9:30 p.m. Dine-in: $115 per person, $55 per child (12 years and under). Preorder the take-home feast by 5 p.m. on Nov. 19 for pick-up between Nov. 24-28 from noon-5 p.m. Take-home feast: $450 (feeds 4-6), $650 (feeds 7-10). 9500 Wilshire Blvd., Beverly Hills, 310.275.5200.
Preorder by Nov. 23. Elevate Thanksgiving at home with a to-go feast from BOA Steakhouse. Both the West Hollywood and Santa Monica locations are offering a Thanksgiving family meal for takeout, which serves four people with an option to add-on additional sides. Featured dishes include the Waldorf salad, Mary's homestyle turkey, traditional-style stuffing with mushrooms, green beans with almandine, roasted sweet potato puree and more. Orders must be placed by 5 p.m. on Nov. 23 and pickup on Nov. 24 from noon-3 p.m. $300. 9200 Sunset Blvd., West Hollywood, 310.278.2050; 101 Santa Monica Blvd., Santa Monica, 310.899.4466.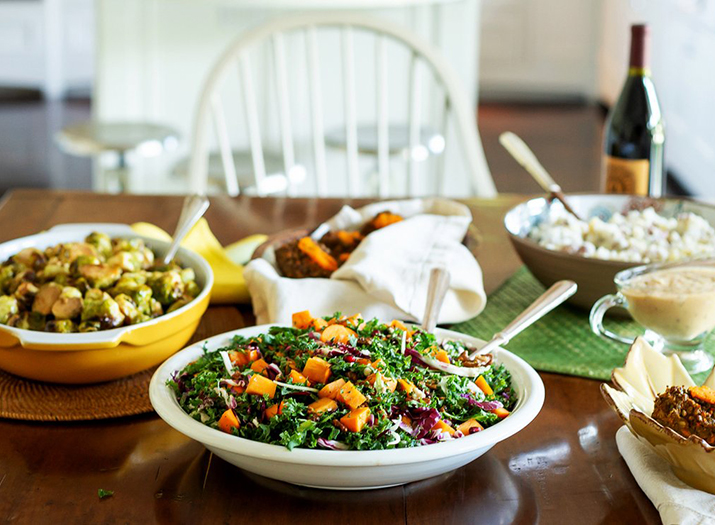 Preorder by Nov. 21. Let Cafe Gratitude help fill your table with fall-inspired sides and pies this Thanksgiving. For sides, available options ($18-$35) include cranberry-roasted butternut squash and garnet yams; cauliflower mashed potatoes with garlic confit; truffled porcini gravy; maple-miso Brussels sprouts; pear and pomegranate chutney; French lentil and butternut squash loaf; and persimmon and pomegranate salad. Don't forget to add pie to your cart! Options include pumpkin pie (raw and gluten-free), chocolate coconut cream pie (raw and gluten-free), and baked apple pie (contains gluten)—also available for pre-order. Preorder by Nov. 21 at 9 p.m. and pick up on Nov. 24 from 1-9 p.m. 639 N. Larchmont Blvd., L.A., 323.580.6383; 300 S. Santa Fe Ave., L.A., 213.929.5580; 512 Rose Ave., Venice, 424.231.8000.
Nov. 25. Helmed by executive chef Nathan Lingle, Santa Barbara's oceanfront restaurant at Mar Monte Hotel will be serving a special three-course menu on Thanksgiving day. Expect a bountiful feast including dishes such as Blue Hubbard squash bisque; heritage turkey with sage bread pudding, maroon carrot, pole beans, cranberry compote and whipped potato; dry-aged Sant Caorta strip steak; apple cake tatin; and pumpkin cheesecake. Call to reserve a table; reservations required. 2-8 p.m. $89 per person. 1111 E. Cabrillo Blvd., Santa Barbara, 805.882.1234.
Order by Nov. 21. Change up your Thanksgiving this year with an Italian twist. Eataly L.A.'s chefs and experts are offering this take-home feast with antipasti of salumi and formaggi. Complete your Thanksgiving menu with a selection of high-end ingredients such as the tartufo bianco d'Alba (rare Italian white truffles) and Calvisius caviar. For dessert, try a panettone (the traditional Italian holiday cake) paired with a sweet gianduja (chocolate) or pistachio spread. Preorder by Nov. 21 at 11:59 p.m. Westfield Century City, 10250 Santa Monica Blvd., L.A., 213.310.8000.
Fia | Dine-In
Nov. 25. Located in the heart of Santa Monica, this indoor/outdoor eatery highlighting Cal-Italian welcomes families to delight in executive chef Brendan Collin's prix-fixe Thanksgiving menu. Featured dishes include butternut squash soup, roasted organic turkey and slow-roasted prime strip loin; along with family-style sides such as pecan yams, roasted carrots and cauliflower gratin; and a choice of pie a la mode (pumpkin, apple or pecan). Make reservations by calling or on the website. 5-10 p.m. $95 per person, $45 children 12 and under. 2454 Wilshire Blvd., Santa Monica, 424.280.4196.
Nov. 25. Gobble up a four-course Thanksgiving feast from the beloved neighborhood restaurant located at The Garland in North Hollywood. To start, enjoy a choice between fall harvest grains or butternut squash soup. Delight in entree choices such as smoked prime rib and buttermilk fried turkey breast with stuffing and gravy. Sides include mascarpone mashed potatoes, roasted baby squash, and chorizo-and-rye-bread stuffing with desserts such as pumpkin pie and banana pudding. Noon-8 p.m. $75 per person, $29 children ages 12 and under. 4222 Vineland Ave., North Hollywood, 818.255.7290.
Preorder by Nov. 20. This year, we're thankful that Gracias Madre is bringing back its holiday tamales and sides! Chef Mario invites vegans and non-vegans alike to take a piece of Gracias Madre home for the holidays with special sweet and savory tamales to-go, such as chile rojo tamales and pineapple-raisin tamales. Preorder on the website by 2 p.m. on Nov. 20 with pick-up available between 11 a.m.-10 p.m. on Nov. 23-24. 8905 Melrose Ave., West Hollywood, 323.978.2170
Nov. 25. Ace Hotel Downtown Los Angeles' newest restaurant crafted by chef Joshua Guarneri, will be offering a Thanksgiving feast that is available for both indoor and outdoor dining at the restaurant, as well as a full feast to-go. Expect a three-course prix-fixe menu with highlight dishes such as confit and smoked turkey with sage stuffing, root veg smash, cranberry sauce and turkey jus; pumpkin risotto with smoked mushrooms, pepitas, sage and pecorino; and Upside Down Cake with persimmon, cardamom with earl grey ice cream There will also be a separate a la carte menu available for dine-in. For to-go orders, reach out to managers@loamdtla.com to inquire. 3-11 p.m. $80 per person. 927 S. Broadway, downtown, 213.235.9660.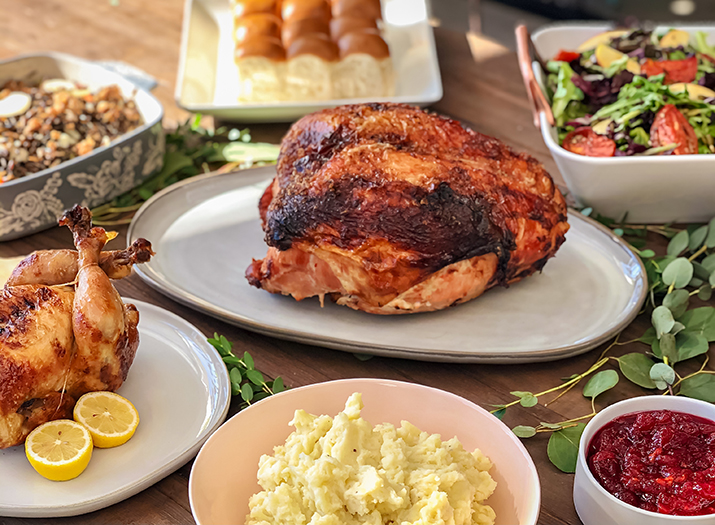 Preorder by Nov. 22. For Thanksgiving, Noble Bird Rotisserie presents a to-go feast with everything a family needs to celebrate at home. The meal can serve 6-8 people and includes Diestel turkey breast with all the classic sides including butternut squash with candied ginger; maple-bacon green beans; and wild rice, sage & sausage stuffing. Preorder by Nov. 22 (or until the restaurant sells out), and pickup will be on Nov. 24 with easy reheating instructions. Delivery within Long Beach is also available for $25. To place orders, email info@noblebirdrotisserie.com or call the restaurant. $325. 2ND & PCH, 6460 E. Coast Hwy., Suite 125, Long Beach, 562.431.0445.
Preorder by Nov. 21 | Dine-in Nov. 25. For those looking for a beachside, family-friendly restaurant for Thanksgiving weekend, look no further than Playa Provisions. The dine-in holiday menu features a chicory-and-apple salad starter, as well as a traditional Thanksgiving plate including an assortment of white and dark meat turkey with all the fixings, and a choice of two desserts. If you're looking to bring a holiday dessert home, preorder one (or more!) of Playa Provisions' pies to-go with flavors such as pumpkin, apple cranberry crumble and bourbon pecan. There will also be assorted drinks available to-go including growler's of beer and wine, canned drinks, and pre-batched Old Fashioneds. Dine-in: 1-6 p.m. Preorder pies by end-of-day Nov. 21 with pick-up on Nov. 23-24 from opening-1 p.m. 119 Culver Blvd., Playa Del Ray, 310.683.5019.
Nov. 25. Celebrating Thanksgiving this year with a decadent Italian-inspired, four-course lunch and dinner menu at The Restaurant at Mr. C. The prix-fixe menu features dishes such as zucchini velouté soup, homemade pumpkin potato gnocchi with Taleggio cheese fondue, oven-roasted turkey, sweet mashed potato with candied pecans, maple-and-brown-sugar cranberry sauce, bacon-wrapped asparagus and more. Guests can also opt for wine pairings with each course for $45. Reservations highly recommended; available seatings between noon-9:30 p.m. $95 per person (main course only is $49), $45 children ages 5-12. Mr. C Beverly Hills, 1224 Beverwil Drive, L.A., 310.226.6245.
Savoca | Dine-In, Takeout
Nov. 25. Dine at Savoca inside the JW Marriott Los Angeles L.A. LIVE to enjoy a three-course prix-fixe Thanksgiving menu of holiday favorites crafted by chef Nathaniel Marcus. Guests can choose one option from each of the course offerings on the Thanksgiving menu, which includes duck confit ravioli; beet pazanella; branzino; turkey with ciabatta-bread stuffing, mashed potato, green beans, Brussels sprouts and garden carrots; pumpkin cheesecake; chocolate pecan tarte; and more. 5:30-10 p.m. $65 per person. 900 W. Olympic Blvd., L.A., 213.765.8630.
Nov. 25-28. Elevate your Thanksgiving meal with the famed steakhouse's holiday specials all weekend long, available for dine-in or takeout. Offerings include roasted free-range turkey with cornbread-sage stuffing and shallot-and-thyme confit thighs; with sides including sauteed green beans with crispy shallots, maple-baked sweet potatoes, Yukon Gold mashed potatoes with a Parmesan crust, classic gravy and cranberry-orange chutney; plus add-ons such as spiced pumpkin pie served with candied ginger cream and crunchy caramel honeycomb. Reservations recommended. $59 adults, $29 children 12 and under, $119 per takeout meal (serves two). 930 Hilgard Ave., L.A., 310.659.3535.
Photo credits: Turkey Trot Los Angeles courtesy Spin PR. Noble Bird Rotisserie courtesy FWD PR. All other images are courtesy of the businesses.