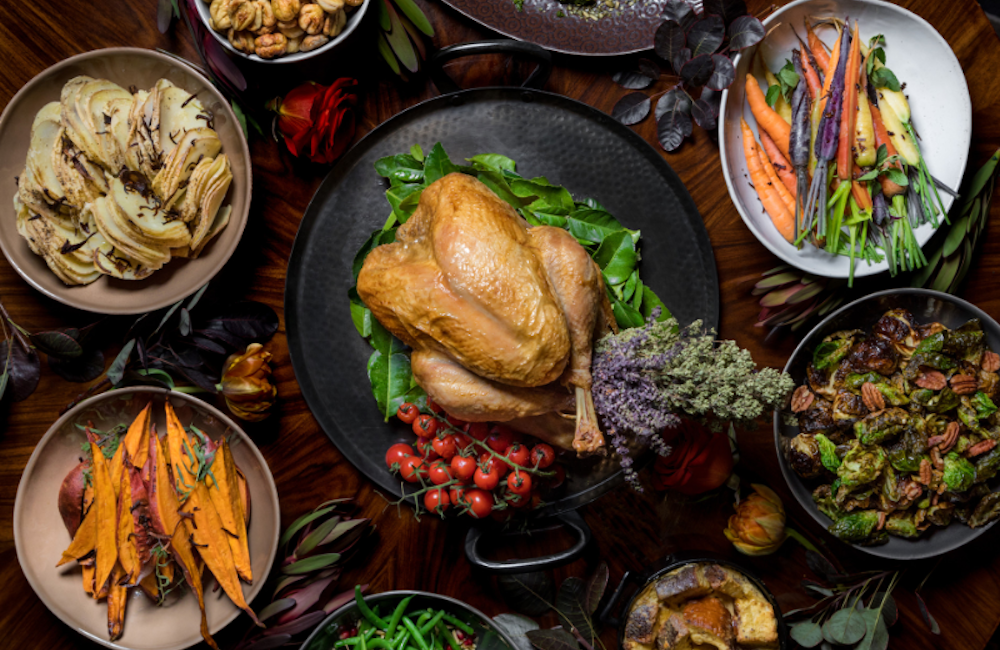 Looking for ways to celebrate Thanksgiving safely this year in Los Angeles? Here are some virtual and socially distant festivities, as well as dine-in and takeout feasts.
Virtual and social mediums have opened up more ways to connect with family and friends this Thanksgiving holiday. We're grateful to our restaurants who are making the extra effort to prepare take-home feasts and offering safe ways to dine-in. So, get connected. Run. Don't walk! Take a class. Stream a show. That's right, 'dial it in' this Thanksgiving and jump start that holiday spirit.
Note: Call or check websites for pandemic-related updates and to confirm hours of operation before visiting venues as they can change without notice.
FESTIVITIES
Nov. 26. Get in the holiday spirit during this audio-only production of Dr. Seuss's How the Grinch Stole Christmas! On the Radio! The whimsical musical based upon the classic Dr. Seuss book can be heard for free on KPBS Radio 89.5 FM, on the KPBS website and app, and on smart speakers. Tune in at noon.
Nov. 26-29. Lace up your running shoes for the annual Turkey Trot—with a twist this year! Runners can participate in a 5k/10k anywhere and anytime over Thanksgiving weekend. Run with friends and family near and far and get your race goods delivered to your doorstep. Your virtual entry includes a Turkey Trot medal and your choice of women's tank and unisex t-shirt! Proceeds benefit charity the Midnight Mission. $27 Widdle Wobble package, $37 5k/10k package. 200 N. Spring St., downtown, 310.821.7898
Nov. 27-Dec. 24. The 2020 World Champion LA Dodgers are hosting a drive-thru holiday festival complete with a light show, LED videos, fake snow and interactive displays honoring the Dodgers World Championship and celebrating the holidays. Visitors may bring a new toy, pair of socks or gently used baseball equipment to donate in a contactless manner during the drive-thru experience. Open nightly 5-11 p.m. $55+. Dodger Stadium, 1000 Vin Scully Ave., L.A.
Through Nov. 29. Projected on the windows of The Wallis Annenberg Center for the Performing Arts, Visions in Light is a free drive-by art exhibit featuring over 40 established and emerging artists of diverse cultures portraying work meant to inspire joy, wonder and awareness. The show comprises various media, still and moving, projected on the windows to present the show both physically and metaphorically to see beyond one's point of view. Open nightly 8-11 p.m. Free. The Wallis, 9390 N. Santa Monica Blvd., Beverly Hills
Gather your friends, pour some wine and Zoom in with Toby Kassoy to learn how to create a stunning centerpiece for Thanksgiving dinner table. A Bloom Box will be delivered to eachparticipant, the morning of your class (you can choose a date and time) containing everythingneeded to create a gorgeous Thanksgiving centerpiece. This class is 45 minutes and requires a minimum of 6 people (L.A. residents only). $175 (includes all flowers and materials).
FEASTS
Order by Nov. 19. Enjoy chef Akasha Richmond's complete take-home holiday feast for stress-free home entertaining. The expansive takeout dinner allows customers to build a complete feast for four guests or more from Akasha's a la carte menu or add to one's home-cooked meal with easy-to-heat and assemble dishes, including the ready-to-roast brined turkey. Orders must be placed by 6 p.m. on Nov. 19 with pick up on Nov. 25 from 11 a.m.-9 p.m. and on Thanksgiving day from 10 a.m.-1 p.m. Deliveries can be arranged for a supplemental fee. 9543 Culver Blvd., Culver City, 310.845.1700.
Order by Nov. 20. Leave the cooking to the culinary team at Beverly Wilshire, A Four Seasons Hotel this Thanksgiving! The team has crafted a tantalizing family-style Thanksgiving to-go menu that also includes themed table decor to "spice up" the festivities. Enhance the meal with 20% off select bottles of wine and Champagne. All orders are fully cooked and ready to serve after picking up from the hotel on Thanksgiving. Orders can be made by calling and must be made before 6 p.m. on Nov. 20. $380 (feeds 4-6), $630 (feeds 7-10). Price excludes tax and gratuity. 9500 Wilshire Blvd., Beverly Hills, 310.275.5200.
Preorder by Nov. 23. Elevate Thanksgiving at home with a to-go feast from BOA Steakhouse. Both the West Hollywood and Santa Monica locations are offering a Thanksgiving family meal for takeout, which serves four people with an option to add-on additional sides. Featured dishes include the Waldorf salad, Mary's homestyle turkey, traditional-style stuffing with mushrooms, green beans with almandine, roasted sweet potato puree and more. Preorder by Nov. 23 at noon and pickup on Nov. 25 from noon to 5 p.m. $300. 9200 Sunset Blvd., West Hollywood, 310.278.2050; 101 Santa Monica Blvd., Santa Monica, 310.899.4466.
Preorder by Nov. 22. Let Cafe Gratitude help fill your table with fall-inspired sides and pies this Thanksgiving. For sides, available options ($15-$35) include cranberry roasted butternut squash and garnet yams; cauliflower mashed potatoes with garlic confit; truffled porcini gravy; maple miso Brussels sprouts; pear and pomegranate chutney; French lentil and butternut squash loaf; and persimmon and pomegranate salad. Don't forget to add pie to your cart! Options include pumpkin pie (raw and gluten-free), chocolate coconut cream pie (raw and gluten-free), and baked apple pie (contains gluten)—also available for pre-order. Preorder by Nov. 22 and pick up on Nov. 25 from 1-9 p.m. 639 N. Larchmont Blvd., L.A., 323.580.6383; 300 S. Santa Fe Ave., L.A., 213.929.5580; 512 Rose Ave., Venice, 424.231.8000.
Nov. 23-25. Looking for a lighter Thanksgiving dining experience before the big day? Chado's four L.A. tea rooms are offering a three-day Thanksgiving afternoon tea special with a portion of proceeds to be donated to Feeding America, U.S.-based nonprofit hunger relief organization with a nationwide network of food banks feeding the hungry. 6801 Hollywood Blvd., Suite #209, Hollywood, 323.472.8111; Inside Japanese American National Museum, 369 E. 1st St., downtown L.A., 213.258.2531; 79 N. Raymond Ave., Pasadena, 626.431.2832; 1303 El Prado Ave, Torrance, 424.757.5222.
Nov. 26. Helmed by executive chef Nathan Lingle, Santa Barbara's newest oceanfront restaurant at Mar Monte Hotel will be serving a special menu on Thanksgiving day. Expect a luxurious feast including dishes such as Blue Hubbard squash bisque, heritage turkey with sage bread pudding, maroon carrot, pole beans, cranberry compote, and whipped potato; and dark chocolate and fig trifle. The menu will be served alongside local Santa Ynez wines. Call to reserve a table; reservations required. 1-7 p.m. $89 per person (includes three courses), $39 children 12 and under. 1111 E. Cabrillo Blvd., Santa Barbara, 805.882.1234.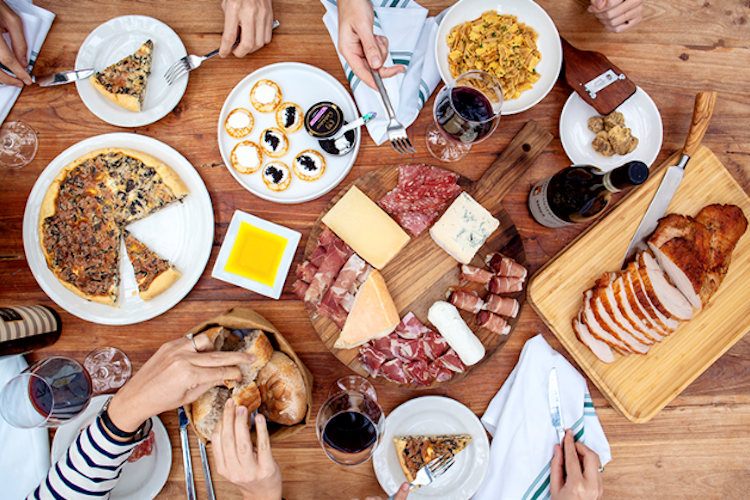 Order by Nov. 20. Change up your Thanksgiving this year with an Italian twist. Eataly L.A.'s chefs and experts are offering this take-home package featuring a curated salumi and formaggi board; and the pasta al forno autunnale made with pasta di Gragnano IGP, squash, ricotta, mushroom, and Parmigiano Reggiano DOP. For the star of the table, indulge in an apple-cider braised heirloom turkey alongside contorni (sides) like housemade focaccia stuffing and honeynut squash with stracciatella cheese. Finish on a sweet note with housemade torte di mele, apple tart or classic tiramisu. Email la-guestrelations@eataly.com to order by Nov. 20. Reheating instructions included. Available for pick up only November 23 to 25. $189.90 (serves 4), $359.90 (serves 8). 10250 Santa Monica Blvd., L.A., 213.310.8000.
Fia | Dine-In
Nov. 26. Located in the heart of Santa Monica, this indoor/outdoor eatery highlighting Cal-Italian welcomes families to enjoy executive chef Brendan Collin prix fixe Thanksgiving menu! Featured dishes include butternut squash soup, roasted organic turkey and slow-roasted prime strip loin, along with family-style sides like pecan yams and a choice of pie a la mode (pumpkin, apple or pecan). Make reservations by calling or on the website. 5-10 p.m. $85 per person, $25 children 12 and under. 2454 Wilshire Blvd., Santa Monica, 424.280.4196.
Preorder by Nov. 25. Gobble up a Thanksgiving take-home feast for four from the beloved neighborhood restaurant located at The Garland in North Hollywood. Delight in an elevated take on Thanksgiving favorites featuring entree choices such as smoked prime rib and buttermilk fried turkey breast with stuffing and gravy. Sides include mascarpone mashed potatoes; roasted baby squash; and chorizo and rye bread stuffing with desserts such as pumpkin pie and banana pudding. Pick up is Nov. 26 between noon and 6 p.m. $149. 4222 Vineland Ave., North Hollywood, 818.255.7290.
Preorder by Nov. 22. This year, we're thankful that Gracias Madre is bringing back its holiday tamales this season! Chef Mario invites vegans and non-vegans alike to take a piece of Gracias Madre home for the holidays with special sweet and savory tamales to-go. Offerings include chile rojo tamales and pineapple raisin tamales. Pre-order on the website to get these seasonal favorites to share with the family. 8905 Melrose Ave., West Hollywood, 323.978.2170
Order by Nov. 25. Save yourself the hassle of cooking and let neighborhood cocktail bar Hermanito do the work! Guests can preorder Thanksgiving meal kits for four, which includes chips and guac, Pacific shrimp ceviche, cilantro lime rice, quinoa salad, heirloom white bean casole and tres leches cake. There's also protein add-ons with supplemental pricing such as peking duck with black garlic mole, roasted Mary's chicken, line-caught tai red snapper and roasted Colman Family Farms vegetables. Available by pre-order for pickup on Nov. 25. $60+. 2024 Sawtelle Blvd., L.A., 424.465.9029.
Madre | Takeout, Delivery
Nov. 16-29. Give your Thanksgiving dinner a twist with the Oaxacan eatery's a specialty dish. The special includes pork tenderloin stuffed with pechuga de mezcal (a blend of cinnamon, rice, aniz, naranja, plantains, apples, pineapple, almonds, plums and raisins), topped with coloradito mole, and served with sides of Oaxaca potato salad and a green salad. Available from Nov. 16-29; closed Thanksgiving. $28. 801 N. Fairfax Ave., Suite 101, 323.850.8518; 1261 Cabrillo Ave., Suite 100, Torrance, 310.974.8005.
Nov. 26. Market Tavern's chef Brendan Collins adds an English twist to the classic family style Thanksgiving menu. The prix fixe menu includes an arugula/goat cheese salad; broccoli cheddar soup; a choice of turkey, roast beef or roast salmon; and a mouthwatering selection of desserts including apple, pumpkin and pecan pies (with ice cream!). Call for reservations. 1-7 p.m. $65 per person. Original Farmers Market, 6333 W. 3rd St., Suite 706, L.A., 323.452.9299.
Preorder by Nov. 25. Take your holiday to new heights with a four-course fall-esque meal from the tallest open-air bar and lounge in the Western Hemisphere. The feast begins with a butternut squash soup, followed by a main course of thyme-and-sage-roasted turkey breast, Italian sausage, walnut stuffing, orange and cinnamon sweet potatoes, and fresh corn. Round out the meal with a Thanksgiving classic of traditional pumpkin pecan pie. Preorder by 4 p.m. on Nov. 25 for curbside pick-up at valet. $40+ per person. InterContinental Los Angeles Downtown, 900 Wilshire Blvd., 73rd Floor, downtown, 818.818.8683.
STK | Takeout, Delivery
Nov. 25-29. Eat, drink and give thanks with a special take-home holiday feast from STK Steakhouse! Enjoy a roasted free-range turkey breast and confit turkey thighs along with chestnut cornbread stuffing, green beans, sweet potato, Yukon gold potatoes, old school gravy and cranberry orange chutney. End your meal on a sweet note with a traditional pumpkin pie served with Bailey's whipped cream and vanilla ice cream for $12. The full STK menu is also available as well as a children's menu. $49 adults, $29 children 12 and under. 930 Hilgard Ave., L.A., 310.659.3535.
Preorder Now. The Mediterranean eatery in the heart of Malibu is offering a traditional Greek feast to-go for those seeking a non-traditional American Thanksgiving experience. The restaurant will feature its full menu and a Greek Feast prix fixe offering perfect for the whole family. The feast includes 15 different specialties such as all dips (taramosalata, melintzanosalata, tzatziki and hummus), tabouli, dolmathes, spanakopita, keftethes (Greek meatballs), Greek potatoes, orzo and chicken souvlaki. Noon-9 pm. $49.95. 23410 Civic Center Way, Malibu, 310.317.9667.
For a vegetarian or vegan-friendly Thanksgiving, Santa Monica's charming new cafe Uplifters Kitchen created their "Everything But The Turkey" holiday menu, with a la carte plant-based dishes such as roasted beets with whipped feta; mashed sweet potatoes; and Farro-stuffed acorn squash with tahini dressing. Place your order 48 hours in advance; email hello@uplifterskitchen.com, call or order at the cafe in person. 2819 Ocean Park Blvd., Santa Monica, 424.268.4904.
Photo credits: All images are courtesy of the businesses and venues.