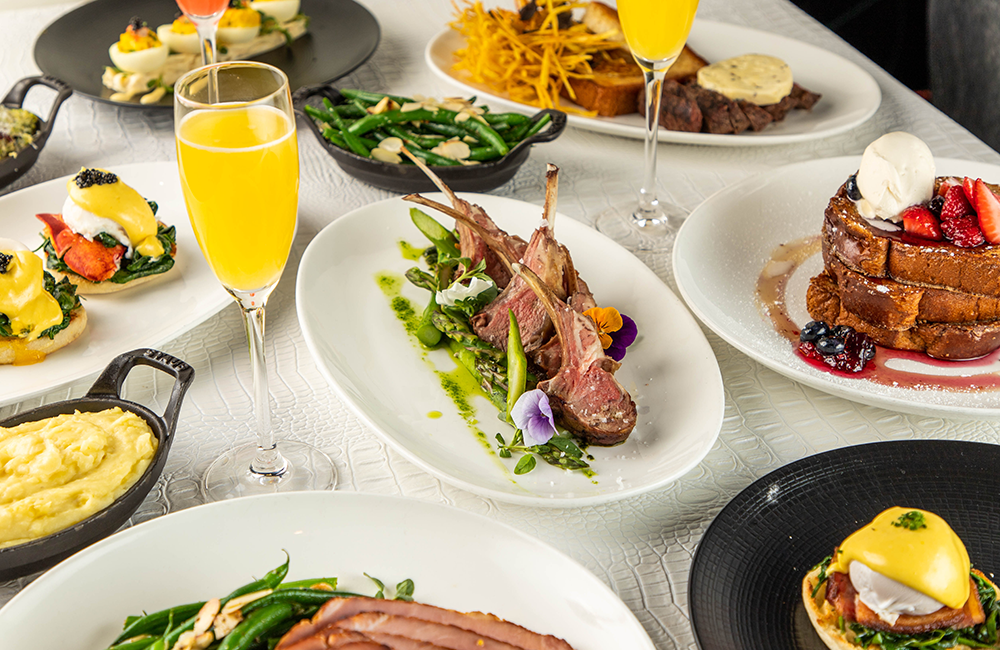 On the hunt for some egg-citing dining ideas this Easter? Hop to these Los Angeles eateries with offerings ranging from on-site and takeout themed meals to festive sweet treats.
Through April 4. Formed by brothers Phil and Marc Covitz, this second-generation Beverly Hills-based chocolatier invites those with a sweet tooth to nab some Easter-themed treats. Offerings include the jewel-like faceted chocolate eggs, the polka-dot treasure egg, hand-painted hollow glam bunnies and cookie chocolate bunnies in two flavors. There's also Easter baskets available in three different sizes. Preorder on website for pickup at the shop (or for shipping). 9548 Brighton Way, Beverly Hills, 310.276.2776.
Akasha | Outdoor Dining, Takeout, Delivery
Preorder by April 3 | Dine-in April 4. Owners Akasha Richmond and Alan Schulman of Akasha restaurant presents an Easter take-home brunch and dinner dishes, plus menus for dine-in on Sunday. The brunch takeout menu features Rose's quiche lorraine, spinach and leek quiche, and brisket hash; plus some of the house pastries that are ready to serve or to bake at home. For Easter dinner takeout, try crab cakes; lamb shank osso bucco; spring pea-fava bean & Parmigiano risotto; and organic Casa Corneli Umbrian lentil stew. Reservations recommended and available through OpenTable. Brunch: 10 a.m.-3 p.m.; dinner: 5-9 p.m. Preorder via Tock for pickup on April 3 (1-8:30 p.m). 9543 Culver Blvd., Culver City, 310.845.1700.
Baltaire | Outdoor/Indoor Dining
April 4. Elevate your Easter with a delectable brunch at Baltaire. Guests are invited to celebrate the holiday with loved ones and enjoy brunch favorites such as steak and eggs, roast prime rib, half-roasted Maine lobster, caramelized French toast, Benedicts and more. There will also be a pastry basket as a starter to share and beverage specials, including mimosas and sparkling wine. Reservations recommend and can be made on the website 10 a.m.-4 p.m. 11647 San Vicente Blvd., L.A., 424.273.1660.
April 4. Dine on savory dishes at Water Grill this EasterDelight in a decadent Easter brunch featuring holiday dishes inspired by Fede and Gianni's family traditions. Dishes include caviar, crepes, truffle pizza, mimosas and more. Bring the kiddos to get their hands on a chocolate egg decorating kit. Reservations highly encouraged and available on Resy. 9 a.m.-2 p.m. 8850 Washington Blvd., Culver City, 424.603.4353.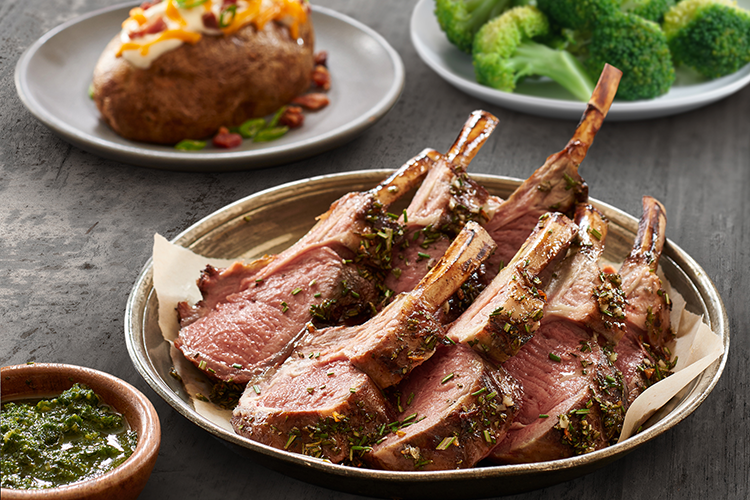 Preorder by April 3 | Dine-in April 4. For Easter, Black Angus Steakhouse will be serving two chef's specials for delivery, takeout and dine-in. The first is the seasonal rack of lamb (half rack $27.99, full rack $38.99) includes an all-natural, free-range New Zealand rack of lamb marinated with garlic and rosemary (pictured). This meal comes with herb chimichurri, two classic sides, and warm molasses bread. Preorder for dine-in ends on April 3. The second special is the Easter prime rib family meal ($99, serves four) includes four 8-ounce prime rib, horseradish, au jus, home-style mashed potatoes or five-grain rice pilaf, broccoli with garlic butter, eight chocolate chip cookies, and molasses bread. This to-go only special can be placed on the website for takeaway or curbside pickup. Multiple locations.
Preorder by April 2. Dine on savory dishes from BOA's Easter take-home family meal—available at both its West Hollywood and Santa Monica locations. The family-style take-home meal serves four people for $180 and includes dishes such as rolls and gravy, mac n' cheese, Brussels sprouts with bacon, 32-ounce Creekstone center-cut filet mignon roast, Rosie's Farm half chicken and s'mores chocolate torte. Preorder by 5 p.m. on April 2 for pickup on April 3-4 (2-5 p.m.). 101 Santa Monica Blvd., Santa Monica, 310.899.4466; 9200 Sunset Blvd., West Hollywood, 310.278.2050.
Celestino Ristorante | Indoor/Outdoor Dining, Takeout, Delivery
Preorder by April 4 | Dine-in April 4. Celebrate Easter Sunday Sicilian style with owner/executive chef Calogero Drago's holiday dinner. Indulge in signature items such as the ravioli filled with duck, mushrooms and Porcino blueberry sauce; tortellini stuffed with pumpkin cream, butter and sage; risotto with red beets and goat cheese; ossobuco; bistecca; and his homemade family-style lasagna menu that can be preordered 24 hours in advance. For something sweet, savor and share a tiramisu, panna cotta (vanilla custard with strawberries), or the torta al ciocolato (flourless chocolate cake). Pickup available on April 4 (3-8 p.m.). 141 S. Lake Ave., Pasadena, 626.795.4006.
April 2-4. Bring some color to your Easter with a selection of pastel croissant fruit sandos from Destroyer. These fruity croissants come in a set of three: The first of the trio is "Rhubarb, lemongrass, red fruits, passionfruit"; the second is "apricot, kumquat, ginger, blueberry"; and the third is "butterfly pea flower, violet, black currant." The trio of sandos can be preordered for $24. 3578 Hayden Ave., Culver City, 310.360.3860.
Du-Par's | Indoor Dining, Takeout
April 1-4. Iconic L.A. eatery Du-Par's at the Original Farmers Market is running an Easter dinner special for dine-in or pickup. Diners will receive a soup du jour starter, a bourbon-glazed salmon or ham, charred asparagus and creamy mashed potatoes; plus a slice of Du-Par's famous pie. The kiddos can the eatery's kid-size tea party packages, featuring PB&J triangles, an assortment of mini sandwiches (ham and cheese, chicken salad and $2 extra for smoked salmon), mini muffins and donuts, fresh fruit skewers, tea, and apple juice. Dinner special: $29.95 adults, $17.95 children. 6333 W. 3rd St., L.A., 323.933.8446.
April 4. The Front Yard at The Garland is offering an egg-stra special three-course Easter brunch. Locals and guests alike can dine outdoors on the expansive patio and indulge in menu highlights such as a shrimp ceviche tostada, chicken tortilla soup, yuzu avocado toast, lobster french omelet, Nutella crepe with berries and vanilla, and more. Reservations required. The entire party must be present for seating and reservations cannot be combined. Per L.A. County, parties must be from the same household. 10:30 a.m.-3 p.m. $49+ adults, $25+ children ages 12 and under. 4222 Vineland Ave., North Hollywood, 818.255.7290.
Georgia's Restaurant | Indoor/Outdoor Dining, Takeout, Delivery
April 4. Craving soul food this Easter Sunday? Georgia's will be offering its entire menu of authentic soul food for brunch and dinner at its location in Long Beach Exchange. Enjoy popular plates such as signature herb-seasoned, cornmeal-crusted buttermilk fried chicken; hand-tossed, pan-fried smothered pork chops; farm-raised, creole seasoned, cornmeal-crusted fried catfish; half rack of slow-roasted St. Louis barbecue ribs; and grilled-to-order 1855 Black Angus choice tri-tip. 11 a.m.-8:30 p.m. 4101 McGowen St., Suite 155, Long Beach, 562.420.5637.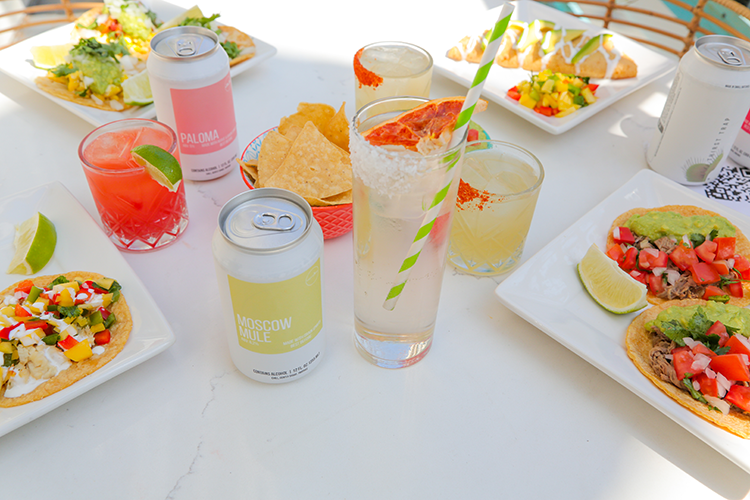 Lanea | Outdoor Dining
April 4. Santa Monica's Lanea is celebrating Easter this year with all-you-can-eat breakfast and brunch tacos for just $25! Brunch street tacos include the huevos con chorizo (spicy pork sausage), huevos con bacon (crispy goodness), huevos con sausage (sausage links) and the huevos con Beyond Meat (meatless)—all handmade to order on 100% gluten-free corn tortillas, and served with eggs and cheese. Patrons can pair these brunch tacos with margarita flights that include the SOCALiente, Picante Coast Highway, and spicy margarita or mimosa. 11 a.m.-2 p.m. 217 Broadway, Santa Monica, 424.265.7437.
Preorder by April 2 | Dine-in April 2-4. Made in the heart of Hollywood using the same recipes and ingredients used at its origin restaurant in Naples, the Italian cuisine at L'Antica Pizzeria da Michele makes for a unique and delicious Easter celebration. The exclusive Easter menu—available for dine-in and takeaway—includes tartare di astice, lasagna bianca, ravioli al nero di seppia, agnello alla griglia (New Zealand lamb chops), salmone al salmoriglio and pastiera (a Neapolitan tart). Dine-in: 10 a.m.-11 p.m. Preorder for pick up on April 4 (10 a.m.-noon). 1534 N. McCadden Place, Hollywood, 323.366.2408.
April 4. Soak in the sun while sitting pool-side at The Beverly Hilton's Mercato for Easter brunch. The menu features a bottomless mimosa cart and family-style sharable items such as homemade pastry basket, shrimp cocktail shooter, and spinach quiche. Also choose from several of our favorite made-to-order items including traditional breakfast favorites, Benedicts, and a variety of salads and sandwiches. Reservations recommended and can be made on OpenTable. 11 a.m.-4 p.m. $72 adults, $36 children under 12. 9876 Wilshire Blvd., Beverly Hills, 310.274.7777.
Mi Piace | Indoor/Outdoor Dining
April 4. Hop over to Mi Piace where modern Italian cuisine is delightfully eternal this Easter Sunday. Start the celebration off with a Mi Piace classic bloody mary, "The Influencer" cocktail or the "50/50" smoothie. Menu highlights include the California omelet, Uova Benedettina, lemon ricotta pancakes, waffles bambino and more. Mi Piace will also be open for dinner. Brunch: 11 a.m.-4 p.m.; dinner 4-11 p.m. 25 E. Colorado Blvd., Pasadena, 626.795.3131.
Preorder by April 1. Downtown L.A.'s beloved modern steakhouse will be offering Easter takeout boxes that serves four people. The box comes with either herb-roasted prime rib or herb-roasted leg of lamb, Caesar salad, roasted tri-color peewee potatoes, asparagus with lemon zest, spiced baby carrots with Sumac yogurt, and key lime tart. Customers can add on any of the individual dishes for an additional cost ($12-$15), as well as brown-butter-chocolate-chunk cookies ($10). The box comes with reheating instructions. Preorder by April 1 via Tock for pickup on April 3 (2-5 p.m.). $300 per box. 330 S. Hope St., L.A., 213.680.0330.
April 4. The beachside favorite from "Top Chef" and "Tournament of Champions" winner Brooke Williamson and her husband Nick Roberts is offering Easter-themed cupcakes, available for pickup in-person or preorder by phone. The festive cupcakes feature chocolate cake with vanilla buttercream, coconut grass and chocolate eggs. In addition, Playa Provisions' brunch menu includes dishes such as maple bacon cinnamon rolls; beet-cured salmon bagel; skillet baked eggs; cajun shrimp and Dungeness crab Benedict; biscuits and lobster gravy; and more. 119 Culver Blvd., Playa Del Rey, 310.683.5019.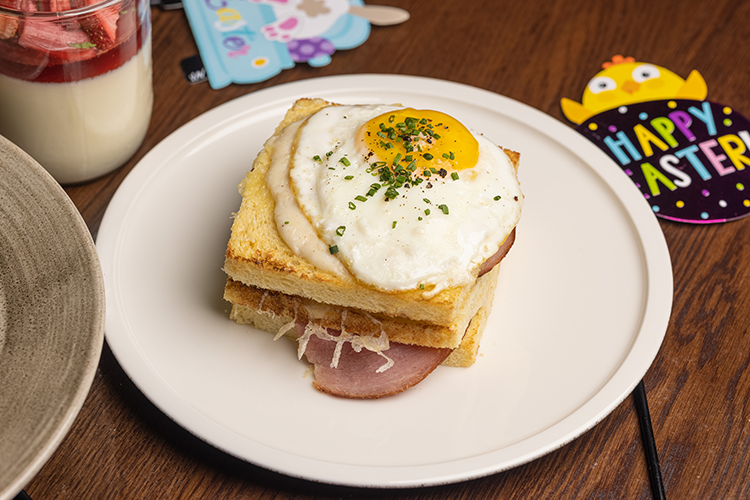 April 4. Head to The Raymond 1886 for an egg-straordinary Easter brunch. Start the festivities with assorted house pastries featuring danishes, scones, cinnamon rolls and muffins, while keeping the brunch hopping with executive chef Jonathan Quintana's croque madame (pictured). Additional favorites include blueberry-and-pistachio pancakes, Eggs Your Way, eggs Benedict, breakfast burrito, chilaquiles, breakfast sandwich, Mediterranean frittata veggie hash, smoked salmon toast and more. For those who prefer enjoying Easter dinner can revel in chef Quintana's rabbit pappardelle while sipping 1886 barman Ned Kirby's "Bad Bunny" cocktail. Enjoy a sweet finish with pasty chef Raymond Morales' milk chocolate torte with peanut praline and vanilla marshmallow, or the Easter parfait. Brunch: 9 a.m.-2:30 p.m.; dinner: 4-9 p.m. 1250 S. Fair Oaks Ave., Pasadena, 626.441.3136.
April 4. Take a drive deep in the hills of Malibu to enjoy a three-course Easter brunch at Saddle Peak Lodge. On the menu, starter options include roasted apple salad, roasted "Beet.L.T" salad or chilled pea soup. Choose an entree from these dishes: roasted Faroe Island salmon, eggs Benedict, warm roasted lamb sandwich, thick-cut brioche French toast and braised short ribs. End your meal on a sweet note with options such as banana and huckleberry bread pudding, cappuccino pots de creme or mint chocolate brownies. Reservations recommended; walk-ins welcome. 10:30 a.m.-2:30 p.m. $82 adults, $49 children 12 and under. 419 Cold Canyon Road, Calabasas, 818.222.3888.
STK Steakhouse | Outdoor/Indoor Dining, Takeout, Delivery
April 4. Guests can indulge in brunch favorites such as the STK & Eggs, cinnamon French toast, hot chicken and waffles, and more. Ham dinner specials are also available for dine-in, takeout and delivery. For dine-in, specials include king crab deviled eggs, roasted rack of lamb, ham, egg and truffle fries, and honey-citrus-glazed ham (dinner only). Don't miss the Rocky Road chocolate fudge brownie special for dessert. The regular brunch menu is also available all weekend. Brunch: 10 a.m.-3 p.m.; dinner: 3 p.m.-close. 930 Hilgard Ave., L.A., 310.659.3535.
Theía | Indoor/Outdoor Dining, Pickup
April 4. West Hollywood's Greek-inspired restaurant will be offering an Easter cookie gateaux, an impressive cookie tower with decadent chocolate layers ($12). And for those observing Passover, Theía is offering a rose and coconut custard with Tahini Halva ($16) through April 3 or until supplies last. Both are only available for dine-in at the restaurant and customers can order over the phone if interested in pickup. 8048 W. 3rd. St., L.A., 323.591.0059.
Photo credits: STK by Max Milla. The Raymond 1886 by Fried Chicken Sandwich Studios. All other images are courtesy of the businesses.