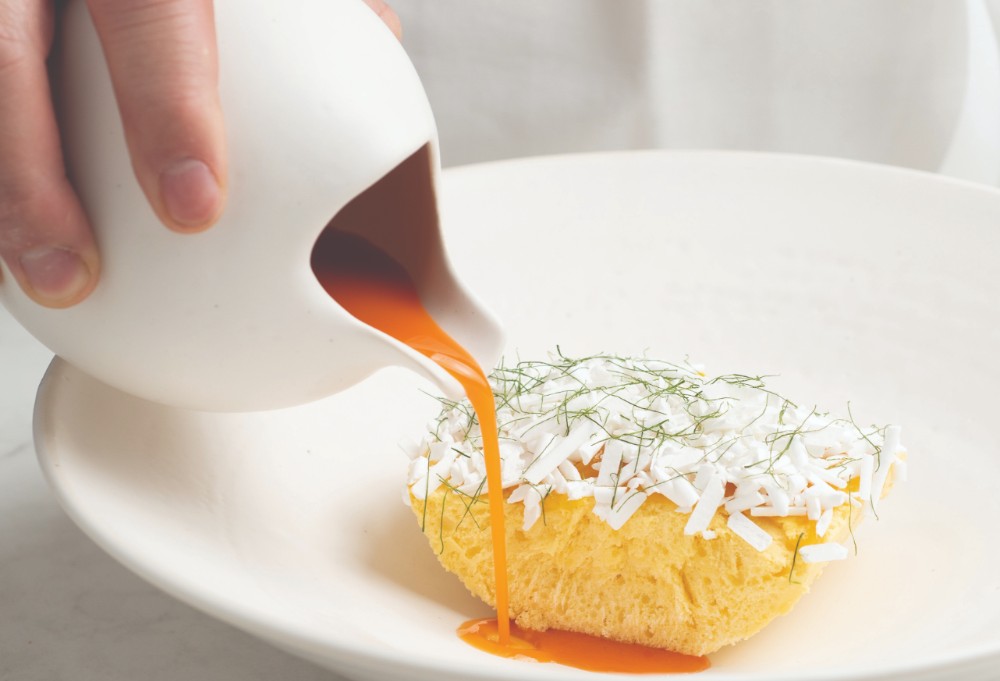 Fueled by the city's diverse Asian communities and an innovative spirit, Los Angeles chefs reimagine centuries-old culinary traditions.
By Roger Grody.
A bona fide Pacific Rim metropolis, Los Angeles is economically and culturally connected to Asian capitals, and its hot dining scene teems with adventurous young chefs anxious to present their own interpretations of ancient Eastern cuisines. A respect for authenticity, a penchant for creativity and the blurring of borders between L.A.'s diverse ethnic neighborhoods all contribute to some of the most exciting Asian dining in America.
Burgers and Tater Tots
Culver City's Ms Chi Cafe is the product of chef/co-owner Shirley Chung, a Bravo Top Chef runner-up, and husband Jimmy Lee, who oversees the front of the house. Here, the chef serves a progressive cuisine in which traditional Chinese techniques are applied to familiar American ingredients. Chung was born in Beijing but mastered classical technique working with Thomas Keller, Mario Batali and José Andrés—mentors who also encouraged her creativity.
Reprising one of her challenge-winning Top Chef dishes at Ms Chi Cafe, Chung offers jumbo cheeseburger pot stickers with tomato-bacon jam, encapsulating the flavors of an all-American burger in a pan-fried Chinese dumpling. She also creates a Pacific riff on tater tots and serves a hedgehog-shaped bao filled with molten chocolate for dessert. For lunch, the chef presents Mr. Chi, an inspired pastrami-filled scallion-pancake sandwich. The Culver City space features both the buzz of a Chinese dumpling house and the casual vibe of an American diner, and adds an air of sophistication.
Krazy for Karaage
Fried chicken—or karaage as it is known at any respectable izakaya—is as big a deal in Japan as it is in Georgia. Plenty of restaurants in L.A. execute this Japanese pub dish well, but the menu at downtown L.A.'s Pikunico totally revolves around karaage. A basket of chicken arrives with a choice of fingerling fries or ginger onigiri (pointy rice balls) along with assorted housemade pickles, ponzu, lemon aioli and sesame sauce.
The restaurant is the brainchild of chef Kuniko Yagi, a protégé of David Myers and the opening executive chef at Hinoki & the Bird. At Pikunico—the moniker combines "picnic" and the chef's own name—the best techniques of Japanese and American cuisine have been adopted in pursuit of the perfect fried chicken, made with naturally and locally raised birds. Yagi, also a Top Chef contestant, channels her fine-dining experience into a simple, soulful, satisfying dish. Also offered are fried-chicken rice bowls and a crowd-pleasing sandwich in which the golden fried bird is layered into a turmeric bun with pickled daikon, watercress, lemon aioli, jalapeño and miso jam. The setting is a casually upbeat space in Row DTLA, an ambitious mixed-use development in the burgeoning Arts District.
Cafe Society
Amid a growing number of delightful drive-worthy eateries in rapidly gentrifying Echo Park—joining Valerie Confections, Cosa Buona and Tsubaki—is a discreet little Japanese café called Konbi from young but seasoned restaurateurs Akira Akuto and Nick Montgomery. Inspired by fast-casual outlets in Tokyo, the narrow, clean-lined storefront with white ash accents and a counter along the open kitchen is only open during the day. But savvy locals find time to squeeze in layered omelette or pork-katsu sandwiches, as well as vegan dishes such as carrots with shishito-pistachio dip.
The Japanese are wild about French desserts—iconic Parisian patisseries such as Pierre Hermé, Maison Kayser and Ladurée are easy to find in Tokyo—and Konbi offers plenty of freshly made pastries to choose from. Consider a chocolate croissant, hazelnut financier or canelé—a small caramelized rum cake from Bordeaux—with a deftly prepared espresso drink. Konbi's takeout packaging reflects a sophistication in both branding and aesthetics.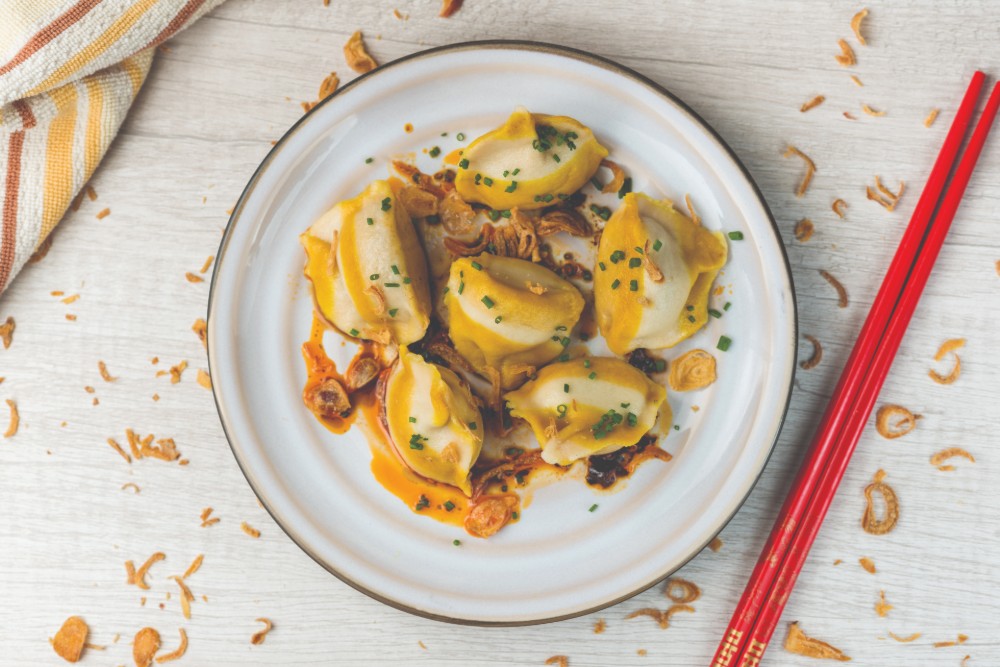 Blurring Borders
The latest in a flurry of anxiously anticipated openings in downtown's restaurant-rich Arts District is Nightshade, where Top Chef champion Mei Lin has introduced a nuanced pan-Asian menu that draws on both Asian and European techniques. Mentored by the likes of Michael Symon, Wolfgang Puck and Michael Voltaggio, Lin has cooked from various points of view; at Nightshade, she finally cooks from her own unique perspective. Lin's family heritage is Chinese, but in addition to dishes such as prawn toast with Cantonese curry or Szechuan-spiked quail—a play on Nashville hot chicken—she incorporates elements from Korean, Japanese, Thai and even Italian cuisines into her menu.
Korean-spiced beef tartare and scallops in coconut vinaigrette are presented with genuine artistry as Lin moves seamlessly in and out of various cultural influences with considerable finesse. Much like the chef's cuisine, the Arts District dining room is modern yet comforting; it features blond wood and marble finishes, an exhibition kitchen suitably illuminated like a beacon, and hanging plants that complement the emerald-green banquettes. The interior reflects little of the repurposed industrial building it occupies, and Lin's creativity is equally transformative.
Tokyo Via Tuscany
Japan and Italy both have centuries-old traditions of noodle-making, so it's not a stretch for a talented chef to fuse these two great cuisines. At Blackship, executive chef Keiichi Kurobe, a former Hinoki & the Bird sous chef, has created a menu that showcases the best qualities of Italian and Japanese cuisines. Dishes such as hamachi Bolognese, gnocchi created with shungiku (chrysanthemum greens) in brown-butter dashi with pecorino, and ramen prepared carbonara-style with guanciale-style pork belly are imaginative yet relatable. Unlike some fusion concepts that appear contrived, these two cuisines have tremendous natural synergy. And the innovative fare can be washed down with either a Brunello di Montalcino or rare Japanese sake.
Blackship offers a covered patio with a woodsy vibe and hanging plants; the muted interior reflects some nautical references— "blackships" were Western vessels arriving in Japan in the 16th and 19th centuries—and features a Carrara marble bar and contemporary lighting. Kurobe's presentation style adds glamour to rustic concepts, enhancing a dining experience that, despite its unconventional pairing, feels very natural.
New Age Sushi and Skewers
When the number of neighborhood sushi bars hit a saturation point, L.A. diners discovered the incredible diversity of Japanese cuisine. Now, izakayas, ramen joints and shabu-shabu bars have found homes throughout the city. In downtown L.A.'s Arts District is Inko Nito, from influential German chef Rainer Becker, whose Japanese-inspired Zuma restaurants set trends from Las Vegas to Dubai, and New Zealand chef Hamish Brown. (A second Inko Nito recently shuttered on West 3rd Street.) In the Garey Street restaurant, the robata grill is showcased in a convivial space dressed in natural wood, custom-glazed handmade tiles, exposed beams, concrete and generous greenery.
Inko Nito offers snacks such as furikake-dusted Brussels sprouts with wasabi mayonnaise, and nigaki, a variation of sushi that sits atop an L-shaped piece of nori whose back end stands at attention. In addition to tofu karaage with miso mayo and Korean-influenced snacks, robatayaki—skewered items including spicy Japanese-whisky-glazed pork belly or Parmesan-crusted cauliflower cooked over Japanese charcoal—is central to the experience at Inko Nito.
The Forgotten Cuisine
The Los Angeles metro area has the largest Filipino population outside of Manila, yet until very recently, the cooking of the Philippines had been neglected even as local chefs brought innovation to other Asian cuisines.
That is changing. Silver Lake's Ma'am Sir is one of several new restaurants introducing modern Filipino cooking to the mainstream dining public. A satisfying initiation here begins with cocktails created from exotic ingredients such as coconut-banana shrub and Lambanog, a Filipino coconut spirit.
At Ma'am Sir, chef/owner Charles Olalia— a former executive chef at Patina who hasalso worked with Guy Savoy and Thomas Keller—brings a refined technique to his native Filipino traditions. The chef elevates lumpia, the small spring rolls served in all Filipino eateries, by filling them with shrimp mousse and lardo sausage before topping them with uni; he presents a luxurious Filipino take on clam chowder.
Anchored by a long bar on one side, Ma'am Sir is colorful and inviting, with vines hanging from a trellised ceiling and blond-wood booths contributing to the laid-back, casual vibe.
Photo credits: Nightshade by Wonho Frank Lee. Ms Chi Cafe by Pork Belly Studio.