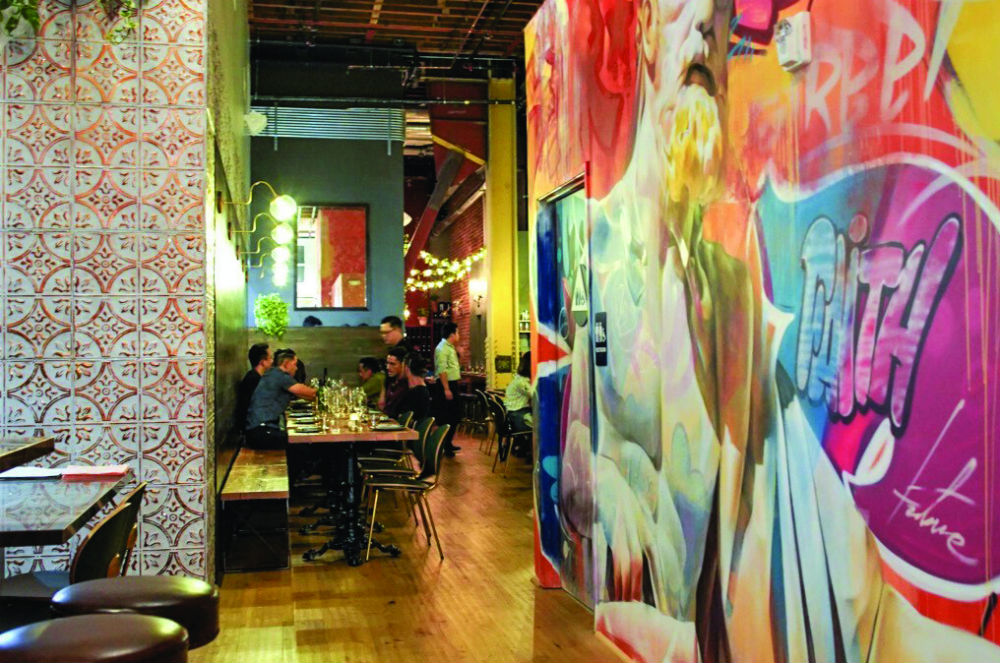 The prime examples demonstrate how the physical environment of where you eat can be as meaningful as the menu.
By Roger Grody.
Environment can have a profound effect on how a meal is perceived and remembered, which is why a stale croissant on Boulevard Saint-Germain in Paris seems more delicious than a near-perfect croissant on Melrose Avenue. Restaurant design is important enough that the James Beard Foundation has an entire category of awards dedicated to it.
As one of the bona fide creative capitals of the world, it's no surprise that L.A. has its share of imaginative restaurant designs—some romantic, some whimsical, others edgy. The prime examples demonstrate how the physical environment of where you eat can be as meaningful as the menu.
In recent years, graffiti artists have moved from the streets to prestigious art galleries, where their bold expressions are appreciated by a sophisticated audience. Some of their work has been incorporated into local restaurants as well.
At Majordomo, the L.A. venture of New York phenom chef/restaurateur David Chang, street art is a major component of the design.
Only Chang's signature peach logo and some Japanese characters (which spell "Momofuku," the name of his restaurant group) identify the entrance to Majordomo in a long-neglected corner of Chinatown.
The dining room has an industrial vibe—raw concrete walls, exposed ducts, metal sash windows and factory-style lamps—but is warmed by walnut tables paired with blackened wood-and-leather chairs. On the shelves, containing some of Chang's exotic fermented products from his New York lab, is Korean-inspired earthenware from potter Adam Field. A private room features a fanciful mural by James Jean, known for his work with Prada, as well as comic book and album covers.
Behind the bar, there is a colorful painting by street artist David Choe, who also painted a large mural facing the patio. Separated from the dining room by a wall of glass, with lights strung overhead, this may be the most inviting place to appreciate Chang's talents. Start with bing (a fluffy Chinese flatbread grilled to order) with frozen foie gras finely shaved over ricotta cheese and plum jam, followed by black cod marinated in Hozon (the chef's proprietary fermented chickpea seasoning), sake and mirin, or opt for a massive short rib that can feed six.
At Otoño, a lively Highland Park Spanish restaurant, street art has also been incorporated into the design through a floor-to-ceiling mural complementing the establishment's marble cocktail/tapas bar. The work is by a pair of prominent street artists based in Valencia, Spain, who go by the name PichiAvo—chef/owner Teresa Montaño fell in love with the coastal city recognized as the birthplace of paella and wanted her restaurant's design to reflect its ethos.
Otoño occupies a 1928 building that originally housed an S.H. Kress & Co. five-and-dime store, and designer Ana Henton carved out a sleek contemporary restaurant without sacrificing some of the landmark's best qualities. She retained the century-old brick, added some saffron-colored paint and applied decorative tin-stamped tiles to the walls. It's the perfect setting for enjoying Montaño's Spanish-meets-Los Angeles cuisine. Tapas at Otoño include creamy mushroom-corn croquetas, hand-cut jamón ibérico and blue prawns griddled with green garlic and Andalusian brandy. Making for a dramatic presentation is paella negra—its squid-ink-stained rice punctuated by ham-topped sea scallops and dollops of lemon aioli.
The street artists who collectively go by the name Cyrcle leave a profound imprint on the dining experience at Rossoblu, the acclaimed Fashion District Italian restaurant. Their Italianate mural reflects a fountain, evocative of Rome's Fontana di Trevi, bursting from the wall with such a sense of motion you half expect a marble horse to crush your table, along with your bowl of the chef's signature tagliatelle alla Bolognese. Designed by the Arts District-based architecture/design firm of Marwan Al-Sayed, Rossoblu conveys a warmth typically absent from these converted industrial structures.
Rossoblu is located at City Market South, a reimagination of downtown's oldest wholesale produce market. While the mural is the restaurant's most memorable design element, chic pendant lamps hang from exposed rafters, and black marble counters surround an open kitchen with a formidable hood over the wood-burning grill. Cocktails like a well-crafted Negroni or a Campari-Lambrusco spritz are dispensed from a bar topped in richly striated golden-hued marble. The restaurant also offers a nice veranda overlooking a plaza shared by Dama, a newly arrived Latin American bar and restaurant.
Another downtown restaurant with a space defined by art is Manuela, whose location inside the Arts District's Hauser & Wirth gallery makes it a natural for masterpieces on both the walls and plate. The restaurant is flooded with significant contemporary works from artists like Paul McCarthy and Raymond Pettibon. Perhaps the most striking piece is a massive canvas from Mark Bradford that is an abstract map of his sprawling native Los Angeles.
Fusing industrial grit and L.A. chic, Manuela is softened by exposed brick, reclaimed wood and vintage furniture. A brass-inlaid white marble bar extends outside onto a breezy covered terrace with two giant salvaged light fixtures. The Southern-influenced menu from chef Kris Tominaga lets you begin with killer cornbread or biscuits, move on to grilled venison with bacon vinaigrette, or diver scallops with Carolina rice middlins (grits), and finish with beignets.
One of the most anxiously awaited openings in recent years was that of Simone from chef Jessica Largey, who previously cooked at the Bay Area's Michelin three-star Manresa. The restaurant occupies a turn-of-the-century Arts District building, and while the prevailing style is industrial-chic, designer Deirdre Doherty has created distinct spaces—including a separate bar dubbed Duello and dining rooms with plentiful art deco accents. A six-seat chef's counter offers a direct view into the kitchen, where Largey and her staff turn out burrata plated over tangy plum confit, maitake mushrooms drizzled in shallot-miso sauce and hoja santa-scented black cod.
Given its affiliation with neighbor Fred Segal on Sunset Boulevard, it's natural for Tesse Restaurant to be fashionable. And with chef Raphael Francois, who earned Michelin stars in Paris and New York, running the kitchen, the cuisine is equally compelling. Francois is a master charcutier, so guests frequently begin with beautifully crafted terrines, pâtés and foie gras. Traditional dishes updated for a contemporary L.A. crowd include duck confit and steak frites, and among other choices are lobster sausage and blue crab "simplissime," a dish he made famous at Le Cirque.
At Tesse, Alexis Readinger from the hospitality design firm Preen, Inc. paired sleek lines with polished wood and leather, evoking a hip '70s California modern vibe. The bar is comprised of teak, copper and rainbow limestone, and a wide-open kitchen creates an emotional connection to the cooking process.
The moderate SoCal climate also plays a role, as a glass garage door opens up to blur borders between inside and out. Sharing a retro concrete block wall with Tesse is Boutellier, a wine store and private dining room where bottles are stocked on cantilevered wood shelves and an 8-foot oculus sensually illuminates the proceedings.
Tucked into West Hollywood's La Peer Hotel is Viale dei Romani, where prominent chef Casey Lane (the Tasting Kitchen, Breva) turns his attention to coastal Italian cuisine.
New York-based Parts and Labor Design, whose restaurant designs have been honored by Architectural Digest and the James Beard Foundation, has created a chic blend of Hollywood and the Mediterranean.
The setting at Viale dei Romani is laid-back but features opulent elements; cushy gold banquettes line white-linen-clad tables illuminated by modern brass lighting fixtures suspended from a gilded coffered ceiling. High-end finishes like marble, etched glass and velvet, along with both Hollywood regency and midcentury-modern furnishings, give this restaurant a sumptuous feel. By sending out dishes like bigeye snapper crudo, tagliatelle with rabbit and sweetbreads, or branzino in three-lemon sauce, Lane enhances the experience.
For a dramatic, over-the-top Pacific Rim vibe, nothing compares to Tao Los Angeles, a New York transplant at Hollywood's Dream hotel, designed by the Rockwell Group. There, a stunning 20-foot statue of Quan Yin, the goddess of mercy, rises from a koi pond to dominate a soaring dining room. Adding to the exotic scene is a menu featuring lobster wontons, Peking duck and miso-glazed black cod, washed down with premium sakes or lychee martinis.
On the Waterfront Cafe was part of the Venice Beach scene for almost a quarter century until it shuttered last year. Thankfully, it was quickly snapped up by a partnership headed by real estate developer Jake Mathews and wife Heather Tierney, who reinvented it as The Waterfront. Tierney, who is also the founder of Wanderlust Design, created a modern boho vibe that pays homage to the heyday of the Venice Boardwalk in the '70s but also suits the cosmopolitan community into which Venice has evolved.
In addition to the much-stereotyped bodybuilding and skateboarding it's known for, Venice has always been home to a vibrant art scene, and the new owners collaborated with artists like Maxwell McMaster and Sofia Enriquez to showcase their talents. One of the challenges facing the community is how to accommodate gentrification without destroying the neighborhood's colorful heritage, and here Tierney succeeds in threading that needle.
The indoor-outdoor restaurant features exposed ceiling trusses supporting colorful surfboards, while cushy lounge furniture and wicker lanterns introduce a fashionable brand of beachiness. The grittiness of the old Boardwalk establishment is largely gone, but the Waterfront retains the soul of the old place, with an updated menu that includes crudo, charcuterie, steaks, and fish and chips—and, of course, the Baja-style fish tacos the locals still crave.