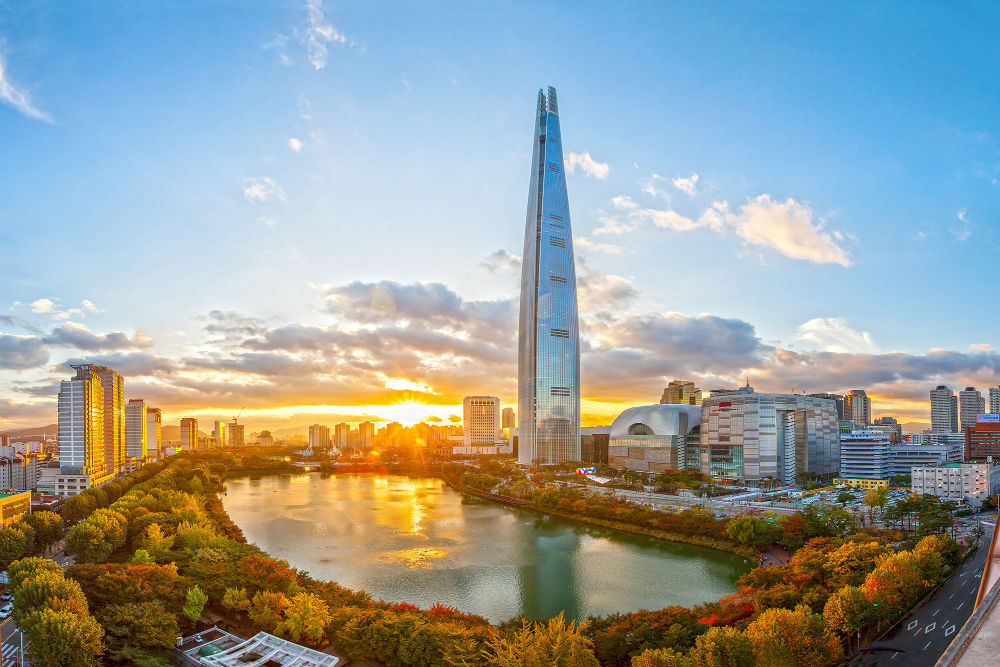 South Korea has been in the spotlight, what with the Winter Olympics this year at Pyeongchang and the incremental thawing of relations with North Korea. In fact, tourist arrivals from the United States have soared by more than 33 percent since the games. And bus tours to the heavily guarded Demilitarized Zone, including a tunnel believed to have been part of a planned North Korean invasion route, top many itineraries.
The fact is, South Korea has been in the spotlight for a while, its K-pop and K-dramas coalescing into a global Korean wave. Korean barbecue, bulgogi and bibimbap are downright hip, nowhere more than in Southern California. The country remains the world capital of selfie sticks, the better to capture K-beauty radiance; South Koreans, male and female, follow an elaborate daily skincare ritual. Wi-Fi is everywhere, even on hikes.
Virtually all itineraries center on Seoul, the world's second-largest metropolis, a sea of skyscrapers dotted with ancient temples and palaces. The Seoul Capital Area—which includes Gyeonggi province and Incheon—is home to nearly half the country's population.
Most visitors take it all in from the N Seoul Tower, aka Namsan Seoul Tower. The second-highest point in Seoul, it rises 777 feet from Mount Namsan's summit, offering an observation deck, restaurants and countless lovelocks bearing romantic messages.
The highest point—at 1,821 feet—is the new Lotte World Tower and Mall, the fifth-tallest building in the world. Resembling a calligrapher's brush, it houses restaurants, an aquarium and shopping on its 123 floors. The Signiel Seoul luxury hotel occupies floors 71 to 101, Seoul Sky floors 117 to 123. The glass-floored Sky Walk deck has you walking on clouds.
Signs in Seoul are often in Korean and English; Seoul millennials often speak passable English. Many restaurants serve a set menu featuring one item at which they excel—e.g., fried chicken, grilled fish, barbecued pork, plus sides—making ordering easy. And most tours are offered in English. Changdeokgung Palace, built in 1405, offers English tours three times daily. A parkful of splendid architecture deemed a UNESCO World Heritage site, it's best known for the exquisite pavilions and ponds of its Secret Garden.
Performing-arts lovers head to Seoul Arts Center, marking its 30th year. Its opera house presents grand opera and ballet; its Music Hall is actually three halls. Sejong Center has several halls, too. Visual-arts aficionados visit Seoul Museum of Art; National Museum of Modern and Contemporary Art, Seoul; and Leeum, Samsung Museum of Art for traditional and contemporary.
The modest-sounding Korea Furniture Museum, by reservation only, is not to be missed; exquisite traditional furniture is displayed in 10 traditional houses (hanoks) on immaculate grounds. The Museum of Traditional Music (Gugak) features 50 Korean instruments and 100 from elsewhere. The illusions at the Alive Museum, in the Insadong district, are popular with families and Instagrammers.
Insadong is renowned for its galleries, antiques, teahouses and restaurants. Attend a Buddhist service at flower-laden Jogyesa Temple and enjoy, just opposite, a Michelin-starred multi-course Temple Food Experience at Balwoo Gongyang.
Dongdaemun Fashion Town, the largest shopping district in Korea, is near the Novotel Ambassador Seoul Dongdaemun Hotel & Residences, which opened in July. As for older accommodations, consider 130-year-old hanoks. The traditional houses are made with wood, stone and paper and not a single nail; contemporary beds are optional. Temple-stay programs allow a look at the lives of Buddhist monks and nuns.
Side Trip
From Seoul, take the Korea Train Express two hours east to Gangneung, in the province of Gangwon-do, known for its beaches and world-class skiing.
St. John's Hotel opened in January 2018 for the Winter Games. A striking spot with 1,100 rooms, it fronts a strip of pine forest and the East Sea's Gyeongpo Beach, where Koreans gather on New Year's to watch the first sunrise of the year.
Koreans gather every day at Jeongdongjin beach to watch the sunrise. The new Jeongdongsimgok Badabuchae-gil Trail along the shore is a former military patrol route. Its fan-shaped rocks are a national monument. What appears to be a cruise ship run aground atop the cliff at trail's end is actually a re-creation of a Royal Caribbean vessel that serves as the Sun Cruise Resort & Yacht.
Thirty coffeehouses with ocean views line Coffee Street along Anmok Beach. The Charmsori Gramophone & Edison Science Museum displays 1,500 items.
Just up the coast, Sokcho has an impressive fish market and grilled-fish eateries. Seoraksan National Park, a UNESCO biosphere, offers hiking amid granite peaks, a cable car and 903 metal stairs with views of three waterfalls. Replenish nearby at tiny Seoji Chogatteul restaurant. Sit on the floor and enjoy a feast of more than a dozen dishes—with most ingredients grown on property—for about $20.
Korea Tourism Organization, 323.634.0280. english.visitkorea.or.kr