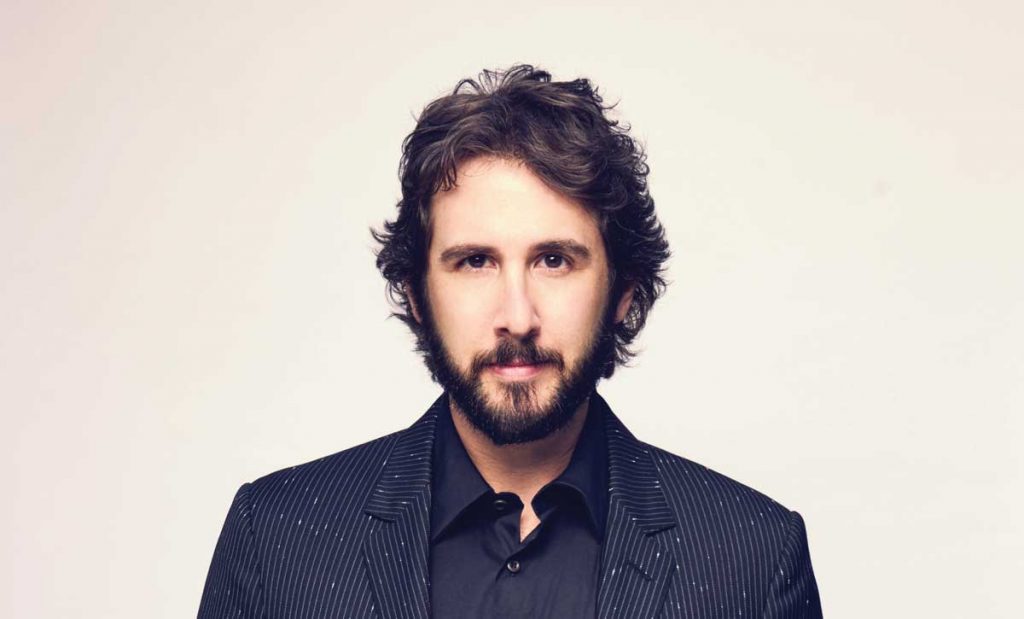 Native Angeleno Josh Groban talks about his roots, rise to fame and his favorite things to do in Los Angeles.
By Vicki Arkoff, adapted from Sentimental Journey in the August 2016 issue of WHERE Los Angeles Magazine.
Golden-voiced Josh Groban was born and bred in LA, but his earliest brushes with Hollywood were serendipitous. He sang his first solo in seventh grade, with classmate Jason Schwarzman on drums, and was just 17 when he stood in for Andrea Bocelli to sing a duet with Celine Dion. Twenty-five million albums later, it seems that the endearingly funny Hancock Park native can do no wrong. Even before the current concert tour for his latest album of musical-theater classics, Stages, Groban had already headlined in many of the world's best venues, and his Broadway dreams will finally come true in October when he stars in The Great Comet at Time Square's Imperial Theater. But first, he'll perform two homecoming shows at LA's Greek Theatre Aug. 26 and 27. Calling all Grobanites!
You and Broadway are a perfect pair. It's surprising that you haven't starred in a musical since Fiddler on the Roof in high school.
I fell in love with the show so it was worth the wait. In college, I made a risky decision to shelve my theater life to make records. I was at Carnegie Mellon University studying musical theater in one of the most talented classes ever with Josh Gad (Book of Mormon), Jonathan Groff (Hamilton), and Leslie Odom Jr. (Hamilton). Everybody in my class has gone on to do great things. Just months into the first semester I got this opportunity to make records, which turned out to be a good decision, but I always knew I would someday take on a Broadway role that really allowed me to do something unexpected.
You're a native Angeleno. Did you discover musical theater at LA's Music Center?
I did. I was very lucky. The Music Center is the place that really started my musical inspiration. My dad was a trumpet player in college and has loved music his whole life. My mom was an art teacher, and she has always loved art and culture. And if we were lucky, we would get a chance to jump downtown to the Music Center, to see stuff at the Mark Taper or, mostly, at the Ahmanson, because that's where most of the musicals were. I remember seeing Cats there.
What do you miss most about LA when you're on tour?
To me, LA always represents family and home. The first thing I do when I get back is go to my parents' house. Then, for brunch on the weekend, I've got to go to Nate 'n Al's deli to get my omelet from a cranky waitress who's been there for ever and ever. And for good Mexican food I'll go to El Cholo, which has been my birthday spot since I was a kid.
Which of those old haunts are still sentimental favorites?
A place that represents my childhood is Farmers Market. The old-school Farmers Market, before the Grove was built. I remember going to the old ice-cream parlor Gill's with my parents and grandparents to get frozen bananas. We'd also go to Du-par's and Kip's Toyland which have been around since the 1930s.
Where do you indulge your off-the-clock passions?
I do love wine and tennis. Not at the same time, though. That usually doesn't work out so well. There are lots of amazing courts throughout the city, including the Beverly Hills Tennis courts, which are public. For wine, there's a wonderful wine bar in Sherman Oaks called Augustine. That's my wine place. Tremendous.
Your Stages tour concludes this month at the Greek. Which other LA stages are important to you?
The Hollywood Bowl is one of the great wonders of LA. Every time I set foot on that stage as a performer, it's the most full-circle moment for me. When I was young, my family used to sit in the nosebleed seats to see the LA Phil, but I also remember seeing Elton John there when I was 13. In high school, I saw Björk there, and today that's still one of my top five concerts I've ever been to. Hearing "Hyperballad" live with fireworks overhead is a pretty great thing.
Josh Groban's Favorite Places in Los Angeles
The Music Center,135 N. Grand Ave., downtown. musiccenter.org
Augustine Wine Bar, 13456 Ventura Blvd., Sherman Oaks, 818.990.0938. augustinewinebar.com
Beverly Hills Tennis at La Cienega Tennis Center, 325 S. La Cienega Blvd., Beverly Hills, 310.285.6825. beverlyhillstennis.com
Greek Theatre, 2700 N. Vermont Ave., L.A. greektheatrela.com
Hollywood Bowl, 2301 N. Highland Ave., Hollywood, 323.850.2000. hollywoodbowl.com
Nate 'n Al Beverly Hills, 414 N. Beverly Drive, Beverly Hills, 310.274.0101. natenal.com
El Cholo, 1121 S. Western Ave., L.A., 323.734.2773. elcholo.com
The Original Farmers Market, 6333 W. 3rd St., L.A., 323.933.9211. farmersmarketla.com