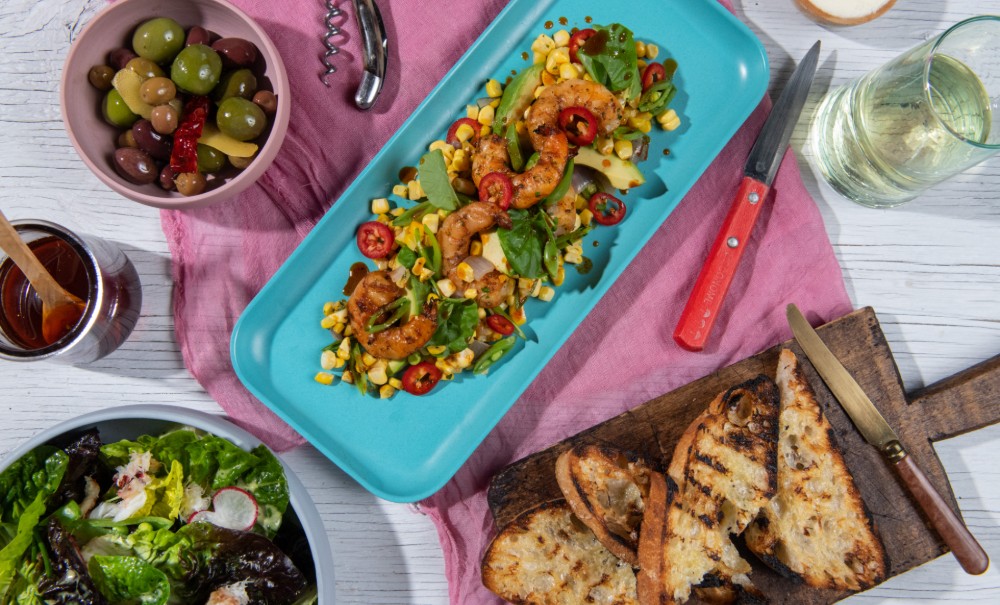 By William Yelles.
Chef Suzanne Goin has introduced over a dozen new food and drink offerings for the 2019 Hollywood Bowl season, served at many locations throughout the Bowl including three sit-down restaurants and street-food kiosks. Also available are pre-ordered picnic boxes, and a full-service dinner delivered to your box seat.
Returning for the 2019 season are the fan-favorite Winemaker Wednesdays and Sunday Market Tastings—an eight-week program of complimentary wine tastings at the Plaza Marketplace with guest winemakers, importers, sommeliers, and breweries hand-selected by restauranteur Caroline Styne.
It's the fourth year of partners Goin and Styne Styne overseeing food and drink at the historic venue.
Newly available Supper in Your Seats items include Moroccan chopped salad with kale, chickpeas, golden raisins, and charmoula; watermelon and peach salad with wild arugula, Thai basil, and shaved ricotta salata; chicken under a brick with pecorino pudding, spinach, and Meyer lemon salmoriglio; and braised beef shortribs with pappa Pomodoro, lemon ricotta, black olives, and pine nuts. Available by pre-order online up to 4 p.m. the day before a performance, Supper in Your Seats offers curated three-course dinners or customized meals from à la carte selections delivered right to your box seats.
New selections at Ann's Wine Bar by a.o.c. include grilled flatbread with asparagus wilted leeks, tallegio, mint, and pistachios; prawns with yellow tomato confit, sofrito, and parsley aioli; and halibut with green rice, rajas, crème fraiche, and squash blossoms
The Backyard, the al fresco dining area adjacent to the amphitheater, is flanked by two large wood-burning grills and offers an updated seasonal market-driven menu of summer salads, an extensive raw bar, and side dishes in addition to the wood-grilled selection of fresh fish, seafood, organic chicken, chops, and steaks. Newly items include smoked sturgeon toasts with potato, cucumber, and dill cream; seafood cocktail with avocado, chips, and backyard hot sauce; swordfish with Turkish couscous salad, pistachios, and charmoula; and rib-eye steak with tomato toast, capers, olives, and ricotta salata.
Three Marketplace locations specialize in "grab-and-go" salads, hot entrées that include rotisserie chicken, mac 'n' cheese, as well as other picnic-style sandwiches and cheese plates. The west-side Marketplace includes a sushi bar where chefs prepare premium sushi, available for pre-order or purchase on-site. Showcasing the best of Goin and Styne's casual Larder café-marketplace, these Hollywood Bowl venues also feature a large selection of hand-picked wines, craft beers, sodas, and waters, as well as salty and sweet snacks including cookies and brownies, candy, nuts, and crackers.
The full-service Lucques at the Circle dining experience for Pool Circle subscribers showcases a seasonal made-to-order menu and exceptional wine list styled from the award-winning cuisine of Lucques. Menu highlight: scallops with Arroz negro, cherry tomato sofrito, scallion, and rouille.
Authentic street foods can be found throughout the Bowl grounds including street tacos, gourmet pizzas, house-smoked brisket, honey cornbread, gourmet sandwiches and signature desserts.