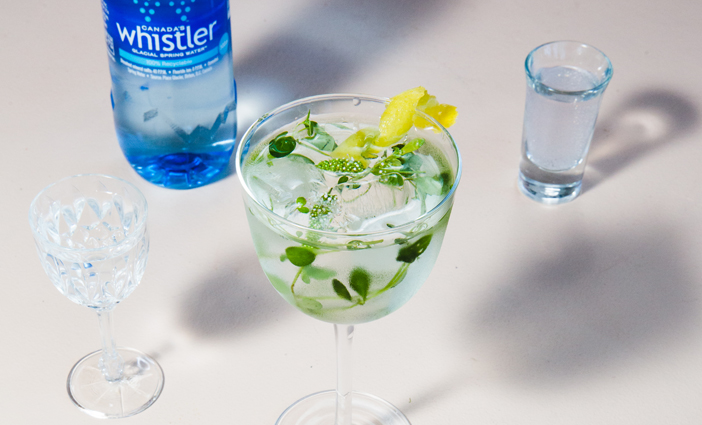 It's cocktail season and we're serving a Canadian twist on a traditional holiday cocktail. The Holiday Flying Canuck Cocktail is inspired by the Flying Dutchman. The Canuck version has an extra premium taste and presentation with the addition of herb-infused Whistler Water ice cubes and a base of Whistler Glacial Water.
Holiday Flying Canuck Cocktail
Whistler Water herb-infused ice cubes (recipe below)
1 500 ml bottle of Whistler Water (¾ oz reserved)
Fresh thyme
½ oz triple sec
2 oz gin
2 dash lemon bitters
1. Add a few sprigs of thyme to a pot along with most of the Whistler water (save ¾ oz) and bring to a boil. Once boiled remove the water from the heat and let the herbs steep for 10 minutes. Pour the infused water and herbs into ice cube trays and freeze.
2. To make the cocktail, combine a few herbed ice cubes in a shaker with the triple sec, gin, bitters and remaining ¾ oz Whistler water. Shake and pour into a class with ice.
3. Garnish with a few sprigs of thyme or herbs of choice and a lemon twist.
Keep your cocktail premium by picking up fresh ingredients at Gelson's Markets or Bristol Farms. Only Whistler Glacial Water offers the crisp freshness found in the Canadian glaciers.
Whistler Glacial Water springs from the peaks of the Coast Mountains just north of Whistler in British Columbia, Canada. Moving from glacier through granite rock to their protected aquifer, Whistler Glacial Water is naturally cold filtered to provide the freshness of a mountain in every bottle.