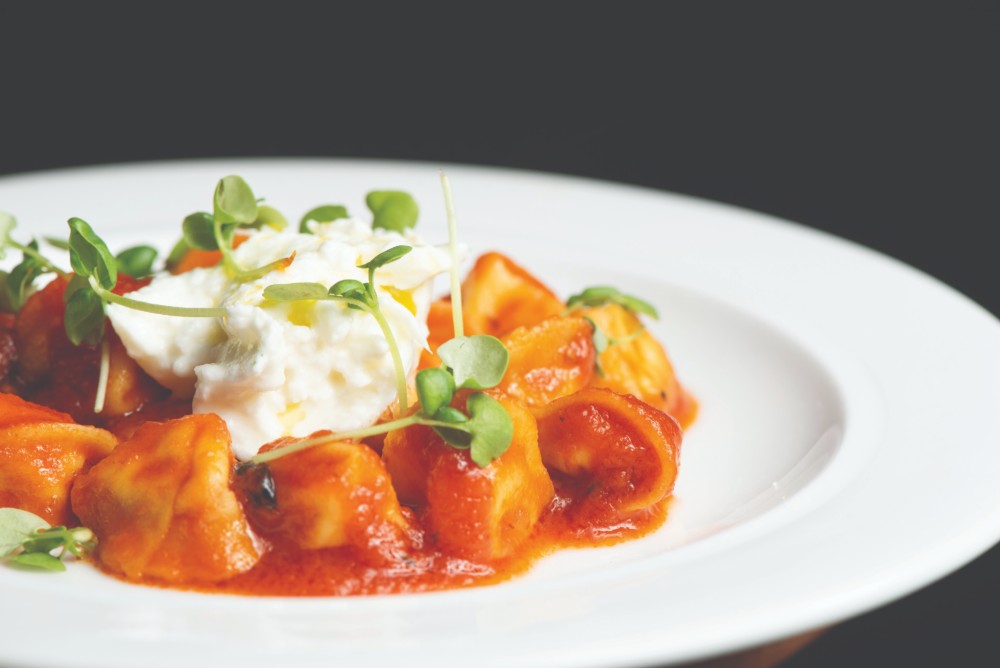 Yes, Highland Park is hot these days, its strategic location, edgy vibe and relatively affordable housing drawing pioneering young residents the way Silver Lake did a generation ago. The most beneficial byproduct of its popularity, for anybody living east of La Brea, is a growing selection of interesting, unpretentious eateries, and among the most notable is Hippo.
By Roger Grody.
A venture of talented young chef Matt Molina and partners that include fellow Mozza alum David Rosoff, Hippo shares a little campus-like complex with Triple Beam pizza and a coffee bar. Hippo guests have to walk past the pizzeria (operated by Molina and Mozza principal Nancy Silverton), engulfed by mouth-watering aromas on their way into the restaurant.
Hippo occupies one of those century-old structures with a soaring barrel-shaped ceiling, exposed beams and trusses adding character to the space.
On one side is a marble bar dispensing the deftly crafted cocktails of mixologist Clare Ward and a dining counter ideal for walk-ins or solo diners. It overlooks the unpretentious dining room, whose white walls are covered in a whimsical floral pattern, with polished wood tables illuminated by cage-style lanterns. The spacious kitchen is wide open, and from the bar side of the restaurant is access to an inviting covered patio.
Starters include a hamachi crudo that makes for a terrific palate-cleansing initiation, with each of four beautifully pinched slices of fish crowned with a small dollop of perfectly tart Meyer lemon-oregano relish and garnished with micro chervil.
Though the smoked, marinated beets with burrata are surely good, opt for an incredibly simple presentation of burrata di bufala imported from Lazio. The slightly irregular sphere of cheese is plated with flavorful, high-quality olive oil and a few basil leaves, along with thick grilled slices of fett'unta—grilled bread rubbed with garlic and smothered in olive oil—dusted with crystals of sea salt. This is one of those occasions when great ingredients simply need to be showcased with minimal manipulation.
There are several excellent pastas here, including a slightly sweet, surprisingly light garganelli with duck ragù and guinea hen raviolini subtly sweetened by Sauternes wine.
A particularly good choice is triangolini stuffed with celery root puree in a silky shallot-infused butter sauce with chives. Those who remember Molina's finesse with pasta at Osteria Mozza will not be disappointed with what he has to offer at Hippo.
Among entrées are lemon- and caper-seasoned scallops plated with a parsnip puree, grilled chicken thighs spiked with Peruvian ají panca and charred lime, and pancetta-wrapped barbecued quail sweetened with honey.
A beautiful, rosy-colored ocean trout is gently cedar-smoked, presented over Umbrian lentils cooked in chicken stock and sofrito, and topped with pickled mushrooms that provide just the right counterpunch to those surprisingly luxurious legumes.
Desserts include a delightfully straightforward pot de crème with an assertive espresso flavor, providing just a hint of delicious bitterness, and a classically inspired tarte Tatin created with quince instead of apples.
Rosoff has assembled an intriguing list exclusively from organic, biodynamic and naturally produced wines with very approachable prices. Compelling options include a 2014 Corsican Sciacarello from Domaine de Vaccelli and a 2015 Celler Frisach Vernatxa Blanca from Catalonia, along with some less esoteric selections. Diners can find multiple wines under $45, and more than a dozen are poured by the glass.
Hippo is easy to like, with its lack of pretense, reasonable pricing and cool but laid-back attitude. Rosoff not only serves as wine director but gets his trusted hands into everything and seems to relish this upbeat new gig.
The entire staff represents what service should be like at all L.A. restaurants: a warm reception followed by engaging servers who are passionate about the menu. You might want to move to Highland Park so it can be your go-to spot.
Hippo, 5916V N. Figueroa St. Highland Park, 323.545.3536. hipporestaurant.com
Photo courtesy Hippo.