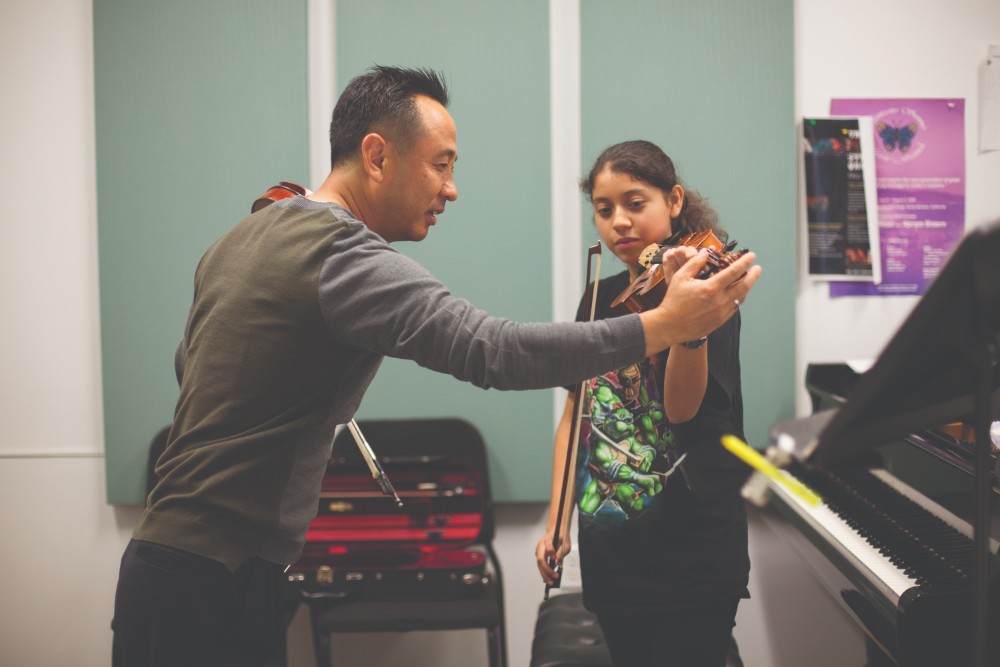 The Colburn School transforms talented musicians and dancers into performers—and also offers classes to the public.
By Libby Slate.
On March 2, an orchestra that has performed under conductors Gustavo Dudamel, Michael Tilson Thomas, James Conlon and Plácido Domingo, and whose guest soloists have included Joshua Bell and Pinchas Zukerman, will play a program of Beethoven and Rimsky-Korsakov at Walt Disney Concert Hall.
It's not the L.A. Phil, which has a matinee concert at the downtown venue the same day. The evening performance is by the Colburn Orchestra, the flagship ensemble of the Colburn Conservatory of Music.
The conservatory, in turn, is a program of the Colburn School, across Grand Avenue one block south of the concert hall. The school is a gem of music and dance learning for both career-minded students and the general public—and one of Los Angeles' best-kept secrets.
"We're the smallest conservatory in the country," says Colburn School president and CEO Sel Kardan. "We only have 120 students. The orchestra is the entire student body. They're a close-knit group. And it creates a professional atmosphere."
The conservatory is for career-oriented students; undergraduate and graduate curricula allow for specialization in chamber music and—new next fall, led by former L.A. Phil music director Esa-Pekka Salonen—in conducting. The Colburn School's Music Academy prepares potential pros for college, its Dance Academy preps for ballet careers.
"Because we are small enough, we pay real attention to all students and their shortcomings," says Yehuda Gilad, a co-founder of the conservatory, a clarinet professor and music director of the Colburn Orchestra. While there's a bureaucracy involved in running most schools, Gilad says, "our school programs are run mostly by a core group of faculty, co-governing and making the artistic decisions. We have a weekly meeting, eight or nine of us. The size of the school allows us to do so."
A number of faculty members are current or former L.A. Phil players; others come from farther away: One soloist at the Disney Hall concert, Italian pianist Rodolfo Leone, followed his teacher, Fabio Bidini, when Bidini relocated from Berlin to the Colburn School. Leone earned a Master of Music degree at the conservatory and now, at 27, is in its Artist Diploma program.
Leone appreciates the chance to play chamber music at Colburn, the abundance of practice rooms and the prep in nonmusical aspects of the profession, such as media-interview training. "A very important part is the weekly performance forum, where three or four people perform and the whole school is invited," he says.
The Colburn School has its roots in the piano: It began in 1950 as the Preparatory School, established by USC to offer children piano lessons. As the school grew to include other instruments and ensembles, it attracted the attention of wealthy construction businessman and amateur violist Richard D. Colburn, who became its chief benefactor. The school moved to its current home in 1998 and in 2007 added a second building; it was renamed the Colburn School of Performing Arts, officially the Colburn School, in the 1995-96 school year. The school has performance spaces, notably the 400-seat Herbert Zipper Recital Hall, named for another supporter, as well as rehearsal spaces, student housing and a library and cafe that are open to the public.
The curriculum of Colburn's Trudi Zipper Dance Institute was recently restructured to better achieve excellence in technique, says institute dean Jenifer Ringer, a former New York City Ballet principal dancer. "We wanted there to be a real sense of progression, to lead the dancers to high levels," she says.
There's also a focus on exposing students to different dance genres and to other arts; the 16 students in the Dance Academy, the school's ballet training program, tour a museum every month for inspiration.
The institute offers classes for all ages and experience. The Colburn's Community School of Performing Arts provides instrumental, jazz, vocal and music theory instruction as well as performing opportunities to the public. An early-childhood program starts at 7 months.
"We have choral groups for adults, and jazz ensembles," says Community School Dean Susan Cook. Community students potentially give recitals on Fridays.
A complete roster of Colburn School public performances can be found at colburnschool.edu/calendar/.
The Colburn School experience is like "baking the cake," Gilad says. "To take a student, and see the transformation, because of guidance, into a great human and a great player…. We love to bake the cake."
Photo: Jon McKee