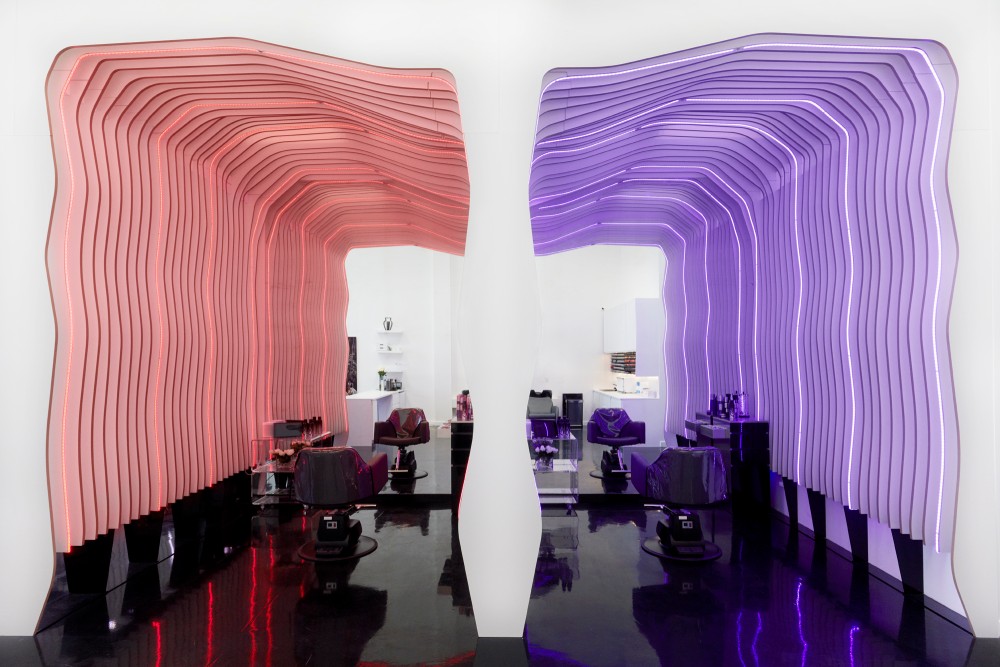 Get pampered head-to-toe at L.A.'s most buzzworthy new beauty destinations. And Drybar founder Ali Webb's latest venture updates the massage experience for the modern era.
By Suzanne Ennis.
Trendy Tips: Olive & June / ORLY Color Labs
In 2013, Sarah Gibson Tuttle opened Olive & June Beverly Hills, and it quickly became the go-to mani-pedi spot for every "it" girl in town. Six years, two more L.A. salons and countless #oliveyourmani hashtags later, Tuttle is debuting a collection of tools and polishes designed to deliver impeccable DIY nails. One genius gizmo is the rubberized Poppy tool, which fits over the top of any polish-bottle cap and makes it easier to paint your own nails, even with your nondominant hand.
Also new are six 7-free pastel shades (plus a topcoat) named for "O&J besties," including Eva for Eva Chen and Mandy for Mandy Moore, as well as the Olive U Studio Box, a kit that contains everything you need for an at-home manicure. Order your kit online or pick one up at any of the local salons (just be sure your nails are dry first). 430 N. Cañon Drive, Beverly Hills; 146 S. Lake Ave., Pasadena; 1426 Montana Ave., Santa Monica; olivejune.com
Also in L.A. nail news is the opening of ORLY Color Labs, an experimental space from the L.A.-based creator of the French manicure. Here, pros can take classes, and, for $20, visitors can create their own custom polish.
There are special events and pop-ups, too; this month, manicures are on offer May 3-4 and 10-11, and, from May 1-11, L.A.-based greeting-card gurus the Social Type are popping up to offer a "Mother's Day special" package that includes a custom color, a Mother's Day card, packaging and shipping. It's a fun way to say "thank you" to the woman who taught you how to paint your nails in the first place. 7621 Beverly Blvd., L.A., orly.colorlabs.com
Cutting-Edge Tresses: Starring by Ted Gibson
Stylist Ted Gibson and his husband and business partner, colorist Jason Backe, have worked with some of Hollywood's biggest talents, including Angelina Jolie, Priyanka Chopra, Lupita Nyong'o and Jessica Chastain. At their new La Brea salon, they're not only creating celeb-worthy looks, but also incorporating cutting-edge technology to deliver a uniquely luxurious experience.
At this "smart salon," which is voice-activated through Amazon Alexa, customers are welcomed in an entertainment lounge, then seated in individual, semiprivate "clouds" equipped with tablets and smart speakers. Within the clouds, changeable lighting options enable customers to see how their hair color and style will look in different settings. Even the retail experience is high-tech: Customers browse products curated by Gibson and Backe (including the duo's expanding hair-product line), then use the Amazon app on their mobile device to make purchases that are shipped to their doorsteps. Passersby on La Brea can do the same right through the salon window, giving new meaning to the phrase "window shopping." 211 S. La Brea Ave., L.A., 323.413.2244, starring.tedgibson.com
Glowing Complexions: Melanie Grant Los Angeles
Australian skincare expert and "clinical beauty" pioneer Melanie Grant boasts a devoted clientele that includes ingenues, fashion insiders and multihyphenate powerhouses like Victoria Beckham, who said that Grant gave her the most amazing facial she'd ever had. Now, in addition to her Melbourne and Sydney studios and thrice-yearly Paris residencies, Grant has a glamorous new Melrose Place skin health studio—her first North American outpost.
Here, visitors can choose from an extensive array of clinical and organic facials that are personalized for each client, plus exclusive treatments developed with Chanel (for whom Grant is the official "Skin Expert"), Sisley and Biologique Recherche. First-timers, consider a Custom Skin Health Facial for the ultimate bespoke beauty experience. 8438 Melrose Place, West Hollywood, 323.592.3336, melaniegrant.com
Main Squeeze: A New Concept From the Founders of Drybar
A new concept from the founders of Drybar streamlines the massage experience.
Along with her Drybar co-founder Michael Landau and marketing guru Brittany Driscoll, savvy entrepreneur—and newly christened Shark on Shark Tank—Alli Webb recently opened Squeeze, "a way better massage experience."
Just as Drybar disrupted the blowout industry to make it chic and accessible, Squeeze makes getting a massage seamless and stress-free. Book via the spot's app or online, and set your personalized preferences—deep tissue, aromatherapy and heat therapy are included in the very reasonable price.
The tranquil space, which feels a world away from bustling Ventura Boulevard, abounds with style and thoughtful touches. Inside the rooms, the customization continues—select your choice of mood music, lighting and room temperature from an iPad. After your relaxing massage, simply float out the door—you can pay, tip and rate your therapist on the app at your leisure. 12338 Ventura Blvd., Studio City, 855.858.6263, squeezemassage.com