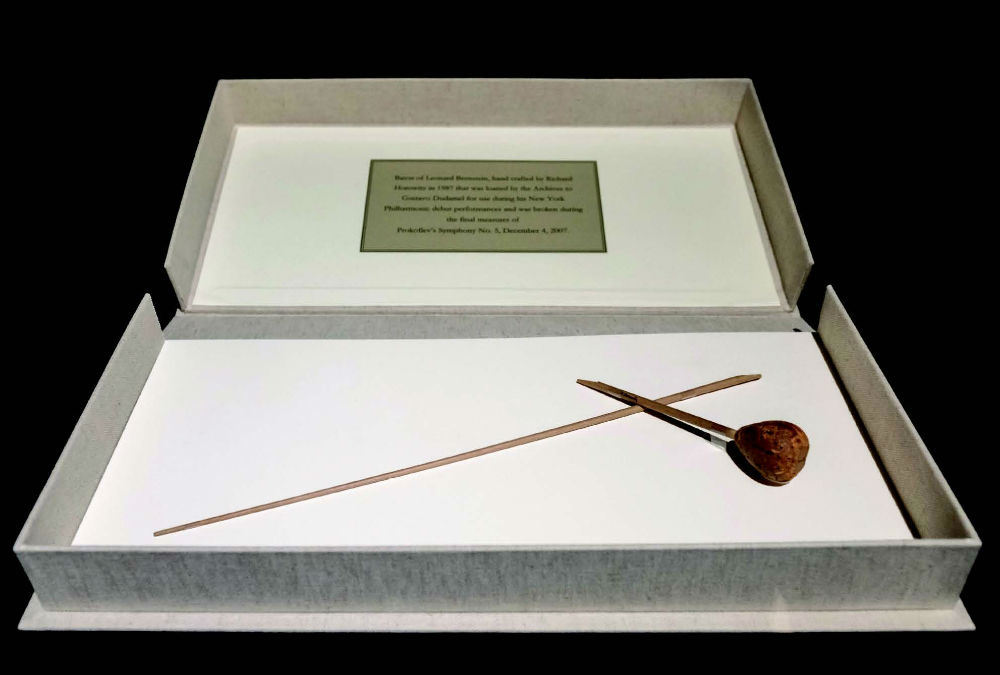 By Libby Slate.
In a case in the exhibit Leonard Bernstein at 100, at the Skirball Cultural Center in West Los Angeles through Sept. 2, is a conductor's baton, broken into two pieces.
The accompanying caption explains that in December 2007, Gustavo Dudamel made his New York Philharmonic conducting debut using a handcrafted 1987 baton—which had belonged to former New York music director Bernstein—and in his exuberance, accidentally broke it during the final measures of Prokofiev's Symphony No. 5. There's also a video clip of Dudamel, who at the time had recently been named the L.A. Phil's next music director, reminiscing about the incident.
An unbroken Bernstein baton is also on view, with a quote from the maestro: "The baton itself must be a living thing, charged with a kind of electricity, which makes it an instrument of meaning in its tiniest movement."
Such a display "allows you to become up-close and personal with the artist," says Bob Santelli, Bernstein exhibition curator and founding executive director of the Grammy Museum downtown.
Though this exhibit is for in-person visitors, digitized arts collections are increasingly available on the internet, making the personal as up close as your computer or mobile device.
The batons are two of more than 150 items on view in the Bernstein retrospective, which includes photographs, scores, correspondence, clothing, audio and video clips and interactive displays. "Personal" means monogrammed slippers, a handwritten tally of the days the inveterate smoker remained cigarette-free, handwritten lyrics from West Side Story and a standing desk used after the composer developed back problems.
It took about four years to put together the touring exhibit. First, "I had to become an authority on Bernstein to the best of my ability," Santelli says. "I needed two years to take myself to the University of Leonard Bernstein."
Coursework included speaking with Bernstein family members and reading numerous books. He then had to secure the items from such sources as the New York Philharmonic, Brandeis University and Indiana University.
In deciding what to include, "I looked for pieces that helped push the story, the narrative," Santelli says. And there were the visitors to consider. West Side Story, he believes, provides the most powerful emotional connection. "And the themes of immigration, diversity and tolerance are relevant today."
At the Edmund D. Edelman Hollywood Bowl Museum, Ljiljana Grubisic is similarly inclined. "We're always listening to our audiences and being mindful of our history" when it comes to exhibitions, says Grubisic, who is the L.A. Phil's director of archives and the Bowl Museum. "I looked at everything we'd done since 1984 [when the museum opened] and engaged our small museum staff, tour docents and volunteers: What are people saying they haven't seen?" She also consults with the Phil archives staff and others who know Bowl history.
The Bowl Museum is open year-round, with extended hours during the Bowl summer season. The first floor hosts a permanent display of programs, photos, video and audio clips and other items that chronicle the Bowl's history, including models of the various shells. That exhibition, Hollywood Bowl: Music for Everyone, pre-dates Grubisic's arrival in 2015.
The second floor presents rotating exhibits. Summer Nights: Jazz at the Bowl, through June 2019, is a history that begins with the swing era. The exhibit opened in 2017, ahead of the Bowl's annual Playboy Jazz Festival.
"This year is the 40th anniversary of the festival," Grubisic notes. It took a few months to pull together. Items include programs, photos, videos and recordings, among them the Bowl's first live jazz recording with Louis Armstrong, Ella Fitzgerald and other top names.
Photographs by the late Otto Rothschild, the Bowl's official photographer, include one of Frank Sinatra at the mic. "They are stunning black and white images. The angles he captured, the expressions!" Grubisic enthuses.
Those with travel plans might check out the New York Public Library for the Performing Arts, at Lincoln Center, where a Rodgers and Hammerstein 75th-anniversary exhibit runs through Sept. 25.
Out-of-towners can apply for a visitor's library card in person or online; most of the library's millions of holdings are accessible to the public. No card is required for the extensive digital collection at digitalcollections.nypl.org.
Three divisions—theater, music and dance—encompass personal papers, journals, photos, scripts, reviews, scrapbooks, video and audio recordings, books, designs.… The list seems endless.
"We are a steward of America's cultural history. We have international collections as well, such as manuscripts of Beethoven and Bach," says library deputy director Brent Reidy. "We are a forever place. What is the thing 100 years from now a person will care about? How important is this item in telling the story of the creativity of someone?"
Reidy cites two particularly notable holdings in the digital collection: the earliest dance videos in existence, 19th-century productions by the Edison Studios—as in Thomas Edison—and manuscript sketches of Beethoven's Archduke Trio. "You look at it and you can tell Beethoven was having a very bad day," he says. "The mess of angry scribbles and marks shows the tempestuousness of his personality, with just the stroke of a pen."
Some of the library's holdings are part of another online digital wonderland, the Google Cultural Institute, which presents contemporary and archival collections from around the world, videos, virtual tours of theaters and other immersive performing-arts experiences. Links include performingarts.withgoogle.com/en_us and artsandculture.google.com/project/west-side-story.
Photo courtesy Leonard Bernstein Office