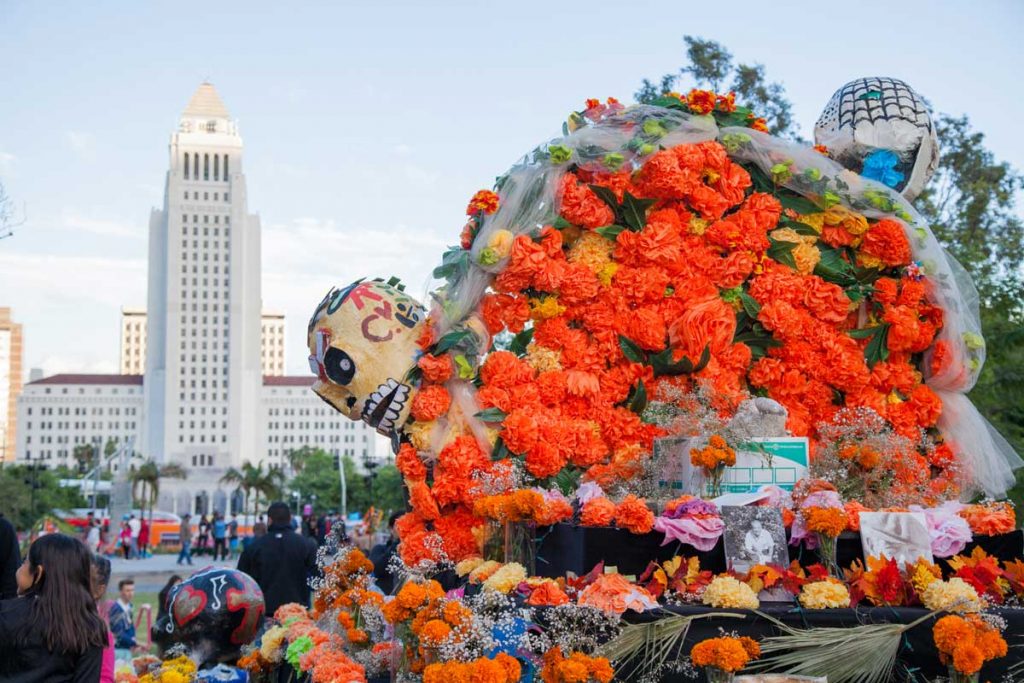 Discover some of Los Angeles' artistic offerings this season, as well as opportunities to explore your own creative side.
Los Angeles is dubbed the "Creative Capital of the World" for good reason. Not only is it home to a thriving artistic community, but it's also replete with arts venues and cultural institutions that present boundary-pushing shows and innovative public programming. Read on to discover some of this season's freshest artistic offerings, as well as things to do in Los Angeles to explore your own creative side.
Through Oct. 16, Beverly Hills' Wallis Annenberg Center for the Performing Arts upholds its reputation for offering eclectic music, dance and theater programming with its presentation of For the Record: Scorsese—American Crime Requiem, an ode to filmmaker Martin Scorsese. In the genre-bending show—part of the buzzy For the Record series—actors move throughout the room and turn the soundtracks of such films as Goodfellas, Casino and The Wolf of Wall Street into immersive theater. The "nightclub" setting, meanwhile, turns audience members into fellow "patrons," who, for the first time, can bring drinks into the theater.
On Oct. 28, another icon enjoys the spotlight: Carmen de Lavallade, performing her intimate one-woman show As I Remember It. The L.A.-born actress, dancer and choreographer—who is celebrating her 85th birthday—tells the story of her extraordinary life through film, dance and personal writings, dancing a pas de deux with projections of her younger self and entrancing the audience along the way. As de Lavallade says, "Eat your heart out, Beyoncé."
Celebrating Film and Dance Greats at LACMA
LACMA—the biggest museum on the West Coast—houses more than 130,000 objects of art from around the world, but for a new, groundbreaking show, it had to look only as far as Hollywood. Guillermo del Toro: At Home With Monsters, del Toro's first-ever museum retrospective, provides insights into the lauded filmmaker's creative process through the exhibition of his collection of oddities. The museum also offers ticketed film screenings, including del Toro's Cronos ($15, Oct. 21 at 7:30 p.m.) and Pan's Labyrinth ($15, Oct. 28 at 7:30 p.m.), in the on-site Bing Theater.
Dance fans, take note: LACMA joined forces with the Music Center and USC Glorya Kaufman School of Dance for Fall for Forsythe, a monthlong series of performances and events in celebration of multimedia dance artist and choreographer William Forsythe. On Oct. 15 and 16, LACMA presents Site-Specific Forsythe—two dance performances, one of which involves tangled bodies and the other a choreographic challenge—at various locations around the LACMA campus.
Downtown's Grand Park is a popular spot for civic gatherings and casual strolls. But in late October, the park (with partner Self Help Graphics & Art) will celebrate Día de los Muertos, or Day of the Dead, by filling its open space with more than 50 altars and art installations that honor lost loved ones and express community struggles with education, gang violence and immigration reform. The altars' unveiling happens at the Noche de Ofrenda ceremony on Oct. 29 from 7-9 p.m., and they are on view through Nov. 5. Visitors can also learn about the holiday's traditions and artwork during free lunchtime tours.
More than just a repository of dinosaur fossils, African mammal dioramas and a Nature Lab filled with rats, tarantulas and a rattlesnake named Obsidian, the Natural History Museum is also a cool spot for sleepovers. The museum celebrates a family-friendly Halloween Oct. 28-29, when kids spend the evening as junior forensic-society members solving the mystery of a missing T. rex bone. A flashlight tour of the spider pavilion, trick-or-treat stations and even a dance party are included. Costumes are encouraged. Later, snuggle time happens near those awesome dioramas ($65).
The museum hosts adults-only all-nighters, too. Oct. 29-30, a night of themed science talks, museum trivia and a secrets and legends tour—helped along by wine, craft beer and a live DJ—is capped by a midnight movie screening ($135; 21+).
The Norton Simon Museum in Pasadena is renowned for its significant private art collection, but perhaps lesser known is that it offers an excellent roster of kid-friendly activities.
On Oct. 15 from 1:30-3:30 p.m., kids can participate in Sticker Stories, which explores storytelling through the museum's art. With imaginations on fire, kids use accordion paper, color sticks and stickers to discover how their stories unfold. The activity, designed for families with children ages 4 to 10, is free with admission (free admission for children under 18), and reservations are not required. On Oct. 28 from 6:30-7:30 p.m., there's also a workshop on papel picado (perforated paper): a Mexican folk art that involves cutting intricate designs into paper. The creations are often used to decorate Day of the Dead celebrations. Diego Rivera's 1941 artwork The Flower Vendor (Girl With Lilies) provides inspiration during the session. For this activity, recommended for families with children ages 6 to 10, space is limited to 25 participants; sign up at the information desk.
Tea Time at the Getty Villa
Beyond its galleries filled with Greek and Etruscan antiquities, the Getty Villa in Pacific Palisades hosts afternoon tea in the elegant Founder's Room Thursdays and Saturdays at 1 p.m. Tea by the Sea, inspired by the villa's first-century Roman gardens, serves a Mediterranean-inspired menu of savory panini, sweet scones, tea cakes and tarts for $36 per adult, plus tax and gratuity (wine and prosecco are an additional charge). There's also a special $25 menu for children under 8. Call 800.369.3059 to reserve in advance, or email bonappetitreservations@getty.edu.
At 2:30 p.m., also on Thursdays and Saturdays, the villa's new culinary-inspired garden tour explores the herbs and fruits featured in the Tea by the Sea seasonal menu and explains their meanings in Roman mythology and art. Garden tours are free, but require an advance villa entry ticket (also free; parking is $15).
Meditation and Mayhem at the Hammer Museum
UCLA and the Hammer Museum have championed new and emerging artists for more than 20 years and continue to lead the charge with In Real Life: 100 Days of Film and Performance, the Hammer's fall program of free daytime performances and film screenings. The lineup includes Artists' Film International screenings (Tu-F through Oct. 15) and Jennifer Moon and collaborator laub's show, At the Edge of Space and Time: Expanding Beyond Our 4% Universe, which takes viewers "on an adventure through the cosmos, the multiverse, and beyond" on Oct. 1-2. Among the museum's other offerings are free 30-minute Mindful Awareness sessions, led by Diana Winston of the UCLA Mindful Awareness Research Center every Thursday in the Billy Wilder Theater.
The Huntington Library, Art Collections, and Botanical Gardens provides a feast for the senses with its exceptional galleries and gardens, spread over 120 acres in San Marino. On Oct. 8 from 9 a.m.-12:30 p.m., Huntington guests can enjoy a literal feast, too. On the At Home With the Huntingtons tour, led by art educator and chef Maite Gomez-Rejón of ArtBites, tour participants will spend the morning hearing stories about the institution's founder, Henry Huntington, and his wife, Arabella; visiting the couple's former home (now the art gallery); and viewing masterpieces from the couple's art collection—one of the finest in the country. Then they'll head into the kitchen to cook an elegant meal ($100).