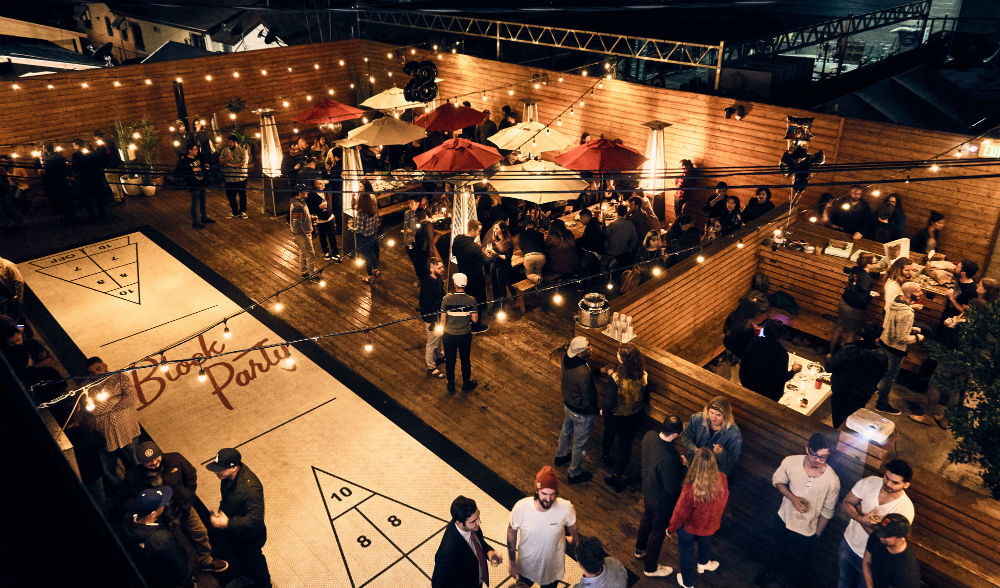 By Andrea Richards
Debaucherous nights don't have to leave you hurting; the new L.A. nightlife is all about imbibing high-quality, highly curated ingredients in fantastic locations that aren't isolated by velvet ropes. Nothing is more passé than exclusivity—it seems the entire city has tired of scenes, bad behavior and bottle service. Instead, the hottest bars are all about community, from communal tables and retro games to menus that support locally made spirits, beers and wines. For a fun and enlightened night out, look no further.
Master Mixologists Go Veggie-Friendly
Thanks to innovative bartenders, cocktails might be good for more than just our mental health—there's a healthy dose of vegetables being deployed in those shakers.
New York import Apotheke, a stylish joint in Chinatown where bartenders don white lab coats, augments alcohol's medicinal value, mixing eucalyptus-infused tequila, mezcal, lime, a honeydew-spirulina puree and habanero bitters into its most popular cocktail, the Greenseer, which has the microgreen Bull's Blood as a garnish (consider it a salad!). The extensive cocktail menu focuses on housemade ingredients, many of which are vegetable or herbal infusions.
Taking things a few steps further is Kevin Lee, the creative mastermind and head bartender behind downtown's newly opened The Wolves, who makes all his own amari, liqueurs, bitters and vermouths from seasonal produce.
Eschewing commercially produced spirits means the freshest of ingredients, and Lee's cocktails are truly singular. His Mostly Carrots combines lavender rose vermouth, juniper cordial, carrot liqueur, yuzu bitters and aromatic bitters (all homemade) with fresh lemon and soda and receives a final spritz of "pine fragrance" from one of the many small, hand-labeled bottles atop the bar. It's no gimmick; the drink is perfectly balanced and as exquisite as the setting—a 1911 annex to the once-grand Alexandria Hotel that has been restyled to evoke the Belle Époque.
In December, a smaller upstairs bar will open as Le Néant, hosting intimate, omakase-inspired experiences. Here, Lee will create cocktails based on guest preferences using a list of curated farmers market ingredients that will change as the micro-seasons do.
Cocktails Take Flight
Omakase-style cocktail service, where guests receive a progression of drinks based on "bartender's choice," is the primary draw at The Walker Inn, a speakeasy-styled bar located within Koreatown's Normandie Club that was among the first in L.A. to adopt the practice. There are two nightly seatings for this reservation-only trip through six to seven courses of creative cocktails (accompanied by small snacks) that follows both seasonality and the staff's creative whims.
Similarly, Bar Centro at the SLS Beverly Hills (which is currently celebrating its 10-year anniversary) hosts "Bazaar Flights," a bartender-led six-cocktail tasting menu that features whimsical and interactive presentations. One of the innovative drinks is even made using a recipe for milk punch originating from Benjamin Franklin.
In Malibu, Eat Your Drink author Matthew Biancaniello's newly opened Mon-Li serves an intimate, 12-person, 12-course liquid tasting menu, where one can enjoy the cocktail chef's delicious, seasonally inspired creations along with fantastic ocean views.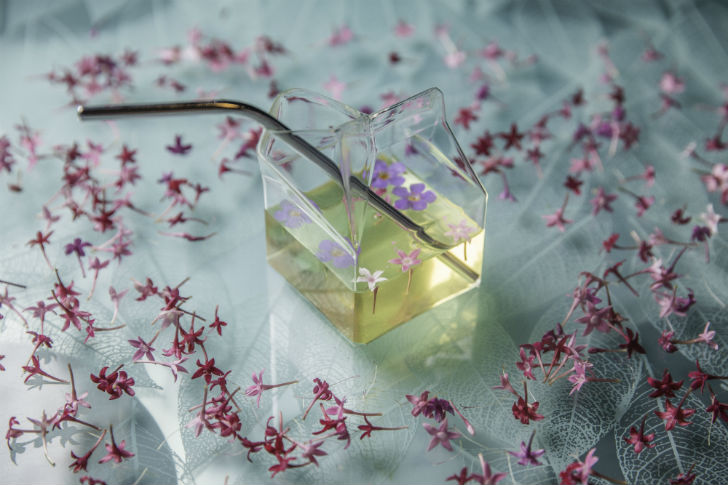 Vinyl Spinners
Some evenings are made for sampling cocktails and records at the same time, so, fortunately, a slew of new places inspired by Japanese hi-fi coffee shops and whiskey bars have landed in L.A.
The cozy and midcentury-styled In Sheep's Clothing, in the Arts District, opens in the morning as a coffee shop and then transitions at night into a full-service bar. Guests are asked to keep conversations low and not to take photographs so that everyone has a chance to engage in communal listening.
Highland Park's newly opened Gold Line is a bar actually owned by a record company (Stones Throw Records) that features a top-flight vintage hi-fi sound system and a collection of 7,500 vinyl records from label founder Peanut Butter Wolf.
Located above the 800 Degrees pizzeria in Hollywood is the diminutive Sunset & Vinyl, a 1970s-inspired lounge where no more than 35 people at a time drink cocktails designed specifically for the grooves. Guests here are invited to bring along hits from their own record collections.
Rec Rooms
Beyond listening parties, there are plenty of other communal pursuits that allow patrons to play more than the field. Vintage arcade games, pinball, lawn games and even shuffleboard offer a chance to interact over drinks—and, of course, an opportunity to show off high scores.
The latest incarnation of the "barcade" is Walt's Bar, a folksy, corner bar in Eagle Rock that advertises fine wine and hot dogs on hand-painted signs. The long wooden bar is a great place to knock back a beer from a local brewer (rotating offerings from Mumford, Highland Park Brewery and Long Beach's Beachwood Blendery are all on tap)— that is, if you can pull yourself away from a pinball machine long enough to finish it.
Echo Park's popular Button Mash also has an extensive list of local beers, plus pinball and some 40 golden-age arcade cabinets. If the din of blips and bleeps isn't strong enough, knock down pins at the historic Highland Park Bowl, a gorgeous refurbished bowling alley with steampunk style, wood-fired pizza and themed cocktails. Or try The Spare Room at the Hollywood Roosevelt, a gaming parlor with two vintage bowling lanes and plenty of strong drinks.
Locally Made Spirits
To savor local flavor, take a tour of one of Los Angeles' distilleries. The first craft distillery in L.A. since Prohibition, Greenbar Distillery, in the Arts District, shows its hometown pride on every bottle of its small-batch, organic spirits with the tagline "Made in the City of Angels." Greenbar showcases local produce and L.A. flavors to capture the city's cultural terroir, and sales support nonprofit initiatives like feeding the hungry and planting trees. Visitors can tour the distillery or take a class in craft cocktail making.
Also in the Arts District, Lost Spirits Distillery offers two-hour tours—complete with a Willy Wonka-esque boat ride—plus a tasting of its rums and malts by reservation only.
The Future Is Female
Thankfully, gender equity in the hospitality industry has become a concern patrons are paying attention to, and the best way to support it is by frequenting women-owned establishments.
Earlier this year, three friends and businesswomen opened Genever, an art deco-styled lounge in Historic Filipinotown whose menu celebrates the history of women-run speakeasies, fresh ingredients, Filipino flavors and, of course, gin.
In Little Tokyo, using spirits from women-run distilleries is important to The Mermaid owners Katie Kildow and Arelene Roldan, whose newest venture is a fanciful, underwater-themed space serving tropical cocktails, local beers and wine.
Block Parties
The sport of barhopping in L.A. used to be akin to island-hopping—traversing great distances to land at an isolated destination. But today, the city is more connected—and more walkable—than ever before, thanks to a focus on locality.
Avoiding traffic and sticking to the neighborhood lets you turn every evening into a block party. Bars, restaurants and coffee shops are moving in close proximity to one another so all needs can be taken care of in a single block, like the one in Highland Park that boasts Highland Park Wine—a shop from the Silverlake Wine team—Triple Beam Pizza, restaurant Hippo and coffee shop Go Get Em Tiger.
Also in Highland Park, the aptly named Block Party—a modern beer garden that boasts a huge, sunny patio—serves craft beers and vino from small-production winemakers. The picnic tables and shuffleboard set invite guests to hang as a community, and food is welcomed from outside vendors (on Thursday nights, vendors sell vegan food all along York Boulevard). Similarly, on the Westside, the newly opened Broxton is a brewpub from Artisanal Brewers Collective that boasts something for everyone—even kids.
Perhaps the most elegant example of a space attempting to connect communities appears in one of the city's most iconic landmarks, Union Station, which just welcomed the train-themed Imperial Western Beer Co., from 213 Hospitality, where travelers and locals come together in true beer-hall fashion for inhouse-brewed craft beer. Sharing space in the historic train depot is The Streamliner, a dramatic bar from the team behind the Varnish that aims to offer "finer, faster cocktails" at an affordable price. A delicious and more democratic gimlet? Yes, please.
Details
Apotheke, 1746 N. Spring St., downtown, 323.844.0717, apothekela.com
Bar Centro, SLS Beverly Hills, 465 S. La Cienega Blvd., L.A., 310.246.5555, slsbeverlyhillshotel.com
Block Party, 5052 York Blvd., L.A., 323.741.2747, blockpartyhlp.com
Broxton, 1099 Westwood Blvd., L.A., 310.933.9949, broxtonla.com
Button Mash, 1391 W. Sunset Blvd., L.A., 213.250.9903, buttonmashla.com
Genever, 3123 Beverly Blvd., L.A., 213.908.5693, geneverla.com
Gold Line, 5607 N. Figueroa St., L.A., 323.274.4496, goldlinebar.com
Greenbar Distillery, 2459 E. 8th St., downtown, 213. 375.3668, greenbardistillery.com
Highland Park Bowl, 5621 N. Figueroa St., L.A., 323.257.2695, highlandparkbowl.com
Highland Park Wine, 5918 N. Figueroa St., L.A., 323.545.3535
Imperial Western Beer Co., 800 N. Alameda St., downtown, 213.270.0035, imperialwestern.com
In Sheep's Clothing, 710 E. 4th Place, downtown, 213.415.1937, insheepsclothinghifi.com
Lost Spirits Distillery, 1235 E. 6th St., downtown, 213.505.2425, lostspirits.net
The Mermaid, 428 E. 2nd St., downtown, 213.947.3347, themermaidla.com
Mon-Li , 26025 Pacific Coast Hwy., Malibu, 310.525.1150, mon-li.com
The Spare Room, The Hollywood Roosevelt, 7000 Hollywood Blvd., L.A., 323.769.7296, spareroomhollywood.com
The Streamliner, 800 N. Alameda St., downtown, thestreamlinerbar.com
Sunset & Vinyl, 1521 Vine St., Hollywood, 424.646.3375, sunsetandvinyl.com
The Walker Inn, The Normandie Club, 3612 W. 6th St., L.A., 213.263.2709, thewalkerinnla.com
Walt's Bar, 4680 Eagle Rock Blvd., L.A., 323.739.6767
The Wolves, 519 S. Spring St., downtown, 213.265.7952, thewolvesdtla.com