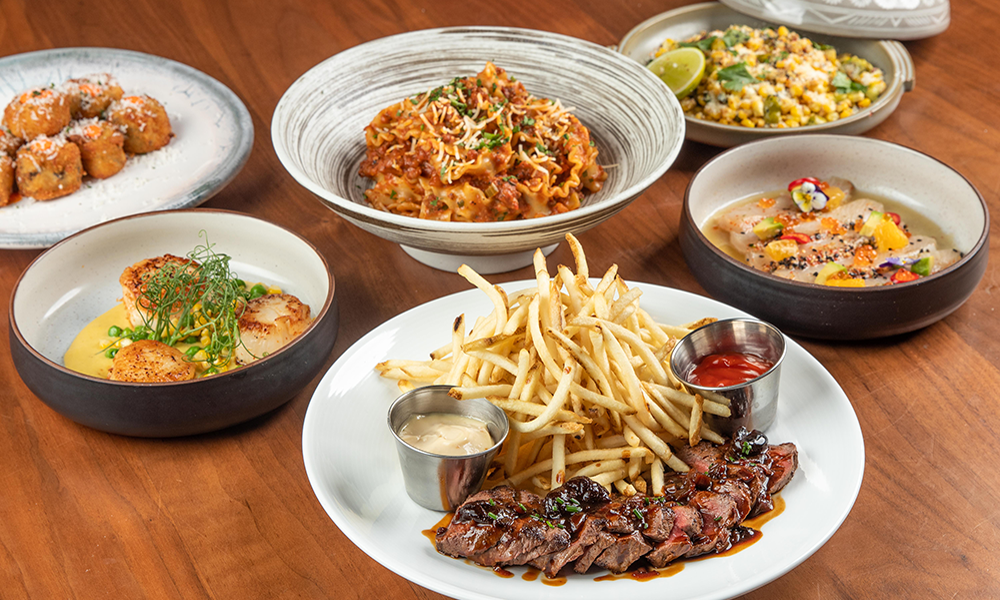 With nearly 300 eateries participating in this season's dineL.A. Restaurant Week (September 1 to 18), we're here to offer our top picks.
ARGENTINIAN—This Old Pasadena eatery welcomes hungry patrons to enjoy its classic Argentinian-inspired cuisine with some Italian influences in both three-course menus. First course lunch options include tomato gazpacho, burrata caprese and empanada de cordero. Next up for the second course, choose from seared gnocchi, free-range chicken breast in spicy tomato sauce or a flat-iron steak with chimichurri sauce. On the dinner menu, indulge in dishes such as a kale and palmitos salad, fettuccine primavera, sous vide pork tenderloin and hanger steak. Dessert options are the same on both menus.
»Dining options: Dine in and takeout. 121 W. Colorado Blvd., Pasadena, 626.795.5658.
STEAKHOUSE—For those who want to take their evening to the next level, consider the upscale, Pasadena favorite offering savory selections on the three-course dinner menu. As one of the only restaurants in SoCal that exclusively serves USDA Prime Beef, Arroyo won't disappoint with its filet mignon and N.Y. steak entree options. In the mood for some surf with the turf? There's shrimp gazpacho and house oysters as choices for the first course, as well as a pan-seared seabass you can opt for as an entree.
»Dining options: Dine in, takeout and delivery. 536 S. Arroyo Parkway, Pasadena, 626.577.7463.
AMERICAN—The beloved WeHo restaurant presents an appetizing three-course dinner to enjoy on site. To start, choose from hamachi crudo, truffle croquettes and yellow corn esquites. Up next is your choice of entree, which includes Maine Diver scallops, prime coulotte and frites, and the vegan Beyond bolognese Mafaldine. End the night with either chocolate mousse with chantilly cream and berries or tiramisu for dessert.
»Dining options: Dine in only. 8289 Santa Monica Blvd., West Hollywood, 323.654.0020.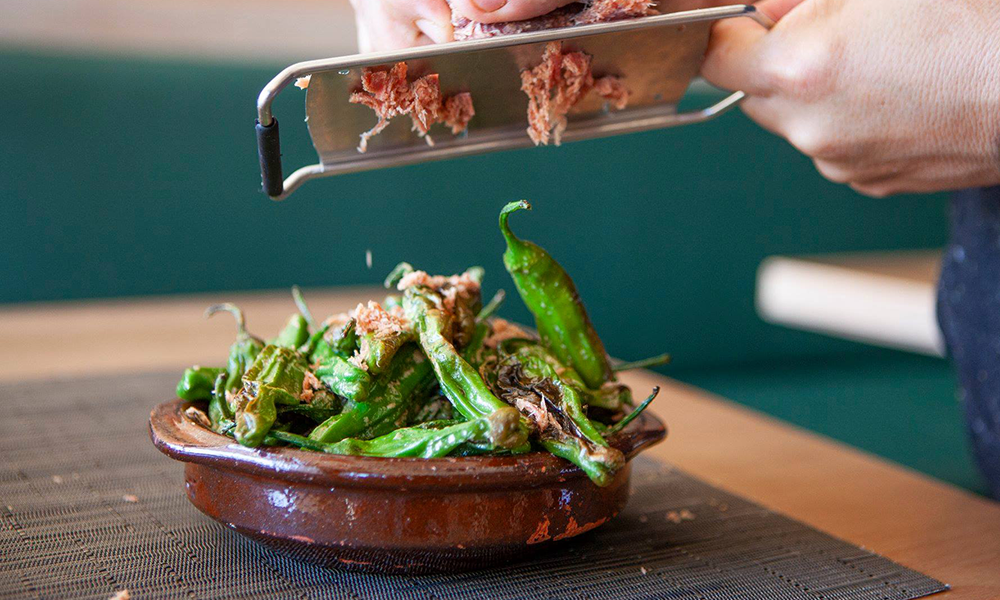 Gabi James | $25 Lunch, $65+ Dinner
SPANISH—Specializing in Spanish and coastal European cuisine, Gabi James curated two takeaway prix fixe menus. The first for two-course lunch on Fridays—doubling as brunch on weekends—and the second for three-course dinner nightly except for Mondays. The restaurant's daytime menu allows guests to choose one savory option and one sweet for each course—best of both worlds! For dinner, select two dishes for your first course, one entree for your second course and round it out with a choice between chocolate bread pudding or state fair churros for dessert.
»Dining options: Takeout and delivery. 1810 S. Catalina Ave., Redondo Beach, 310.540.4884.
ITALIAN—The Naples pizzeria welcomes patrons to dine in its garden-like courtyard adorned with twinkle lights. During dineL.A., enjoy either of the restaurant's three-course menus. Lunch includes a choice of an appetizer paired with a signature main dish—such as the da Michele burger, spaghetti nerano or the famed pizza—and tiramisu to finish. For dinner, select from a variety of appetizers, a signature main dish and either bread pudding or strawberry panna cotta for dessert.
»Dining options: Dine in and takeout. 1534 N. McCadden Place, Hollywood Riviera, 323.366.2408.
Manuela | $25 Lunch, $45 Dinner
AMERICAN—Located in the Arts District of DTLA, Manuela invites guests to dine in its rustic outdoor space spruced up with lush greenery for a three-course lunch or a four-course dinner. During lunch, delight in dishes like its famed cream biscuit and Steen's butter for the first course, followed by main course options—such as black bean chilaquiles, fried chicken sandwich, wood-grilled pork chop and grilled salmon with farro salad—and ending with a date cake for dessert. For dinner, enjoy a cream biscuit and Steen's butter as a starter, followed by an appetizer, a choice of main—includes venison burger, Pitman Farms half chicken, wood-grilled salmon, and local mushrooms with braised coco beans and plancha toast—and a choice of dessert.
»Dining options: Dine in, takeout and delivery. 907 E. 3rd St., Los Angeles, 323.849.0480.
BARBECUE—For those who are craving classic, wood-smoked meats in a casual setting, get your fill at Maple Block. The restaurant's lunch menu highlights a variety of sandwiches to choose from with a small side of your choice to accompany. For dinner, feast on a choice of two smoked meats and two classic sides of your choice.
»Dining options: Dine in, takeout and delivery. 3973 Sepulveda Blvd., Culver City, 310.313.6328.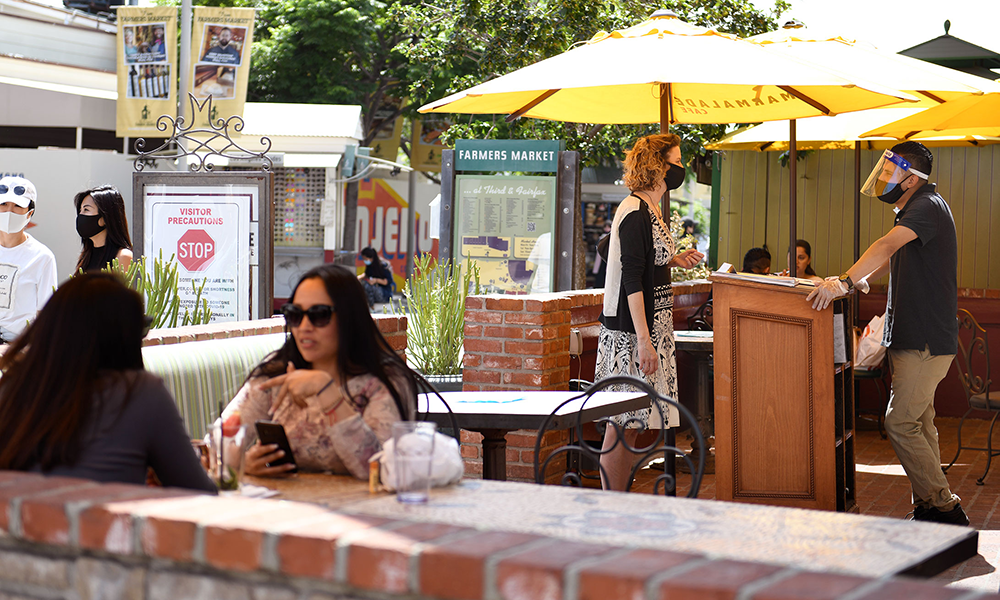 MULTIPLE VENDORS—As one of the Fairfax District's anchors, this local landmark wasn't going to miss out on this season's iteration of dineL.A.! Participating food stalls with lunch menus include Bryant's Pit BBQ, Fritzi Coop, The Gumbo Pot, Michelina Artisan Boulanger, Trejo's Tacos and Roxy & Jo's. Vendors offering both lunch and dinner menus are Du-Par's Restaurant, Marmalade Café, Monsieur Marcel Bistro, Moishe's and Sushi A Go Go (dinner is $45).
»Dining options: Dine in, takeout and delivery. 6333 W. Third St., Los Angeles, 323.933.9211.
THAI—While the intimate Silver Lake restaurant and wine bar isn't open for dine-in, fans of this eclectic eatery can order a three-course dinner for delivery or pick-up, which also includes a choice of non-alcoholic drink or any beer from the current menu (must be 21+ to order beer). The menu features favorites such as Sidewalk Pad Thai and Yum Apple salad, as well as pineapple red curry with shrimp or tofu.
»Dining options: Takeout only. 2835 W. Sunset Blvd., Los Angeles, 213.273.8424.
STK | $25 Lunch, $65+ Dinner
STEAKHOUSE—The One Group's renowned steakhouse at the W hotel in Westwood recently launched lunch service as the Hideout, which guests can now experience during dineL.A. on the outdoor patio. The two-course menu includes choices such as tuna tartare tacos, wagyu burger with fries and shrimp scampi. When evening comes, the restaurant is back to being STK with a three-course dinner menu offering options like the jalapeño-pickled shrimp cocktail, baby gem Caesar salad, coffee-rubbed ribeye steak, pan-seared salmon and key lime curb cheesecake.
»Dining options: Dine in only. 930 Hilgard Ave., Los Angeles, 310.659.3535.
JAPANESE—Got a special occasion coming up? Experience award-winning chef Phillip Frankland Lee's intimate omakase speakeasy with 17 delectable courses, including dessert. Reservations highly encouraged as there's only three seatings available each night.
»Dining options: Dine in and takeout. 16101 Ventura Blvd., #255, Encino, 818.876.0818.
Terra | $25 Lunch, $65 Dinner
ITALIAN—Head to Eataly's rooftop restaurant, located at Westfield Century City, for incredible views alongside wood-fired dishes. Start off lunch with seasonal dishes such as Pesche e Burrata, highlighting ripe local peaches with fresh burrata, before diving into Ravioli di Melanzane (eggplant-stuffed ravioli) and topping off the afternoon with a dolci of your choice. Dinner offerings include Funghi Scottati (char-grilled whole oyster mushrooms), a whole-grilled branzino, poached lobster and your choice of dolci.
»Dining options: Dine in only. 10250 Santa Monica Blvd., Los Angeles, 213.310.8008.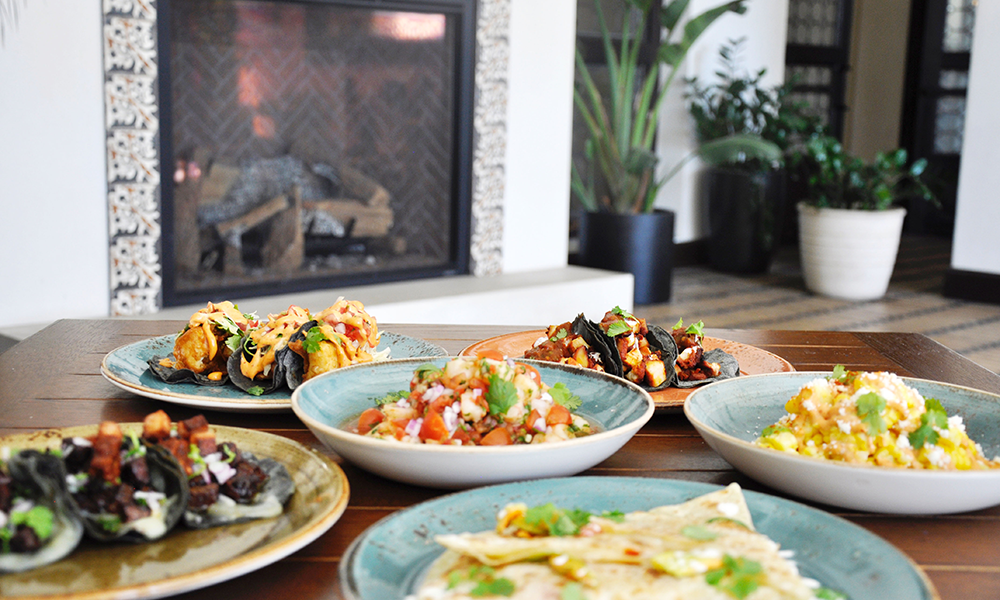 Veranda | $25 Lunch, $35 Dinner
MEDITERRANEAN—DTLA's award-winning Hotel Figueroa invites Angelenos to dine at its poolside restaurant for a three-course lunch menu or a three-course dinner menu (plus a Hotel Figueroa margarita). Menu highlights to look forward to include executive chef Adrian Garcia's take on Mexican street tacos, squash blossom quesadilla, Arrachera Abodaba (a marinated skirt steak), Pescado al Horno (a butterflied branzino), sweet potato and habanero taquitos, and tres leches.
»Dining options: Dine in, takeout and delivery. 939 S. Figueroa St., Los Angeles, 877.724.1973.
CALIFORNIAN—Looking to watch a sunset while eating dinner by the water? Grab a table at The Waterfront on the Venice Boardwalk and experience its three-course menu with vegan, vegetarian and meat options. For the first course, options include heirloom tomatoes and burrata, artichoke dip, and nori-crusted ahi tuna. Next, choose from entrees such as grilled tri tip, carrots hajiki and Santa Maria grilled mahi-mahi. Finish the night with either mango sorbet or grilled peaches with salted vanilla ice cream and honeycomb crunch for dessert.
»Dining options: Dine in, takeout and delivery. 205 Ocean Front Walk, Venice, 424.309.5333.
KOREAN—Yes, this eatery does look like a yellow house on the outside as the name states! For those who haven't had much Korean food before, this hidden Koreatown gem presents an approachable fusion menu for lunch and dinner. Diners receive a choice of one refreshment, one entree and one dessert. Entrees include creamy Cajun shrimp over rice, kimchi bacon pasta, hamburger steak and seafood linguini with cream sauce. For dessert, we recommend getting fan-favorite Korean shaved ice or limited-time dineL.A.-only macaron sundae!
»Dining options: Dine in and takeout. 234 S. Oxford Ave., Los Angeles, 213.365.0820.
For the full list of participating restaurants, click HERE.
Photo credits: Conservatory by Max Milla; Courtesy Gabi James; Marmalade Café by The Original Farmers Market; Courtesy Veranda.