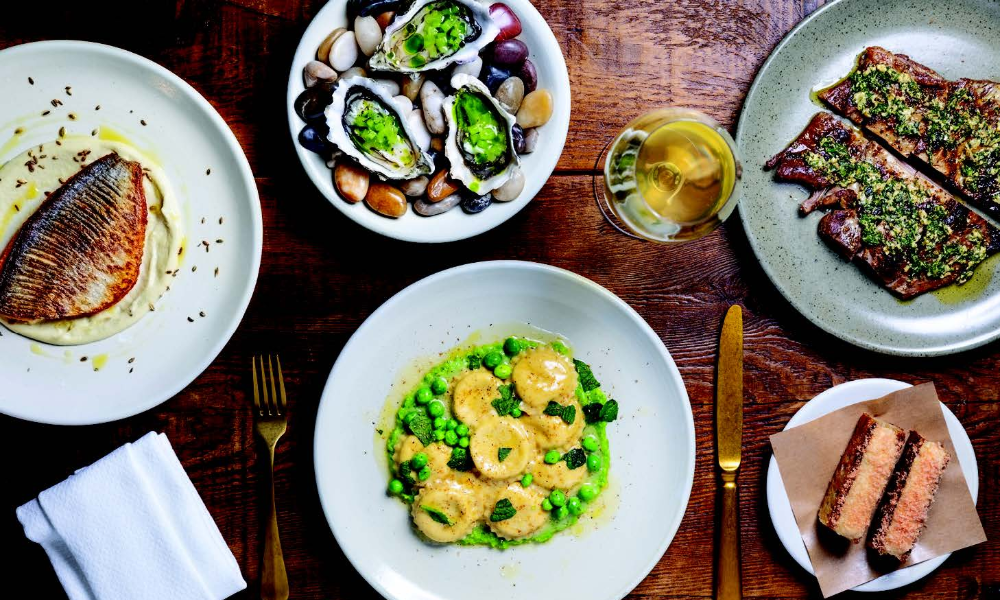 By Roger Grody.
The Manufactory, the newest notable dining development in downtown Los Angeles' unstoppable Arts District, is a star-studded affair. A collaboration of three James Beard Award-winning chefs—Elisabeth Prueitt and Chad Robertson of San Francisco's beloved Tartine Bakery and Chris Bianco of Phoenix's legendary Pizzeria Bianco—the Manufactory is a diverse collection of culinary concepts. The 40,000-square-foot compound is located at Row DTLA, a 30-acre project transforming a former industrial neighborhood into trendy boutiques, bistros and studios for creative startups.
TARTINE BIANCO
This all-day café offers a seasonally changing menu—whatever is fresh and beautiful from the farmers market—that includes its signature smørrebrøds (Scandinavian open-face sandwiches made with avocado, uni and smoked trout). Also offered are toasts topped with items like steak tartare or chicken liver, showcasing the handcrafted bread Tartine is famous for. Heartier dishes include rotisserie chicken, lamb shank and braised pork shoulder.
ALAMEDA SUPPER CLUB
This dinner/weekend-brunch restaurant brings together the Italian sensibilities of chef/partner Chris Bianco, the California influences of Tartine's Elisabeth Prueitt and Chad Robertson, and the English and Mediterranean background of chef de cuisine Lee Foden-Clarke, a Thomas Keller protégé. The ingredients, however, are the real stars here, such as grains from Cairnspring Mills in rural Washington or vegetables from local farms like JJ's Lone Daughter Ranch. Entrées include pastas, lamb belly with salsa verde, bone-in rib-eye and black cod with Colatura. The Club offers a 14-seat private dining room and generous outdoor patio with its own dedicated bar.
ALAMEDA COCKTAIL CLUB
The Alameda Supper Club's 12-seat alfresco bar is situated beneath a broad awning, while additional seating is available on an adjoining patio or beneath a modern industrial pergola. Showcased are cocktails from renowned mixologists Nick Meyer, Julian Cox and CJ Catalano for pairing with a menu of small bites.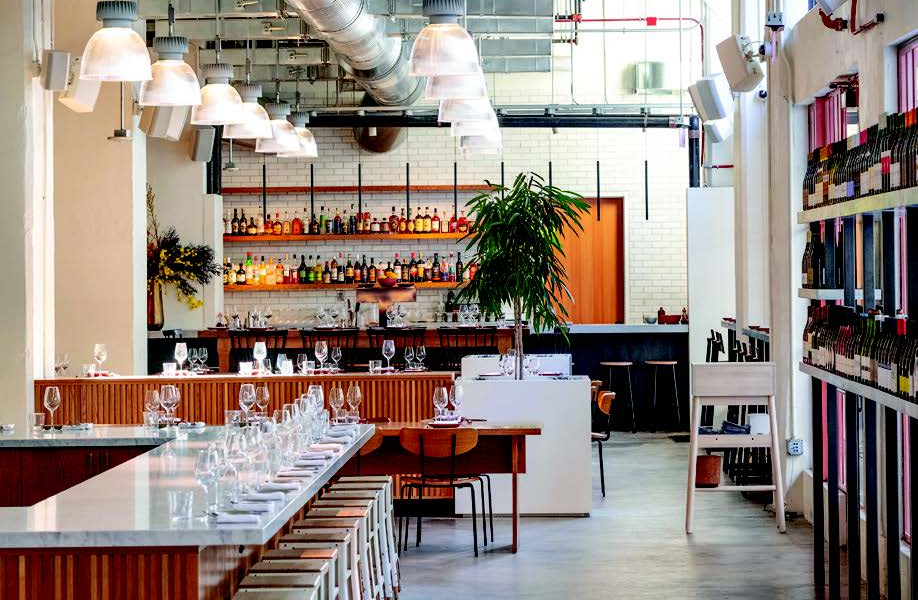 THE MARKET
Designed by the Tartine partners and Chris Bianco, the Market serves as the Manufactory's pantry. Shop specialty food products, including curated cheese and charcuterie items from around the globe. At the Market Bar, guests can enjoy pintxo-style small plates and signature flatbreads developed by chefs Bianco, Chad Robertson and James LaLonde. Also available here is a constantly changing selection of Tartine pastries, cakes and cookies.
ICE CREAM + COFFEE
Offering hot- and cold-brewed coffee, assorted espresso drinks and teas—as well as pastries and ice creams—this walk-up window is located on the north end of the Market, opening directly onto Dock Street. Limited lunch items and soft-serve ice cream are also available.
COFFEE MANUFACTORY ROASTERY
Passersby have an opportunity to peer into the basement of Coffee Manufactory and view the coffee-roasting process led by industry veteran Chris Jordan. The award-winning roaster focuses on ethical sourcing and partnerships that ensure the highest-quality coffee. Coming later this year will be Coffee Lab, a unique collaborative space for coffee research, development and education.
THE BAKERY
Although not open to the public, the Bakery's exhibition kitchen, a visual showcase for the artisanal production of craft bread and viennoiserie, will mesmerize visitors. In addition to producing baked goods for the Manufactory, this kitchen will serve as the production center for several satellite locations of Tartine slated to open in Greater L.A. The flour used here is milled especially for Tartine by Cairnspring Mills in Skagit Valley, Washington.
The Manufactory, 757 S. Alameda St., downtown, 213.375.3315. themanufactoryla.com
Photos: Alameda Supper Club by Jakob Layman. Market Bar and Tartine Bianco courtesy The Manufactory